Keep up with the latest hiring trends!
/
/

What are the Major Priorities for CPOs in 2023?
What are the Major Priorities for CPOs in 2023?
2023 is a year that will be defined by change and disruption. Given the current climate of economic uncertainty, businesses are facing a multitude of pressures, from the impact of rising inflation on organizational costs to the scarcity of talent and skills. Throw in the growing importance of employee experience and CPOs really have their work cut out trying to balance the needs of both the business and staff alike.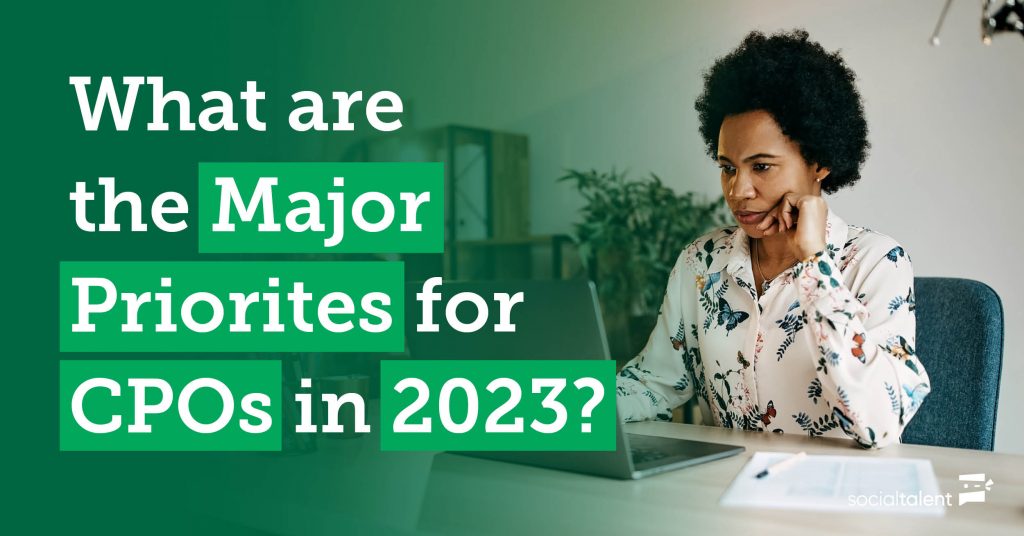 CPOs and HR leaders must act as barometers to this change. Their goal is to safeguard and future-proof, while continuously seeking to evolve and innovate – no easy task! But by constantly predicting, iterating, and assessing the needs that impact an organization most, CPOs can help build transformational workplaces.
So what are the major priorities for CPOs as we venture into 2023? A recent Gartner article has indicated that the 5 areas most in need of scrutiny are:
Leadership and manager upskilling
Change management
Employee experience
Recruiting
Future of work
Let's dig into some of these a little deeper.
Leadership
58% of managers say they didn't receive any management training (Forbes), and 24% of CHROs believe their development approach does not prepare leaders for the future of work (Gartner). Given how distributed the world of work is becoming, it's never been more vital to ensure your managers and leaders are upskilled and equipped to deal with the influx of change. 
The contemporary role of leadership is one that embodies authenticity, adaptiveness, and, perhaps most importantly, empathy. Authoritarian automatons just won't cut it. And this is where CPOs have a huge part to play, ensuring that the organization enables and encourages this approach through all levels. Remember, management is a learned skill and HR needs to support people leaders within this discipline. Perhaps it takes the form of additional training programs and resources, shadowing for first-time managers, or performance indicators directly linked to department satisfaction as well as results. But ultimately, it's about championing your people leaders to do their best work.
Talent
It may seem odd to some that talent acquisition remains a big priority in 2023 given all the reports of layoffs, hiring freezes, and the economic downturn. However, the reality of the situation is that talent is still very much at a premium. Even from a pure numbers perspective, the US currently sees about 6 million people unemployed, but job vacancies are at a much headier figure of 10.3 million. And according to a recent Fortune 500 survey, a lack of talent is listed by organizations as the #1 threat to business success, while research conducted by ManPower indicates that 75% of employers are struggling to find the talent and skills they need.  
So what does this mean for CPOs? Well, it's about reprioritizing recruiting strategies to meet the needs of the business. And doing this in a way that looks at data and the shifting markets to make confident decisions. At SocialTalent, we always advocate for the creation of a hiring culture, one where everyone is involved and upskilled in recruiting. This way, you can build better interviews, improve candidate experience, and broaden the scope of talent potential. Coupled with this, CPOs must also look to internal mobility to help with these skills shortages and leverage the talent that already exists within the company. Retention is becoming a crucial success factor that cannot be ignored. Helping employees to navigate work by creating the right environment of flexibility is more pivotal now than ever in terms of engagement and development. 
Change Management
In their study, Gartner indicated that organizational design and change management were a top priority for over half of HR leaders. However, the data also suggests that 45% of employees are fatigued from the constant stream of change over the last few years. COVID, remote work, economic uncertainty, technology – all these have combined to accelerate the evolution of the workplace, but it also has meant that CPOs have had to react and adapt quickly to cushion the blow and provide stability for employees. And this trend looks set to continue in 2023.
Burnout is an omnipresent plague. A recent report from Aflac showed that 59% of American workers are suffering from it – an increase of 7% from the year previous. As CPOs and CHROs look to iterate and improve this new world of work, it seems that wellbeing is very much going to be at the heart of the design. When we spoke to Sara Andrews, CPO at the Acacium Group, about this she told us that organizations need to empower their employees with the right tools, knowledge, and mindsets to take ownership over wellbeing. 
What's next for CPOs in 2023?
To continue this discussion and broaden the depth of insight on the areas CPOs should be focusing on, why not check out our webinar on the topic:
This online event played host to an incredible line-up of renowned CPOs, CHROs, and Talent Leaders. Through a series of industry expert panels and dedicated fireside chats, we dove into the major themes that are impacting workplaces, discovering how you can enact meaningful change, and explore the success stories and ambitions from other leading organizations.
Check out the roster of speakers: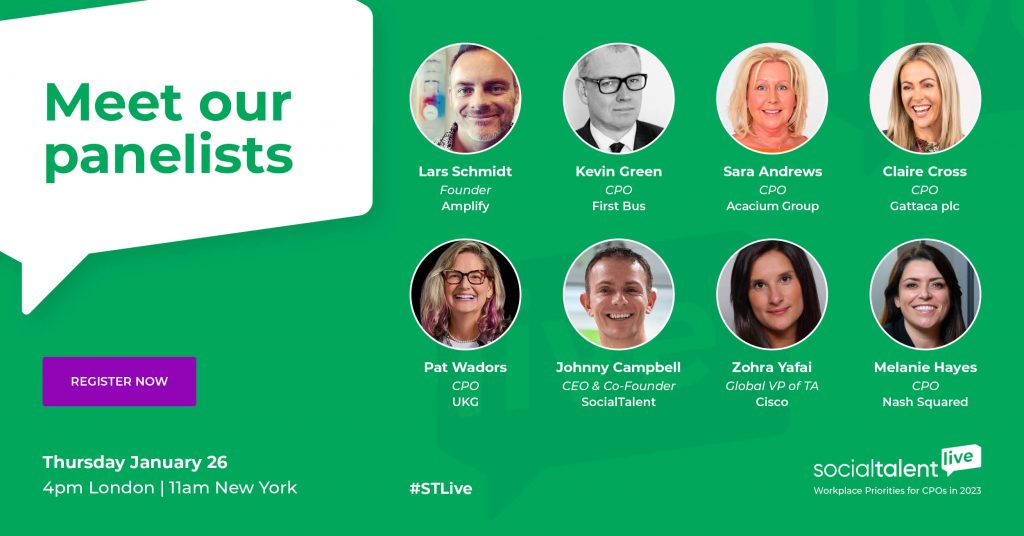 Want join us for our next event? Check out our SocialTalent Live directory page to sign-up today!
Find out how the likes of IBM, IKEA and Siemens
drive hiring excellence with SocialTalent
---