Keep up with the latest hiring trends!
/
/

What are the Benefits of DEI Training?
What are the Benefits of DEI Training?
Diversity, equity, and inclusion (DEI) is one of the most complex concerns that every workplace grapples with. From a baseline perspective, people tend to agree that cultivating an environment which embraces difference and strives for belonging is an ostensibly good thing. However, given the many tiers of understanding, intersectionality, and intricacy that DEI brings, it can be a tricky cause for organizations to get right. So, where do you start?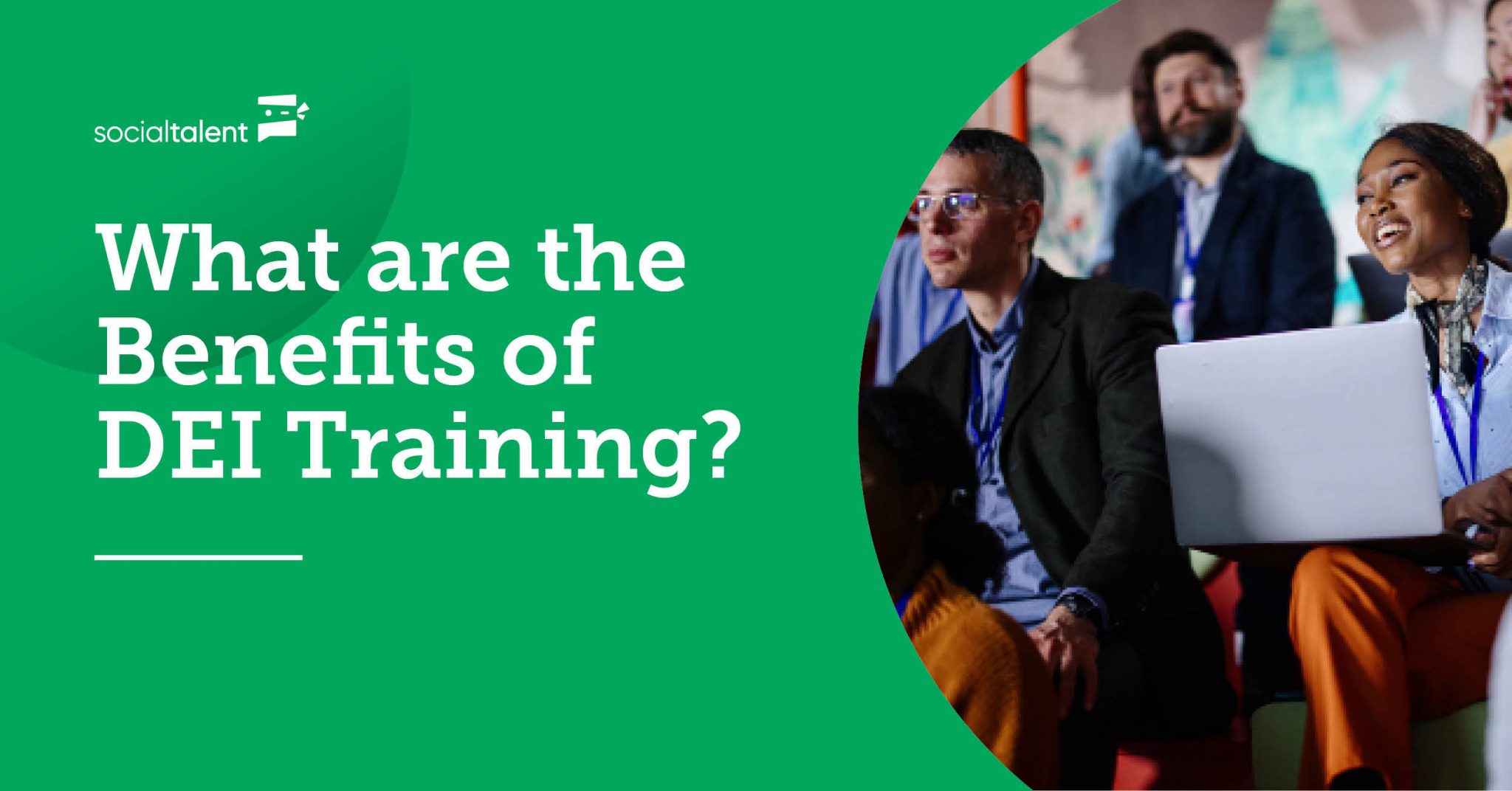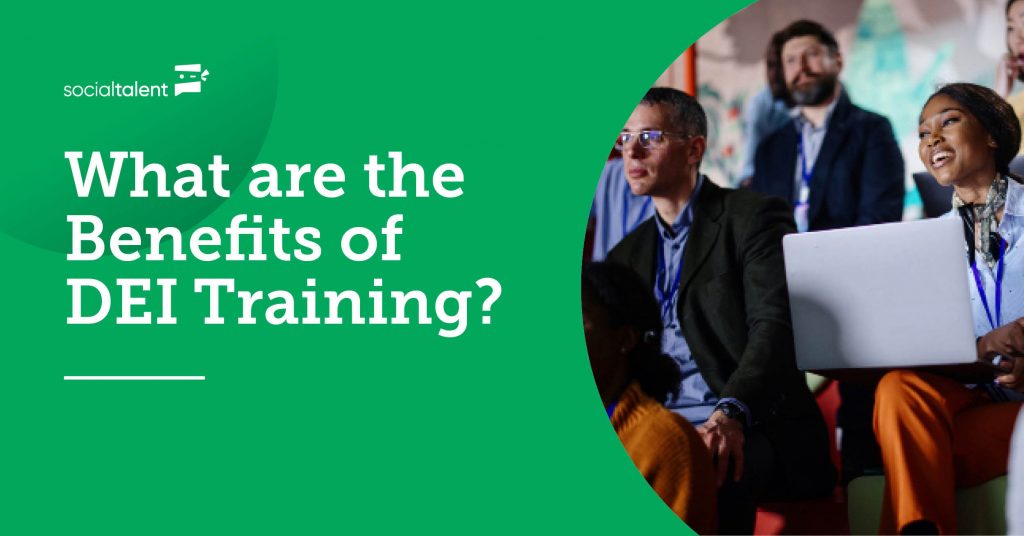 Education should always be the first port of call. Action cannot happen without awareness, and that's where DEI training is so vital. A consistent, comprehensive, and continuous approach to learning about diverse perspectives, inclusive actions, and equitable practices can help employees and employers alike understand the value that a healthy culture of DEI can bring to an organization.
It can be all too easy to write DEI training off as a tick-box exercise. But when it's delivered correctly, from engaged and respected experts, and embedded at all levels within a business, it can lead to the kind of tangible change we should all be endeavouring to make.
The goal of any organization should be to foster a workplace culture which is psychologically safe, where everyone can show up as themselves with confidence and enjoy the same level of opportunity without discrimination. But unfortunately the persistent reality remains that marginalized voices aren't afforded this luxury.
Whether it's from a lack of knowledge or ingrained status-quos, there is so much work needing to be done in order to level the playing field. And DEI training is an important step in this process. It can provide insight and tangible actions that can help create this safe and inclusive environment. 
Covering a range of topics, from the prevalence of microaggressions and bias in the workplace, to learning about inclusive language, communication methods, allyship, and hiring techniques, DEI training establishes a firm foundation of understanding. And it can benefit companies in so many ways. 
1. Increasing awareness and knowledge
Every person, in every workplace, is an individual. We all come with differing backgrounds, and upbringings. We have different levels of knowledge and unique perspectives – and this impacts how we approach and understand life. This is particularly important when it comes to the issues surrounding diversity, equity, and inclusion. We don't all have the same baseline, so it makes it a trickier subject to tackle. But DEI training can help bridge these gaps.
If we take language, for example. Some employees may be very comfortable using pronouns in their daily life, and can easily adapt when situations call for it. Others may not be so at ease. And it's not about vilifying these people, but giving them an opportunity and safe space to learn how and why pronoun usage has evolved.
The same could be said for understanding the lived experience of marginalized groups, or recognizing harmful stereotypes. The more we're all exposed to training about these topics, the more open and accepting we become. Engaging DEI training gives all employees the tools to foster an inclusive culture – but remember, it's not a 'one-and-done' thing and it takes consistent effort.
Check out a sneak peek of SocialTalent's mission on understanding gender beyond the binary with the incredible lisa luxx:
2. Attracting top talent
According to Glassdoor, over 75% of job seekers look for an inclusive workplace when in the process of making a career move. It has become a new imperative for talent – particularly among millennial and Gen Z candidates. They want to see a commitment to diversity, equity, and inclusion that goes beyond just lip service, and offering DEI training is a major way to signal this.
In a recent poll conducted by SocialTalent, we found that 88% of organizations are struggling to find talent right now. The shortage is impacting every industry as recruiters battle it out to win over the candidates they need to drive success. And while it was once money and titles that had the largest sway, prospects are now questioning companies on their approach to things like flexible work and DEI. 
Organizations simply can't hide from it anymore. As ESG mandates continue to push transparency to the fore and data becomes more readily available, smokescreens and inaction will only harm reputations and bottom-lines. Employees want to work for organizations that understand why diversity and inclusion matter – establishing a learning culture that champions DEI is a strong pillar in this movement.
3. Boosting retention
Finding and hiring new talent is one thing – but what about the employees already under your wing? As the marketplace shifts, and investing in internal talent becomes increasingly important, organizations need to recognize what workplace elements their employees need to have in order to develop skills and ultimately stay. And according to a report from Buck, people are "less likely to be looking for a new job if they have a positive perception of their employer's commitment to DEI."
Building a workplace that caters to those from all backgrounds and identities feeds into this culture of belonging for everyone and not just some. And DEI training is one of the most important strands in developing this mindset. We know how important diverse talent is for driving business success, but this talent won't stick around long if they're feeling undervalued or discriminated against.
If we take disability as an example of this impact. 97% of disabilities are non-visible, but there is a fear of prejudice that can often stop these employees from seeking equity and accommodation. And this lack of understanding and support can hugely impact how an employee shows up every day. However, with dedicated DEI training, organizations can proactively start to make these conversations commonplace.
SocialTalent has exclusive content, created with DEI expert and disability advocate, Yasmin Sheikh.   
4. Promoting innovation and performance
No one really likes to talk about the business-case benefits promoting a diverse, inclusive, and equitable workplace can have, given that it should simply be a human imperative. But the stats are an intriguing side narrative. When employees come from different backgrounds, offer unique perspectives, and are encouraged to bring their full selves to work, many studies have shown this to have hugely positive impacts for a business:
With proper DEI training, embedded into the very DNA of a company, you create a much greater opportunity to build and enable diverse talent. Learning, and unlearning for that matter, broadens the scope for acceptance and excellence. Teams encouraged to operate differently and embrace collaboration and empathy will always outstrip homogenous, biased thinking. As renowned CPO, Pat Wadors, says: "When we listen and celebrate what is both common and different, we become wiser, more inclusive, and better as an organization."
Why SocialTalent should be your
DEI training
of choice
The SocialTalent e-learning platform unlocks the potential of a diverse workforce with in-depth training on inclusive hiring, inclusive leadership, and allyship. Delivered by over 20 leading DEI practitioners in 8 languages on a learning platform that caters to everyone, SocialTalent will help you firmly embed DEI best practices into your organization.
Industry-beating NPS of 86.

Course completion rate of over 87%.

World-leading DEI experts delivering the content, including John Vlastelica, Dr. Joanna Abeyie, Salma El-Wardany, Joe Gerstandt, Moe Abdullah, and Torin Ellis.

Intuitive and accessible learning platform with customization, gamification, and in-depth reporting options.

Bite-sized learning that can be completed anywhere, any time.
"We use SocialTalent [as] we want to professionalize how we interview candidates and remove unconscious bias. The feedback has been phenomenal. 95% of learners feel it will lead to a better candidate experience and more inclusive hiring." 
– Paul Phillips, Global Head of TA, Avanade 
SocialTalent's
DEI Training
is no tick-box exercise. Our engaging learning content will help your organization become more inclusive for every employee.
Talk to our sales team today to learn more
.
Find out how the likes of IBM, IKEA and Siemens
drive hiring excellence with SocialTalent
---