Keep up with the latest hiring trends!
/
/

SocialTalent Author Spotlight: Maisha L. Cannon
SocialTalent Author Spotlight: Maisha L. Cannon
Welcome to our new spotlight series, where we introduce you to some of the incredible authors on the SocialTalent learning platform. With over 100 experts delivering quality content on all areas of workplace excellence, we pride ourselves on having a faculty that are not only heavily experienced in their respective fields, but are also engaging instructors from a diverse set of backgrounds.
Today, we're going to meet Maisha L. Cannon. Founder and Chief Learner of The Collab Lab, Maisha describes herself as a recruiter turned sourcer turned facilitator and is SocialTalent's resident recruiting AI expert!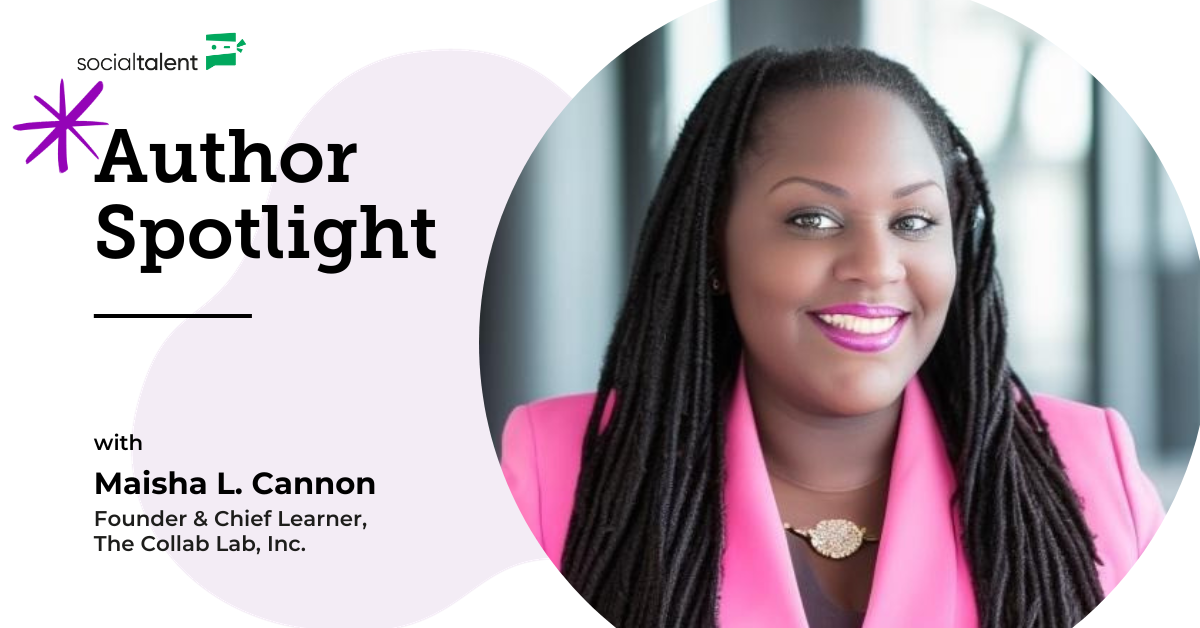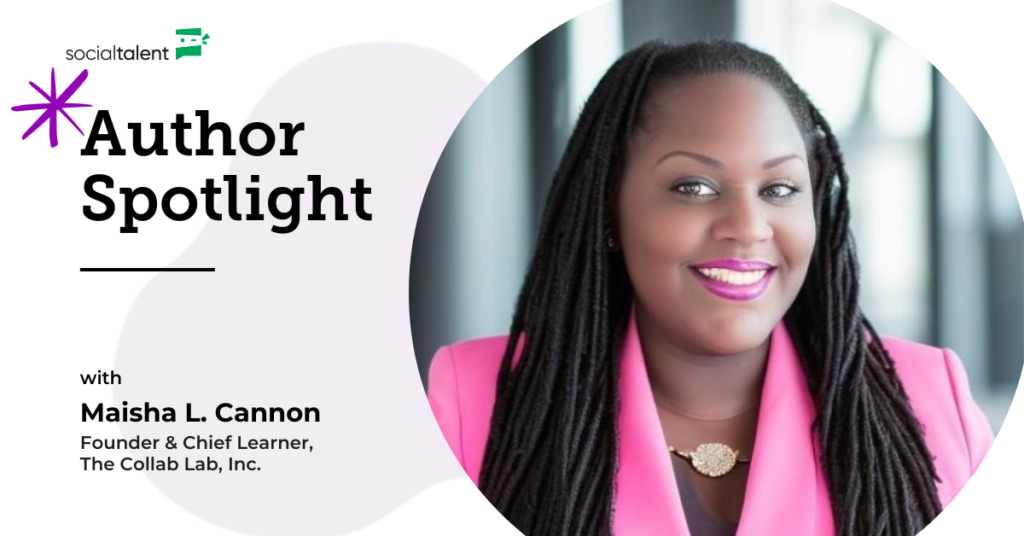 Q. Can you give us some background information about your experience and history within this field?
From the dynamic environment of Hollywood to the innovative hubs of Silicon Valley, my journey as a Talent Advisor has been diverse and distinctive. Early in my career, I was deeply involved in the entertainment industry, helping emerging talent secure their first significant opportunities — what I fondly refer to as "The Hollywood Years."
Following this, I transitioned to the retail sector, working with renowned brands like Hot Topic and Torrid. This role took me to various parts of the country as I contributed to the launch of retail stores in numerous malls. Later, my career path led me to the realm of Tech and Innovation. Here, I sourced premier talent for industry leaders such as Google, LinkedIn, and Verizon. It was an era of constant learning and experimentation, a time when I combined traditional recruiting techniques with innovative approaches.
My contributions extended to building formidable teams at companies like GitHub and Procore. My experience with Roblox was particularly enlightening, reigniting my passion for education and mentorship.
Throughout these diverse roles, one theme remained constant: the need for adaptability. The recruitment field is ever-changing, and my journey, marked by various challenges from layoffs to global crises, has shaped my perspective and approach. It has reinforced my belief in continuous learning and evolution.
Q. What are you working on right now?
Currently, I am learning and facilitating at The Collab Lab, Inc.™ I started the company late in 2022 and am deeply committed to advancing professional development at the crossroads of technology and talent advisory. 
I've architected Learning Labs that are not only interactive but also deeply relevant to the contemporary challenges faced by Talent Advisors. At the heart of my approach are core values: active listening, intentional communication, cultivating communities, authenticity, and a spirit of experimentation. Designed with precision, these Labs aim to empower Talent Advisors to elevate their skills and professional trajectories. The end goal is enhanced effectiveness and increased collaboration and connectedness within their teams/cohort.
My partnership with SocialTalent has been immensely rewarding, broadening the reach of my insights and expertise.
Q. Can you give us a detailed overview of what your content covers?
Of course. I'm fortunate to have delivered content about recruiting with AI. It focuses on how we can use artificial intelligence to enhance our professional capabilities, allowing us to excel more efficiently in our areas of expertise.
We juggle a lot as Talent Advisors, and I believe artificial intelligence will enable us to delegate tasks we'd prefer to set aside. This frees up more time for areas that require the human touch, like building relationships with internal and external partners.
Q. Why is this an important topic of study right now?
AI is altering the game in talent acquisition. Our whole industry—and really, the whole world—is in the middle of some big changes. Take OpenAI for example; in just nine months, ChatGPT has taken off like wildfire, reaching an estimated 100 million users. And recently, we've even seen the launch of ChatGPT Enterprise.
Drawing from the words of Andrew Ng, artificial intelligence is comparable in significance to electricity. Contemplating the immense potential of such a tool is both a privilege and a responsibility. Every Talent Advisor should approach AI with a blend of curiosity and caution.
Q. What do you hope learners will gain from doing these missions? What problems do they solve?
I hope these missions answer key questions like:
How can AI enhance my recruitment workflows?

What ethical considerations arise with AI in talent acquisition?

In an AI-powered world, how can I maintain a human-first approach?
For those already excelling in your roles, think of this content as your guide. It'll help you gauge the relevance of AI tools and show you how to weave them seamlessly into your current workflows.
My primary goal is to arm you with hands-on insights, introduce you to cutting-edge tools, and perhaps even challenge some of your existing beliefs about AI.
With AI reshaping the very fabric of recruitment, it's crucial for Talent Advisors to stay nimble, always fueled by a hunger to learn and grow. This shift isn't just necessary; it's exhilarating. And I'm genuinely excited to guide you through this evolution on the SocialTalent platform.
Q. Where can people find you?
Whether you're an individual aiming to elevate your skills and career, or a Talent Leader seeking facilitated learning for your team, explore all that we have to offer at trycollablab.com. You can also connect on LinkedIn at maishac.com.
Check out the wide range of training offered by SocialTalent:
Find out how the likes of IBM, IKEA and Siemens
drive hiring excellence with SocialTalent
---