Keep up with the latest hiring trends!
How to create an onboarding experience that really works
The singular purpose of onboarding is to set fledgling hires up for success. Designed purposefully, onboarding programs can remove the anxieties associated with starting new jobs, establishing employees in the role while making them feel comfortable and secure in their choice. And while workplaces have changed considerably over the last few years, the fundamentals of good onboarding largely remain the same.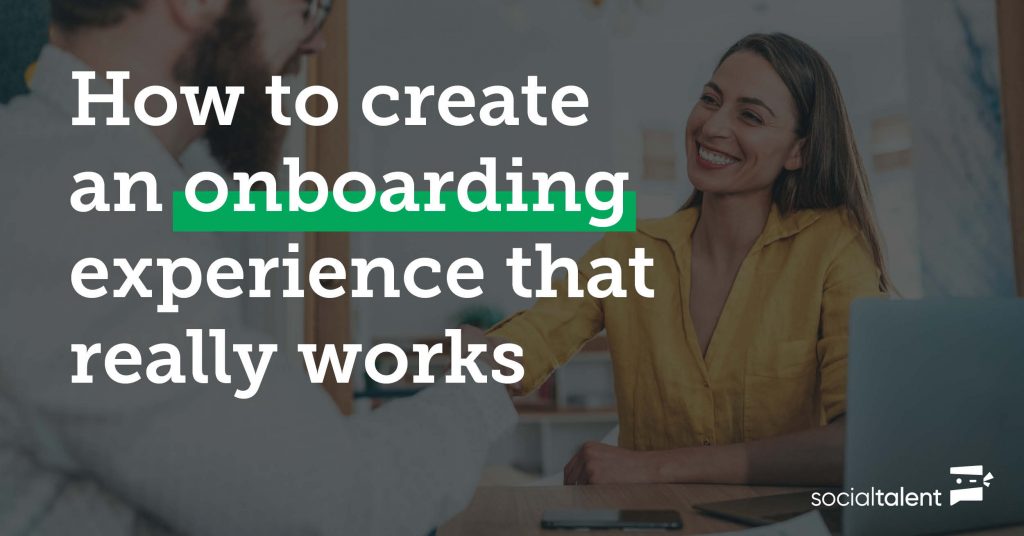 Whether you work in-person, hybridly or remote, those first impressions can have a lasting impact on your organization. As Michael Watkins, author of The First 90 Days, says:
"Employee orientation centers around and exists to help the individual employee, but it is the company that ultimately reaps the benefits of this practice."
However, according to Gallup, only 12% of employees feel like their company does a good job when it comes to onboarding. Despite its vital role in helping both the employee and organization, creating an effective onboarding program is often seen as low priority. But in a world where employee engagement is at a record low and retention scores are making leaders scratch their heads, we can't keep ignoring this process and hoping for the best.
Create an employee orientation experience that instantly engages with SocialTalent's Onboarding Training. Check it out!
Why is employee onboarding so important?
Secure relationships are built on strong foundations, so if you want to improve retention, you have to improve onboarding. According to Bob, 64% of employees are likely to leave a new job within their first year after having a negative onboarding experience. Yet conversely, research has also shown that organizations with a solid onboarding process can improve new hire retention by 82%. It's like night and day. 
Onboarding is your first opportunity to integrate and enable your employees. It starts much earlier than you think and lasts a lot longer than is traditionally believed. In fact, onboarding begins the moment a candidate accepts an offer and it can take up to 12 months for a new hire to be reaching full potential. It's a long game, but the positive impact great onboarding can have is far-reaching. It helps:
Increase employee engagement

Lower attrition rates

Build concrete trust

Improve company culture

Foster strong relationships

Bolster your employer brand

Increase productivity and performance.
Onboarding is like a secret weapon for continued success. So, how do we ensure that employees are getting the best introduction possible?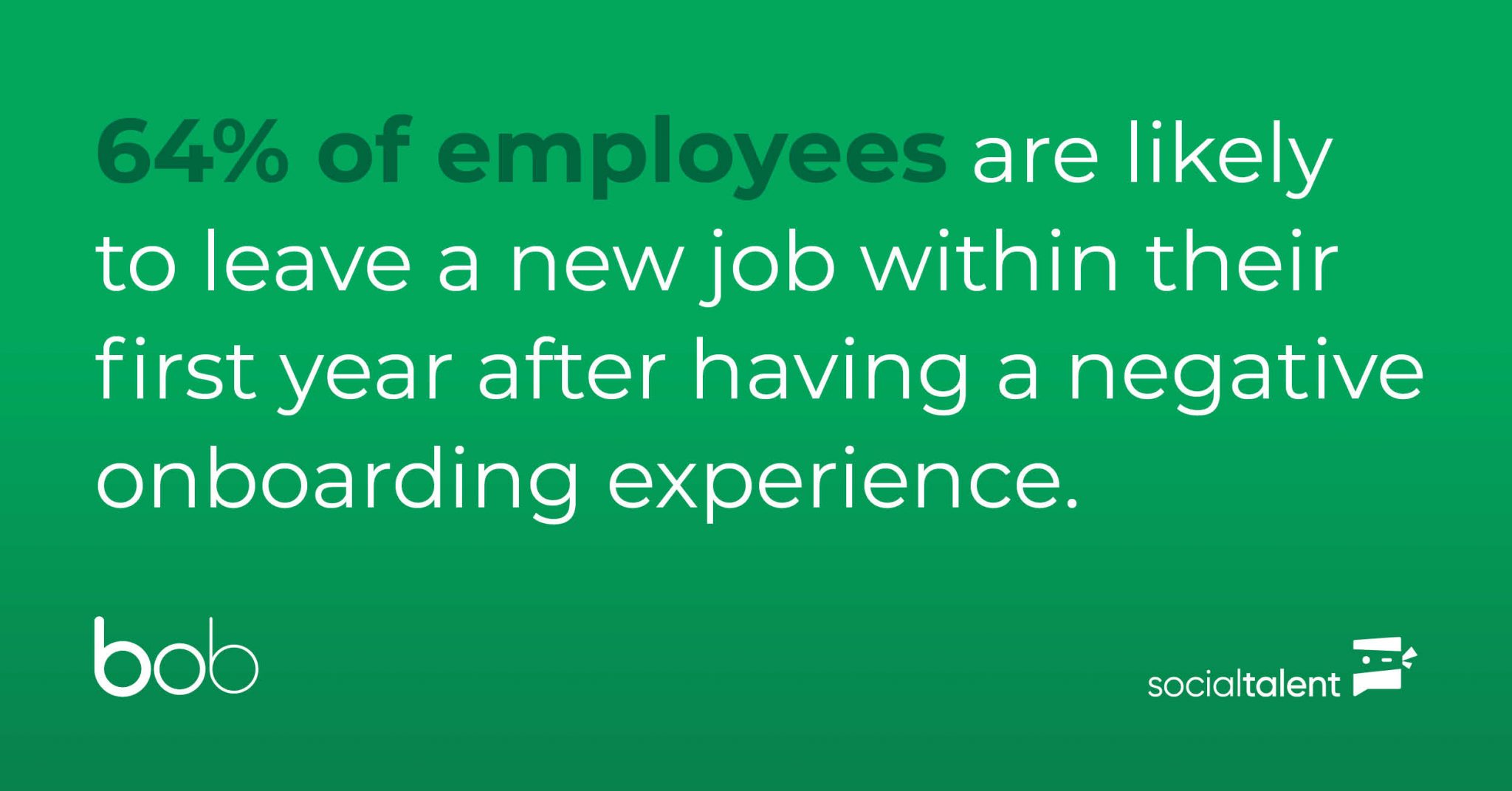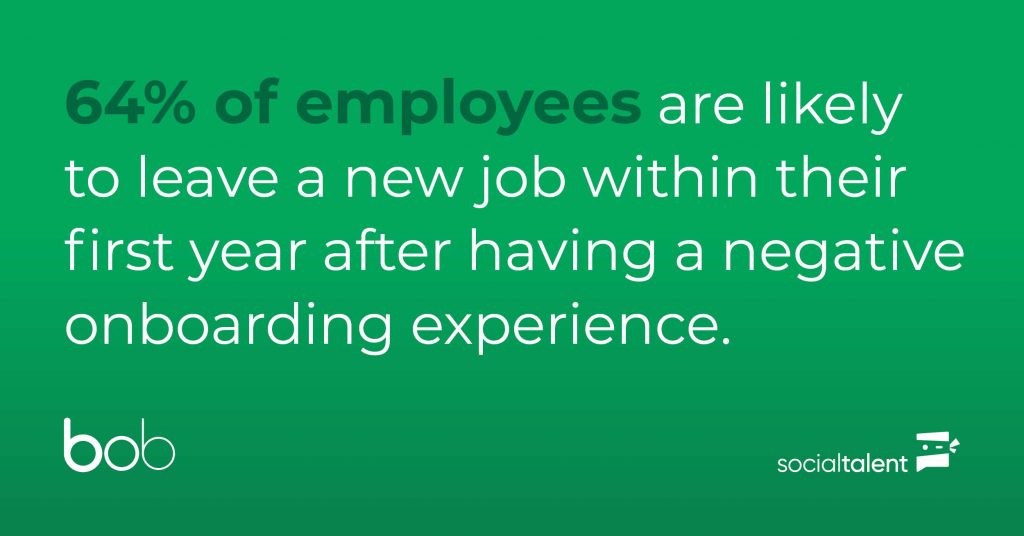 Keep your onboarding process simple
Changing jobs ranks as one of the biggest stresses in our lives. The last thing you want to do is overwhelm new starters with excessive amounts of admin or leave them completely alone to their own devices. There is a balance to strike. Remember the classic 4 Cs of Onboarding: 
Compliance

Clarification 

Culture 

Connection.
Every company has unique processes, but the above structure should still permeate every onboarding program. Ensure new hires understand the company, its policies, and idiosyncrasies. Is their role clearly defined? Invest time in introducing them to the culture – maybe there are clubs or societies, for example, or 'watercooler' style Slack channels that could be of interest. Build relationships and help new hires network. Give them the time, space, and support to find their feet. Most employees will have the same concerns when joining a new company, so anticipating these can lead to a smoother transition. 
Get the company involved in onboarding
Onboarding should never be assignedto a single individual. For the most complete and immersive experience, it becomes the responsibility of many. Managers in particular play a key role in welcoming and enabling new hires. In fact, HBR reported that new recruits are 3X more likely to strongly agree that they had an exceptional onboarding experience when their manager had an active role. So make the time for your new recruits – it pays dividends in terms of engagement, productivity and, most importantly, retention.
Other ways to get the wider organization involved is to create a buddy system to help new hires settle in. They become another source of guidance and help, and can be great for fielding the kind of questions you can't ask a manager! Connecting new employees with the CEO is also a good tactic to boost morale and drive commitment. Even a 10-minute call or a personalized message can create a lasting impact and only strengthen the bond that is being created with the company.
Create a moment
Dan Heath – the New York Times bestselling author and SocialTalent expert – says that the first day "is the single most important day of establishing your perception of an employer." So if getting the fundamental foundations of onboarding right is your first port of call, making sure it's memorable is definitely the second!
An ideal result sees an employee leaving their first day feeling like they matter. That the work they and the company are doing matters. And there are so many ways to create a special moment. Simple things like having swag ready and waiting at their desk. Or sending a welcome package to remote workers. Maybe have a pre-organized buddy take them for lunch, or personalize the experience in some way. Think creatively and make that first day really stand out!
Don't forget about remote and hybrid employees
The landscape of work has changed so much that every onboarding process has to consider remote workers as well. A recent study of HR professionals found that 31% of virtual hires are struggling to connect. While it's a different medium, the fundamentals are still the same. Employees want clarity, they want to feel important, and they want to be set up for success.
When onboarding virtual staff, it's even more important to keep communication channels open and consistent. Intentionality is crucial here – build touchpoints and structure into their days and facilitate online meetings with colleagues and other staff members. Nothing can be left up to chance. Remember, it's not as easy to ask for help from behind a computer screen. Put minds at ease by creating an environment that allows for questions, one that encourages conversation, and builds trust.
Onboarding should be empathetic and inclusive
Have we mentioned that starting a new job is tough?! When thinking about effective onboarding it can be very easy to forget that there is a human being at the end of this process. We all come to work with different needs and requirements to be successful – and your onboarding program should reflect this. Perhaps you identify on the neurodiversity spectrum, or need more help getting familiar with certain systems – use onboarding as an opportunity to address these requirements. It helps build further trust and lays a solid base for future success.
We spoke with Anjana Sreedevi, the Onboarding Design and Delivery Global Leader at IBM, about this very topic. Even when remotely onboarding, they take a people-centric view on the whole structure. Listen below to how IBM achieved a 93% positivity rating from their revamped onboarding process:
SocialTalent has a wide range of e-learning solutions to help your organization find, hire, onboard and engage the best talent. Get in-touch with our team today to find out more.
Find out how the likes of IBM, IKEA and Siemens
drive hiring excellence with SocialTalent
---