Keep up with the latest hiring trends!
/
/

SocialTalent Wrapped: Highlights from 2022
SocialTalent Wrapped: Highlights from 2022
As we cautiously creep into 2023, I think it's time to take stock and acknowledge some of the incredible milestones and moments that SocialTalent has achieved over the last twelve months. Afterall, the company just turned 12 in January, so I'm in the mood to reflect and celebrate!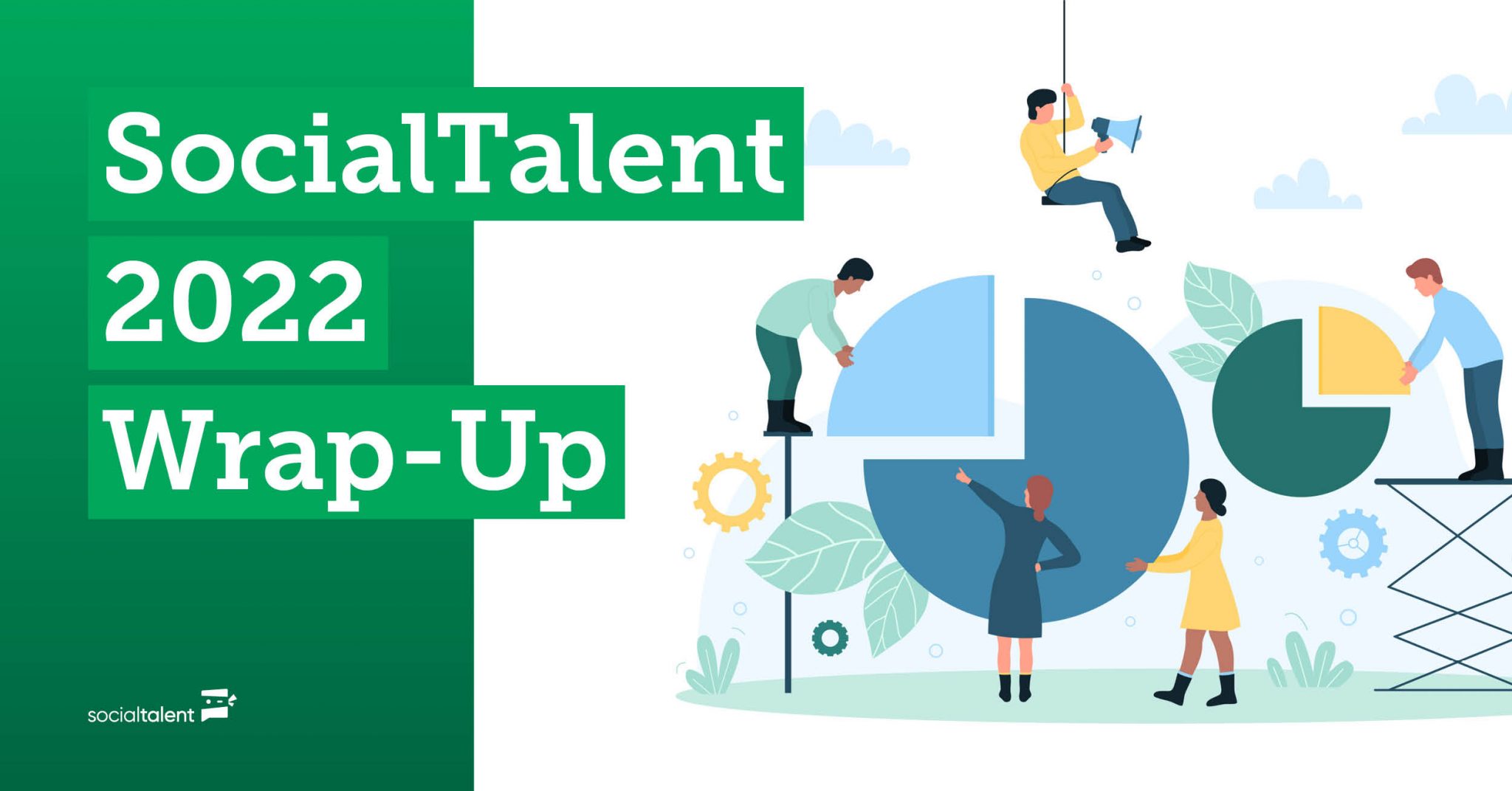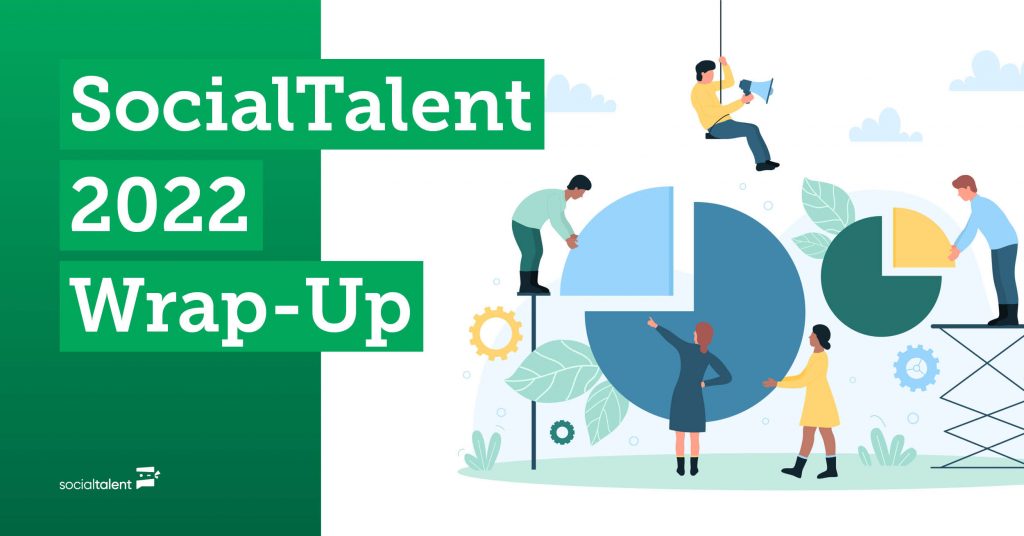 We've grown so much as an organization in 2022. Both in terms of our expanding team, but also evolving to meet the changing needs of our customers while quickly adapting to this new world of work. And change really is the word that best sums everything up. 
Whether it was enabling companies to stem the tide of The Great Resignation, giving guidance on how to lead teams remotely, understanding the importance of leveraging internal talent, or optimizing interviews for today's candidates – SocialTalent has evolved to provide training and insights to not only help organizations hire better, but build and maintain better workplaces.
The feedback from our customers has been fantastic. 19,459,569 minutes of content was watched on our e-learning platform this year – that's 37 years worth! And with an industry-beating NPS score of 86, it's been amazing to see how our users have been responding to SocialTalent's training.
Take a look at some of our other key wins this year: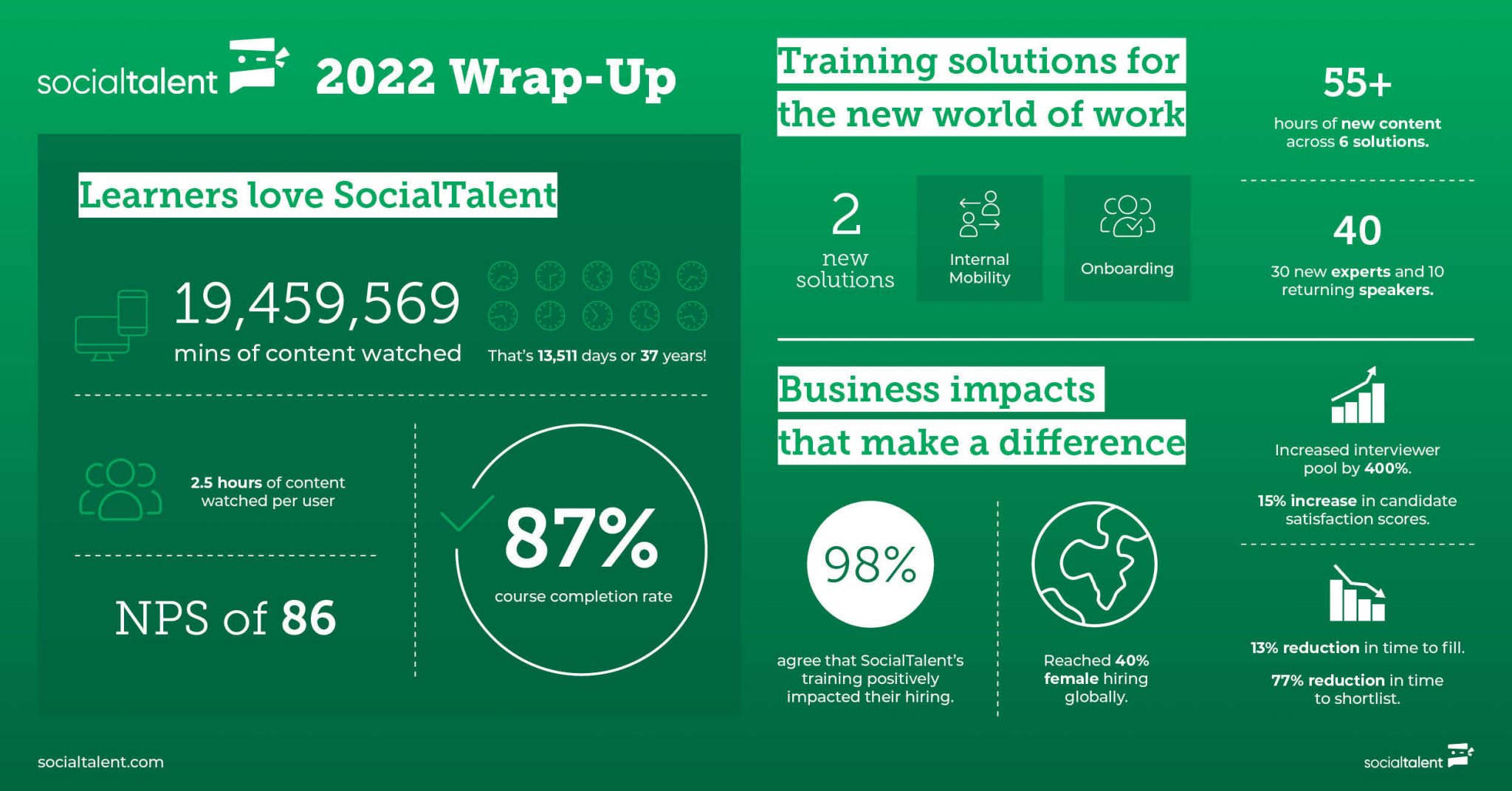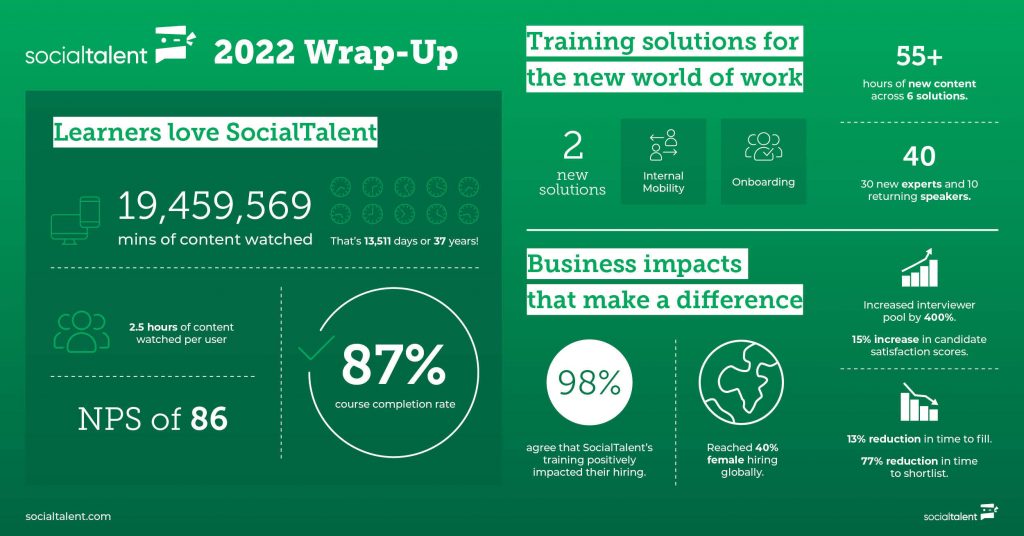 How did SocialTalent evolve in 2022?
One of the most exciting moments of the year for me was when we announced the acquisition of Careercake. Founded by the incredible Aimee Bateman in 2010, Careercake housed an award-winning library of videos expertly tailored to help employees navigate the workplace successfully. By incorporating this content into SocialTalent's e-learning platform, we were able to greatly expand our offering.
Launching our Internal Mobility and Onboarding solutions
Acquiring Careercake acted as the catalyst to broaden SocialTalent's training horizons. This content formed the backbone of two brand new solutions for our customers – Onboarding training and Internal Mobility training. As the competition for talent grows, it's becoming increasingly important to develop and retain your existing employees. From the minute they step foot in an organization, it's imperative that you set them up for success. And this trend must continue through the entire talent lifecycle. Effective onboarding and a comprehensive approach to internal mobility are non-negotiables for 2023 – and SocialTalent's new learning solutions can help your business do both better!
Incredible new content releases
One of SocialTalent's defining features lies in the frequency and quality of our content releases – and 2022 saw some amazing new authors and learning paths launch on our platform. From insightful missions on psychological safety with Joe Gerstandt and Mo Abdullah to candidate experience masterclasses with Andrew MacAskill and insights on executive search with Roopesh Panchasra, we added 30 new voices to our existing faculty of over 100 experts. And our learners seemed to love all this content too as we clocked an overall course completion rate of 87%! One author in particular, however, blew us all away! New York Times bestselling author, Dan Heath, filmed an incredible learning path on the transformative power of 'moments'. Take a look:
A new edition to our umbrella, The SocialTalent Academy is our dedicated service that delivers recruitment training to individuals or small teams of less than ten people. An ideal option for those looking to develop their skills, Academy members can gain access to SocialTalent's library of content and obtain professional certificates in sourcing, recruitment, tech recruitment, or talent advisory. I'm proud of the work the team put into launching this offering and can't wait to see how it grows!
Expanding SocialTalent Live
2022 saw us host three SocialTalent Live webinars over the course of the year, with each edition only improving on the previous. We delved into the importance of psychological safety, found the best tips for engaging and retaining talent, and also looked at how the role of TA leadership must evolve. Each event welcomed over 500 TA and HR leaders to listen to panels and fireside chats with leading industry experts, including the likes of Salma El-Wardany, Dan Heath, Yasar Ahmad, and Michel Guye-Bergeret. I was lucky enough to host these events and they have quickly become a calendar highlight for myself and our audience!
Opening the Customer Success Hub
We're always looking for ways to work smarter at SocialTalent, and the launch of the Customer Success Hub is the perfect example of this. Bringing together our best-practice playbooks, templates, and insights for successful learning programs into one place, the CS Hub has become an invaluable tool for customers. The guidance and information that resides in this resource allows SocialTalent users to make the absolute most of their learning.

Partnering with Indigo Tech Recruiters
The war in Ukraine will be a lasting memory for everyone from 2022. So we were humbled in SocialTalent that we were able to offer even a modicum of assistance where we could. This took the form of a partnership with the amazing people at Indigo Tech Recruiters, offering free access to our e-learning platform to allow displaced Ukrainians to sign-up, learn, and forge new careers as recruiters. Over 1,000 joined and luckily in November Anna Stetsenko, the Founder, and Darja Gornitska, the CEO, joined me on The Shortlist to talk about their experiences during this difficult time. It was a truly enlightening episode and I would urge all to listen to it.
Looking forward for SocialTalent
Even with all the challenges that 2022 brought, it's nice to take this moment and realize what has been achieved. I'm hugely proud of what SocialTalent, our customers, and clients have accomplished this year. And I only hope for more success in the future.
So, what's next for SocialTalent? Well, as we mentioned earlier, we have our latest edition of STLive just around the corner on January 26th. We're also gearing up for a big release on upskilling first-time managers for our Leadership training solution too. 2023 looks set to be another trying year for many reasons. But we're excited to face these obstacles head-on and continue our mission to build better workplaces for all. Watch this space!
Find out how the likes of IBM, IKEA and Siemens
drive hiring excellence with SocialTalent
---