Keep up with the latest hiring trends!
How Recruiters Can Identify Successful Salespeople

Welcome to SocialTalent's Live & Learn Series!
Each week we gift you with a little bit of info that will help smoothen your recruitment process and expand your knowledge of your industry.
With this Live & Learn series we promise to keep it:
Short
Simple
Ready to use!
What Makes a Successful Salesperson?
It's reported that the average sales turnover rate is 34%. There are many steps that can be taken to improve employee retention, and one of the key factors is identifying the correct talent from the beginning. Will Ryan educates us on the key traits required to become a successful enterprise salesperson. This will help you assess candidates more accurately when hiring for sales positions.
Key Takeaways
The IDEC (Intellect, Drive, Experience, Character) framework helps to identify key qualities that are present in all successful salespeople.
Intellect- Enterprise salespeople can sell extremely complex solutions. They need to make it simple for the customer to understand the function and the potential return on investment for these solutions. It takes great skill and intellect to manage this.
Drive- In some sales organisations, the sales cycle can last over a year. It takes great drive and determination to work towards a goal that may take a long time to achieve. The way they react to adversity during their lengthy deal process is also a telltale sign of their drive to succeed.
Experience- When it comes to screening enterprise sales candidates their experience is a very influential factor. Whether their experience manifests in the product, region, buyer or process can vary, but its value can be a huge asset to your company
Character- A successful salesperson will need to be able to connect with and motivate people both within and outside of their own company. Character goes a long way in determining how well they can build relationships throughout their career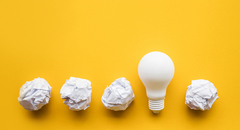 DOWNLOAD YOUR FREE GUIDE
Recruiter's Guide to Career Development
Find out how the likes of IBM, IKEA and Siemens
drive hiring excellence with SocialTalent
---