Keep up with the latest hiring trends!
/
/

How To: Unlock The Power of Employee Advocacy
How To: Unlock The Power of Employee Advocacy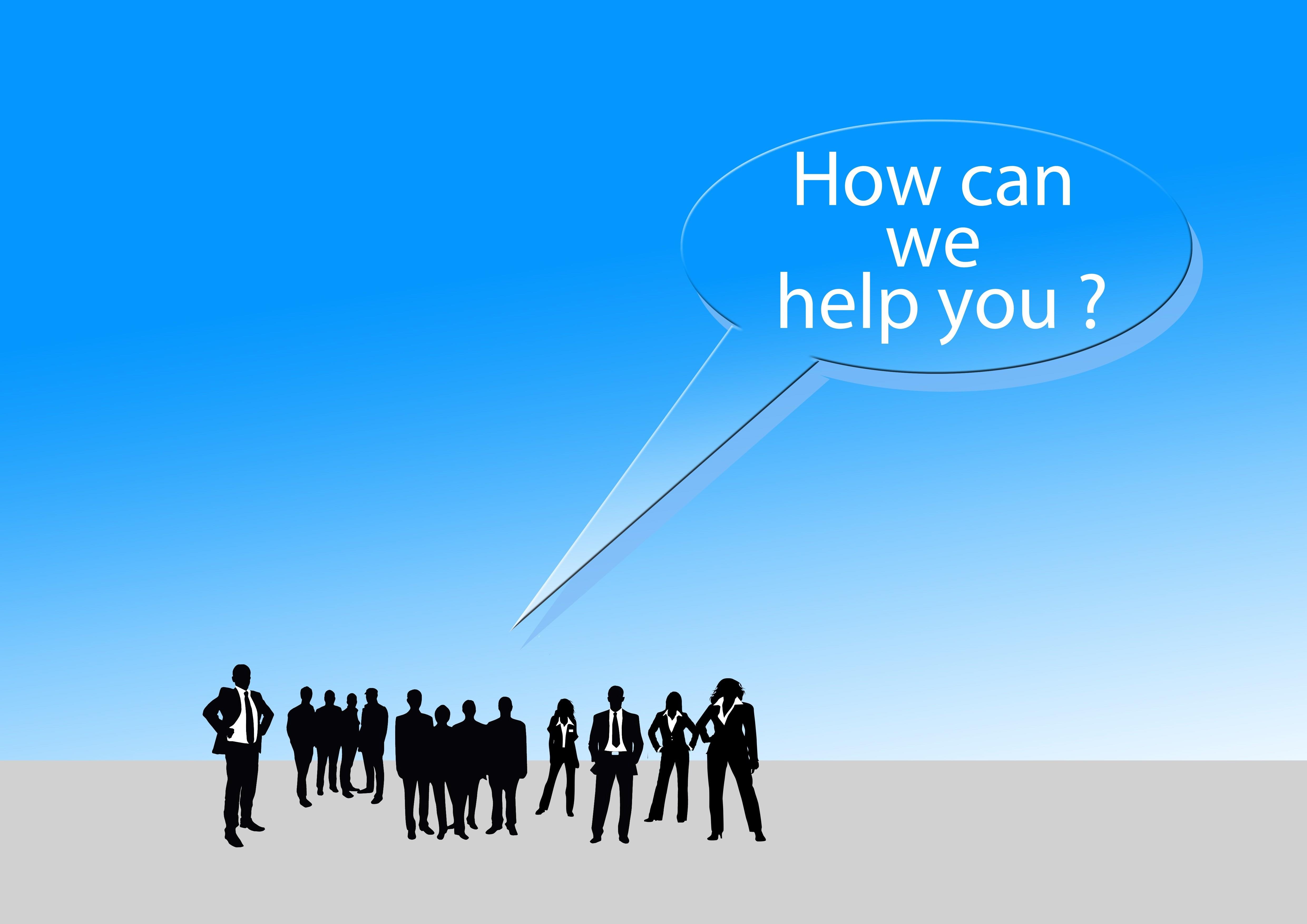 When it comes to amplifying your employer brand, there are 3 areas that you can invest in:
Your brand channels (marketing)
Senior leaders (thought leadership)
Employees (people with great communities that you can tap into)
The third area is probably the most powerful asset you have that can help you achieve your employer brand goals and comes in the form of 'employee advocacy'. Employee advocacy involves using the power of your people and empowering them to support and amplify your brand. Your employees provide ready-made communities for your brand which can help you in attracting and engaging the top talent. Not only this but Edelman found that employees are essential advocates and are the most trusted spokesperson to communicate on different topics.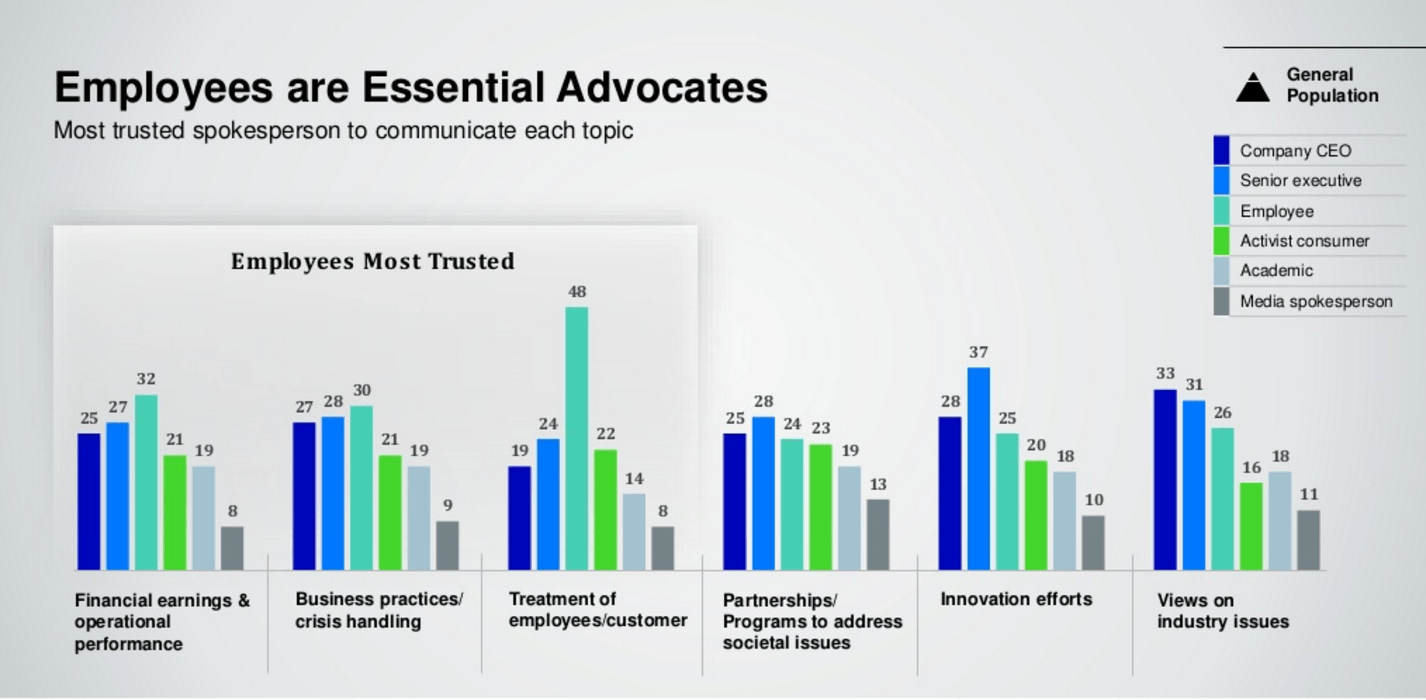 So employees are great yes. But how do you go about leveraging the power of your people? Well, that's what we're here for! Read on to find out how to unlock the power of employee advocacy.
Prioritise Company Culture
It's not like us to start negatively on a topic but it has to be said that company culture will be your biggest obstacle when trying to establish a successful employee advocacy programme. Company culture is a powerful construct that defines 'the way things work around here' and can be extremely difficult to alter. Therefore, it is imperative that you try to foster a culture that supports collaboration and support which will help you get your programme off the ground.
Ideally, you want a business that already embraces social. But this doesn't mean you start introducing a book of rules for people when posting on Facebook. It is important you give employees that are part of your programme space and flexibility so that they can take ownership of their social identities. If you want them to become ambassadors for your employer brand, we suggest providing a very minimal set of guidelines on things like compliance and privacy, and giving them the freedom to post on their social accounts. More on this anon.
Ensuring Alignment with Objectives
The first thing you need to do before embarking on any new programme is setting objectives. What is your company trying to accomplish with your employee advocacy programme? The best way to do this is simply defining your objectives and goals which will help you bring clarity to your programme. Let's go through a quick example:
Objectives
Increase employer brand awareness
Increase thought leadership and dialogue in industry
Increase employee engagement
Goals
Increase Talent Brand Index score by X%
Increase applicants for open positions by X%
Improve employee social influence by X%
Reduce attrition by X%
By establishing key objectives and goals to achieve within your employee advocacy programme, you will be better able to measure its impact and optimise overall performance.
Build Your Content Armoury Around Storytelling
Without content, your employees have no weapons…so give them some! Work with your marketing team to help build a content library that can be accessed by advocates. Instead of writing paragraphs of text for your advocates on how cool your company is, try and build content around your story. Storytelling is a powerful communication instrument for stating and sharing a company's vision and values and can help capture candidates' attention, build trust with candidates and demonstrate how good it is to work for the company.
Put your employees front and centre. Consider doing employee spotlight videos, day-in-the-life videos, blogs recognising awards for employees etc. Posting 'behind-the-scenes' content helps you build a more genuine connection with candidates. The reason for this is that users are thirsty for transparency and an inside look into how things are built and done within your company. See below for an example of behind-the-scenes content where Siobhan from Hubspot promotes how kind-hearted her colleagues are as well as the managers at Hubspot.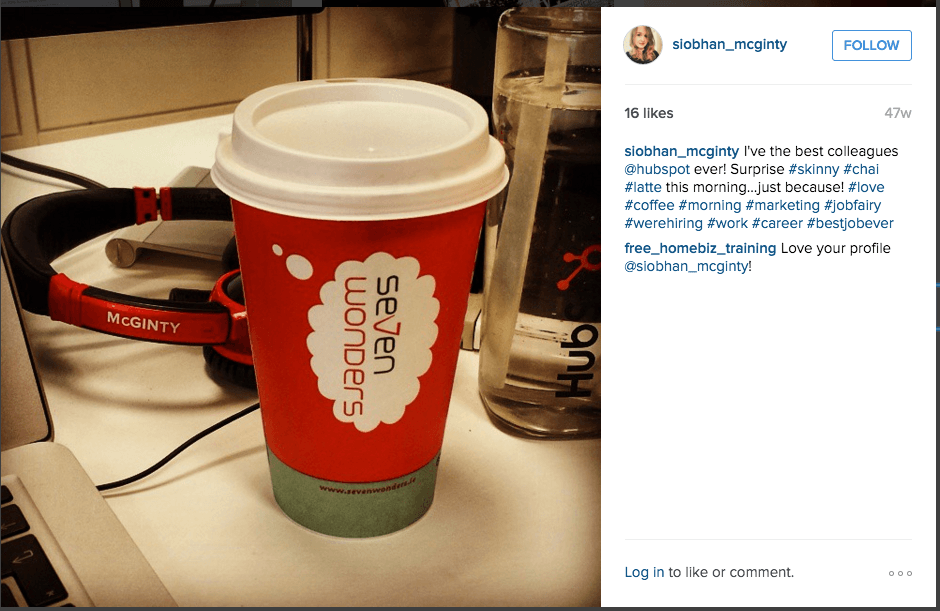 Identify Your Social Champions
The next step is to identify the individuals within your business who are already socially active. Think about how many people they know. Think about the networks and the owned communities that they have and the opportunity that you could have if you create ripples and amplify your employer brand. It's pretty easy to identify your social champions. For example, LinkedIn is the largest professional network in the world and you can determine which employees are most influential on this network in a couple of ways.
When logged in to your account, you can see which employees in your company are most viewed on LinkedIn. The employees with most profile views are typically the most active on the network, adding connections, sharing updates and engaging with LinkedIn Groups and other members.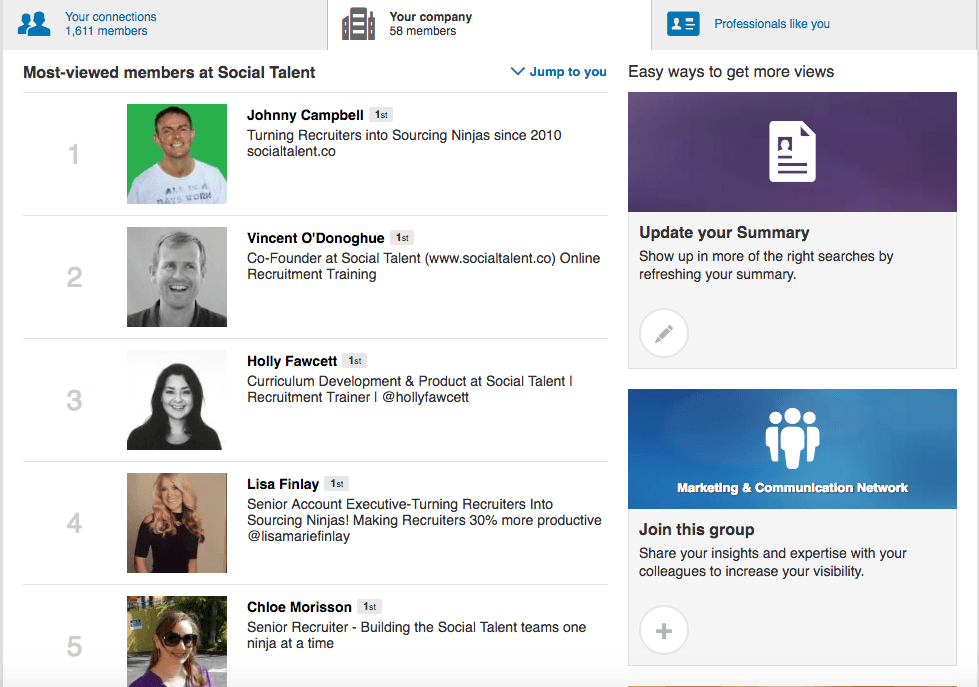 LinkedIn also have a Social Selling Index which measures how effective members are at establishing a professional brand, finding the right people, engaging with insights and building relationships. This is a useful metric you can also use to determine who's the most active on this network.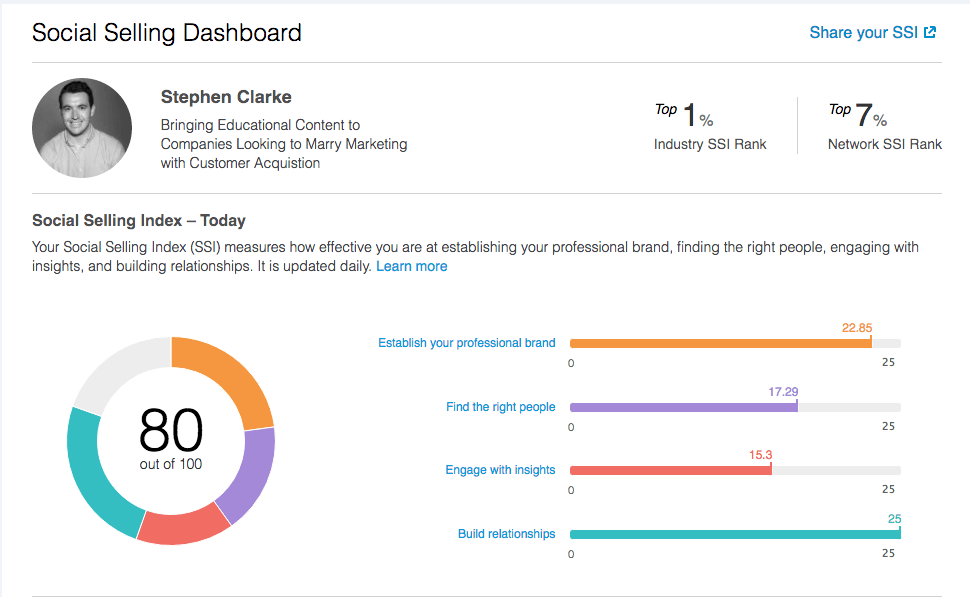 You want these influencers to amplify your employer branding content (if they are interested in doing so that is). Whoever you recruit, you want them to be able to tell stories using the content available to them. A suggestion from us would be to also ask the newest employees who are typically the most enthusiastic, still being on a high after getting offered the job. Capture this enthusiasm as much as you can and encourage them to share your employer branding content.
Coach Them
"Coaching is unlocking a person's potential to maximise their growth" – John Whitmore.
Once you have identified your current (and future) social champions and they are happy to join the programme, it's time to start training and supporting them to make the best use of social media for your employer brand. Before you encourage your advocate team to start posting on social, it's important to ensure that they have a clear idea of the message you want to communicate. Do they know what the company goals and objectives are? Do they understand the company culture? More than half of U.S. employees do not know what their company stands for so you must take the time to educate your team on this.
As we mentioned before, you do not want to micro manage. Never force them to do anything – use the people who are passionate about what you do and let them tell their stories in their own voice. Communicate clearly the importance of employee advocacy and explain that the goal is to empower them to be more influential and become thought leaders within their networks. That being said, guidelines need to be put in place around social etiquette so no one puts the brand's reputation in jeopardy.
Give them actionable and topic-specific guidance on who to follow, what to read, where to listen etc. Also, train them on the tools and software they will be using. For example, you could ask your team to create IFTTT accounts which they can use to create automated actions to share company updates like job posts.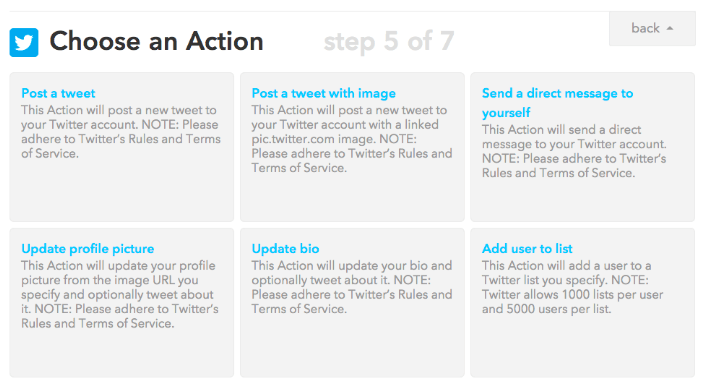 Roll Out The Programme In Waves
Many companies are exploring employee advocacy for the first time so it's important not to go hell for leather when first embarking on a programme like this. You should have a rollout plan in place so you can take small steps and identify potential issues that may arise. We suggest doing a beta launch for about 1 month with a small group. Meet twice during this beta test so questions, concerns and comments can be raised about the programme.
After this test, evaluate everyone's usage and get feedback from the team. Find out if there have been any success stories which can act as a blueprint for future usage. The goal here is to get some key learnings from the test and make changes as necessary. When finished this, you can expand the advocacy programme to all that wish to be involved.
Measure and Report Results
Based on the goals and objectives you lay out at the beginning, identify your KPIs and use these to measure effectiveness. Using hard data, you will be able to see exactly what's working and what's not. Develop robust reporting for individual and overall impact. Typical things you can measure include number of mentions, sentiment, share of voice, traffic to careers site, number of applicants etc.
Not only should you measure the impact of your employee advocacy programme but you should also measure the interest levels in your employee advocacy programme. Are employees signing up every week/month/quarter? Is there a regular contribution of ideas? Your job is to keep these numbers up as high as possible because if they don't 'buy in', they will struggle to share and amplify.
So these are the things that recruiters and HR teams need to do in order to get their employee advocacy programmes off the ground. Today, there is an increasing credibility of employees as it's the employee that people accept information best from and see it as the most sincere and trustworthy source. So harness the power of your employees' networks and encourage them to extend your reach across many channels!
Find out how the likes of IBM, IKEA and Siemens
drive hiring excellence with SocialTalent
---