Keep up with the latest hiring trends!
/
/

What are the Benefits of Recruiting Training?
What are the Benefits of Recruiting Training?
What concerns are your organization grappling with at the moment? Are you finding it difficult to source top talent? Is employee retention still an anxiety? Perhaps you're worried about the lack of diversity and innovation within your culture? Or is economic uncertainty a major spanner in the works? Well, what if we were to tell you that the answer to your prayers could lie in recruiting training?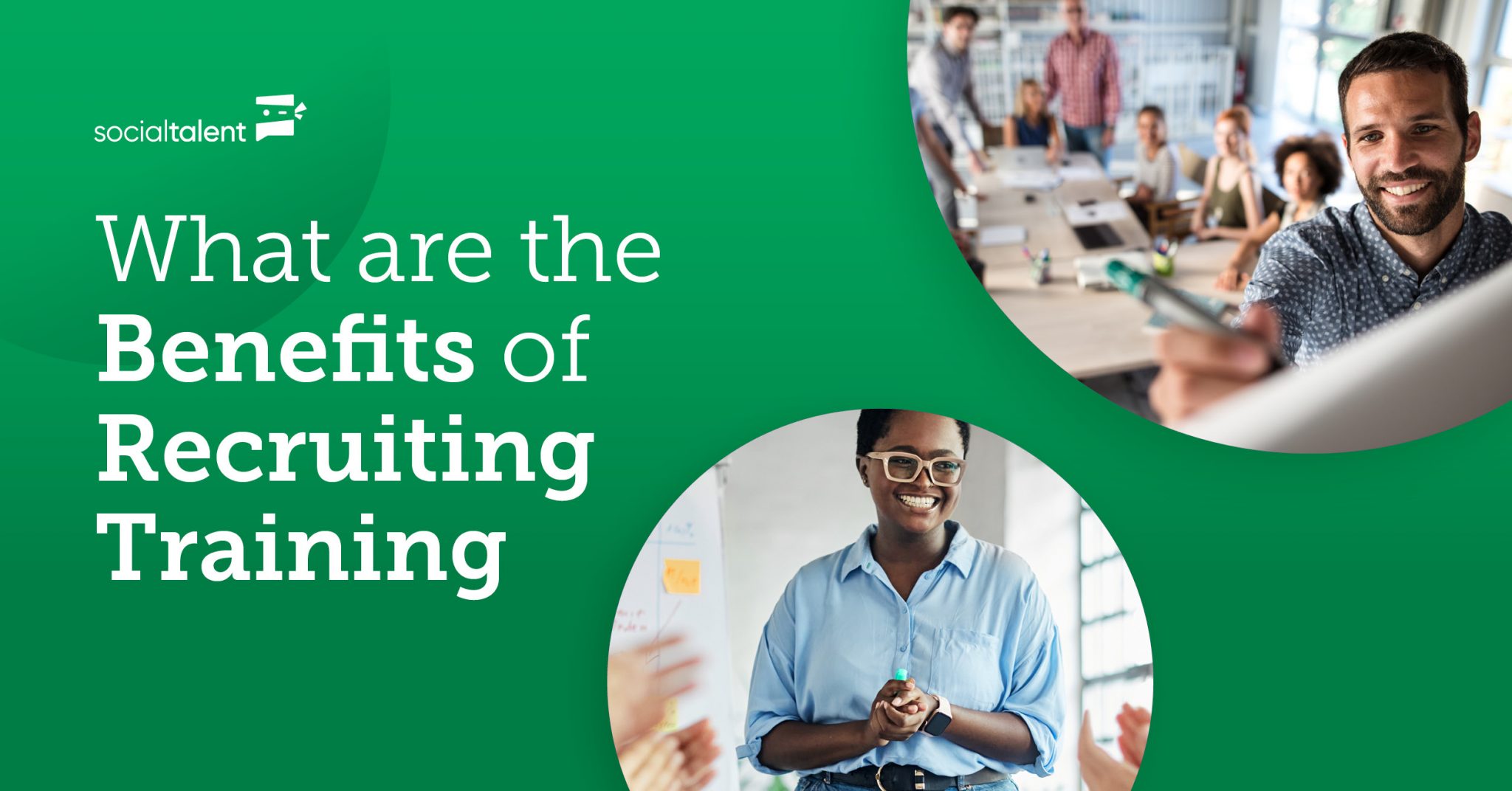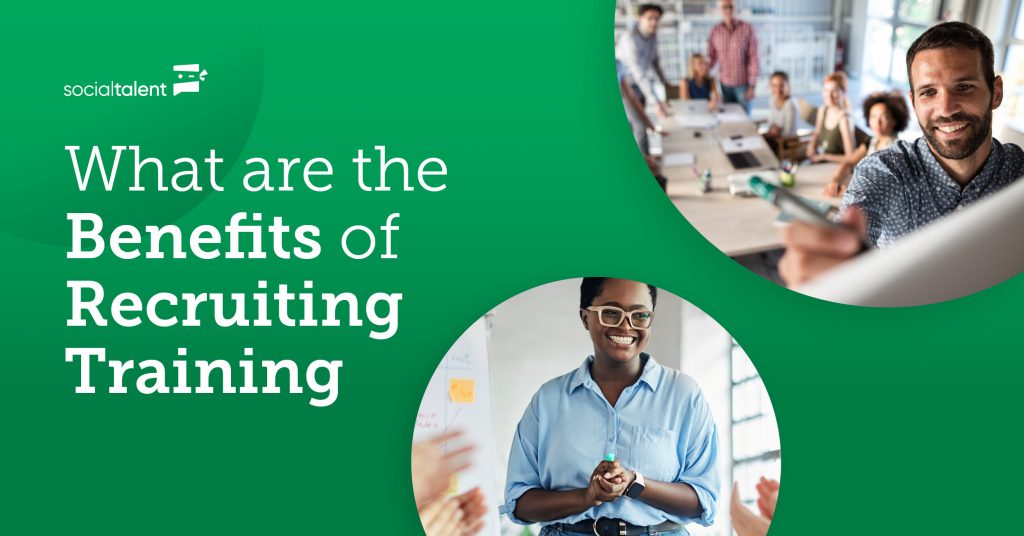 People are the lifeblood of every company. No matter what your mission is, no matter what challenge you're facing, having the right employees in your ranks can lead you to success. But if your recruiting and talent acquisition teams aren't optimized and upskilled, the odds of finding, hiring, and retaining the best people are drastically reduced. 
Recruiters are the gatekeepers of talent. By ensuring that they are trained to understand the market and your organizational goals, provide a stellar interview experience, remove bias, and expand their scope of sourcing, you open the floodgates to star candidates. And this isn't the only benefit. 
SocialTalent has been in the business of training recruiters for over 12 years now – we understand how vital this process is. So join us as we countdown the 5 most important benefits of recruiting training.
1. Find and hire the best talent
The most obvious benefit! According to a recent survey SocialTalent ran, 88% of organizations are having difficulty finding talent, while a Manpower report noted that 3 in 4 companies are reporting a lingering talent shortage. Even as inflation rises and layoffs make headlines, the appetite for hiring still remains strong. Recruiters and talent acquisition teams are fighting to snag the people they need – particularly for critical and strategic roles that are difficult to hire for. So how can learning and development assist with this?
In order to break through the noise and source these hard-to-fill positions, recruiters must refine their approach. Meaning that traditional methodologies and out-dated knowledge simply won't be able to find (or entice) a candidate in this climate. Today's job market is continually evolving, and it's the recruiters with the latest strategies, tools, and insights who are staying ahead of the competition. The tech industry is the consummate example – are your recruiters able to speak this specific language? Do they know what candidates need, or how best to approach them? Specialized training is the answer, and it can be the difference between a good hire that performs, and a bad hire that drains resources. 
2. Improve candidate experience
Hiring is the first touch point for a candidate. It is a primary opportunity to sell your company, provide clarity, and inspire success. Every interaction in this process matters – from your initial outreach communication to offer accept/reject. And with the job seeker market being so tight right now, it's never been more important to ensure your candidate experience is ship-shape. After all, according to IBM, candidates are 38% more likely to accept a job offer after having a positive experience – this is a huge ROI, right? So how can recruiting training help improve this?
Understanding what candidates are looking for and expecting from the hiring process has never been more vital. And it changes between industries, roles, and seniority too. There is no one-size-fits-all approach – particularly when we take diversity into account too. But there are best practices. And learning how to conduct screening calls, interviews, and follow-ups that place the candidate and their needs at the center of proceedings will not only improve their experience, but it also massively benefits your organizational brand. 
3. Decrease time-to-hire
Speed and time are universal commodities when it comes to making hires. Recruiters are always under pressure to fill roles quickly. However, mistakes in the process can be costly, both financially and in terms of effort. There is a balance to be had – like the oxymoron says: make haste slowly. Recruiters need to learn the best and most efficient ways to bring qualified candidates through the hiring process. It is a skill that must be nurtured and not something that can just manifest without proper instruction. But decreasing time-to-hire has a number of important benefits:
The position gets filled promptly with the best talent.

It reduces the cost-of-hire.

Better protects from candidates accepting other offers.

Improves candidate experience.

4. Diversity and inclusion
Improving diversity and inclusion is a mainstay, umbrella goal of any organization looking to succeed. There are countless studies and observations which conclude that having and enabling a diverse workforce leads to more innovation, higher performance, and better culture. But it's not the why that most struggle with when it comes to DEI – it's the how. Recruiters and talent acquisition play a pivotal role in driving diversity and inclusion within any organization. However, without proper DEI training on how to source, communicate, and champion talent from under-represented backgrounds, it won't lead to much positive change on this front.
Given the current scale of talent scarcity, and the swirling macro-economic issues, it's never been more vital for recruiters to be upskilled and encouraged to find, hire, and engage candidates from non-traditional backgrounds. By giving your TA team the tools and knowledge to write inclusive job ads, understand the dangers of bias, and create interview and onboarding environments that foster belonging, you drastically increase your scope of talent. And remember – according to Glassdoor, 67% of employees look to a company's workplace diversity when considering a role. It simply cannot be overlooked. 
5. Retention and wellbeing
In a recent survey SocialTalent conducted, employee retention was listed as one of the major priorities for organizations in 2023. And what is one of the most important factors linked to retention and engagement? Career growth opportunity. Workplaces are calling out for learning and development pathways – and recruiters are no different. 
JoinTalent's 'Hiring and Building Recruiter Capability' study mentions that "over the years, recruiters have been sadly under-developed in terms of structured training and support." Without focused learning that's tailored to this deep and complex profession, recruiters and TA folk will quickly lose any edge of curiosity, will continue to hire in traditional patterns, and may even consider leaving for a role which offers more. Generic HR courses are not the answer. According to Work Inc's quarterly report, 65% of recruiters say their job is more stressful today than it was even a year ago. If you're not giving them the training they need to survive and thrive in this new world of talent acquisition, it could lead to unprecedented levels of burnout, disinterest, and attrition. 
The final word
The landscape of work and talent is shifting so much at the moment, and it'll be the recruiters who are agile enough to adapt that will rise to the challenge. The ones who are enabled to source talent in offbeat places and can provide a candidate experience that's tailored to perfection. Recruiting training allows for this. And it also allows organizations to hire faster and with more precision, all while retaining their recruitment talent. It's win-win-win-win-win! 
Why SocialTalent should be your
recruiting training
of choice
The SocialTalent e-learning platform enables organizations to drive better hiring and business outcomes. From upskilling your TA teams to training new recruiters, our expert-led content ensures they have the skills and confidence to attract, find, and hire the best talent. So, why SocialTalent?
Industry-beating NPS of 86.

Course completion rate of over 87%.

Companies have reported a 24% increase in candidate satisfaction scores, 25% decrease in time-to-hire, 20% increase in recruiter productivity.

World-leading experts delivering the content including John Vlastelica, Ed Nathanson, Dr. Joanna Abeyie, Andrew MacAskill, and Holly Fawcett.

Intuitive learning platform with customization, gamification, and in-depth reporting options.

Bite-sized learning that can be completed anywhere, any time.
"Our partnership with SocialTalent has allowed us to build what is a truly innovative learning program that is not only a differentiator, but has solidified our talent base in a highly turbulent candidate market." 

– Christoph Niebel, President, Pontoon Solutions
Think recruiting training could also be the differentiator for your organization? Start your learning journey with SocialTalent today – we look forward to hearing from you!
Find out how the likes of IBM, IKEA and Siemens
drive hiring excellence with SocialTalent
---