Keep up with the latest hiring trends!
/
/

5 UK Recruitment Trends That YOU NEED To Know
5 UK Recruitment Trends That YOU NEED To Know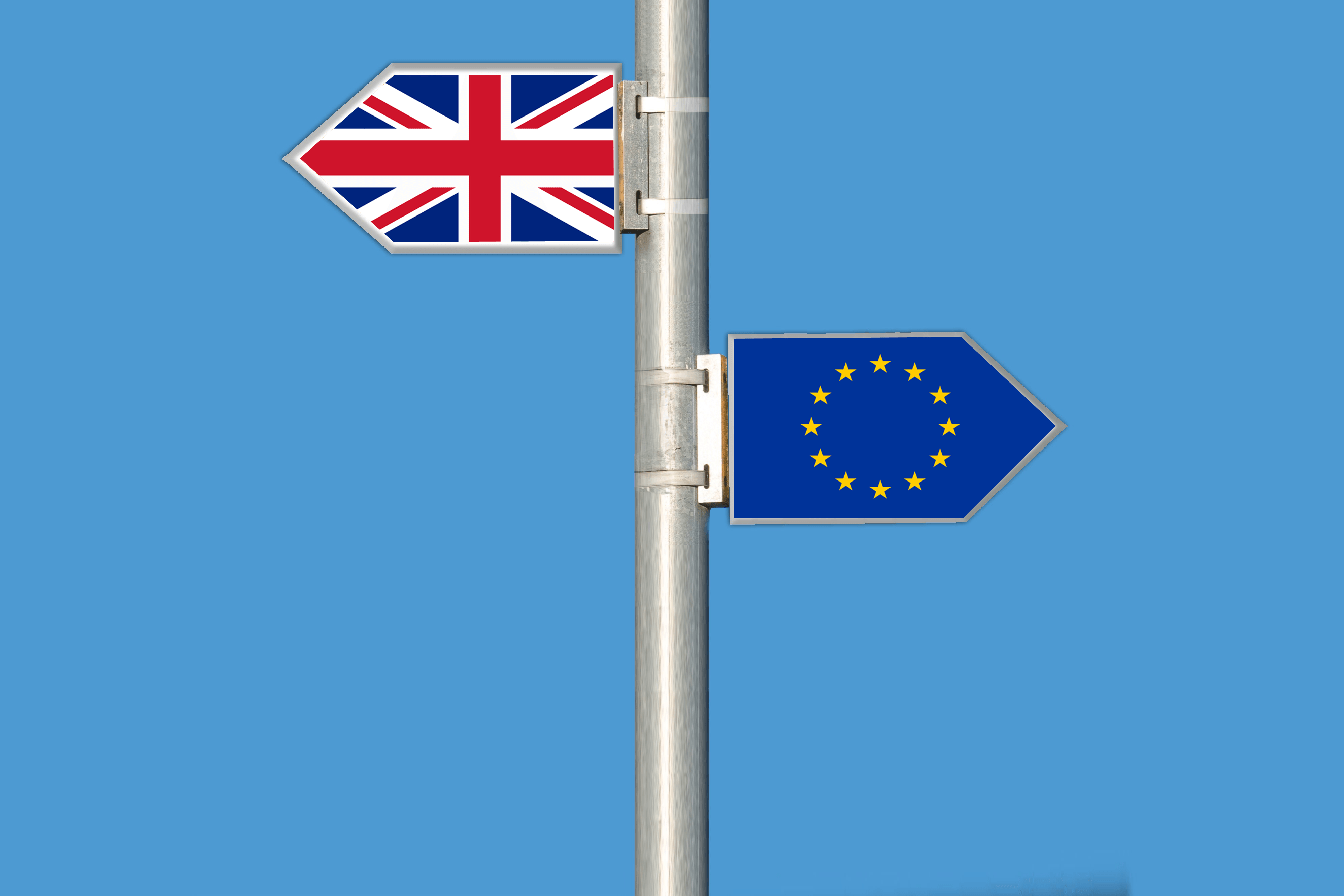 It's been one hell of a year for the U.K. Following the Brexit verdict, a wave of damning economic forecasts have emerged and the Prime Minister, David Cameron quickly handed in his resignation. Recruitment in the UK is in a state of uncertainty, a period that is expected to continue as recruiters try to figure out new approaches to a new and challenging labour market.
One thing that hasn't changed however, is the importance of filling in jobs that are available and attracting top talent to these roles. Access to top talent is essential for sustaining growth. For the rest of 2016, there is going to be a continued shift in power from employer to candidate so recruiters need a proactive recruitment strategy to secure the best talent. We decided to break down the 5 key recruitment trends happening in the UK right now and some key actions UK recruiters can take in this new landscape:
Trend #1: Anonymous Resume Screening & Blind Interview
One of the first trends UK recruiters need to be aware of is the increased focus on anonymous resume screening and blind interviews. Bias is continuing to plague companies during the recruitment process so in order to avoid this, more UK-based companies are starting to employ this new scientific approach which can improve diversity hiring. More diversity leads to more diverse teams which leads to a more enhanced, creative and innovative environment.
Typical best practices you should be aware of when undertaking this new approach include using questionnaires instead of resumes which typically have details on name, gender, age and education, and more telephone interviews to avoid visual biases. One company in the UK that are using this approach is London firm J Walter Thompson who, in a bid to improve diversity hiring, are conducting blind recruiting for their next round of entry-level hires. Rather than having potential candidates submit a copy of their CV, they will be asked to answer six questions which will then be used to whittle down the pool to the interview stage of the process.
Trend #2: Quality of Hire
According to LinkedIn, quality of hire is continuing to be the most valuable KPI for recruiters, with 35% agreeing it to be the 'magic metric'. That being said, UK recruiters are lacking in confidence when it comes to effectively measuring this metric. Globally, 33% feel that they measure quality of hire effectively but the U.K. sits below the global average at 23%, meaning there is a lot of opportunity for improvement.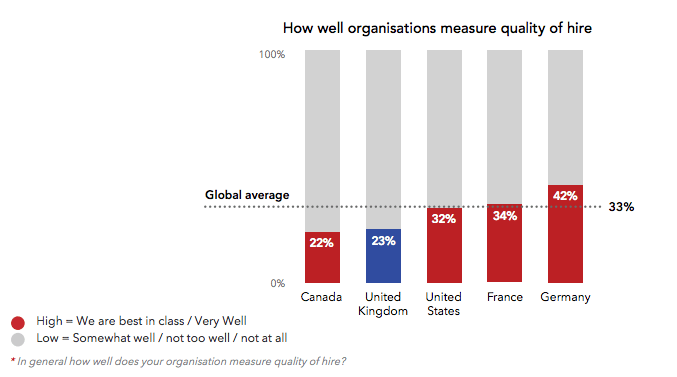 One thing that UK recruiters can do is identify which sources, selection criteria, recruiters and hiring managers are best at identifying new hires that perform to a high standard. Overtime, traits associated with top-performing and weaker employees can be identified and knowing what attracted each group can help you refine your recruitment methods.
Trend #3: Digital and Mobile
Technology and changes in candidate behaviour has seen the boom of social and professional networks, meaning employers are increasingly using consumer marketing techniques to attract top talent. In the same LinkedIn study, it was found that social professional networks are very much on an upward trend in the UK when it comes to being a key source for quality hires as well as maintaining relations with passive and active talent.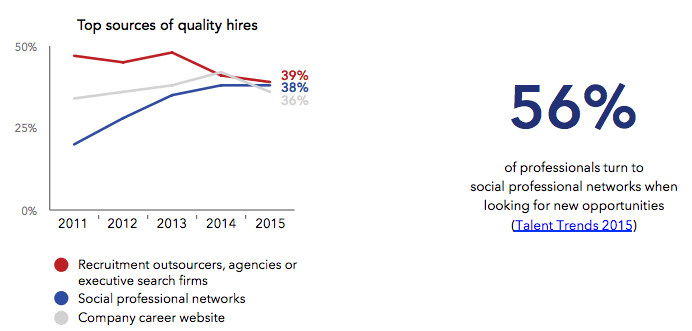 Ultimately, today's candidates expect to interact with recruiters digitally and efficiently. This also extends to company career sites which can be one of the most effective and cost-efficient solutions out there when it comes to converting potential candidates, especially if optimised for mobile. One of the early adopters of a dedicated careers website is Magnet UK who are now working on modernising their site. Michelle Rowlands, Talent Acquisition Manager of parent company Nobia UK, states there are 3 'musts' for career sites this year:
Mobile enabled
A seamless link with your ATS with functionality to make applying on line a candidate-friendly process
Fresh & relevant content
Trend #4: Candidate Communities
In the last 5 years, the job market in the UK has become very much candidate-driven with one of the biggest developments in recent times being increased emphasis on building strong relationships with candidates. One of the tactics becoming more commonly used is developing talent communities in order to pipeline talent. LinkedIn tracked this trend most recently, finding that 43% of UK recruiters are using communities/pipelining of talent as a long-term tactic.
Talent communities should not be viewed exclusively as a sourcing tool but more of a way to unite an audience on topics relevant to the organisation which can give recruiters a more holistic view of the talent ecosystem. We believe Master Burnett puts it best when he says "talent communities are a new breed of infrastructure designed to support the real organization. They are not solely sourcing or recruiting solutions, communications or marketing solutions, training or workforce development solutions, collaboration or productivity enhancement solutions, but rather all of them in one".
Trend #5: Candidate Experience
A common mistake many recruiters (not just in the UK) make is thinking or assuming their candidate experience is good without actually putting themselves in the candidate's shoes in the application process, or not continually reviewing their candidate experience in order to optimise it. Candidates today require a more proactive, multi-touch approach in the engagement process. The research speaks for itself: CareerBuilder found that, if the candidate experience was poor, 42% of candidates would never seek employment at the company again and 22% would actively tell others not to work for that company.
That means during the recruitment process, UK recruiters need to provide constant feedback (even for unsuccessful candidates), make sure the recruitment process is efficient and provide quality job content. UK magazine Recruiter offer some best practices when optimising candidate experience such as surveying past applicants to find out what they didn't like about the process, using 'mystery shoppers' to go through the hiring process and monitoring employer review sites like Glassdoor to identify potential problems.
So these are the 5 biggest recruitment trends that UK recruiters need to look out for. Have you noticed any other trends that will have big affect on recruitment? Let us know in the comments.
Find out how the likes of IBM, IKEA and Siemens
drive hiring excellence with SocialTalent
---