Keep up with the latest hiring trends!
/
/

Couch Potato to Avid Social Recruiter in 6 Weeks
Couch Potato to Avid Social Recruiter in 6 Weeks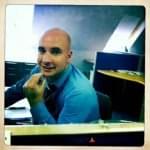 Our guest blogger this week is Gerard Grimes, manager of Adecco Ireland's Multi-lingual recruitment business MarketREACH in Dublin. From humble beginnings of opening a Twitter account just a matter of weeks ago, Gerard is now a full-blown believer in Social Recruiting after making his first placement within 6 weeks (and for next to no cost). Follow him @RecruiterDublin
So I've bitten the bullet and started to utilise the social media sites (LinkedIn, Twitter and Facebook). I've made groups for my brand on each site, as well as setting up an RSS feed with Bullhornreach, which I will get to in a bit.
Long story short: my first placement went through last week, in just six weeks since I have started the process of social recruiting.
So how did it work?

I began building up my network on LinkedIn, which, as a recruiter you will find has certain milestones along the way, including not being able to request connections any longer without adding an email address to prove that you know them (most highly-networked recruiters have reached this stumbling block).
I realised that if I invite my candidate and client databases to connect to me on LinkedIn, this was a bulk way of getting around the "How do you know X" problem (however, this clogs up your email! Two days of deleting emails saying your connected to Tom, Dick and Harry and I've started to get on top of it).
Next, I created groups for each sector that I recruit for, in my case languages, and I use these as an organic way to grow my access to the communities I am looking to be part off. The numbers in each group are now between 30 people to around 200 and growing.
I discussed with each group the roles I was recruiting for, as well as letting them know about news, stats etc. and they all started to engage with each other and discuss what kind of roles they want to see advertised, and a few passive candidates came out of the woodwork to let me know they were looking for work too.
A technical test and an interview later, I had my first socially-sourced candidate start yesterday. Bear in mind that I haven't paid for anything up to this point.
Finally, the icing on the cake, the candidate's heart-warming recommendation: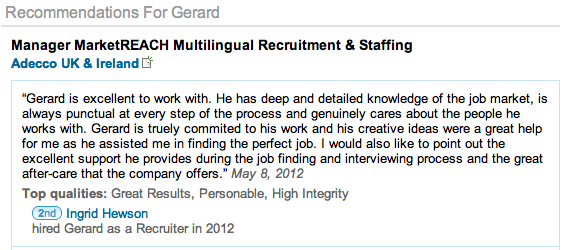 Safe in the knowledge that the difficult part is out of the way (the set up of all the groups and everything) I think that this will only get bigger, better and stronger!
Some great unexpected things I didn't see coming from the groups:
Clients wanting to join and post their jobs in the community, which is the simplest sales lead introduction I have ever done,
BullhornReach acting as a link between Facebook, Twitter and LinkedIn, and more importantly, to LinkedIn groups. It allows me to type my updates, jobs, news, statistics to one link, and it gets populated on all the different social media sites,
How quickly you can connect to experts and learn simple and effective tips to build up your networks.
So my advice to anyone considering social recruiting: Go for it. But make sure that you are aware that it doesn't happen overnight, and it does take maintenance. But if, after just six weeks, I am starting to see the rewards I can only see this as the new way that I'll be managing my business going forward.
Find out how the likes of IBM, IKEA and Siemens
drive hiring excellence with SocialTalent
---