Find Candidates That Will Work Abroad With These Killer Sourcing Hacks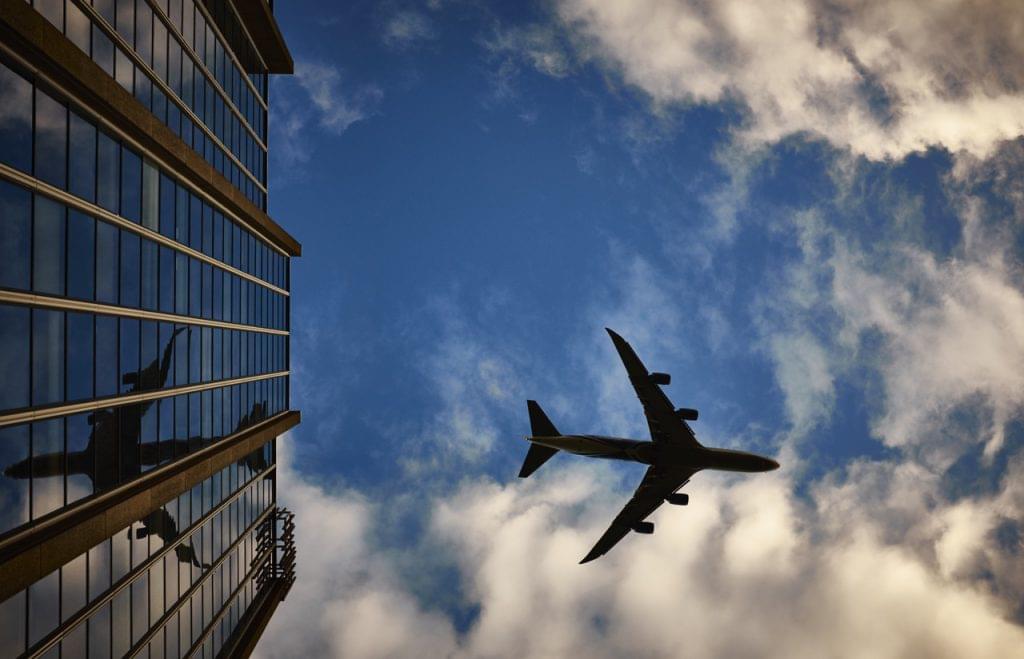 We often get asked by the sourcing ninjas who are training for our Black Belt in Internet Recruitment about how they can search for candidates who are willing to work abroad. Unless someone explicitly states 'Looking for overseas opportunities' in their LinkedIn headline, it can be very difficult for a recruiter to determine who could be open to taking a job abroad. Let's just say you're a recruiter in Ireland that needs to place five candidates in French-speaking jobs in Montreal, or you're a recruiter in Abu Dhabi that's looking for someone from the UK with a Quantity Surveying degree for a year-long building project. Now you could, of course, search for professionals in the UK who have the term "Quantity Surveying" in their profiles and blast out a mass inMail to anyone that you think could fit the bill, hoping that a few of them will come back to you with some interest, but surely there must be an easier way, right?!
Well, you're in luck – today we're sharing two hacks that will help you find people that are willing to work abroad through Facebook and LinkedIn, and neither of them involve the 'spray and pray' method!
Hack #1: Facebook Search Tool
This might sound insanely obvious, but how about searching for people who have already moved to the country that the opportunity is in?
Believe it or not, one of the most under-utilised tools to find people like this is actually Facebook! Here at Social Talent, we're big fans of the free Facebook Search Tool by 1ntelligence, which helps you search for people living in a specific area but originally hail from another city or country. You can also add in a particular language that they speak and when you click 'Search Facebook', the tool does all of the background work to launch your Facebook account and list all of the people that match your criteria.
Your Facebook search results will give you a list of people with the skillset you're looking for, from the home country you're looking for and in the country that you want them to be! If from here you notice that these people already have jobs, no problem – just treat them as you would do any other passive candidate. Remember, Facebook isn't the place to start messaging individuals about possible job opportunities; it's primarily a means for you to find the candidates. Then you can go ahead and find their email addresses so that you can contact them accordingly.
Statistically, you'll have much better odds of finding suitable candidates by searching for the people that are already in the country than you would be doing a more general search without knowing if they have any interest in relocating whatsoever.
Hack #2: LinkedIn Alumni Network Search
Another way to search for candidates with a particular skillset or from a specific overseas university is to search the education section of Linkedin. For example, if you're a recruiter in the USA and are looking for a native Japanese speaker, why not search for people who live in the USA, but graduated from a major college in Japan for instance? Here's how to do it…
Search for 'Kyoto University' in the search bar at the top of the page.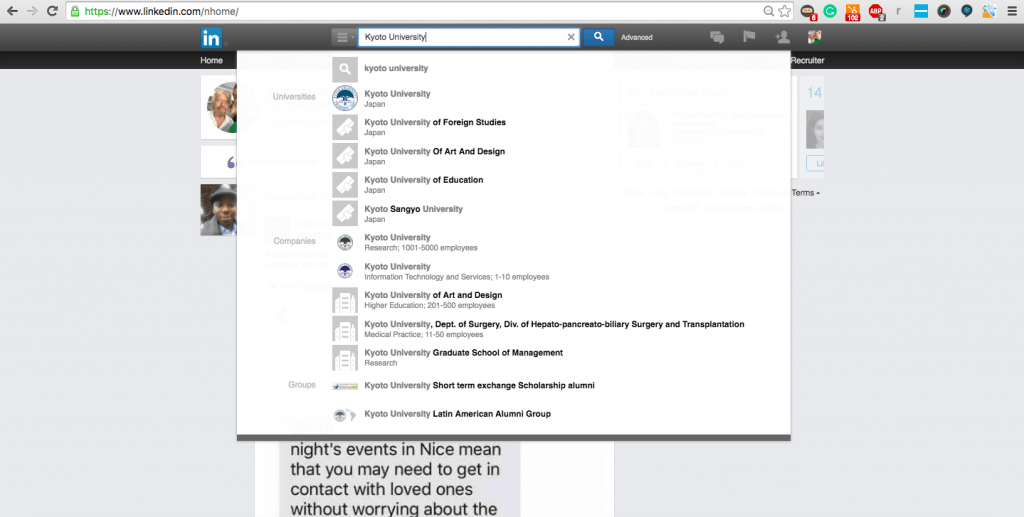 Once you click into the University page, you can see where most alumni are based. Naturally, most of these people will be based in Japan, but you'll also see a list of other countries, which you can click on to narrow your search.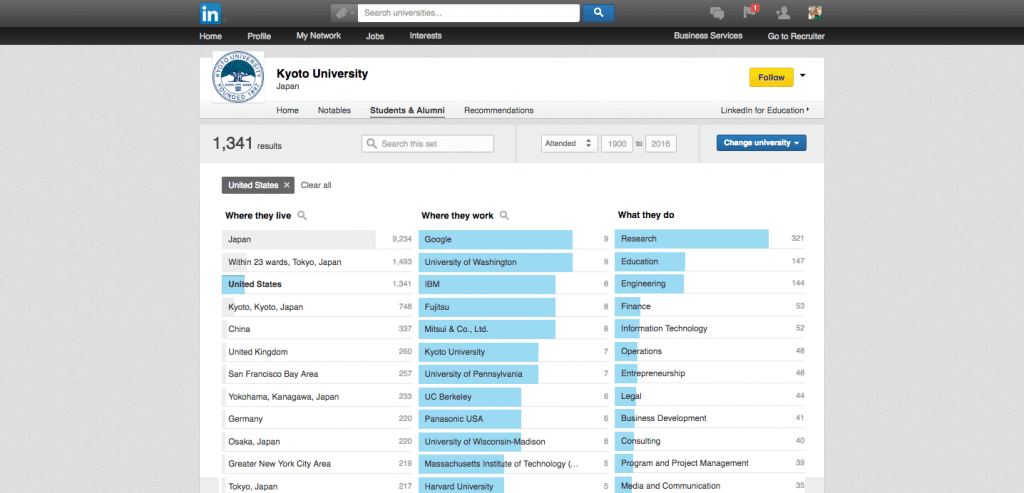 From here, you can narrow it down even further by looking at the companies they work for, the field or industry that they're in, their graduation year, the list goes on. You can even use Boolean strings in the 'Search this set' box .
Once you have narrowed down your results, you can start sending inMails out to the potential candidates.
Finding a candidate that is willing to move from their home country to work abroad is not only be incredibly time-consuming but also very hit and miss, mainly due to the fact that you're not a mindreader! By using these two sourcing hacks, you can start your search by looking for people that are already living in the country or city in question. That way, you don't have to worry so much about the time it takes for a candidate to relocate, not to mention having to worry about the visa process that's involved! At the end of the day, why make something more difficult than it needs to be…are we right?! Try it out and let us know if these methods work for you!
Not connected with us on social? Stay in touch and keep up-to-date with all the latest recruitment news, research highlights and our wide range of useful resources.
Want to keep up to date?
Join our 75,000+ subscribers who do!