Keep up with the latest hiring trends!
/
/

Top 10 Most Followed Recruiters on Twitter
Top 10 Most Followed Recruiters on Twitter
A couple of months ago we asked a number of recruiters who they felt managed the best Twitter accounts in terms of job seeker advice. Then we told you the 9 Recruiters You Should be Following on Twitter. Today, we're giving you some cold hard facts. These 10 people are the most followed recruiters on Twitter who, between them, have amassed a whopping 1.2 million followers and over 900,000 tweets to date. Find out who they are and what they do:
47,600 followers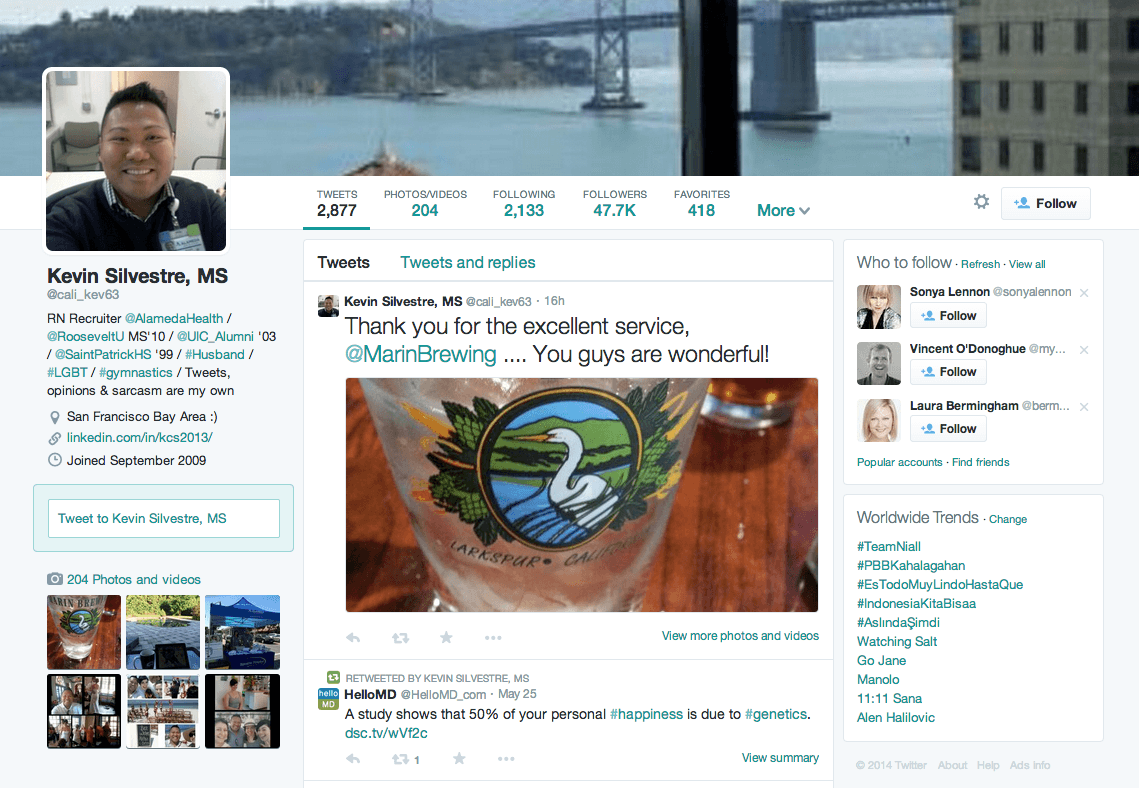 Kevin is currently a Human Resources professional within the hospital and health care system in the Bay Area of San Francisco. He has 11 years experience in healthcare operations, recruitment, employee relations and mergers and acquisitions in union and non-union environments in both the public and private sectors.
50,900 followers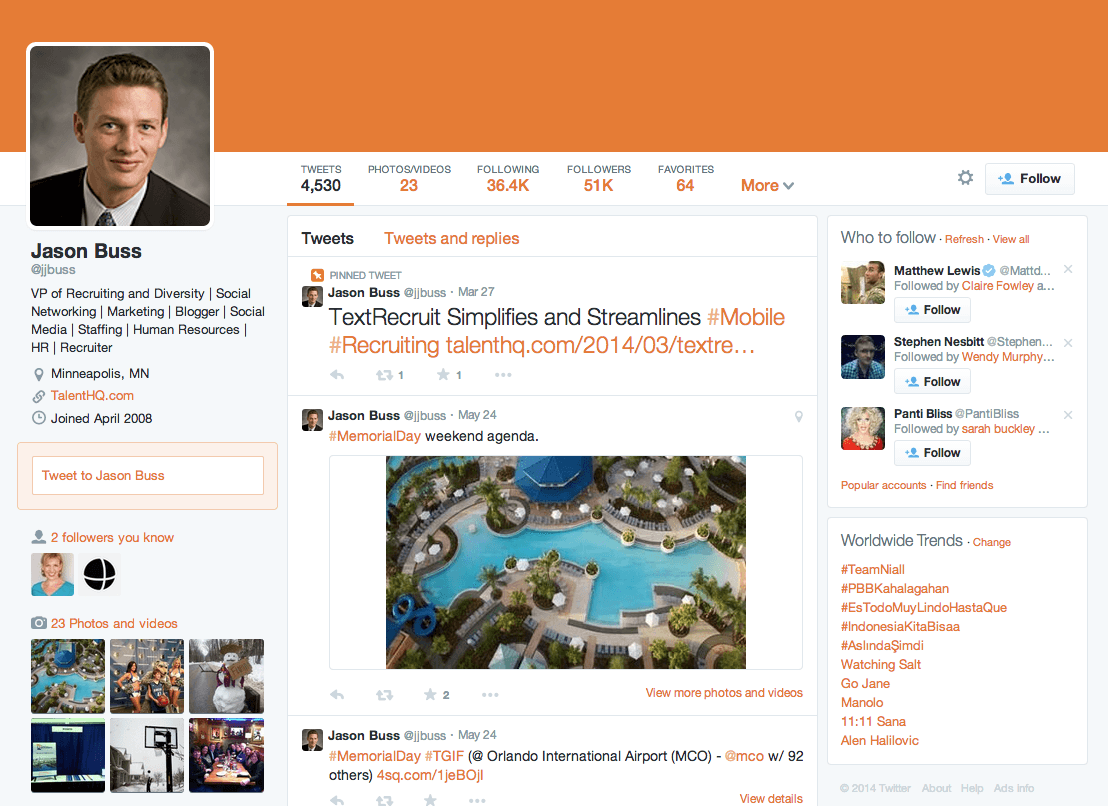 Jason is the creator and editor os Talent HQ, an online news and information channel for the recruiting and human resources community. Named as HR Examiner's Most Influential Online Recruiter in 2010, Jason has 18 years of leadership experience. He's the head of talent acquisition for TriNet, a HR outsourcing and cloud-based HR solutions company based in San Francisco and is also the president of America's largest and most active of regional recruiting communities, Minnesota Recruiters.
51,130 followers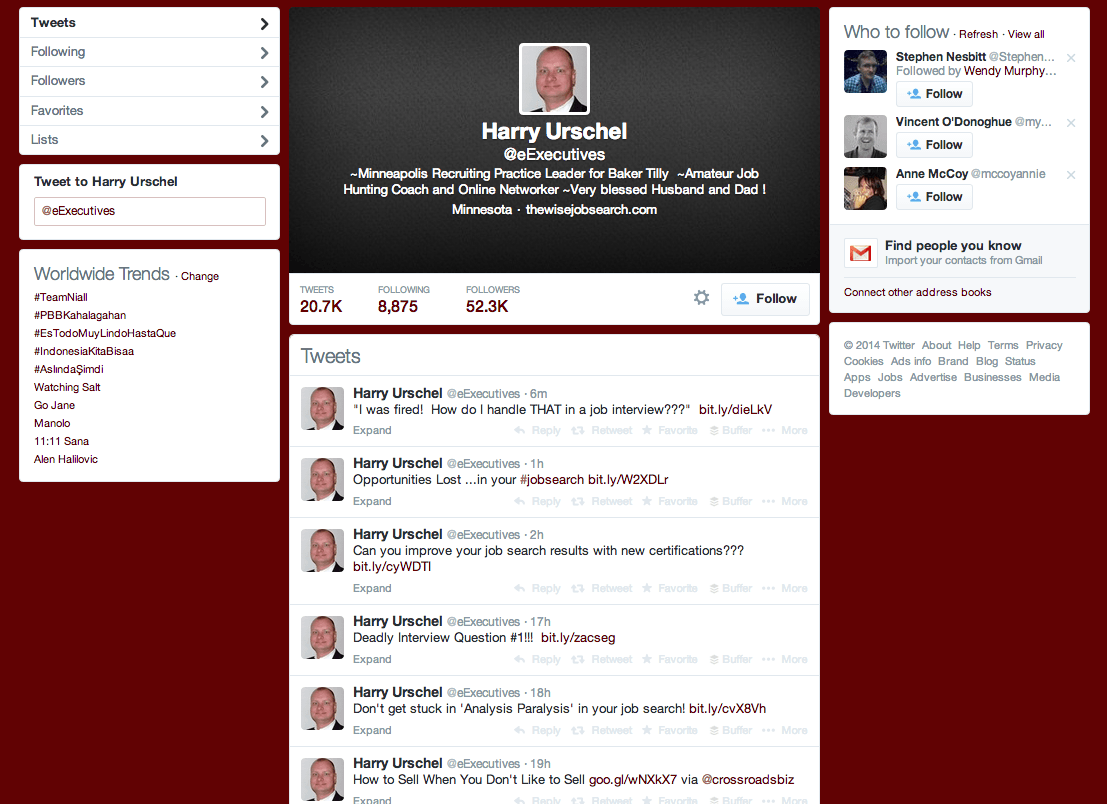 Harry is an Executive Recruiter, job search coach and writer with over 25 years of career development experience. He founded his own executive search firm called e-Executives (hence the Twitter handle) and is currently the Minneapolis Practice Leader for the search practice of Baker Tilly. He regularly teaches job search courses, leads networking groups, authors his website TheWiseJobSearch.com and lends his experience as a career expert for companies like CNN and ComputerWorld.
7. Jeremy Roberts, SPHR @imJeremyR
66,300 followers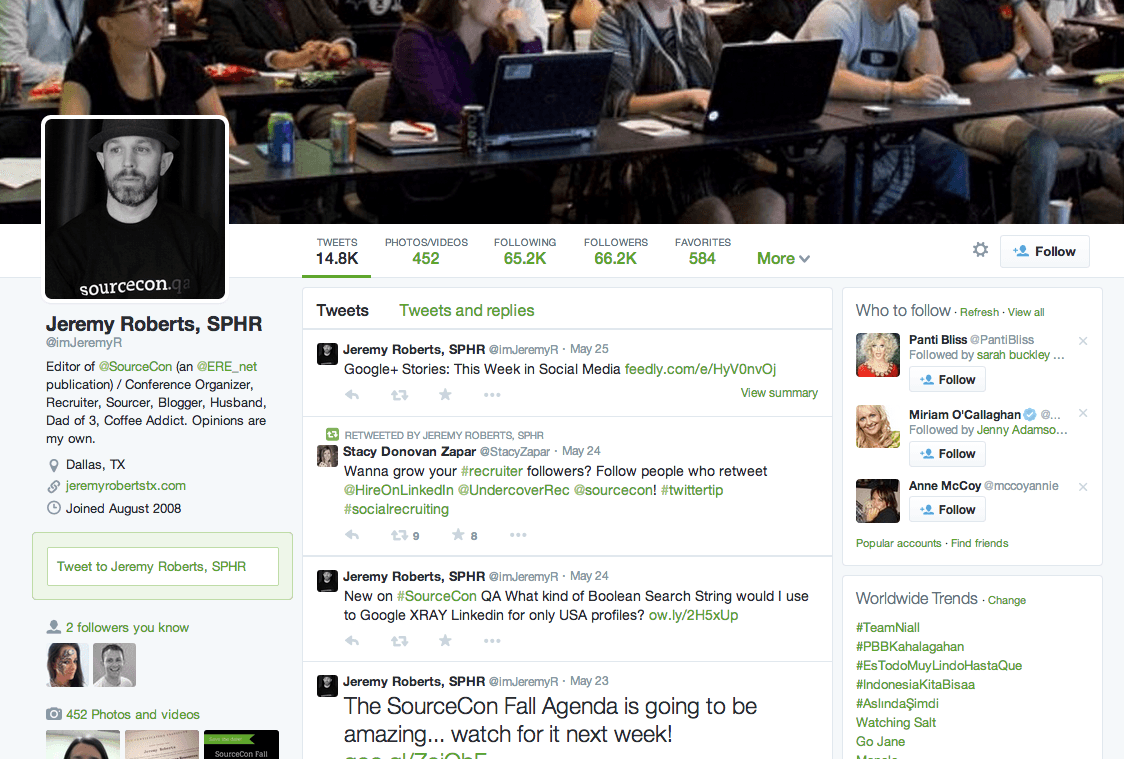 The current editor of SourceCon.com, moderator of SourceCon.qa and SourceCon conference organiser, Jeremy Roberts, has 15 years recruiting and sourcing experience. In that time, Jeremy has gained plentiful experience in third party agency settings, RPO and in the internal corporate HR departments of Fortune 100 and 500 companies.
67,550 followers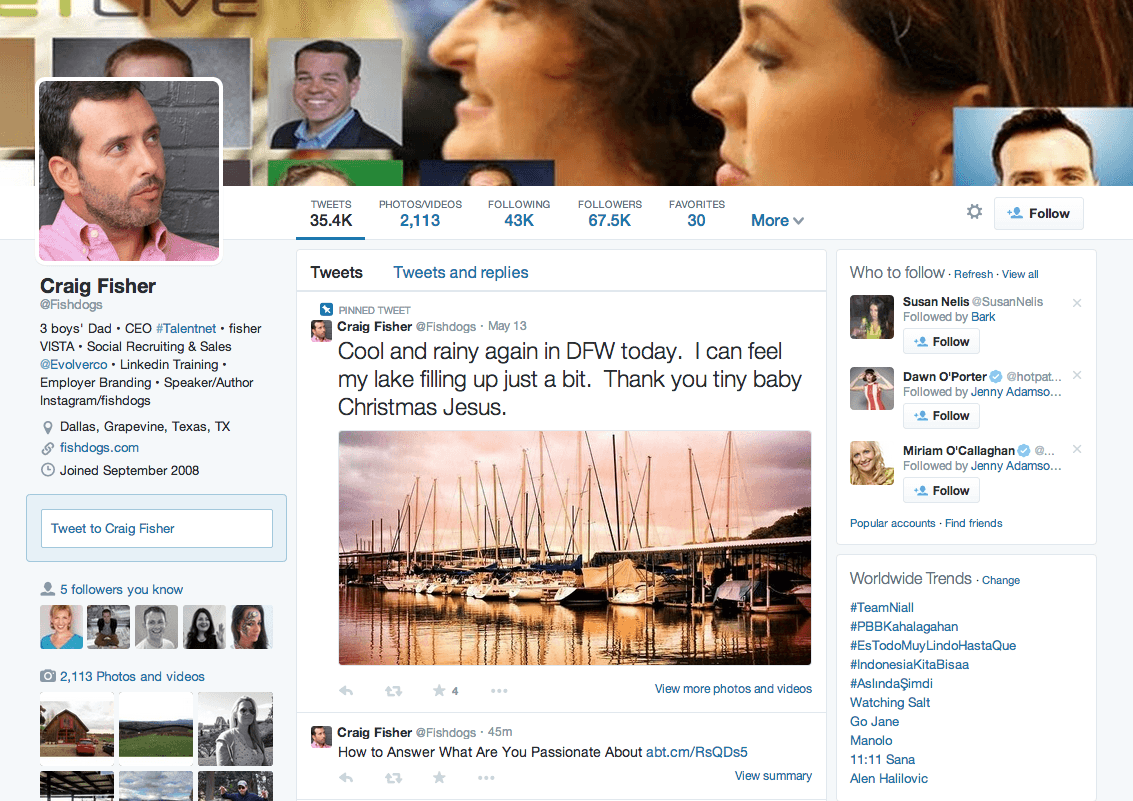 Not only is Craig a Social Talent mentor (he can be found giving invaluable advice on Understanding Social Networks in our Black Belt in Internet Recruitment), Craig is the CEO of TalentNet, a social business strategy firm and the co-founder of social business strategy consultancy, Evolver. He's been detailed in the Wall Street Journal, Mashable and The Huffington Post; and was recently listed among the 25 Most Engaging Speakers at HR Conferences by Bizzabo. His specialities include employer branding, social media strategy, talent acquisition strategy, business development, recruiting and human resources.
71,650 followers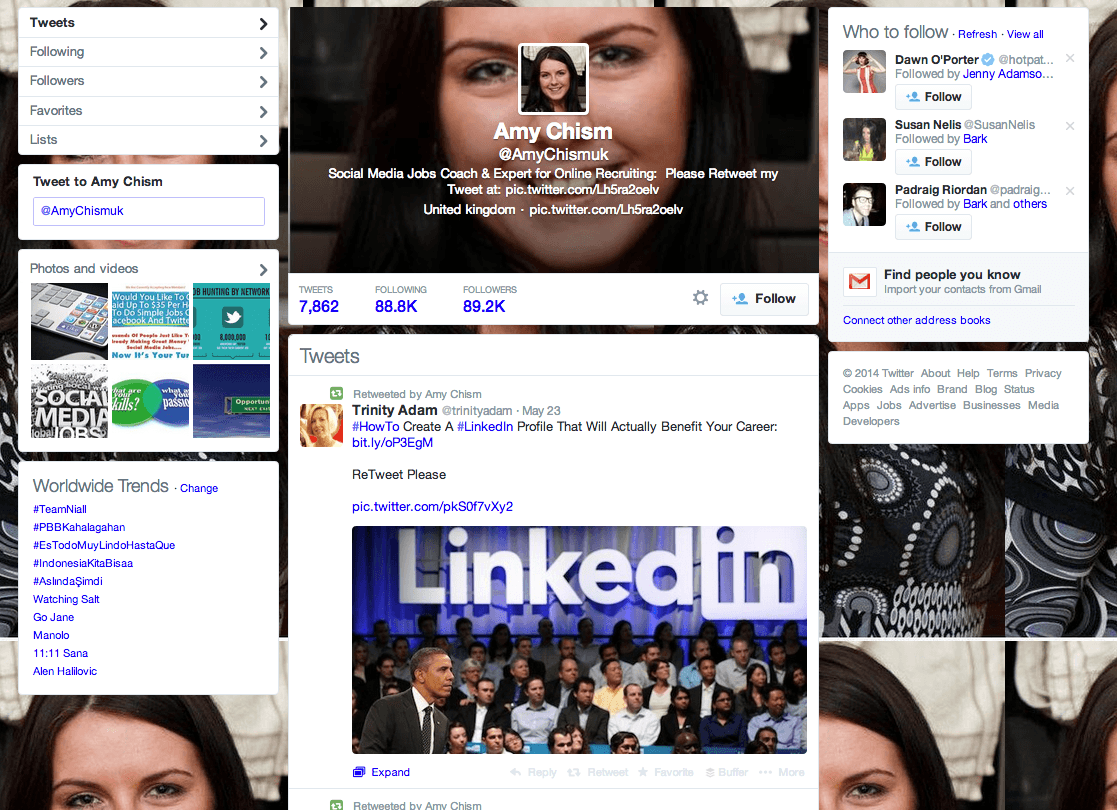 Amy is a social media job coach and an expert in online recruiting.
107,200 followers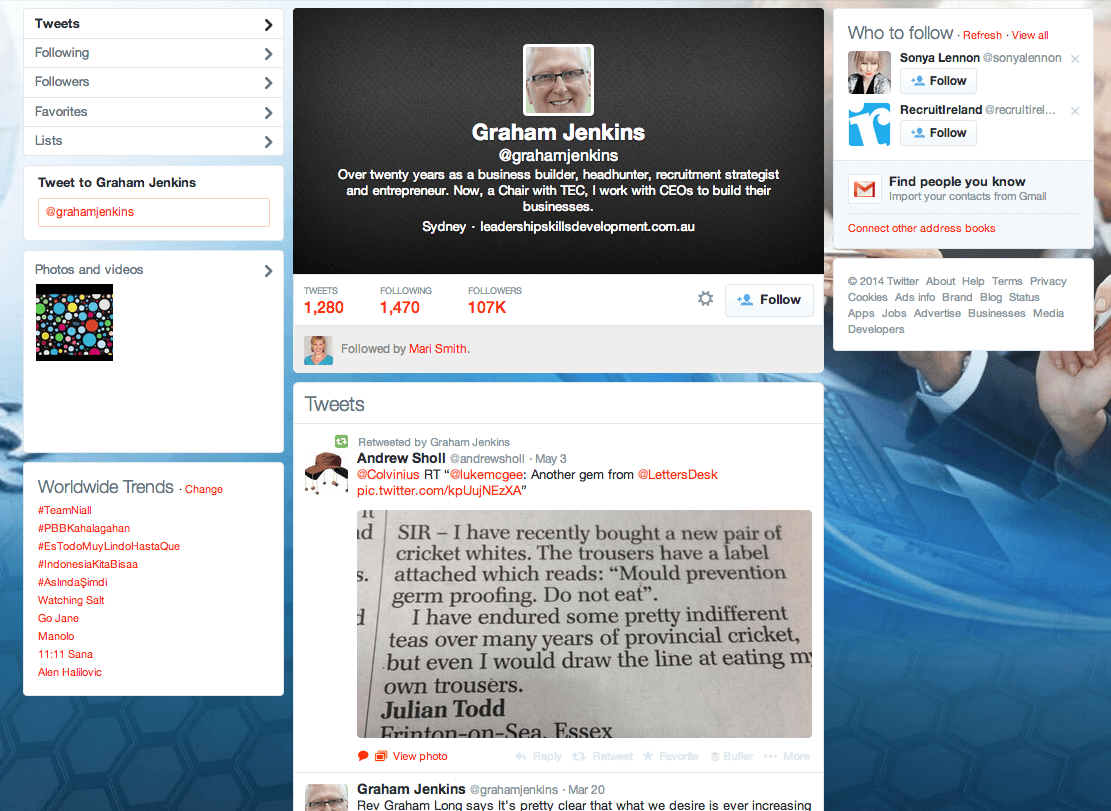 Graham joined the executive search and selection field in 1987 after beginning his career in sales and marketing. Before starting his own executive search company, Trinity, in 1991, Graham spent a number of years recruiting for Board positions, general managers and other senior executives. He was president of the Recruitment and Consultant Services Association in Australia  for five years and now operates as a business mentor, executive coach, executive search consultant and recruitment strategist within the senior executive staffing industry.
111,200 followers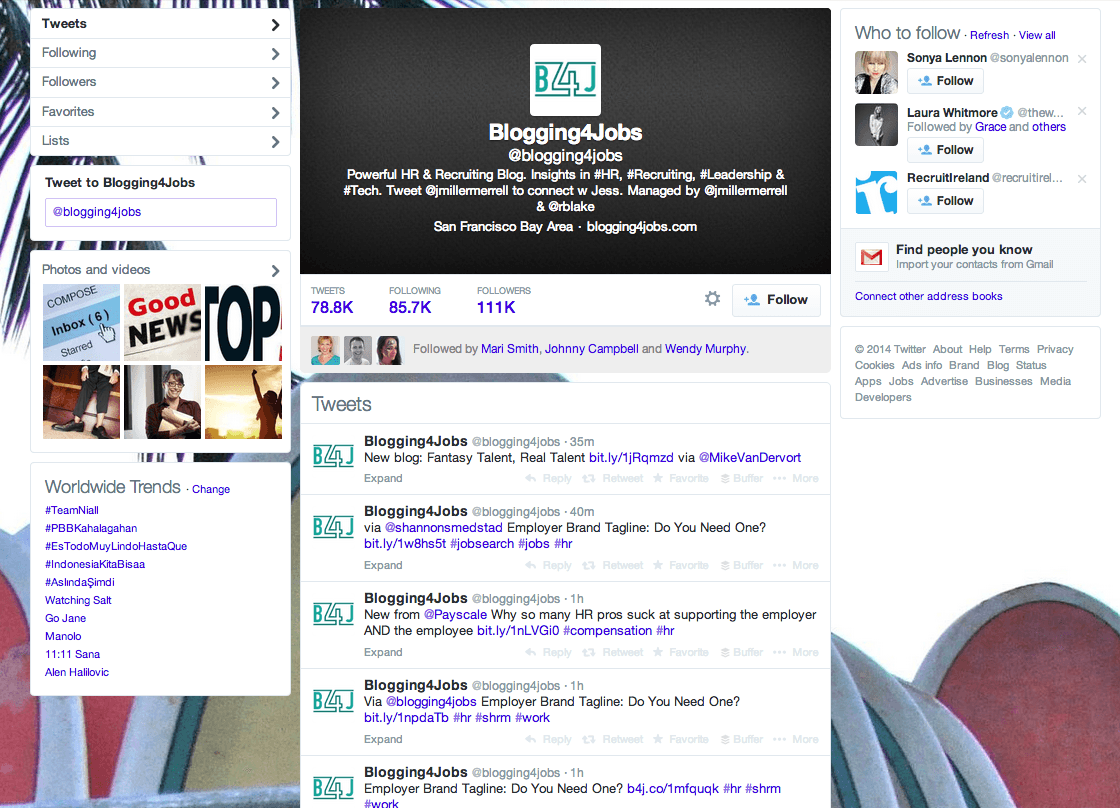 Jessica is an author, speaker, HR professional and workplace social media expert. She's the current president/CEO of Xceptional HR and has over 12 years industry experience. Jessica and her blog were also voted into the Top 50 #SoMe Power User by Forbes, who she's also been quoted by; and her thoughts, views, and advice about job seeking have been quoted by the Huffington Post.
175,600 followers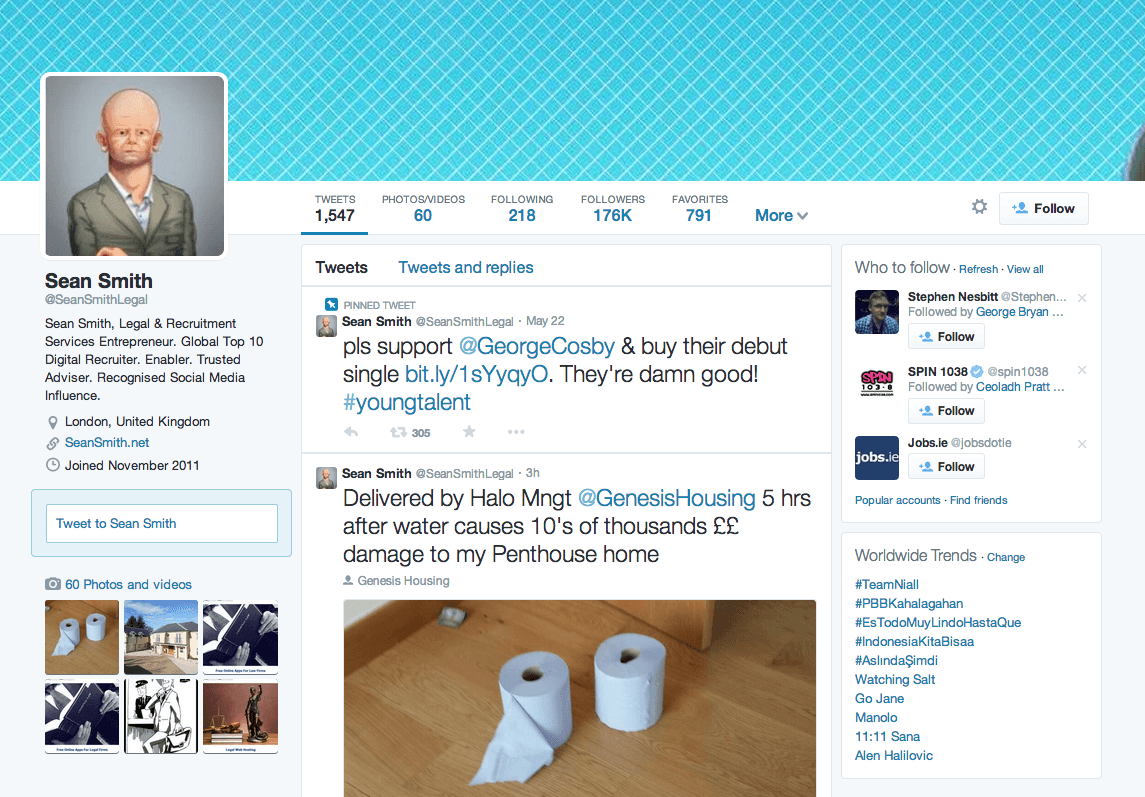 Sean worked his way through the ranks of three leading recruitment houses before finding and founding a niche specialist area within legal recruitment – publicly funded Law and criminal law. He's now the UK's leading provider of staff within this field. Not content with that achievement alone, Sean also developed the world's largest CV distribution network, CV Bud, that delivers over 8,000 CVs per week to specialist recruitment consultants globally. He was listed in the Top 10 Most Influential Social Media Users for London in 2012, ranked 9th in the annual WTTR Global Most Influential Digital Recruiters List and is within the top 25 influencers on both LinkedIn and Twitter for the industry.
459,300 followers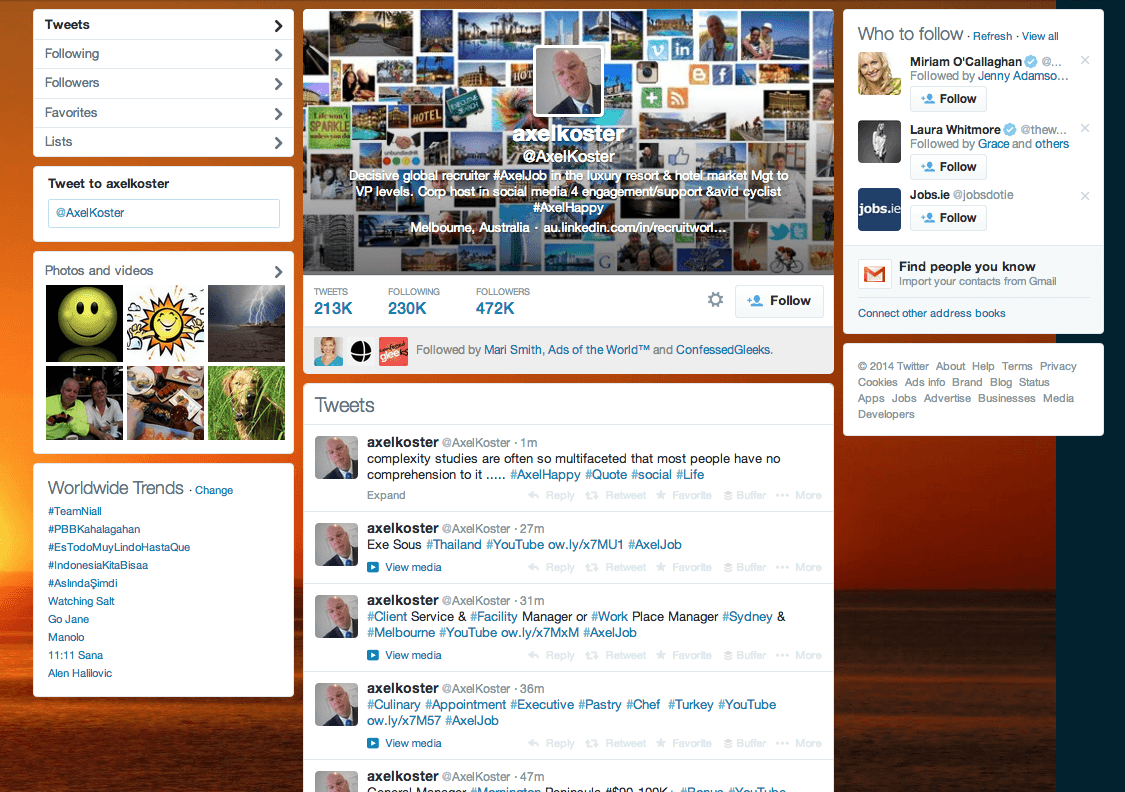 Axel's LinkedIn profile is among the top 1% most viewed, he's in the top 1% of influencers on Kred and he's amongst the top 3 most influential social media voices in Australia. Phew! Not only that, but Axel is the General Manager of Manhattan Group and as such is the leader of all senior international appointments and global talent acquisition programs. He specialises in cutting edge executive recruitment solutions and profile matching for luxury 5 star hotels and tactical recruitment planning for acquisitions, large operations and performance objectives.
Find out how the likes of IBM, IKEA and Siemens
drive hiring excellence with SocialTalent
---