Keep up with the latest hiring trends!
5 of the Best Social Media Monitoring Tools for your Company or Brand
We're asked quite regularly, "Why should my company be on Twitter/ Facebook/ Google+/ YouTube/ LinkedIn/ Pinterest /Tumblr etc" The truth is, many of these networks will mean nothing to your business – Pinterest in particular springs to mind – however, there's one over-arching fact that all businesses and business leaders MUST get to grips with now: Just because your business isn't on these networks, doesn't mean that your customers and/or employees aren't, and aren't mentioning your company. 
Receiving negative feedback from customers and employees is worth its weight in gold. This might not seem obvious to some, but trust me on this: when a customer or employee approaches you and tells you what you're doing wrong, you are a) made aware of a problem you possibly didn't know you had, and b) are given the opportunity to put it right and retain your good standing with your angry customer. Can you imagine what happens when a customer doesn't tell you about their negative experience with you? Instead of telling you, they tell their friends. In 2013, this means they're telling the Internet.
So, how does a company combat the problem of not knowing when their brand is being mentioned (and in what context) so they can't circumvent a potential PR disaster – and also measure the level of interactivity their customers are engaging in on a specific network, indicating that your brand might do well to have an official presence there?
The answer: measure mentions of your company, brands and products online using Measuring Tools. Here's 5 of the best.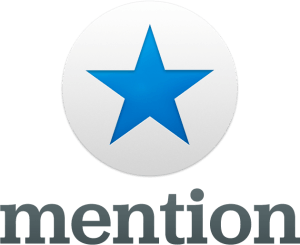 Mention
I've been using Mention for the last few weeks and it's actually really good – I'm using the free option (paid options range from $19.99 per month), which gives me a measure of up to 500 mentions of my 3 chosen search term per month, it gives me one month's history and a search facility.
What's great about this tool is that it gives me a synopsis email every day with my new mentions, and lets me see the webpage of each mention so that I can assess its context and whether it's relevant and important for me to respond. It has a great, easy-to-use interface, as well as a Chrome extension and Mac application.
Rating: 4 out of 5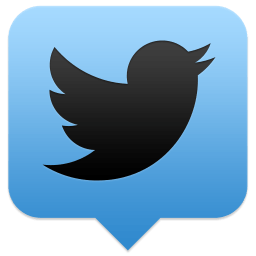 I use Tweetdeck every single day. It's one of the first things I open on my browser every morning, and without it I'd be a bit lost! I mainly use it to track my company's mentions across Twitter, as well as tweets with links to the Social Talent website, hashtags and mentions of each of my colleagues' Twitter handles.
While Tweetdeck can be used to monitor Facebook as well, it's best application, in my view, is to measure Twitter. By searching for my company's web address, it polls all URL shorteners which lead to socialtalent.co (very handy, as a lot of Twitter mentions of a blog of ours won't mention our Twitter handle or company name).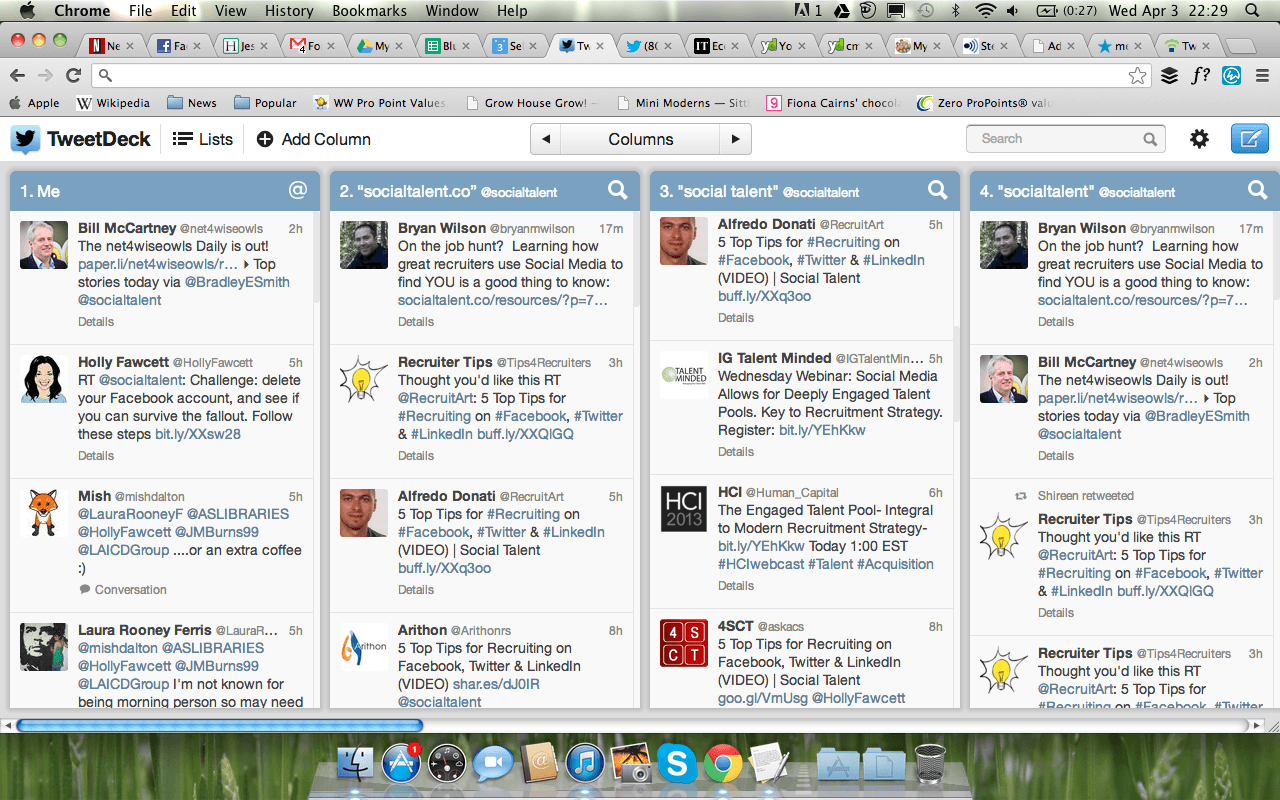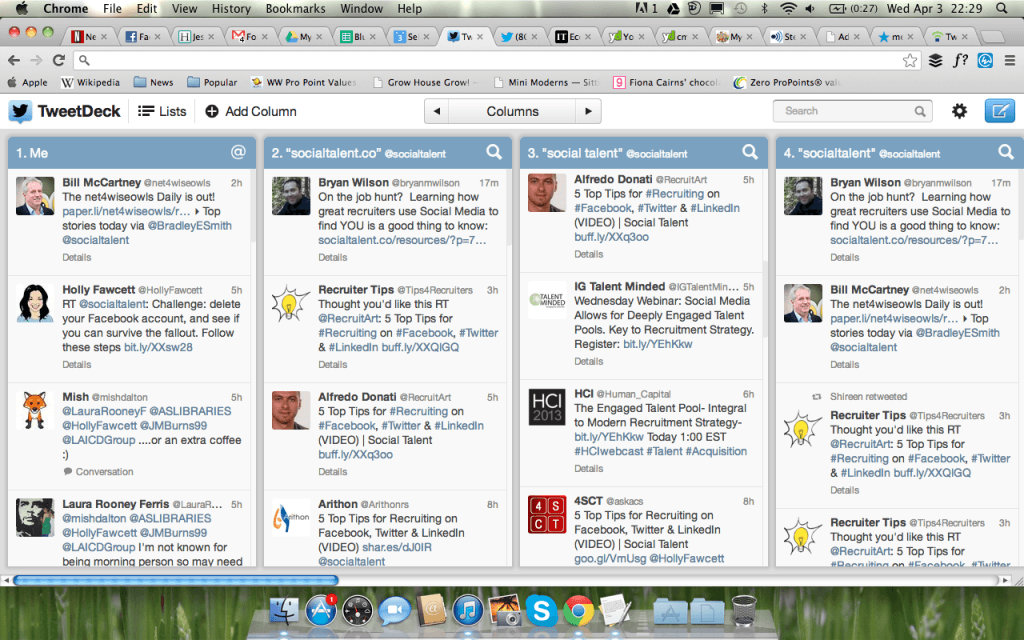 Monitoring mentions is paramount also. When someone asks us a question over Twitter, it's important that its responded to in a timely fashion. We can do this directly from the app, which is handy! You can post out and schedule content to send to Twitter and Facebook from the app.
Tweetdeck's interface is really easy to navigate, but it's rather limited in its scope of investigation. However, it's completely free, so that pushes it up in my esteem!
Rating: 3.5 out of 5


Sprout Social
Sprout Social came to our attention back in September of last year, and they've gone from strength to strength in that time (well done Wally and team!). What they've created is a business-oriented, savvy monitoring and analytics tool that helps businesses assess campaign effectiveness, conversations from Twitter and Facebook, as well as publish content to Twitter, Facebook, LinkedIn and YouTube.
This kind of platform is a great brand-monitoring tool, and can help you to manage up to 50 social profiles (for very large enterprises).
There's a free trial option for each level of account on offer, so if you're in the market for a social media management and monitoring tool, it's definitely worth giving it a test drive.
Rating: 3 out of 5 (in a monitoring sense)

SocialMention
Social Mention is a free tool that scans hundreds of social media sources, and not only that it gauges the context behind the mention and segregates them into positive, neutral and negative. This is a really key tool for intervening in potentially negative customer service or employee dissatisfaction mentions online.
While it's simply a search tool for terms like your brand name, it's very handy in that it's real-time data. You can set up email alerts for your terms so that you're the first to know when your brand name is mentioned across all forms of social media. Its user interface isn't the most amazing thing by any means, but it's still an old-reliable.
Rating: 3 out of 5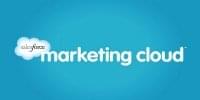 Salesforce Marketing Cloud (formerly Radian6)
Radian6, now re-branded as Salesforce Marketing Cloud, is known as the most comprehensive social media monitoring tool on the planet, probably because it's the most expensive. It's used by the hugest of corporations across the globe (as well as national organisations and brands that need to monitor potential customer service issues) and medium-sizes enterprises.
Marketing Cloud is used by companies like Dell, who (after the massive PR disaster caused by ignoring a fairly influential blogger Jeff Jarvis way back in 2005) learned a huge lesson to listen to the chinese whispers of the world wide web, now have a dedicated listening team, who's job it is to respond to every mention of Dell in a tweet, blog post, Facebook mention, status update etc that needs to be responded to.
Due to its sheer capabilities and enormous size, of course this is the most impressive listening product on the market. You can find out more information here.
Rating: 4.5 out of 5 (simply because it's a big budget item!)
Do you have any social media listening tools that you use that you'd like to see get mentioned here? Let us know in the comments 🙂
Find out how the likes of IBM, IKEA and Siemens
drive hiring excellence with SocialTalent
---