Keep up with the latest hiring trends!
7 Reasons To X-Ray Search LinkedIn Through Google Than Internal Search
As part of our Blue Belt in Internet Recruitment course, we teach recruiters how to search LinkedIn through various methods, but one of the most effective ways we find is an X-ray Search through Google or Bing. Here's 7 reasons why:
Reason 1: Full Names (always)
As we're all aware as LinkedIn users, conducting an Advanced Search of LinkedIn means that you'll get first and second degree connections' full profiles. Once you hit third-degree or no-relationship connections, their surnames or even full names will be hidden. A major advantage to searching LinkedIn through Google or Bing is that LinkedIn will never hide the person's full name, plus you'll be given the option to connect with that person. Around 85% of all LinkedIn profiles are publicly accessible through search engines, meaning that professionals wish for their profiles to be found by potential clients, business partners and employers.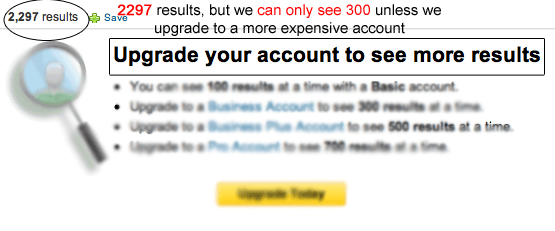 Reason 2: 1000 results in Google and Bing (versus only 100 on a free account in LinkedIn)
When conducting a search for people on LinkedIn in LinkedIn, depending on your level of account, you can only see 100 results if you're on a free Basic account. By "seeing" 100 results, we don't mean actually clicking in to their profile – we mean just scanning over 10 pages of search results. After 100 results you'll be cut off and told to upgrade if you want to see more. By X-ray searching LinkedIn via a Google or Bing X-ray search, you're permitted to see up to 1000 results generated (the limit of what you can see on any Google or Bing search, i.e. 100 pages). It can cost several thousand dollars a year to see 1000 results in a paid LinkedIn account.
Reason 3: You can use *
In Google, the use of the asterisk to represent between 1 and 5 missing words is permitted, whereas in LinkedIn it's not supported. This kind of Boolean Search Modifier is ideal for searching for job titles that have something in the middle of two words, like when you search for "Sales Manager" in quotations so as to zone in on that specific title, you won't pick up on all of those people who are called "Sales and Marketing Manager", Sales/Marketing Manager", "Sales Development Manager", "Sales Supervisor/Manager", "Sales Training Manager", or "Sales Customer Support Manager" – the list is endless. If you were to search LinkedIn, you'd have to manually type all of these variations into your search, but in Google you just write "Sales * Manager" to find all those with funny job titles. Of which there are millions.
Reason 4: Search across Multiple Countries and Regions
Advanced Searching LinkedIn will only focus on one country at a time. There's no way of starting a search for both Ireland and the UK or New York and Connecticut and New Jersey in one search. You have to individually modify your search each time or add lots of different countries or regions manually in the filters to the left of your search results. That's frankly too much effort. Instead, you can search for multiple locations using an X-ray search, by looking for specific terms that represent regions or looking at multiple URL types that signify countries, like for example searching for candidates in both Ireland and the UK, just look for:
(site:ie.linkedin.com OR site:uk.linkedin.com)
Reason 5: Search Date Fields
Searching LinkedIn does not give you the option to search by date. The dates of someone's employment are not available to the search engine, they are essentially "hidden" from your search paramaters regardless of your account access. This feature is particularly useful when looking for contractors or recent graduates, or people who've just left their job. Searching for grads who left college at the end of term last year is easy when you search like this:
site:ie.linkedin.com -inurl:dir -inurl:jobs -inurl:company -inurl:groups ("university college Dublin" OR "ucd") ("2008 * 2011" OR "2009 * 2012")
Obviously just substitute the specific university or multiple universities with what you're looking for, and add your keywords for skills and other criteria. This kind of search is absolutely unavailable internally in LinkedIn.
Reason 6: Better Search Order
If conducting an Advanced Search of LinkedIn, LinkedIn will produce results in order of relationship to you, prioritizing more full profiles (100% complete) than emptier ones. This may not be the best order to prioritize your results, because the person on page 11 which you're not allowed view because you're using a free LinkedIn account may actually be the most relevant person with the keywords you're searching for. When it comes to relevancy in search, leave it to the pro's. Google's search algorithm and SERP ranking order, while a mystery to non-Google employees, seems to order results that are the most relevant and contain the highest frequency of your key search terms.
Reason 7: You can accurately search for Languages
Searching internally in LinkedIn does not search for Languages. Yes there is a language filter, but that actually searches for profile language, not the languages people have stated that they speak. Searching LinkedIn through a search engine searches the words on their profile page. LinkedIn will not produce a person that said they have the skill "native or bilingual proficiency" in French when their profile is in English. Google will find them. Watch this webinar here on how to search for multilingual candidates from the Social Talent webinar archives.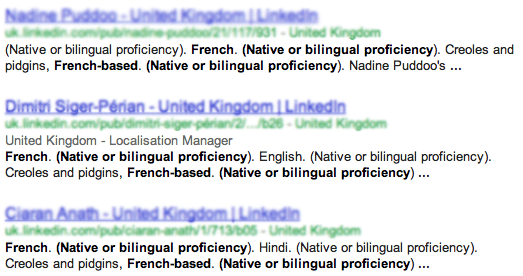 Do you find X-ray searching LinkedIn to be more beneficial than an internal Advanced Search? Why? Put your thoughts in the comments.
Find out how the likes of IBM, IKEA and Siemens
drive hiring excellence with SocialTalent
---