Keep up with the latest hiring trends!
BUMPER EDITION: 9 Fascinating Recruitment Industry News Stories - 15th June 2015
In the news this week:
China's Job Ads Market Heats Up (Much to LinkedIn's Delight!)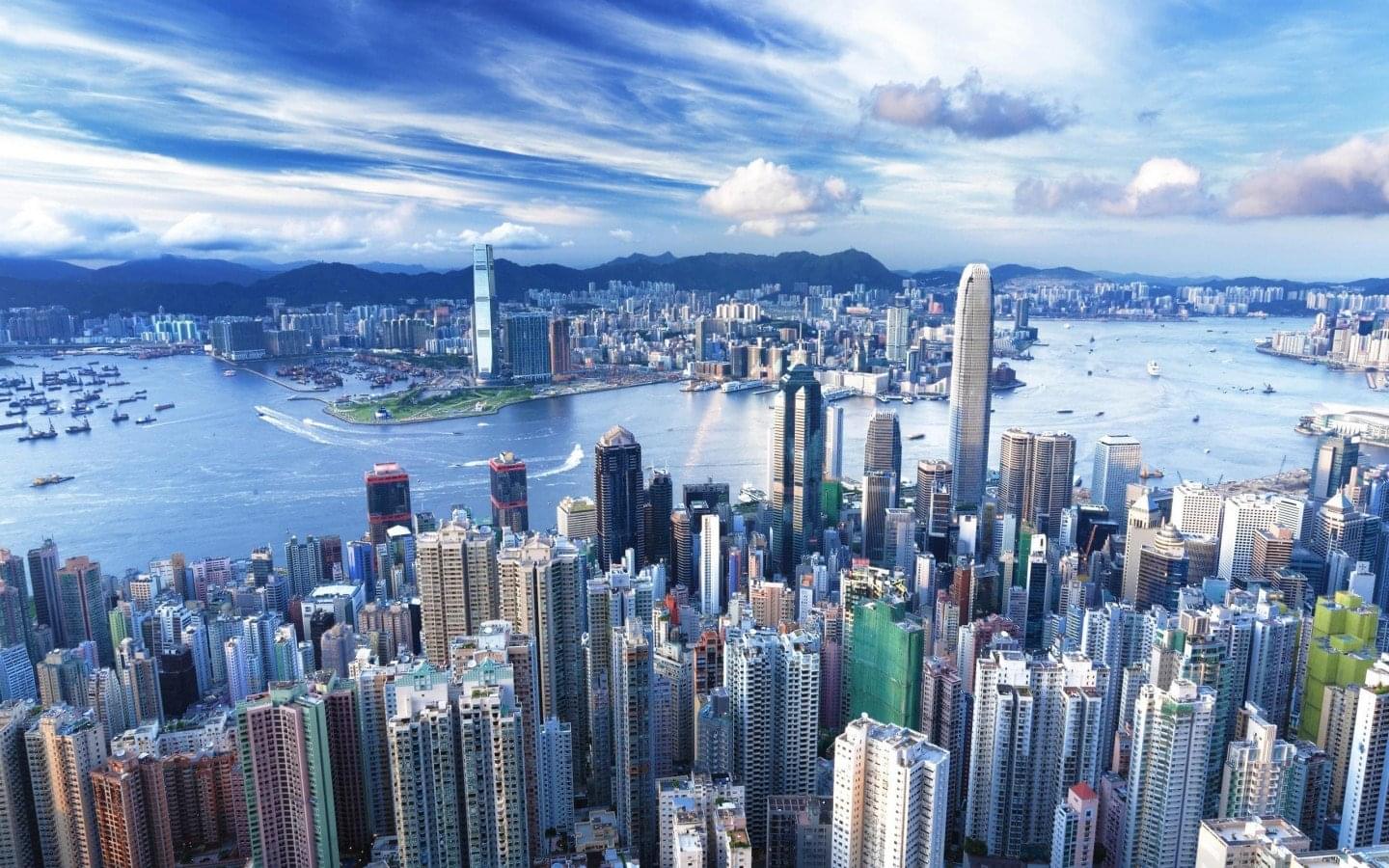 According to ERE.net, there are signs that China's job classifieds market may be heating up thanks to some new initiatives by one key player and the entrance of a new competitor to the market.
Market leader 51Jobs.com is investing heavily in a new aggressive strategy. In February, presumably in an attempt to move into the area of executive recruiting, it launched the beta version of 51JingYing.com ("Jingying" in Chinese means "elite".), a job-search platform that targets the higher end of the recruitment spectrum and provides a platform to connect headhunters and more experienced workers.
JingYing's features include:
more powerful search capabilities that better prioritise relevant positions and candidates
a private communication channel
a mobile app with a name card scanning function
Other 51job M&As in progress, include one with an established job-search site focused on fresh college graduates and another with a firm that provides professional assessment, training, and HR consulting services in China. These investments will be financed from existing cash resources and are expected to come to RMB 270 million (U.S. $43.5 million), subject to closing conditions and adjustments, if any. And according to president and CEO Rick Yan (Zhen Ronghui), 51job expects these deals to be concluded in the second quarter of 2015.
It's thought that these moves may be aimed at protecting 51job from possible future challenges to its leading position – future challenges that include the unexpectedly fast growth of LinkedIn, which opened a beta site in China in February 2014.
Last year, LinkedIn's chief executive officer, Jeff Weiner, mentioned the positive effect that China had had on his company's earnings. Driven by its new business in China, LinkedIn's revenue from its Asia-Pacific division grew by 64% in the third quarter, faster than from its operations in any other part of the world. China provided "particular strength," Weiner said, with LinkedIn members in the country rising to about 6 million as of September 30th – up from about 4 million in February 2014. He attributed much of the Chinese growth to LinkedIn's initiatives to enable local language profiles and content. "China has quickly emerged as a large contributor to network growth in recent months," he said. In fact, there are now about 8 million members, which means that membership has doubled since LinkedIn opened shop.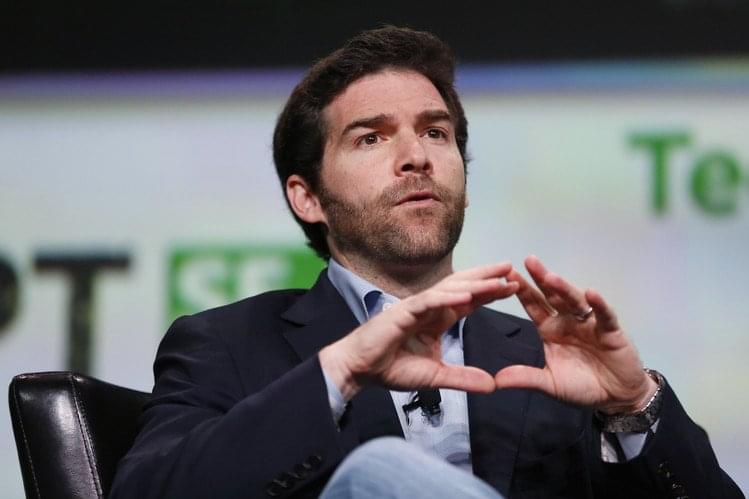 LinkedIn ("LingYing" in Chinese) has said that by entering the market, the company has been able to help China's people connect to job opportunities located in China and across the world. "Extending our service in China raises difficult questions, but it is clear to us that the decision to proceed is the right one," Derek Shen Boyang, president of LinkedIn China, wrote last year. "This is a very long-term investment. It's not an experiment," Shen wrote in April 2014.
Of course, even 8 million members is small in Chinese terms, said Mark Natkin, managing director of Beijing-based Marbridge Consulting. Other Chinese Internet products, such as messaging app WeChat and payment service Alipay, have hundreds of millions of users in the country. Many of the new LinkedIn users might speak English and want to connect to career opportunities overseas, Natkin continues. But to woo non-English speaking Chinese users, the social network will, in his view, have to do more to develop its local services. Otherwise, "your user base will become limited to those who are well-educated, middle class and white collar," he added.
Nevertheless, LinkedIn has demonstrated that in connecting Chinese job-seekers with foreign companies it has tapped into a huge potential market which, other companies in China are not as well equipped to serve, given LinkedIn's superior ad platform and membership data. Recently, the company was granted an ICP license from Chinese regulators, allowing it to host Internet sites from within the country. And 51job has certainly already taken note!
Twitter will Remove 140-Character DM Limit
REJOICE!!!! You will soon be able to send much longer direct messages on Twitter.
In a post on its developer forum last Thursday, Twitter said plans to remove the 140-character limit on its direct messaging feature in July and impose a new 10,000 characters limit in it's place. But for those of you wondering, the character limit for regular tweets, which is also 140, will remain in place.
Announcement: Removing the 140 character limit from Direct Messages. https://t.co/Y885KhE9jR

— TwitterDev (@TwitterDev) June 11, 2015
The move is the latest in a series of major changes the company has made to direct messages over the past year. Group messaging features were introduced in January, before an option that allows users to opt-in to receive private messages from anyone else on the service was put in place. Previously, only users who followed one another could exchange direct messages.
But what does this new character limit mean for recruiters? Well, even before the new limit was set, DMs were a brilliant candidate contact method because (depending on a candidate's settings) private messages from recruiters arrived both on the candidate's lock screen of their mobile device and via email into their inbox – giving candidates two options to see your message. This new change means those messages will continue to be as prominent to candidates, but you will now be able to elaborate more on your reasons for messaging. Trying to get your point across in an engaging fashion in 140 characters (as anyone who's tried it will tell you), can be quite a cumbersome task. And sending multiple DMs just to get your point across feels and looks like spamming.
So we say, roll on July!
Remember eHarmony's Proposed Recruitment Product?
Yes, you may recall that dating site, eHarmony, announced a few months ago that it was starting work on creating a skill-personality-competency-culture matching tool, for use in the recruitment space.
Well, the fruits of that labour have now been unveiled! Yes, ERE.net have received the first screenshots of the new product and we have them to show you too:
Though software development and other delays have slowed the timeline on this project a bit. eHarmony have said they expect to launch the product in about a month's time. Comments on ERE's website show that there is an uneasy-ness within the recruitment community about the viability of such a product, with many recruiters voicing concerns about the accuracy of a skill-personality-competency-culture matching tool.
Many believe honesty, both on the part of the employers and job seekers filling out matching tests, will be an issue and that a cultural match for what an employer thinks its culture is, versus what it actually is, could lead to an unacceptable failure rate.
Others took our view point on the matter:
"[It] will be interesting to see how matching tool works considering the strong reviews they get on their dating site. Very intriguing to see a player from that scene apply their research and algorithms to a job functionality. Always good to have "outside" perspectives!"
We couldn't have put it better ourselves! Roll on the launch!
Instagram Desktop Gets a Beautiful New Makeover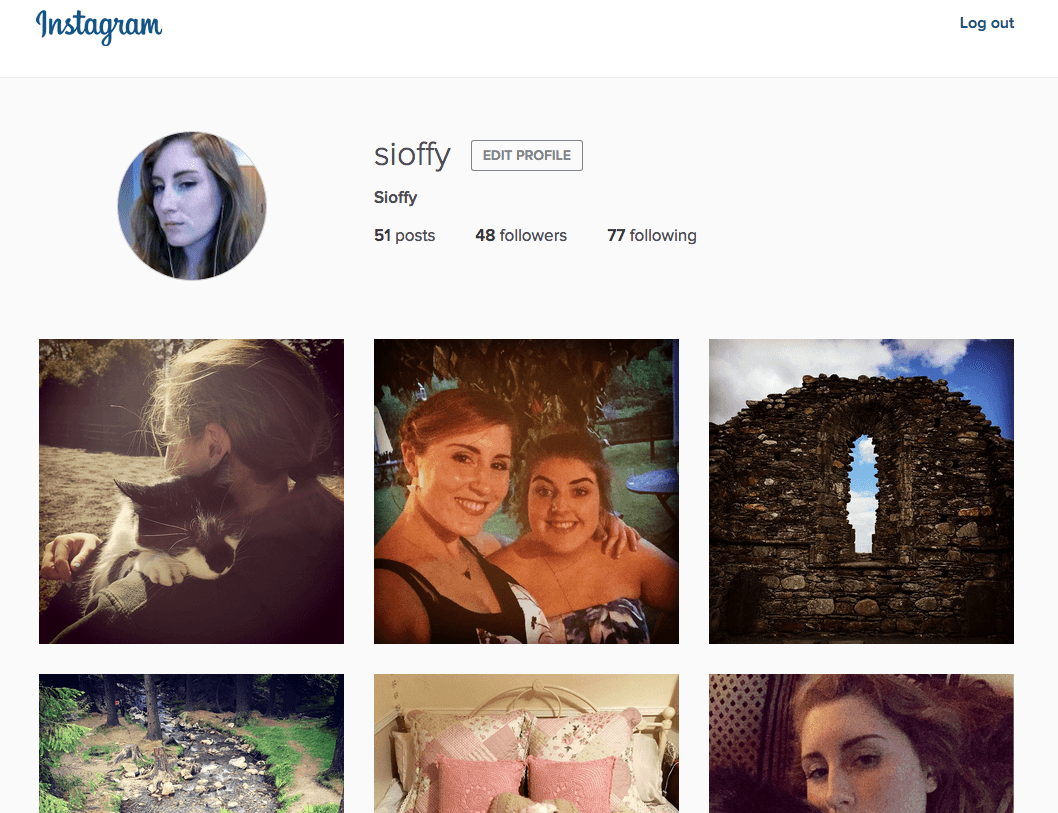 Instagram began rolling out a sharper, faster web site last Tuesday, that all 300 million-plus users should now have access to, with the refreshed look more closely resembling Instagram on mobile devices in a number of ways.
On profile pages, for example, Instagram have ditched the grid of images above the user names, square-shaped profile photos have been swapped out for rounded ones and the site now places an emphasises larger images. So instead of serving up rows with five images each, Instagram's redesigned site will keep each row to just three, as illustrated below: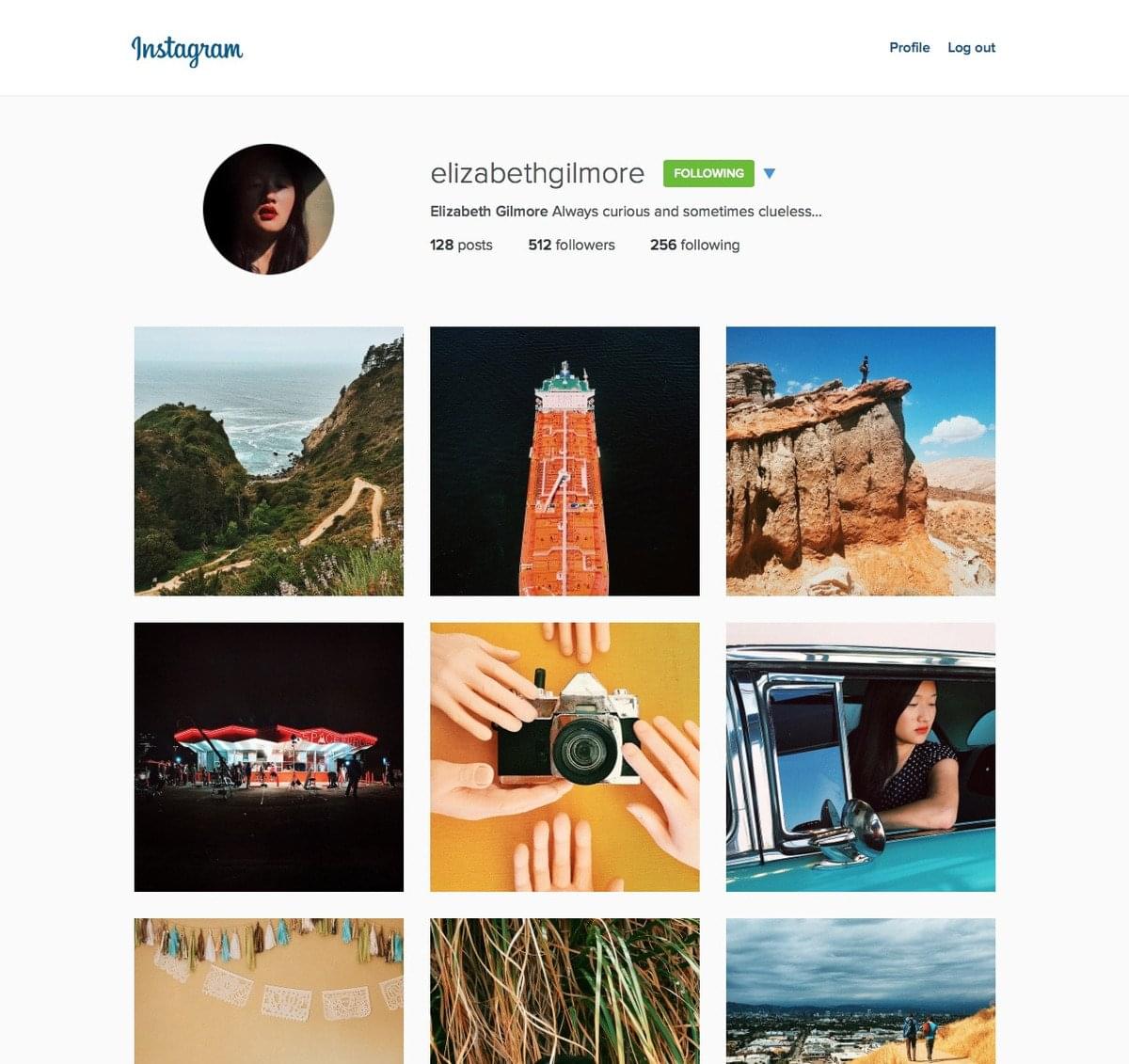 The platform also applied this look to hashtag pages: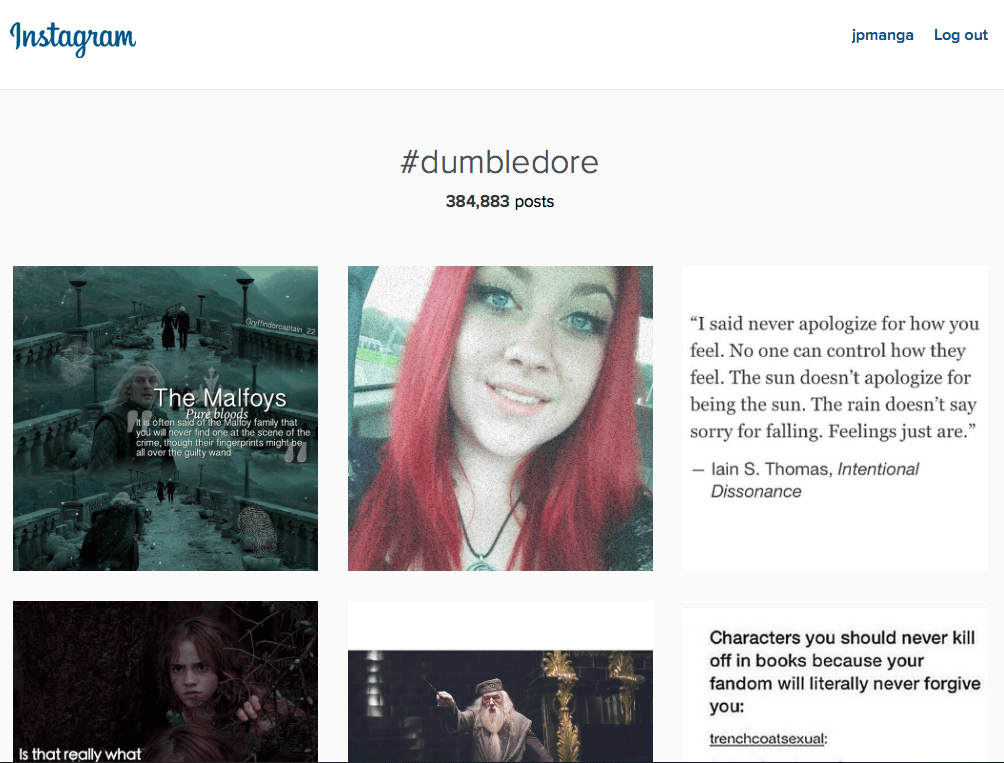 The new look is cleaner, more modern, much easier on the eyes, and marks the biggest change to Instagram on the web since it was first introduced in November 2012.
Say Hello to Vettery
Being able to identify, hire, and celebrate the recruiting process hasn't changed in decades… according to new New York City startup Vettery.  Which is why they've decided to offer an alternative to the traditional recruiting process, in the form of a unique "hiring marketplace", built to help people find their dream job.
Yes, according to the site, Vettery "take the best from the recruiting and technology worlds by connecting employers and talent through a curated marketplace of vetted candidates" in order to "give the power back to the employers".
The startup has already worked with several companies that are well-known on the local scene, including Jet, Casper, Etsy, Blue Apron and Percolate. Fellow startup CourseHorse says it even saw a 74% interview acceptance rate from the candidates it approached, and it hired its "ideal candidate" within 30 days. CourseHorse CEO Nihal Parthasarathi describes the service as "simple, straightforward and transparent."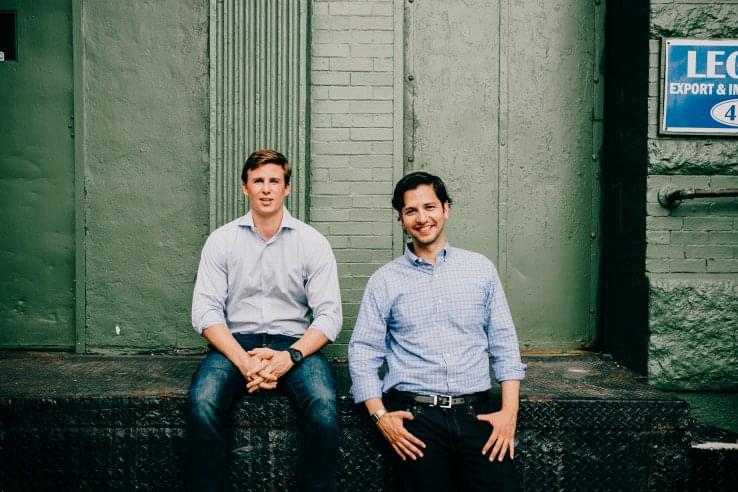 Vettery co-founders Brett Adcock and Adam Goldstein (pictured above) both come from the hedge fund world. Goldstein said they moved into recruiting after they saw "a lack of innovation" in the industry. Yes, there are other companies (like LinkedIn) addressing different aspects of the hiring process, but Goldstein said they haven't really replaced paid recruiters. "The paid services out there are broken," he said. "Recruiting is very slow and not very transparent."
As for building a pipeline of job candidates, Vettery says more than 80,000 people have already submitted their applications. The company's talent scouts use a "proprietary scorecard" to evaluate those applications, ultimately accepting less than 5%.
Goldstein said that everyone who's accepted has a phone conversation with Vettery's scouts, those scouts work with job candidates to create full profiles. Employers can then browse the marketplace and request interviews with the candidates who seem like the best fit. Oh, and if you accept a job, Vettery will pay you $2,000.
Goldstein emphasized the importance of the marketplace approach, which he described as a way to "give the power back to the employers." Rather than having much of the process hidden by a recruiting firm, the marketplace allows employers to see the full pool of candidates for themselves (after the initial vetting), and they can tell pretty quickly whether their outreach methods are effective.
For a tech (or at least tech-enabled) startup, doing a live phone call seems kind of old-fashioned, but Goldstein said that at Vettery, "we really want to connect" with the candidates. "I don't see how you can really get to know who a candidate is and what your key differentiators are until after you've had that conversation," he said.
There are fun touches, too, like a weekly countdown clock encouraging employers to approach candidates before it's too late, and personalised perks, like Casper mattresses and Brilliant Bicycles, for users who accept offers.
Vettery will remain focused on the East Coast, at least for the near future. The company already works with employers in both tech and finance, and Goldstein said he's noticed that "the tech clients have been asking to hire more business people and the business clients have been asking to hire more tech people."
Uber Launches Unique Video Game to Recruit Drivers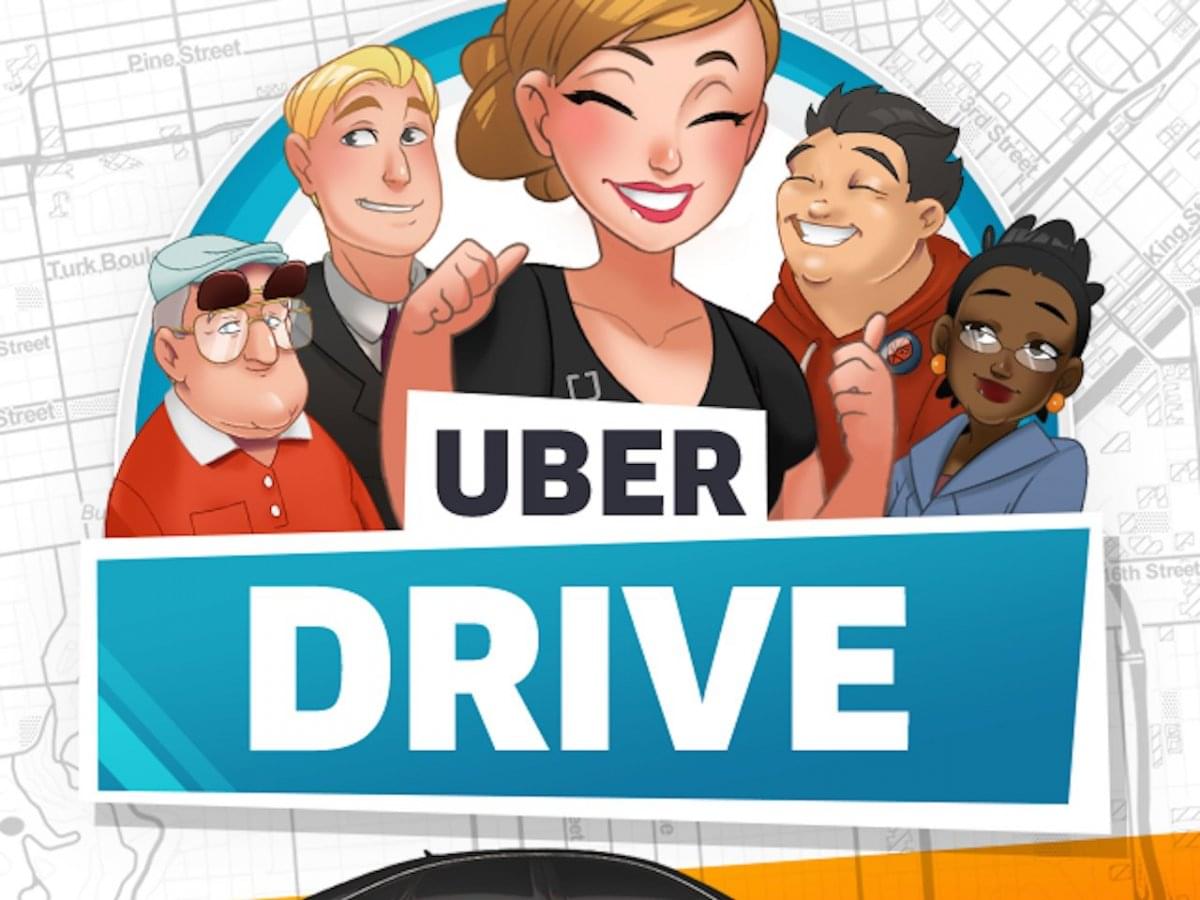 Now THIS is gamification at it's finest!
Eager to entice yet more cabbies, Uber is launching an iOS app designed to mimic the day to day life of one of its many drivers.
The programme, UberDRIVE, is a Google Maps based game which allows the player to act as a taxi driver in San Francisco, picking up passengers, navigating streets and learning more about the city itself. Mike Truong, Senior Product Manager at Uber, explained the dual purpose of the app, stating: "UberDRIVE was designed as a fun and engaging resource for our driver-partners to hone their navigation skills if they choose to. It's also a great way for prospective drivers to experience first-hand what it's like to drive with Uber."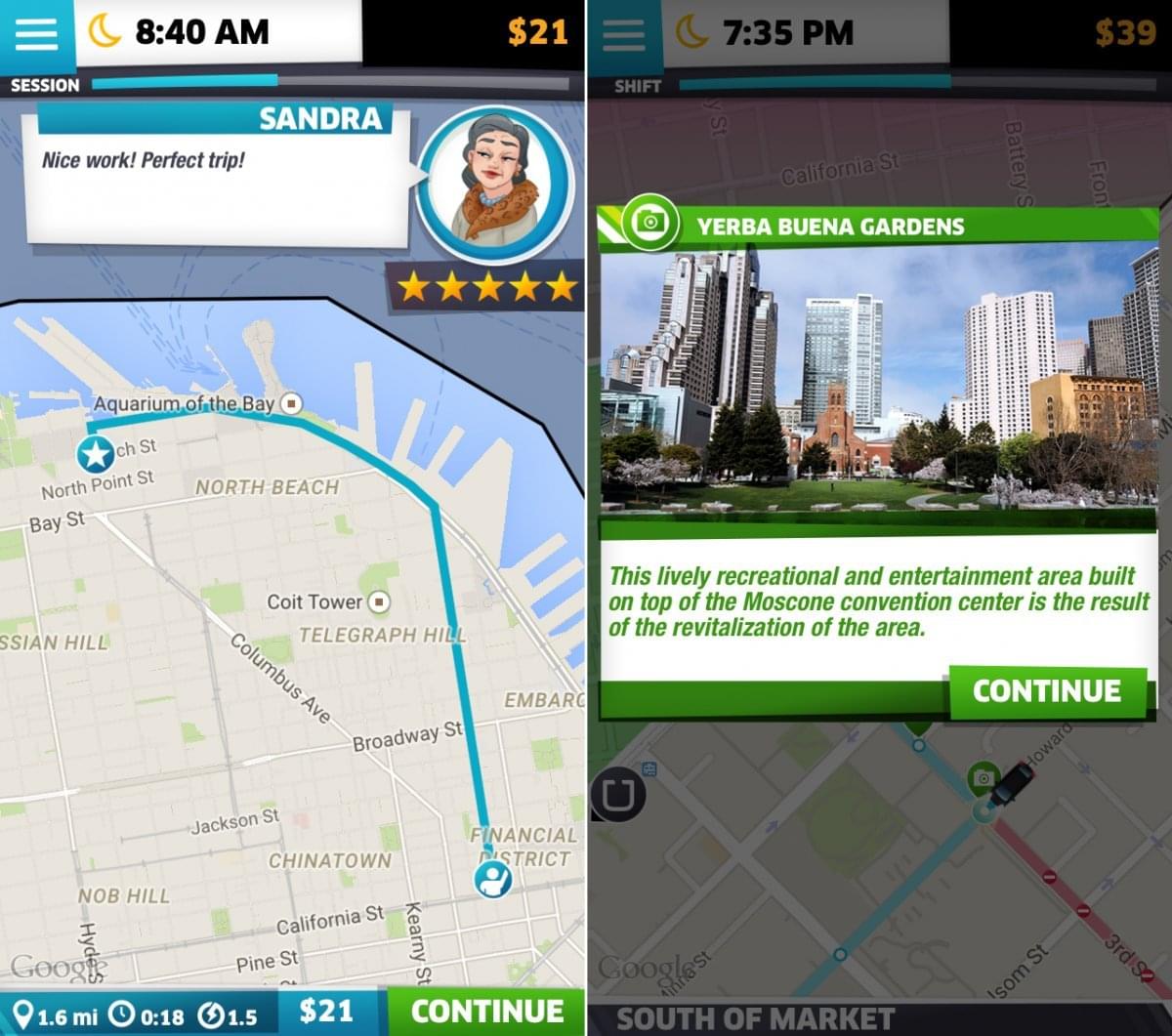 The product, primarily designed as a recruitment tool, allows individual players to upload applications and screening materials from directly inside the app. And whilst San Francisco is currently the only location available on the game, Uber has plans to add more cities dependant on the success of the prototype.
Truong is confident of the video game's potential, citing the tool as a "compelling representation" of the company's "driver-partner platform." He explains: "Through the course of playing the game you can get a sense of how much money you can make using your own car and driving on your own time." Truong is also quick to point out the added benefits of installing a vetting process within the game, saying: "With the sign-up flow embedded directly into the game it makes it really easy to start the sign-up and screening process right then and there."
UberDRIVE is now available to download for free from Apple's App Store.
Facebook Messenger On Android Hits 1 BILLION Downloads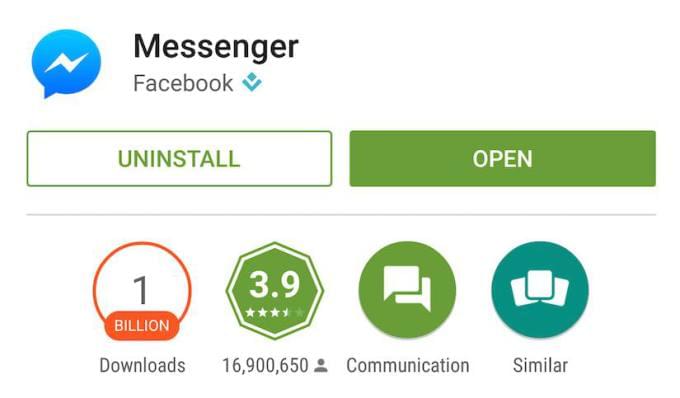 Only two companies have apps with over 1 billion Google Play downloads, and one of them is Google! Last week,
Facebook proved just how big a business replacing SMS can be, as its leader David Marcus announced Messenger has now been downloaded over 1 billion times on Android. It joins Facebook and WhatsApp, and Google's Gmail, YouTube, Search, and Maps in this very exclusive club.
Messenger's strategy of layering modern mobile sharing features over a speedy texting app has paid off, and it looks like Facebook's just getting started. With VOIP, video calling, stickers, voice clips, peer-to-peer payments, location, and a whole platform of third-party content creation apps, Messenger wants to own every way you communicate. Literally!
Combined with WhatsApp's streamlined SMS alternative, Facebook controls messaging in a way that deeply insulates it from disruption. So while Snapchat and Yik Yak might steal a few users from its social network feed, Facebook's already focusing on the next fundamental communication utility. In fact, Facebook has been subtly baking Messenger munch deeper into its product.
How? Well, when you graph search for people, like friends who like a certain band, Facebook shortcuts you to ping them on Messenger, not visit their profile. When it's a friend's birthday, in some cases Facebook now recommends that you message them Happy Birthday, rather than writing it on their wall. And just last week, Facebook overhauled how Messenger handles map and location sharing to lay the groundwork for a slew of new GPS-enabled features!
Admittedly, getting to this point wasn't easy. Facebook had to offend the pride of its whole userbase to introduce Messenger, by telling them they were required to download a whole other app for messaging. It wasn't sweet, but the medicine went down, and Facebook saw engagement rise once chat wasn't buried in its blue behemoth. Freed from the extra weight, Messenger was thin and agile enough to build out its bells and whistles including (in the last 6 months aline):
Revamped location
Free VOIP video calling
A standalone messaging website
Third-party app platform
Customer support chat with businesses
Allowing friend-to-friend payments
Google Docs could Help Uncover CV lies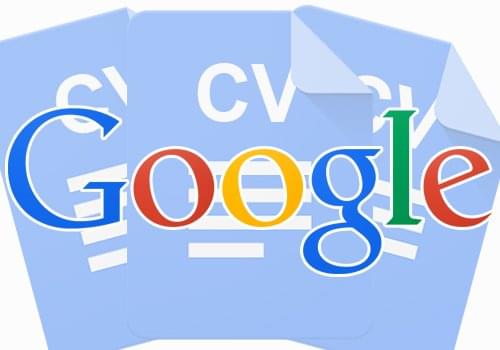 Google Docs tool could be used to expose CV lies it is claimed. As companies increasingly request for CVs through Google's internet version of Microsoft Word, the tool's new Draftback update will reveal the edit trail of any document.
The new feature, part of a series of Google App updates, will mean that any changes or tweaks a person makes to their CV will be available for potential employers to view. Once published online, employers can choose to see any revisions or polishes and a full word for word history of what an applicant has written by using an option appearing within the Chrome browser when the Google Document is loaded, however applicants do have the option to hide the revision timeline before publishing the document.
Users can also generate an animation of the word for word history and changes, with the additional possibility of sharing the embedded animation.
Created by James Somers, a developer for Genius, Draftback was originally launched as an app in November 2014 before being re-launched alongside the Google Chrome extension. Although not specifically created as a tool for CV writing, more and more employers now request for a CV and cover letter to be submitted through the Google Docs tool, making it easier for employers to uncover potential lies by applicants.
Considering a recent survey revealing that 90% of jobseekers admit to copying other people's CVs and 89% admit to using web-based examples to write their CVs, employers are being advised to improve their assessment during the hiring process, which could explain the influx of employers opting to receive CVs and cover letters via Google Docs and Draftback.
East Coast People are More Likely to #hatetheirjobs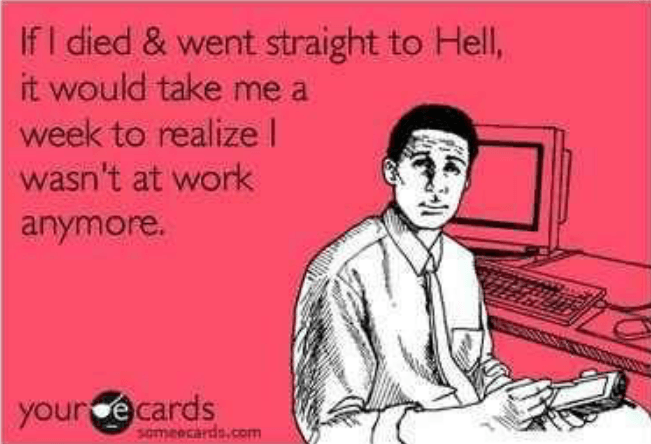 West coast is the best coast — at least when it comes to being happy at work.
In a new report released last Wednesday, social technology company Brandwatch and jobs site Monster analysed over 1.1 million tweets on career sentiment from March 2014 to March 2015 to figure out which workers across the country were the happiest with their careers. And turns out workers on the West Coast of the USA were as sunny as California when it comes to their jobs — the top 10 happiest states were concentrated out West. The only outliers for happiness were Maine and Arkansas.
The survey showed that workers on the East Coast are pretty well paid, but a high salary won't keep them from bashing their jobs on social media. Florida came in dead last, followed by West Virginia, Delaware, Virginia.
Software engineers, barista, designers, teachers, and technicians were some of the careers where workers were more likely to log onto Twitter to humblebrag #ilovemyjob (which was mentioned in 185,378 tweets and 252 retweets over the course of the study). Government workers, healthcare employees, retail workers, truck drivers, paralegals, and administrative assistants were more likely to turn to social media to tell the world#ihatemyjob (mentioned in 8051 tweets and 16 retweets). Other popular hashtags among jobs haters included #fml, #worksucks, and #retailproblems.
Workers in the tech industry are less likely to tweet negative things about their jobs — a fact that the study attributes to tech workers being more in tune with the potential consequences of publicly trashing your job.
Not surprisingly, job hate was more likely to surface on social media in July when people would probably rather be at the beach than at their place of business. And people tended to have a more positive attitude about their jobs in November, a fact perhaps attributable to the pre-holiday business boom. The survey also shows that workers dread going back to work on Monday morning, with 76% of respondents reporting what the report calls "Sunday night blues." And those blues can sometimes be the last straw for unhappy workers — 20% of new job searches begin on a Monday.
Find out how the likes of IBM, IKEA and Siemens
drive hiring excellence with SocialTalent
---