Keep up with the latest hiring trends!
LinkedIn Post-Code Filtering: Here's a Better Way to Search by Location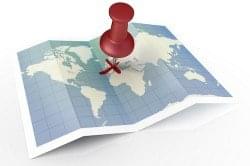 Searching for candidates by location is an excellent way to weed out the candidates who may realistically apply for or be interested in your job. Who wants a 70 mile commute to work anyways?
However, in LinkedIn's post-code filter, you're not searching for general counties and cities, you're searching for specific parts of that county and a radius of 25 miles around it. A key question that we must ask ourselves as headhunters is: How do you know that the address a LinkedIn member put in to LinkedIn is their home one, and not their work address?
Well we don't. So here's a better (and more reliable) way to filter by location in LinkedIn.
When searching for your desired candidates in an advanced search, inputting your keywords and synonyms in the Title, Keywords and Company fields, leave the location blank but for the country. Hit Search.

Now in your results page, scroll all the way down to the bottom, and in the filters along the left hand side, click on Location (it'll be at the very bottom, and is available on all account levels).
Expand on the Location filter and click See More so that you can see the top 10 results. If your Greater Area (like London, which covers 8 post code areas and 241 square miles) is present in your results then just click on that. But if it's not, like Newcastle for example, enter Newcastle into the search bar at the bottom of the Locations filter, select your appropriate option and it'll be added to the Locations as an eleventh filter. Keep adding cities or higher-level districts as you wish, and LinkedIn will add them as additional filters in Location.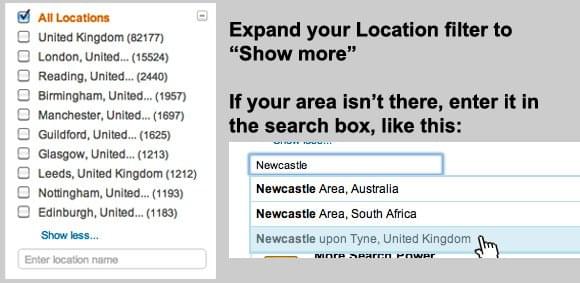 By searching through greater areas rather than post codes, you have a much better chance of finding appropriate candidates who are within your range, rather than dismissing them because they're outside your stated post code. Plus searching for post codes, or remembering them, can be quite tedious and in LinkedIn's Advanced Search you can only search for one post-code at a time.
Proximity is really important to candidates when considering a job offer. The average commute time is 25 minutes, according to the most recent US Census, and jobs which will reduce the daily commute time for your candidate are much more attractive than most other perks of the job. It's far easier to land a candidate who is already in the vicinity of your offices, and hard-to-find candidates with in-demand skills don't have to move location at all. However, there are substantive reports that suggest that candidates are willing to relocate for a job particularly if they've been made redundant in the last year. If you can't find the right candidate within your desired location, open up your search to take in a larger field. If your job is as great as you've said it is, the candidate will entertain the idea of a move.
How do you narrow by location to filter out potential candidates for the jobs you're sourcing for? Leave your tips in the comments!
Find out how the likes of IBM, IKEA and Siemens
drive hiring excellence with SocialTalent
---