Keep up with the latest hiring trends!
5 BIG Pieces of Recruitment News - 14th April 2014
In recruitment news this week:
Watch the video:
LinkedIn launch a New Profile View for Recruiter Users
A new look LinkedIn Profile page for users of Recruiter, has been released. The new profile page, which according to LinkedIn is the most viewed page within Recruiter receiving nearly one million member profile views daily, now boasts a more modern and intuitive design similar to the Homepage, and provides users with easier access to rich member information, which should help you find the best person for the job and uncover more meaningful ways to contact them more quickly.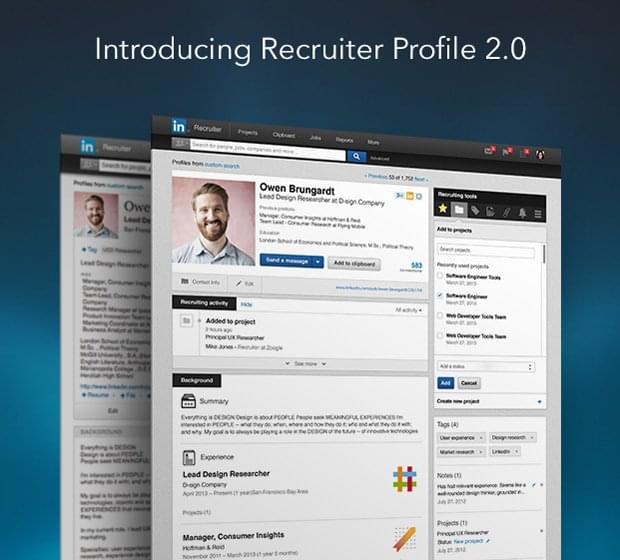 The most noteworthy new features include:
Recruiter Toolbar '¬€ This puts the things you do most, like saving member profiles to clipboards and projects, adding notes, and attaching work files, in one place. The toolbar is anchored to the upper right hand corner of the Profile page, so it's easily accessible as you scroll up and down member profiles.
Similar Profiles Module '¬€ This algorithm analyses the profile you're reviewing and recommends very similar member profiles by comparing aspects like skills and expertise, education, and even career trajectory. Meaning the next time you find a great candidate, more great candidates will be "right in front of you".
The new profile layout will be rolled out to all English-language customers by the end of April and to other languages by the end of May.
LinkedIn launch Recruiter iOs Mobile App Updates & an Android Version
A whopping 41% of LinkedIn members access the site via mobile. So last Thursday LinkedIn launched their "enhanced" Recruiter Mobile iPhone app, as well as a brand new Android app. The new Android App includes the core features of the enhanced iPhone app '¬€ like conducting searches and filtering results by location and team activity, sending and receiving InMails, adding notes, sharing member profiles with hiring managers, and managing member profiles in projects. iPhone app users can now also view attachments '¬€ like work examples '¬€ in InMails, a feature that will soon also be available to Android users.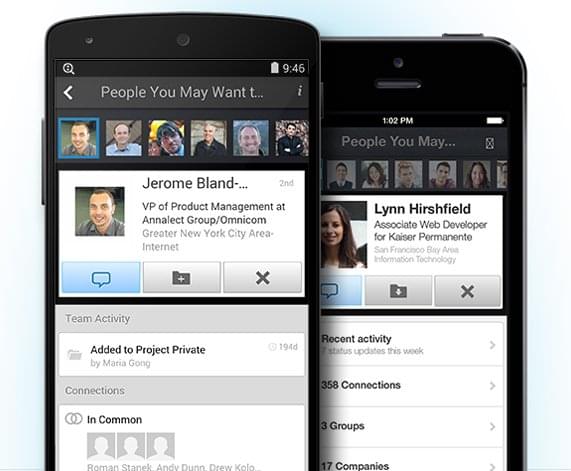 Both apps are free to existing Recruiter seat holders, and can be downloaded today from Google Play and the App Store.
Twitter Launch Brand New Profile
Your Twitter profile has changed. And if it hasn't already, it will do so any day now. Twitter has a brand new face. One which, according to Twitter's blog, will show the world who you are and will make it even easier for you to express yourself through a new and improved web profile.
So what's changed? Well, the new Twitter profile includes:
Larger Profile Photo & Header Image
Reminiscent of both Facebook and Google+, in our opinion, the new Twitter profile has enlarged your profile photo and expanded the size of your header image. You can now spread your header right across the page at 1500À"500 pixels, making for an altogether more colourful profile, that is heavily image based as opposed to the text based profile we have been using.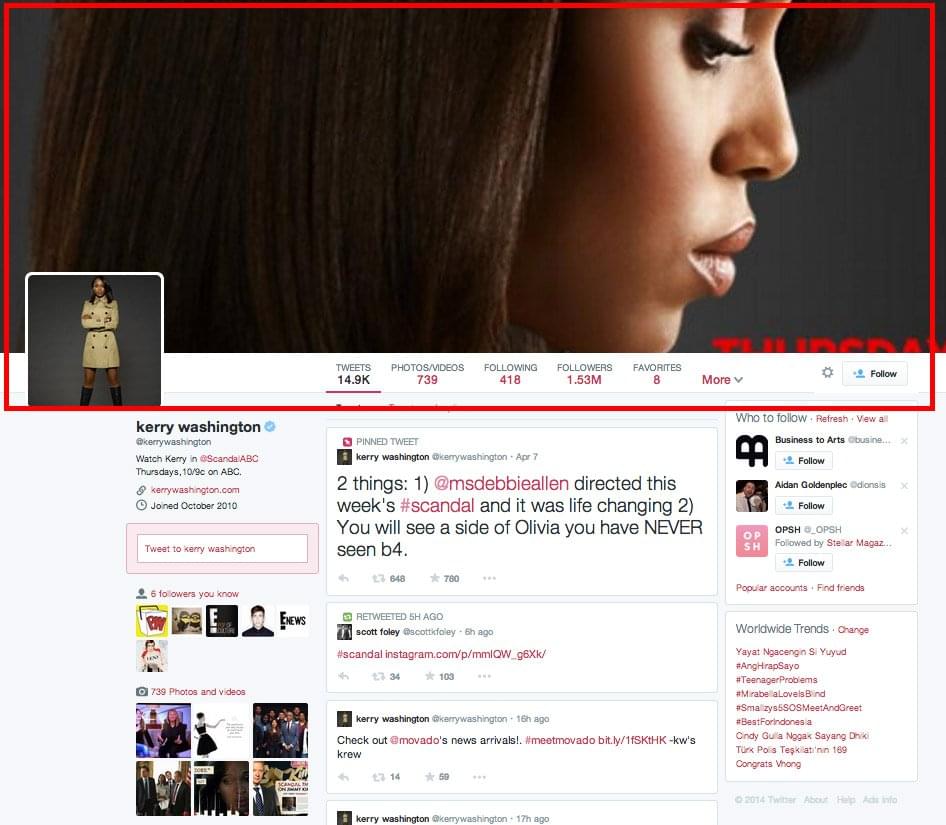 Name, Handle and Bio Move Left
Your name, @handle, bio, and pictures will all now be positioned on the left-hand side of the page, directly below your profile picture.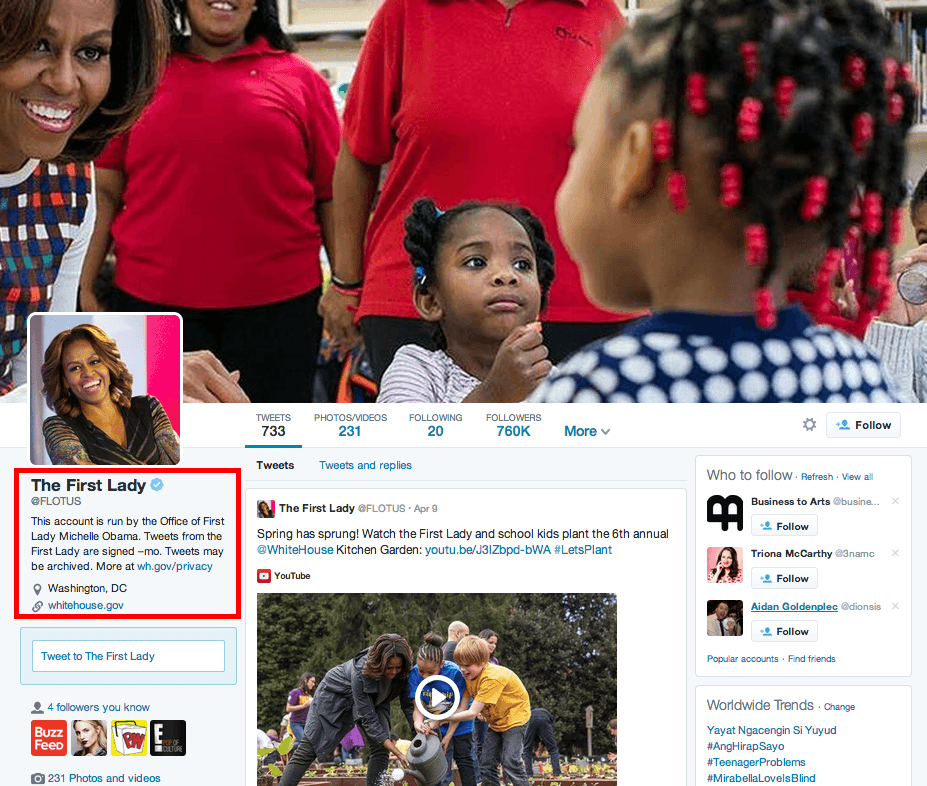 Who to Follow and Trends Move Right
Both your Who to Follow and Trends tab will now be positioned to the right-hand side of your tweet stream.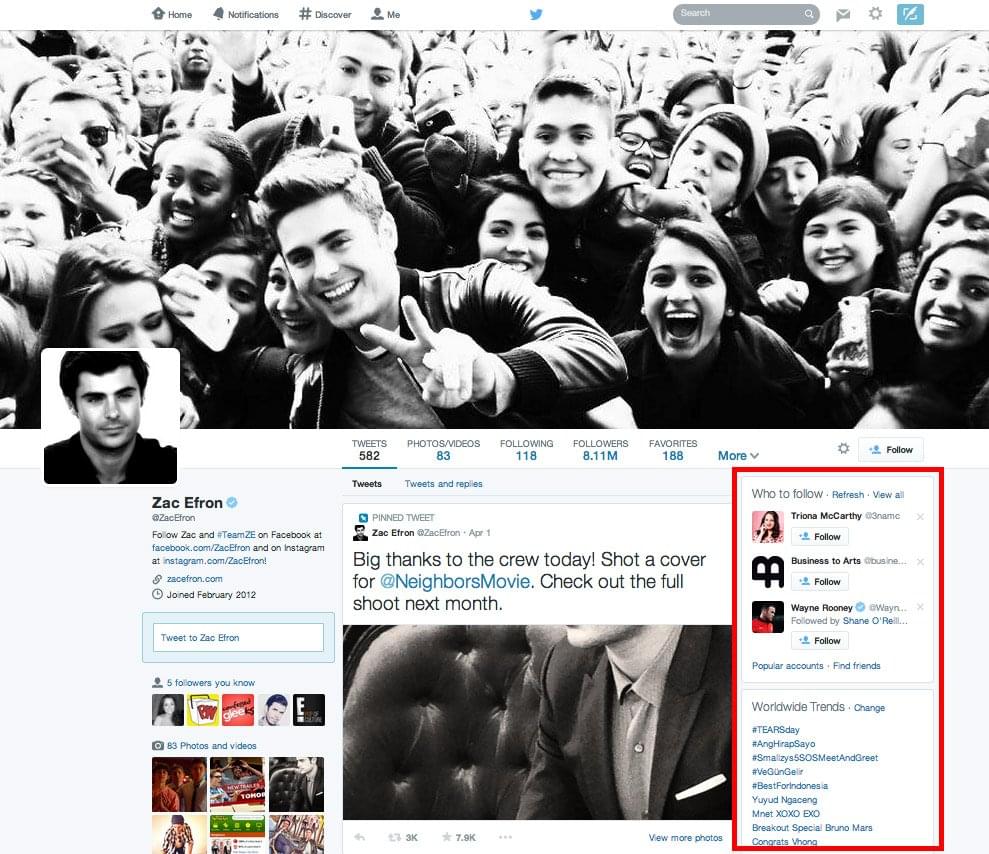 Tweets that have received more engagement in the form of replies, retweets and favourites, will now appear slightly larger in your tweet stream, allowing to find your best content more easily. This will be quite a departure from Twitter's signature look.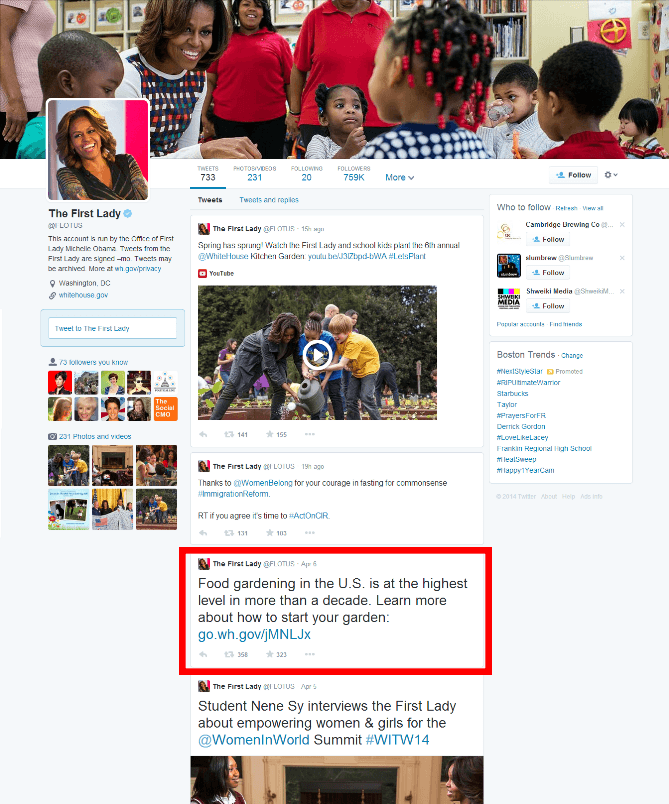 Much like you can do with your status updates on your LinkedIn Company Page, Twitter is now letting you pin one of your tweets to the top of your page, so it's easy for your followers to see what you're all about.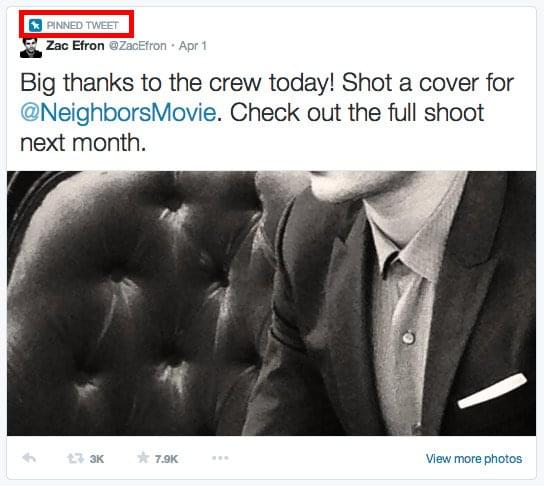 You now also have the ability to choose which timeline you wish to view when checking out other people's profiles. Select from 3 options:
Tweets
Tweets with photos/videos
Tweets and Replies
For more information about the new Twitter profile including how to amend your new look profile and what the experts (as well as the general public) feel about the updates, click here to read our comprehensive blog post.
Twitter Announce Planned Launch of Pop-up Desktop Notifications
Not satisfied with making just one major announcement last week, Twitter have announced plans to launch push notifications on desktop. Yes, the notification will appear in the lower right-hand corner of the user's timeline on Twitter.com and will alert users when other users have engaged with them in the form of a retweet, mention or message.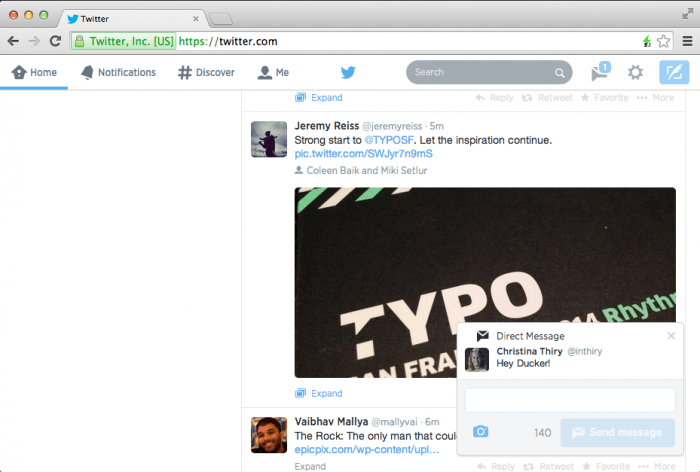 The notifications will also be interactive; allowing you to follow someone or reply back directly within the notification. The change should make direct messages more accessible and therefore more popular amongst users.
Facebook Forces Users to Download Messenger App
Ugh, from now on if you wish to send or reply to any messages you receive on Facebook while you're using your mobile device, you will have to download the completely separate Facebook Messenger app to do so. Because from now on, Messenger will be the only way to chat on mobile. Yep, by removing chat features from its traditional app, Facebook are forcing users to download the the Facebook Messenger app.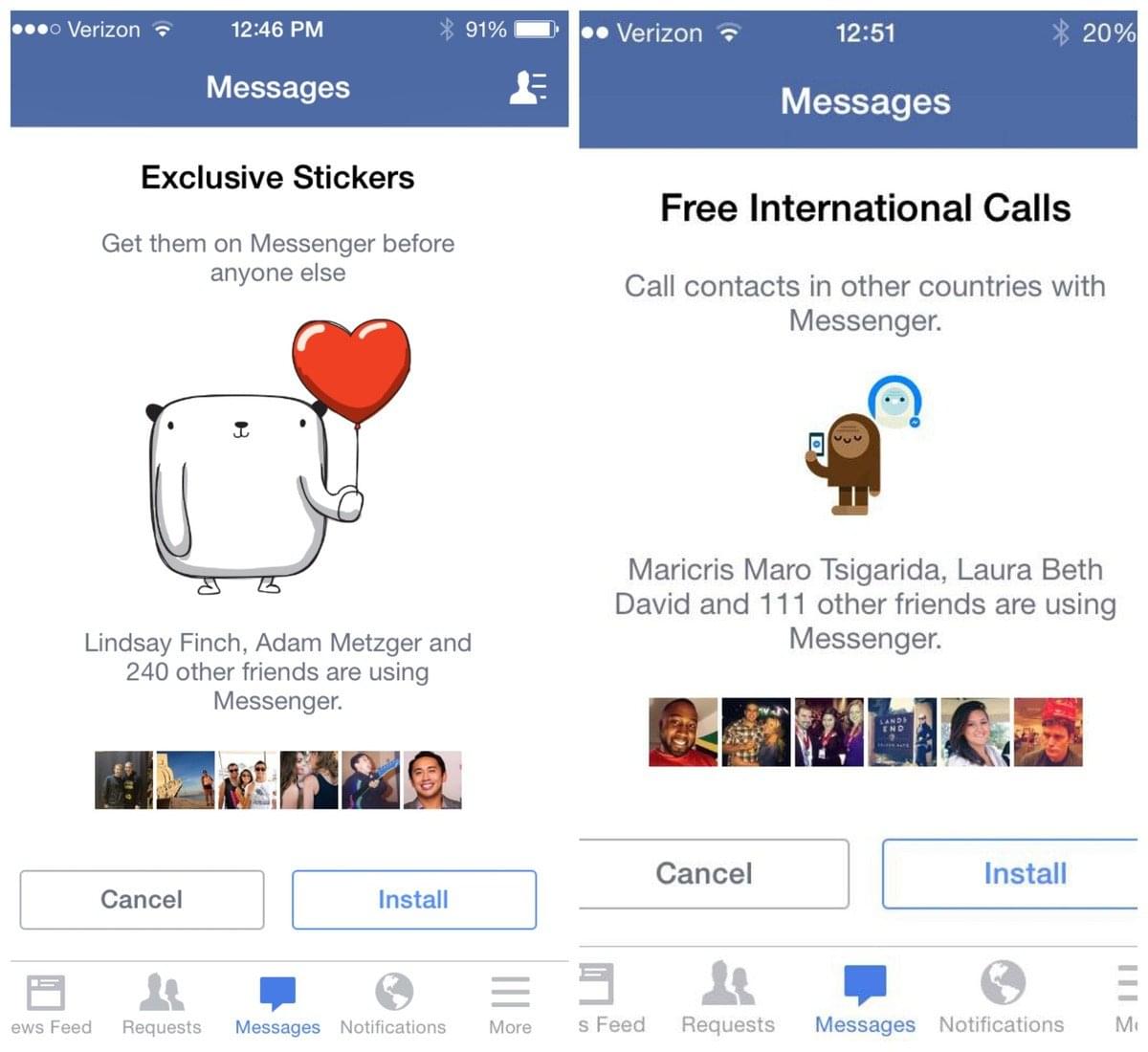 "Today we are starting to notify people that messages are moving out of the Facebook app and over to the Messenger app," a spokesperson wrote in a statement to tech website, Mashable. "To continue sending messages on mobile, people will need to install the Messenger app." Users will supposedly be alerted several times about the feature's disappearance and prompted to download the standalone Messenger app, before the feature is fully removed from all mobile users.
What do you think of today's stories and the revelations within? Let us know in the comments below.
Find out how the likes of IBM, IKEA and Siemens
drive hiring excellence with SocialTalent
---