Keep up with the latest hiring trends!
7 Very Exciting Pieces of Social Recruiting News! - 21st July 2014
In the news this week:
Watch the video:
Twitter Releases New Analytics Tool for Organic Tweets
Finally! The day we've all been waiting for is here! Last Friday, Twitter released a brand spanking new analytics dashboard for advertisers, Twitter Card publishers and those lucky enough to be considered as verified Twitter users. While company have been providing advertisers with data relating to their tweets for some time now, the only data available was that relating to tweets the advertiser had paid to promote. The data covered things like impressions, replies and link clicks but the same data for regular everyday, non-promoted tweets was non-existent. The new dashboard offers the user a broader view of their account's progress and effectiveness and includes really important data like total impressions, total engagements, and engagement rates for each tweet. It also aggregates that data for the past month and shows you in a visual graph format, how you've been doing compared to previous months.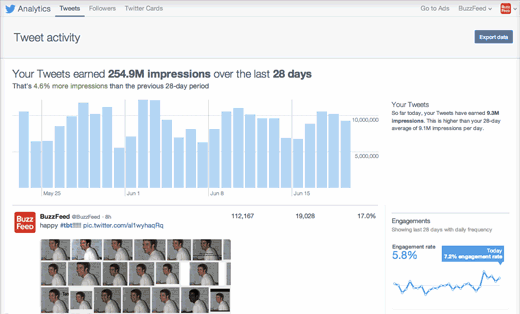 With the new dashboard, you can:
See how your Tweets are performing in real time.
Compare impressions (times a Tweet is viewed by anyone on Twitter web and Android or iOS apps, including logged-out users), total engagements and Retweets month over month.
Use the Tweet details page to see how many Retweets, replies, favourites, follows, link clicks and embedded media clicks each Tweet received.
Export your Tweet performance metrics into a CSV file, which now includes both organic and promoted data.
Along with their official press release announcing the arrival of the new dashboard, Twitter also released their "Best Practice" guidelines for using the dashboard to improve your content strategy. This is what they had to say:
Pay attention to when you tweet. Note which time of day and day of the week yields the highest engagement and impressions.
Analyse the frequency of your Tweets. Use your new insights to determine your Tweet cadence.
Identify what Tweet mechanics work, and which aren't as effective. Keep an eye on elements like different calls to action, the inclusion of rich media and copy length.
If you're not a verified account holder or a Twitter card user (shame on you!), just register for an Ads account on ads.twitter.com here.
Clarification of the 'Apply with LinkedIn' Button Debacle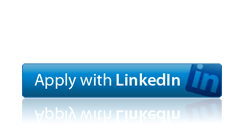 You may remember we reported news of Bill Boorman's findings in relation to the "Apply with LinkedIn" button in the news 2 weeks ago. After examining the terms and conditions surrounding LinkedIn one touch apply button Apply with LinkedIn, Bill announced on his Facebook that the product is explicitly not for agencies or job boards (grouped under 3rd parties). And although LinkedIn did not prevent 3rd parties from using the tool, it would appear that they have the right to turn it off whenever they want. This week, we took the liberty of reaching out to LinkedIn directly and asking them what the deal with the terms and conditions are surrounding the button really are. This was their response:
@socialtalent Staffing agencies are approved&more info will be provided on Developers Forum before July 31st. Sorry for delay confirming! /K '¬€ LinkedIn Help (@LinkedInHelp) July 16, 2014
United States, United Kingdom and Canada Are Dominating The Global Talent War
According to new research carried out by Indeed Hiring Lab, "a global research institute committed to advancing the knowledge of human resource and talent management professionals worldwide", the U.S., the U.K. and Canada attract the greatest search interest from job seekers from all over the world, with India following closely behind.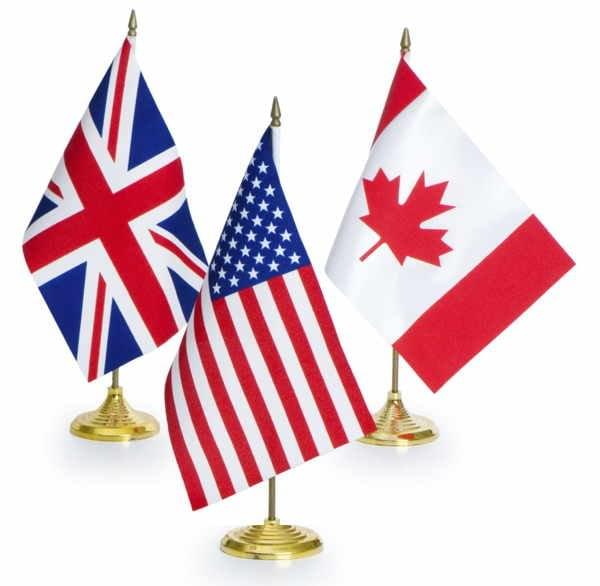 In a press release for the research results relating to workforce mobility, the UK is revealed as the 3rd most desirable job market worldwide behind India and the US. And, after the US and India, Ireland, France and Spain make up the top five international searches to the UK. Interestingly, the UK is also highlighted as the top source for international searches for flexible jobs. The recent extension of the right to request flexible working for all UK employees reflects the global emphasis that workers place on this aspect of their job (recruiters take note).
Additional findings also showed that only 9% of UK workers are seeking positions in other markets. And, in terms of job search terms, accounting is the top search term for UK residents seeking jobs in France, while hotel and marketing are the most popular searches in Italy, and pharmacist tops the search rankings for those seeking work in Ireland.
For additional data and more key findings, you can view the full report here.
LinkedIn Buy Newsle
On July 14th, LinkedIn welcomed the Newsle team to the LinkedIn family. But who and what are Newsle I hear you ask, well Newsle (by LinkedIn's own admission) share quite a similar goal to LinkedIn in terms of what they do.
In a nutshell, they provide their users with professional insights that make them better at what they do and they do so by providing you with more knowledge about the people in your network. Newsle's "disambiguation, natural language processing and machine learning algorithms" search the web for any mention of you or the people in your network so you can "surface relevant insights that help you hit your next meeting with them out of the park".
LinkedIn say they're "excited to work with Newsle's team to combine this technology with our core assets and build experiences that continue to make you and millions of other professionals more productive and successful." And with that said we think you can expect to see this feature on LinkedIn very soon!
Jobandtalent Raises $14m
Jobandtalent, a recruitment platform that uses linguistic analysis to help jobseekers find roles they might otherwise miss, has closed a $14 million Series A funding round. The startup have said the new funding will be put towards market expansion in Europe, Latin America and the U.S. and will help them continue processing more than the 300,000 or so job applications they receive ever month from candidates.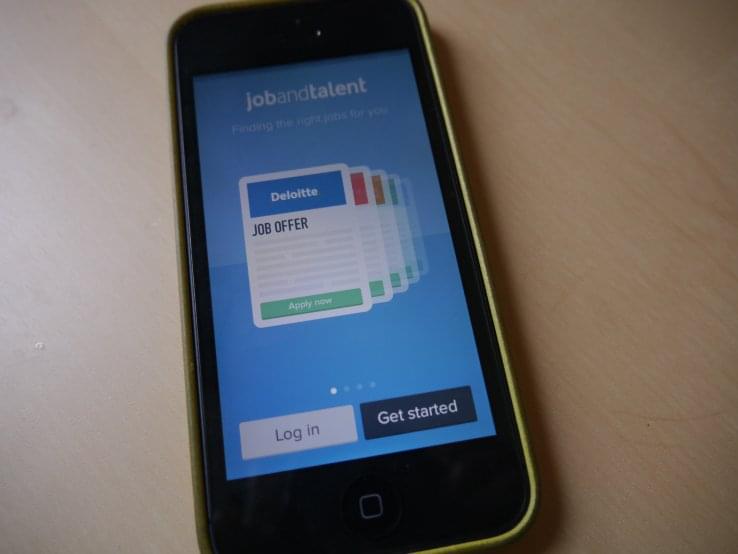 If you've never heard of them, Jobandtalents premise is to "automate the work of matching candidates with relevant job opportunities (and vice versa) by using a linguistics-based algorithm that parses job ads and jobseekers' CVs to locate relevant pairings '¬€œ thereby allowing the more valuable (to employers) passive candidates to be more easily folded into the mix". Globally, Jobandtalent have 2,000 companies directly using the site, with a total of 2.5 million job postings on its platform monthly.
For more information on what they do and the developments they've made on the user side of product, click here.
Google+ Stops Requiring Real Names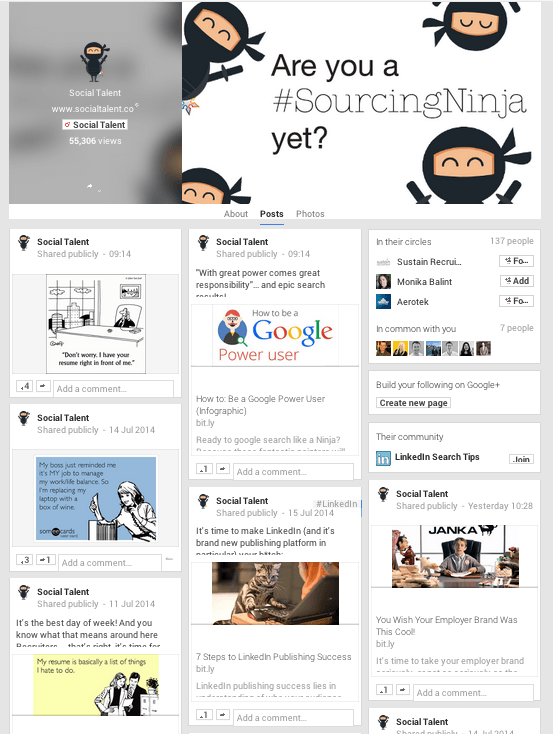 Google is making an apology. An apology to all the users had an "unnecessarily difficult experiences" when trying to give themselves a name on their Google+ profile. You see when Google+ first launched in 2011, it had a strict policy that required users to use their real names when setting up an account, and it deleted accounts that used pseudonyms.
The policy prompted complaints and criticism from users. Nevertheless, Google even tried to require real names on its YouTube service for a time. But as of last Tuesday, Google say there will be "no more restrictions on what name you can use" and added that the change will be a step toward "making Google+ the welcoming and inclusive place that [they] want it to be".
LinkedIn Settles Lawsuit with HiringSolved
LinkedIn are breathing a sigh of relief today as their highly publicised lawsuit with people aggregator, HiringSolved, comes to an end.
Back in January, LinkedIn filed a lawsuit against unnamed defendants for, among other alleged violations, "maliciously creating fake profiles and using Amazon Web Services as a smokescreen to hide the still anonymous defendant's illicit pilfering of 'LinkedIn data'". Shortly after the suit was filed, the original complaint was amended to reveal the real identity of the previously unnamed defendant as HiringSolved. But after months of legal machinations, motions and negotiation, a settlement has finally been made.
While under the terms outlined in the settlement, the complete agreement is to be kept confidential, HiringSolved will pay LinkedIn a cash settlement of $40,000, and the company will delete all LinkedIn data as well as any references to LinkedIn in its product platform, marketing materials and any other B2B outreach, business development or branding efforts. Additionally, under court order, HiringSolved will remain in full compliance of LinkedIn's terms and conditions in any future use of the site or its affiliates.
Check out the embedded document below for full details on the proposed Judgement of Consent:
Find out how the likes of IBM, IKEA and Siemens
drive hiring excellence with SocialTalent
---