Keep up with the latest hiring trends!
The Modern Recruiter: 5 Crucial Skills You Need to Have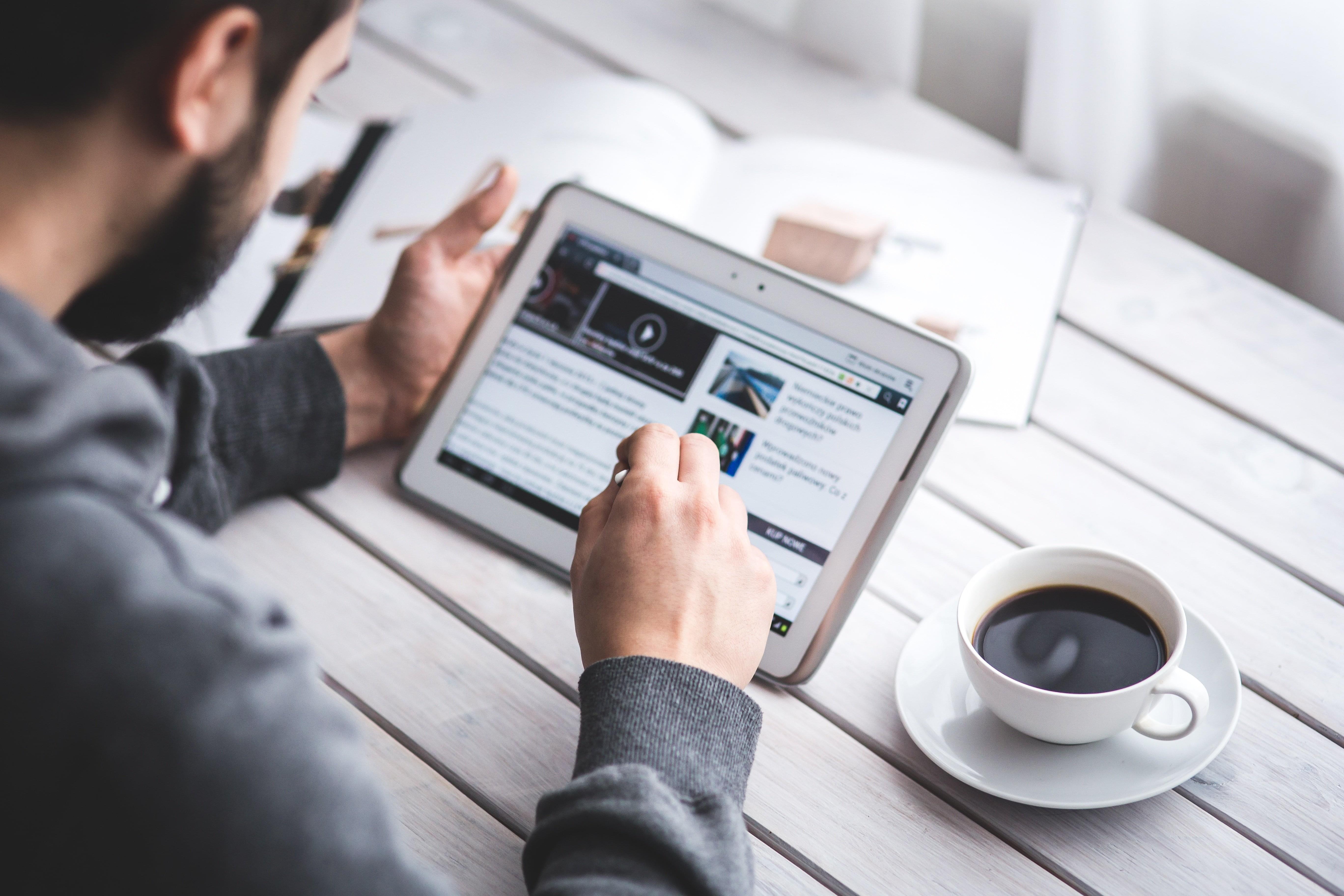 It is no big secret that the recruitment landscape today brings with it many challenges (maybe more so than ever before!) that can really test recruiters' mettle. Significant changes have taken place, even in the last 5-6 years, including the changing demographics of multigenerational workforces, the arrival of the Big Data era and huge advances in mobile and social technologies. What doesn't help is that the recruitment industry has become candidate-driven once again (see graph below), meaning the power is back in the candidate's hands and they can now be more selective during the job-seeking process.
To successfully meet the expectations of a super-connected and technologically smart society, employers need people who can harness technology and drive innovation. Andy Headworth, Managing Director of Sirona Consulting, puts it perfectly, saying:
"A company's ability to find, attract, and ultimately recruit skilled talent is going to determine how successful they are in meeting their business growth objectives. Talent acquisition and retention is now firmly on the agenda of chief executive officers (CEOs) and business owners across the world".  
In order for employers to do this effectively, they are looking to modernise their recruitment processes which demands a new breed of recruiters. Recruitment professionals need to wear multiple hats to be effective in this new recruitment landscape. Today, we're looking at the top 5 skills and competencies a recruiter needs to have in order to thrive in today's hiring ecosystem.
1. A Customer Experience Mindset
Candidate expectations are higher than ever before. They are less willing to accept arduous application procedures and lengthy hiring processes than in years gone by. Therefore, recruiters today need to adopt a customer experience mindset, or in this case a candidate experience mindset in order to deliver a hiring process that caters to the needs of candidates. According to CareerBuilder's 2016 Candidate Behaviour study, the vast majority of respondents want:
To know the contact information of the person that posted the job
To talk to the recruiter or hiring manager before applying
To see salary more than any other feature in the job posting
To be able to get an insight into team structure and where the job fits in the company
These are just some of the elements you need to optimise for your candidate journeys and this should be done no matter what the position is. President and CEO of HR Milieu Farhan Farooqui says:
"Hired or not hired, the recruiter should pay extreme attention to each applicant and feel that successful recruiting includes reputation management, which originates from candidate experience. It's not what the new hire says – but what do the "not-selected" candidates say about your company, your professionalism, the process, and if asked, will they apply for another position at your company?"
If you are obsessed with Candidate Experience, you will beat your competitors in the war on talent.
2. Unearthing Hard-to-Find Talent
The fast-changing technological world of social, mobile, digital and cloud has brought with it a a major need to fill new positions that require new skills, knowledge and experiences. There is a mismatch between the skills companies need and the talent available. According to ManpowerGroup's 2015 Talent Shortage Survey, the global average for talent shortages is 38%, up from 36% in the previous year. 54% of respondents said that the level of impact of the talent shortage has on their ability to meet client needs is medium-high, while 42% said that the talent shortage will reduce their competitiveness/productivity.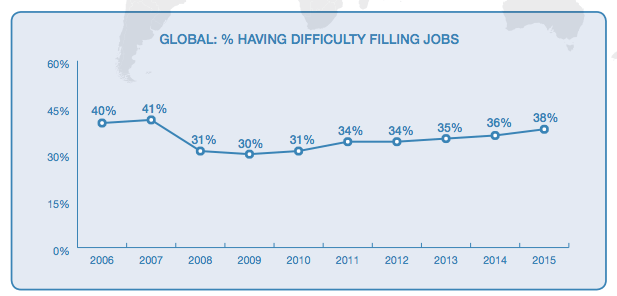 This means recruiters need to be adept at proactive sourcing which can really help recruiters to find rare talent. Instead of just blasting job ads to the masses when positions become available, you should really start identifying, pipelining and engaging with candidates before the job becomes available. Build relationships, develop new expertise in certain industries you think are important to the future of the economy and provide strategic advice/thought leadership content on talent. Ultimately you want to find data-driven sourcing insights in an effort to build to your talent pipeline and candidate engagement efforts.
3. Mobile Marketing
Do we really have to delve into to much detail here? The future is no longer mobile because we are living in it right now! That being said, recruiters are still facing challenges particularly around their career sites, only few of which offer a candidate application process optimised for mobile and tablets. Recruiters still haven't developed the necessary expertise to deliver a mobile optimised candidate experience.
As a recruiter, HR professional or talent acquisition manager, there is huge need to embrace mobile in order to source, contact and hire the right candidates. Not only that but Google announced last year that mobile-friendly websites will rank higher in mobile search results and those that are not optimised will fall down the rankings. To get yourself started, you need to ask the following questions?
Do potential candidates have to zoom in to see text?
Can they easily find jobs on mobile?
Is the navigation easily accessible?
Can candidates easily click on links?
Is video content (e.g. employee spotlight videos) loading?
4. Data-Driven Recruitment
Big Data has swept into every industry and business function and has become the key basis of competition and growth for enterprises of all sizes. It has been fuelled by a range of sources such as the rise of multimedia, the increasing volume and detail of information captured by companies and increasing social media use. The use of social networks and other online profiles has opened a new world of data for recruiting teams to explore. This allows recruiters to move beyond traditional recruitment methods and analyse everyday data with the goal of converting raw data into recruiting intelligence.
Most recruiters today have the capabilities to use technological tools to their advantage but lack the ability to effectively crunch the data. Glen Cathey, SVP of Talent Acquisition Strategy and Innovation at Kforce, states: "Human capital data can be leveraged to identify and hire more great people more quickly… but the vast majority of companies have yet to fully embrace data as a strategic asset in talent acquisition". Recruiters today need to be able to use data to make better decisions and improve their processes. For example, all social networks are hubs of huge amounts of data that recruiters can now analyse and derive insights from. Recruiters need to refine talent pool data to proactively pipeline talent and define recruitment goals that meet specific business objectives.
5. Onboarding
According to LinkedIn's Savvy Recruiter's Career Guide, onboarding was identified as one of the fastest growing skills every recruiter needs to stay ahead. Onboarding is so important to get right to ensure a smooth start into the workplace as well as setting a high level of employee engagement from the start. Despite its importance, there seems to be a disconnect between recruiters and new employees as to what an effective onboarding process looks like.
Staffing firm OfficeTeam carried out a survey and found that a staggering 54% of employees said that they've experienced a mishap in their new job. 15% didn't get introduced to their co-workers, 22% didn't have the necessary supplies ready for them and 14% didn't even get a tour of the office. Yet 92% of HR managers questioned in the exact same survey felt that their onboarding process was effective! Recruiters need to bring more structure to the onboarding process and ensure new employees acclimatise to the company culture.
Not connected with us on social? Stay in touch and keep up-to-date with all the latest recruitment news, research highlights and our wide range of useful resources.
Find out how the likes of IBM, IKEA and Siemens
drive hiring excellence with SocialTalent
---