Keep up with the latest hiring trends!
There's something about #Ireland What is it?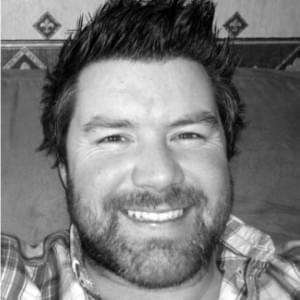 Yet another massive global tech giant is to open in Dublin, as Twitter follow the likes of Google, Facebook and LinkedIn, writes 

Oliver Skehan
Google did it. Facebook did it. LinkedIn did it. PayPal did it. eBay did it. The precedent was set. It was only a matter of time before Twitter arrived in the Internet Capital of Europe', wasn't it?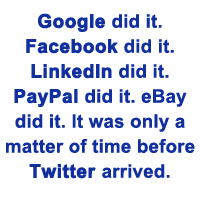 Yes, Dublin, the city widely associated with the rare auld times' is where social media companies turn their attention when they are looking to establish a European headquarters.
Google set up in Dublin seven years ago and now employs 2,200 having started off with 200. Facebook will employ around 300 by the end of 2012 while LinkedIn will employ 140. PayPal currently employ 1,300 while eBay employ about 1,000 at present. Games maker, Zynga, have also recently set up shop, employing around 100 staff.
The tweet Ireland is trending. Twitter to establish international office in Dublin' was inevitable. Or was it? On Monday, a spokeswoman for Twitter, said: The Twitter office in Dublin, our third location outside of the US, is a great next step in the company's global expansion. Positive words for sure.

Yes, Ireland is attractive to multinationals for a number of reasons; access to talent, ease of business, a dynamic digital media cluster and crucially a 12.5% corporate tax rate and tax law that allows profit to be sent from the country on to tax havens '¬€œ the dangling carrot to beat all dangling carrots.
But these announcements don't just happen. A lot of hard work is done behind the scenes. At one stage it looked as if Twitter were going to choose London over Ireland but the IDA's commendable determination paid off and chief executive, Barry O'Leary, said: Twitter is a fantastic addition to Ireland's dynamic digital media cluster and we are excited to support the company's continued international growth.
Minister for Jobs, Enterprise and Innovation, Richard Bruton, added: Twitter is one of the most exciting and fastest-growing companies in the world.
The challenge now is to build on our strengths and the presence in Ireland of the world-leading companies like Twitter to build an indigenous engine of growth and get people back to work."
So are there real grounds for optimism or is the Minister all 'TalkTalk'? Is anyone really listening to the Minister?  And who exactly is getting back to work?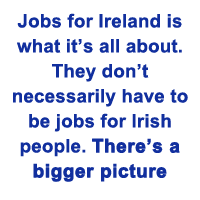 It is expected that Twitter will follow the lead of its American counterpart Google and initially employ staff in the fields of finance, user support and marketing. The question is will those staff be from the motherland? Does it matter? Of Google's current staff, 70% are foreign nationals. Does that matter? Not in the slightest.
If the make-up of Twitter's new set-up is completely non-Irish then that's fine. Jobs for Ireland is what its all about. They don't necessarily have to be jobs for Irish people. There's a bigger picture.
Here's the way it will flow. Foreign national gets job. Foreign national rents apartment or buys house. Foreign national buys car. Foreign national gives the struggling retail sector a boost. Foreign national boosts the Irish company. Simple.
That money can then be used to give the aforementioned retail sector a leg-up, not to mention the sector the Celtic Tiger' was built on: construction. There is something about Ireland. It's not the weather. It's something else. What is it?
Tell us in the comments!
Find out how the likes of IBM, IKEA and Siemens
drive hiring excellence with SocialTalent
---