Keep up with the latest hiring trends!
Take Control of Your Employer Branding Strategy

Welcome to SocialTalent's Live & Learn Series!
Each week we gift you with a little bit of info that will help smoothen your recruitment process and expand your knowledge of your industry. With this Live & Learn series we promise to keep it:
Short
Simple
Ready to use!
Sound good to you? Let's begin!
Take control of your employer branding strategy
Employer branding is the way you project your company brand to the world. Will Ryan will guide you in understanding the potential of your employer brand. Start influencing the way people perceive your company and you'll see the positive impact on your potential candidates.
Key Takeaways
Employer branding doesn't have to be a giant tangled mess. It can be a big undertaking but these tips will help you think strategically about employer branding;
Employer brand is usually owned by TA/HR departments, but it should be owned by marketing
Alignment is crucial, don't pretend to be someone your not- it will not translate well and could be damaging to your reputation.
Employer branding is a result of a multiple of touch points between you and your candidates. Everything from your social media presence to your interview process is a building block for your employer brand.
If this is the beginning of your journey into employer branding then you're in the perfect place! Contact SocialTalent to learn more about how we coach hiring professionals to carry out successful employer branding strategies through our Recruiter Academy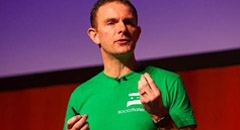 SocialTalent Recruiter Academy
A full library of videos that can help your team transform their hiring process
Find out how the likes of IBM, IKEA and Siemens
drive hiring excellence with SocialTalent
---