Keep up with the latest hiring trends!
/
/

2017 Sourcing Challenge: The Answers
2017 Sourcing Challenge: The Answers
For the last three years, we've run a Sourcing Challenge to test your skills and flex your muscles, hunting around the web for totally random bits of information under a strict time constraint. This year was tougher than last, it has to be said. 10 questions in 15 minutes, there was only ONE person who managed a clean sweep! Congratulations to Rebecca Scuderi!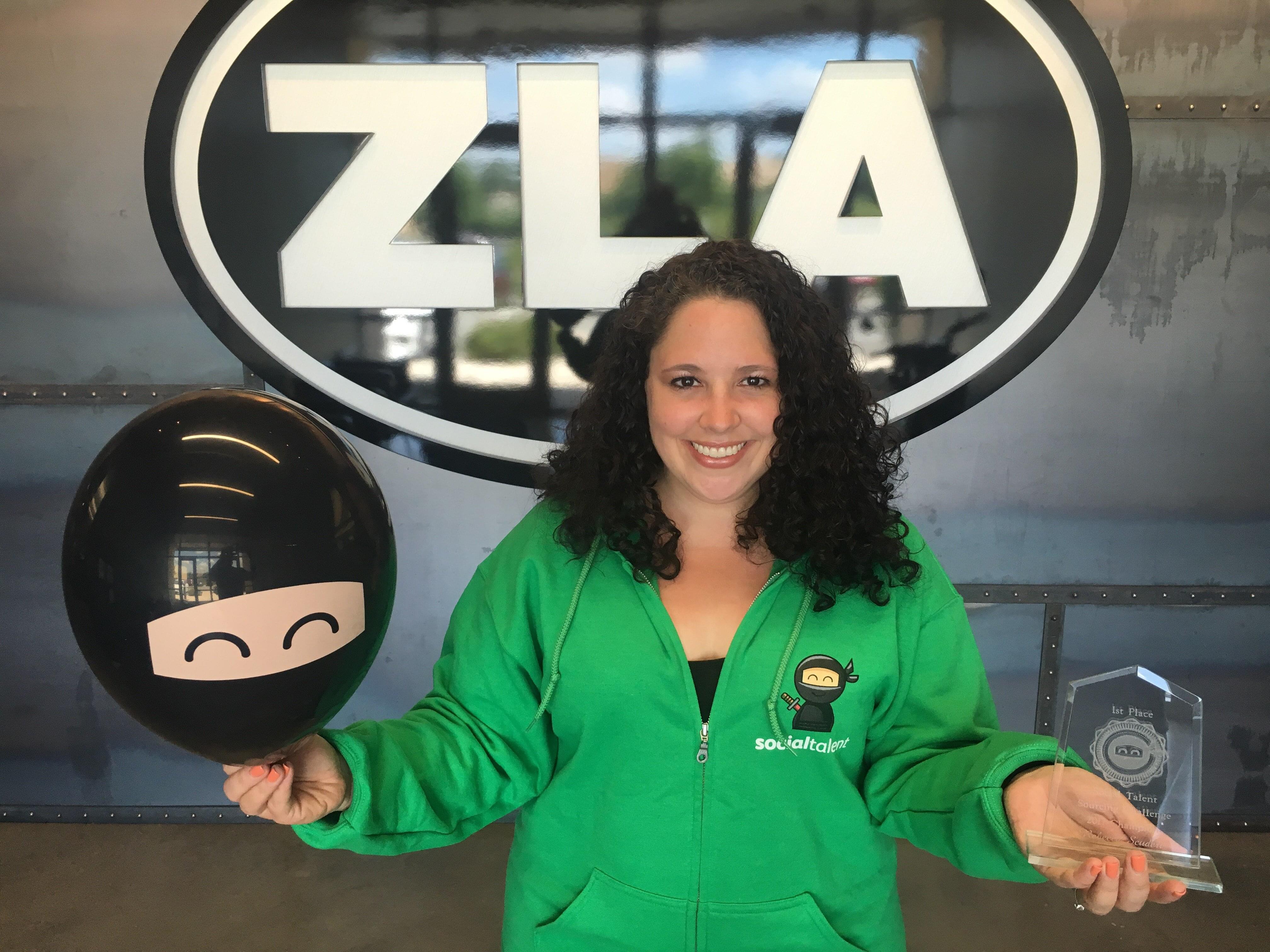 As promised, we reveal the answers, as well as the techniques to getting to those answers. Here we go!
Question 1:
Who is the Marketing Director for Diageo in Australia?
This is a really simple one, at first glance. Until you go and actually do a search for "Marketing Director" at Diageo in Australia and LinkedIn brings up nothing.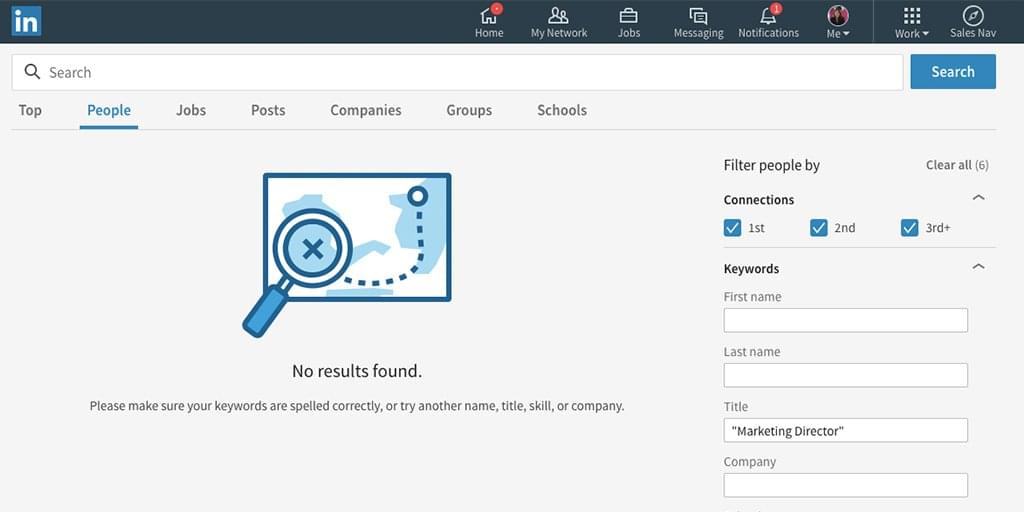 Alternatively, you might just have typed in Marketing Director Diageo Australia into the top search bar of LinkedIn, or Google, and found a lot of results, none of which are immediately obvious to what you need. You'll end up wasting about 5 minutes of your 15 minutes doing it this way.
One simple solution: right, they must not be *called* a marketing director, maybe I've to look for synonyms?
Head of Marketing, Marketing Head, Director of Marketing, Marketing & Sales Director, CMO… what else could they be called? Well, that brings up one person, but he's marketing finance and pricing, not marketing.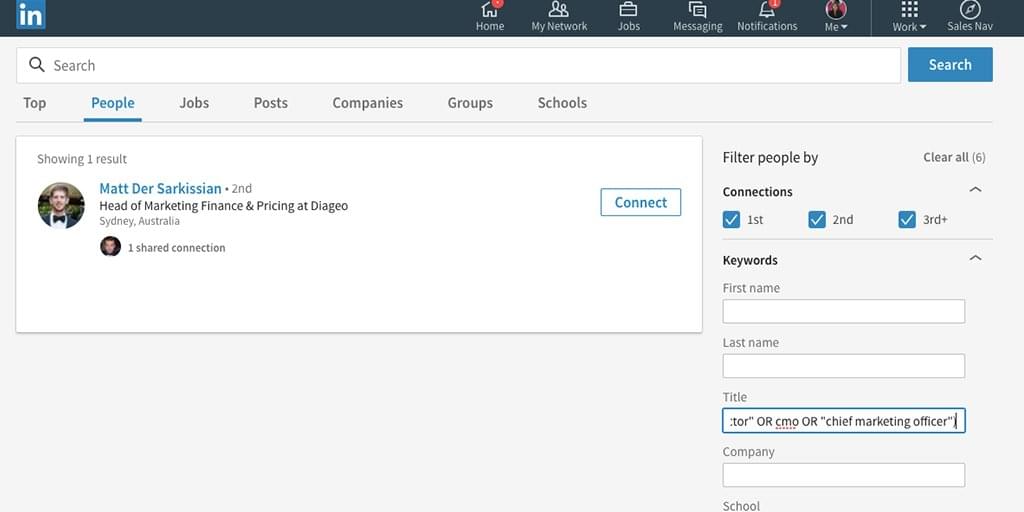 There are two ways you can go about this to find the one you need in the short time available.
Method 1:
Split the two terms of your job title to the functional element and the seniority element, and come up with synonyms for each:
(marketing OR mkting OR cmo)
(director OR dir OR cmo OR chief)
That will find you your result: Adam Ballesty.
Method 2:
Don't use quotation marks around your job title, Marketing Director. LinkedIn will read this as Marketing AND Director. Those two words are not considered a phrase, and therefore will be searched for in any combination within the Job Title field of LinkedIn.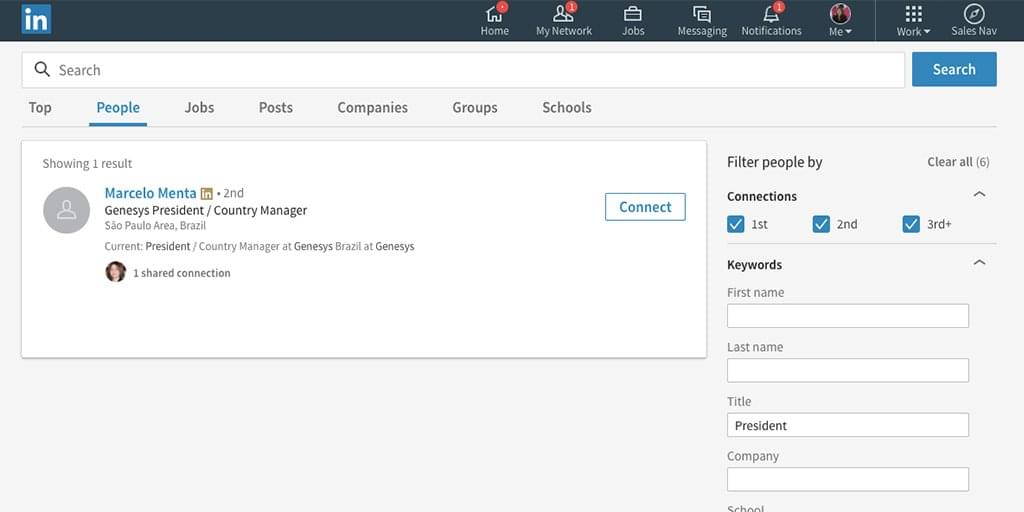 70% of you got it right. Well done!
Question 2:
Your task: find the Instagram handle of Mohammad Ansari, an Architect and PhD Lecturer based in Iran. (Include the @ Symbol with this person's handle, e.g. @socialtalent)
Did you take to your phone for this one? When you search for Mohammed Ansari (as most of you read it, with an E instead of an A in Mohammad), you find a lot of them. A LOT of them. You don't have the time to go through each one to check if he's an architect from Iran.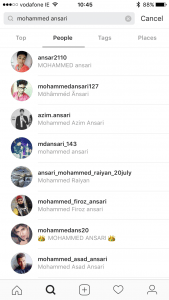 Did you take to Google for this one?
Here's a simple method to find Mr Ansari: do an x-ray search of Instagram through Google or Bing.
In Google, site:instagram.com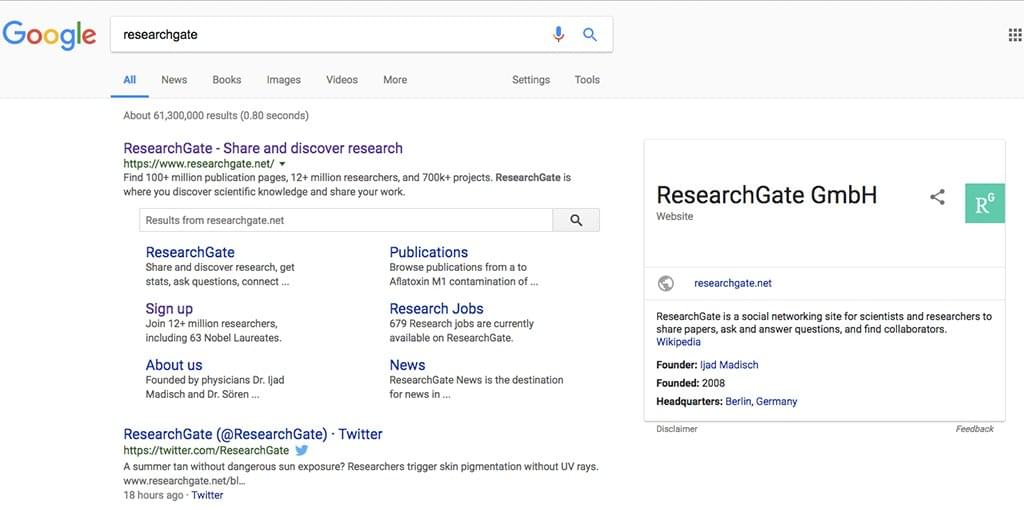 Ok, so this brings results, nice! Now, just type in your terms: Mohammed Ansari Architect Iran (even with the misspelling, isn't Google great?!)
So Google corrects our misspelling, and we find the one and only Mohammad Ansari, who's drawings are absolutely incredible by the way.
Just two-thirds of you got this question correct (67.8%). Well done!
Question 3:
Who is the President of Genesys' operations in Brazil?
Again, this seems really simple.
I was really surprised by this! I'm not sure why so so few people managed to get this one correct, considering its ease. Perhaps you guys got a fright after the Diageo one and thought it'd be a time suck. In fact, a large number of you took to Google and found an old press release from Genesys in 2012 announcing that Alexandre Birchir will serve as General Manager of Genesys Prime (a subsidiary product), and country manager is Dimitrius Oliviera. Dimitrius is the closest answer, but that was 2012. What about now?
A quick scan of LinkedIn:  Job title = President; Company = Genesys; Country = Brazil. Bingo.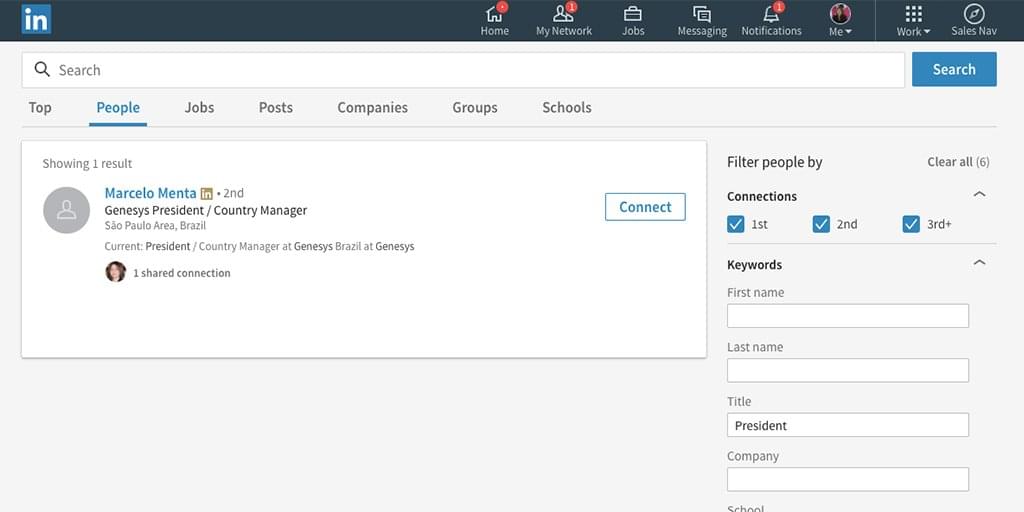 Still, 346 of you attempted it, just 127 of you got it correct (36.7%).
Question 4:
Your task: find the Doximity profile of Dr Sandra Lee, a dermatologist in Upland, CA – what university did Dr Lee go to medical school?
A. Baylor College of Medicine
B. University of Chicago, Pritzker School of Medicine
C. Drexel University College of Medicine
D. Johns Hopkins University School of Medicine
E. I don't know
Ok, so this site, Doximity, may be new to you as a recruiter or Sourcer! Doximity is a networking hub for physicians and doctors, based in the USA, to enable quick referrals and information sharing between family doctors and specialists and consultants.
Unfortunately, when you go on to Doximity, it's not possible to search for Physician information without being a member. So there's another 10 minutes down the drain in your ever dwindling time.
However, if you try to X-ray it, you'll see it's quickly findable:  site:doximity.com
From the results, I can see that the Physician's name, their location and speciality are all contained in the title of the page.
site:doximity.com intitle:"Dr. Sandra Lee" intitle:dermatology intitle:"Upland, CA"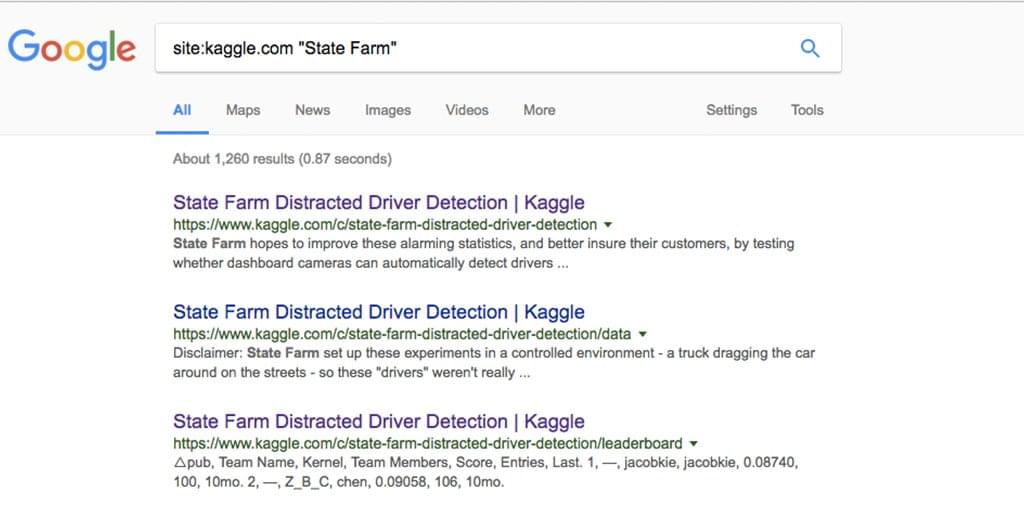 Fab! We get one result. When you click into her profile, Doximity reveals her profile in full. Back to our question: where did she go to Medical School?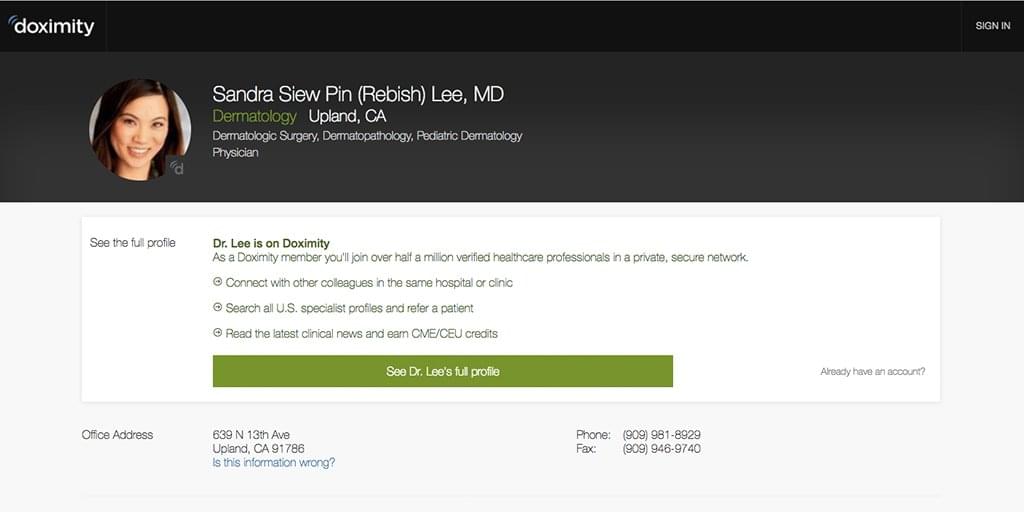 Bingo! C is the answer.
Many of you guessed the answer without searching for her profile (almost 20%!). The rest of you genuinely looked for Dr Lee (64.5% of you got it correct), and the rest of you were honest in putting your hands up saying you didn't know!
Question 5:
Simone Wahl PhD, according to her ResearchGate profile, focuses on genetics, bioinformatics and biotechnology. Her research papers have received hundreds of citations, but who is her most regular co-author on research papers?
A. Holger Prokisch
B. Melanie Waldenberger
C. Shikta Das
D. Harald Grallert
E. I don't know
Again, this may have been a new site to some of you Recruiters and Sourcers! ResearchGate is another network, this time for Researchers and Scientists (although not exclusively), which automates the citations of published research and links researchers together. Perfect for finding PhD's and other published research professionals.
So, step 1: what the hell is ResearchGate?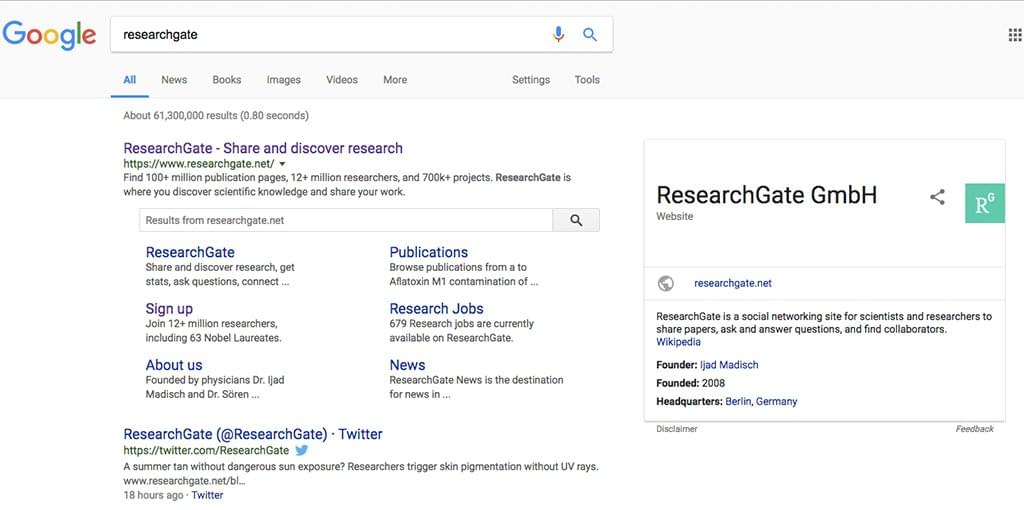 Isn't Google so helpful… why I could just type in Simone's name into that little search bar there…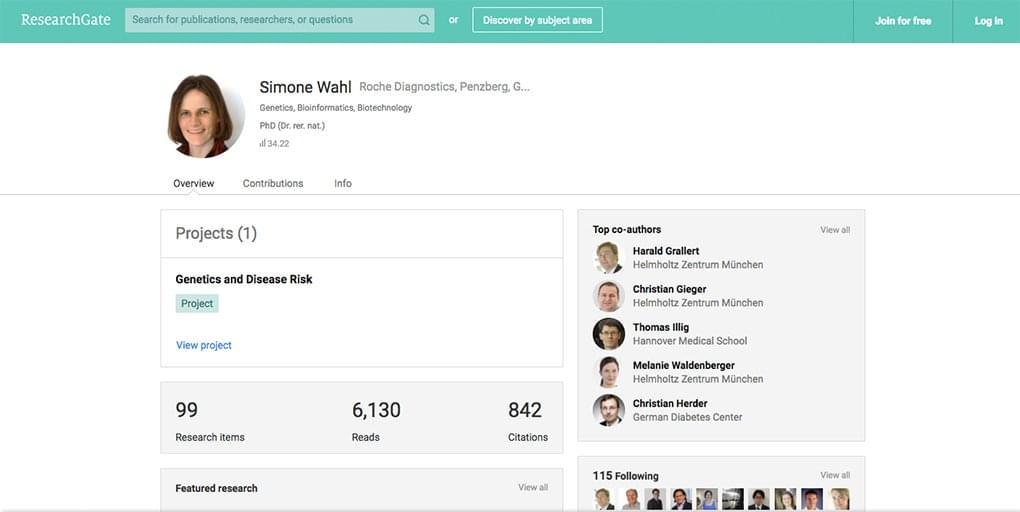 And there we are, top right, Top Co-Authors: Harald Grallert. D it is!! Exactly two thirds of you got this correct, the rest of you guessed incorrectly or selected "I don't know".
Question 6:
Who was the Cinematic Lighting Lead Visual Effects Artist for the computer game "Halo 5: Guardians"?
A. Carol Madrigal
B. Barbara Busch
C. Laura Soriano Martinez
D. Tony Etienne
E. I don't know
This one was hard for many of you, with just 49% of you getting it correct. Many of you struggled between Barbara or Tony.
A quick Google search won't do you any harm! And with that search, we learn something cool: IMDB also lists crew for computer games, not just movies and TV! Awesome!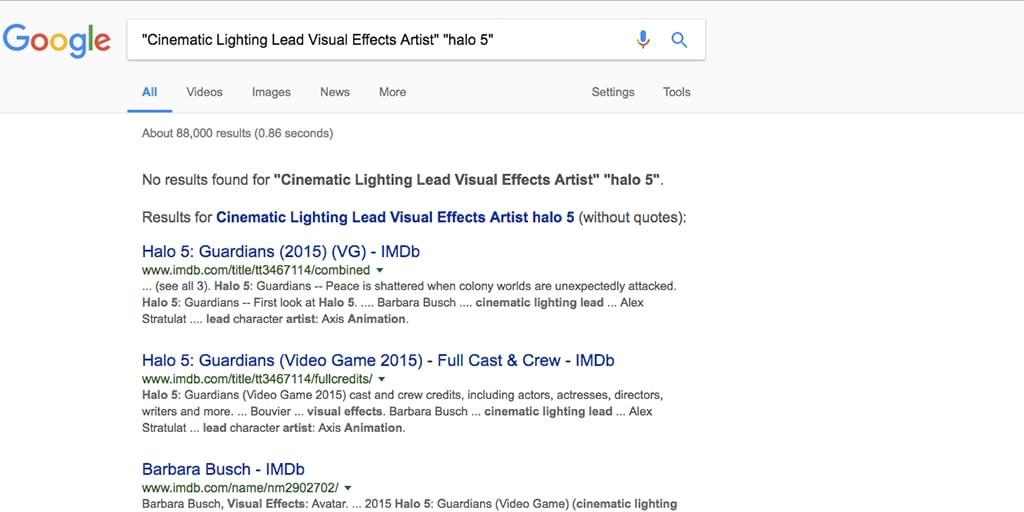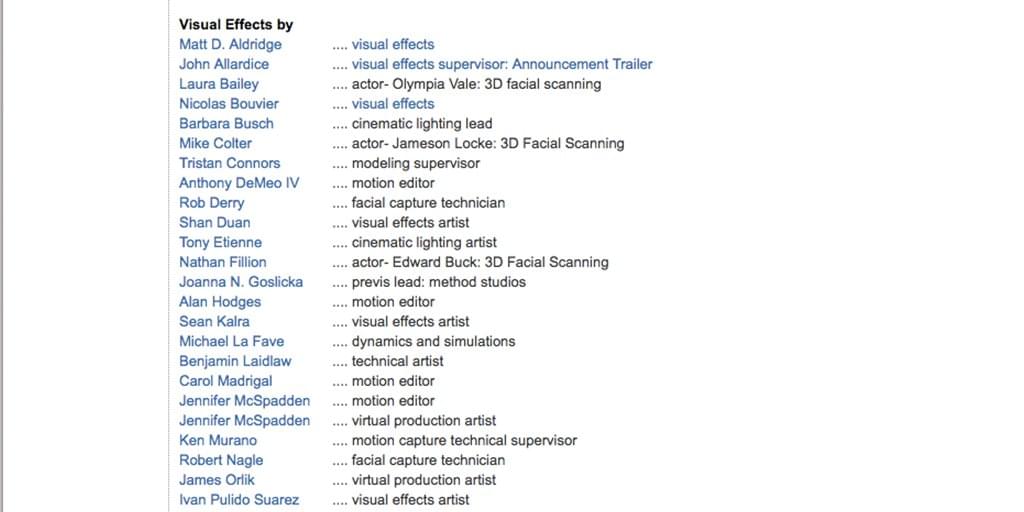 The Halo 5: Guardians page on IMDB itemises the full crew, scroll to the Visual Effects listing, and there's the Cinematic Lighting Lead, Barbara. Tony, for those of you who picked him, was a Cinematic Lighting Artist, rather than Lead as per the question.
Question 7:
There is an app on the Google Play store called Cocktail Boss, demonstrating how to make popular cocktails. Find the email address of the Patrick Zierahn, who brought Cocktail Boss to the Android Play store.
Did you know that the Google Play store lists the email address of the developer who uploaded the app? Cool eh?! There's a little tip when hunting for Android Developers as many of them will have released small apps for testing or concept purposes and their email is a requirement to be listed.
So, Google the Play store, click into Apps, search for Cocktail Boss, find the app, scroll through the information and there it is! At the bottom the "Additional Information" is Patrick's company, Kappa Motion Media, and his email.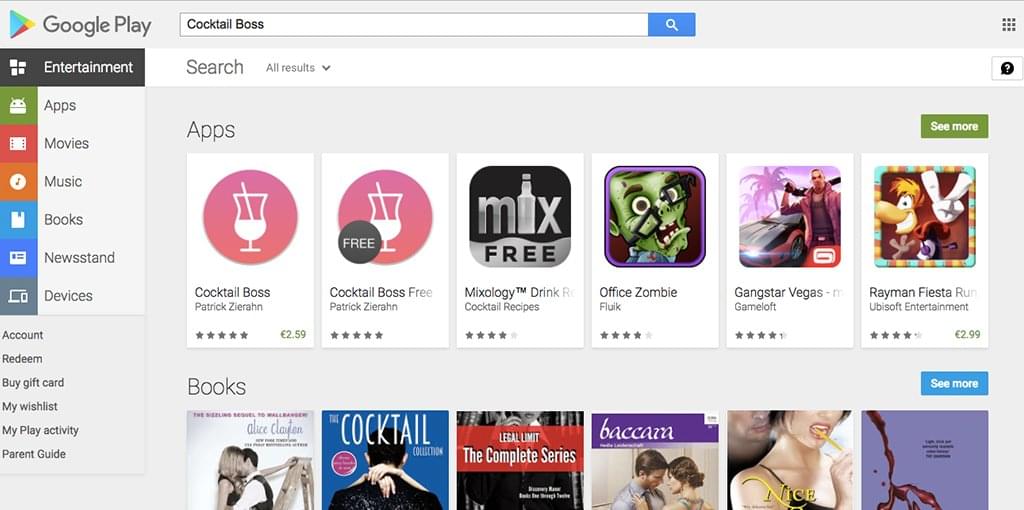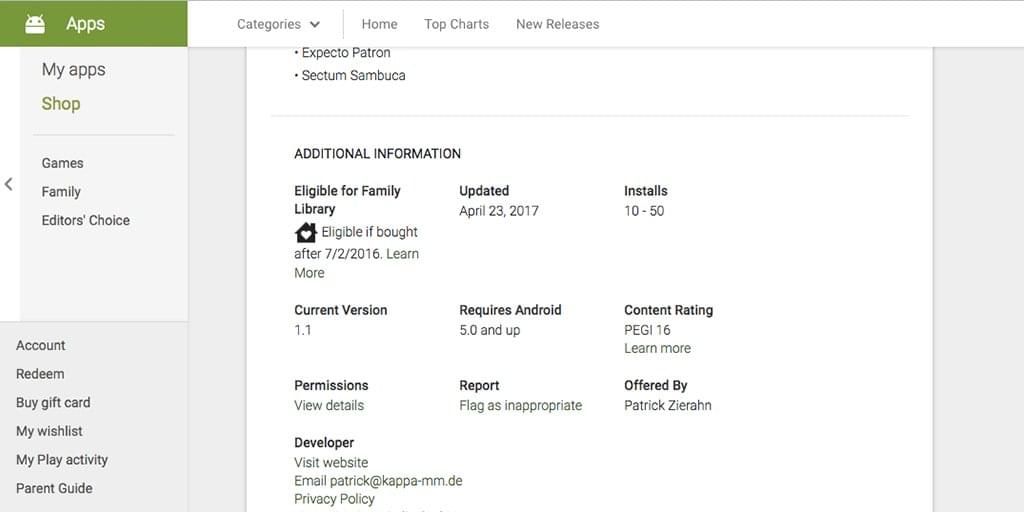 In all, 63.1% of you got this correct. Well done!
Question 8:
Now this one, apparently, was *incredibly* hard. Just 5 people got it right (well, actually 6 did, but that 6th person added extra words to the answer and the computer didn't accept it as being correct. Sorry Janina!).
JIRA is a popular Scrum project-management software, used to itemise and schedule work items to complete a project task. Their patented system for managing and scheduling work items was filed in the United States Patent Office in 2015.
Your task: After finding the maker of JIRA, find the USA Patent Award Number for the system that is JIRA's key function: managing and scheduling work items.
Ok so yes, this one is hard. The US Patent and Trademark Office website doesn't have an easy search interface, and it's not immediately obvious where to go or what to do. For experienced sourcers, FreePatentsOnline.com is a known engine, but look, sure you don't know what you don't know! Now you know. Add it to your bookmarks. You're welcome. Also great for searching Patents is… Google!! Google have a special Patents Search, patents.google.com.
Task Part 1: Who makes Jira? Answer? Atlassian. Task Part 2: A trip to FPO or Google Patents and type in Atlassian shows up 151 results, the top 2 relate to what it is we're talking about. On further inspection,  "managing and scheduling work items", means we're looking for result number 2. Patent number: 20160335582.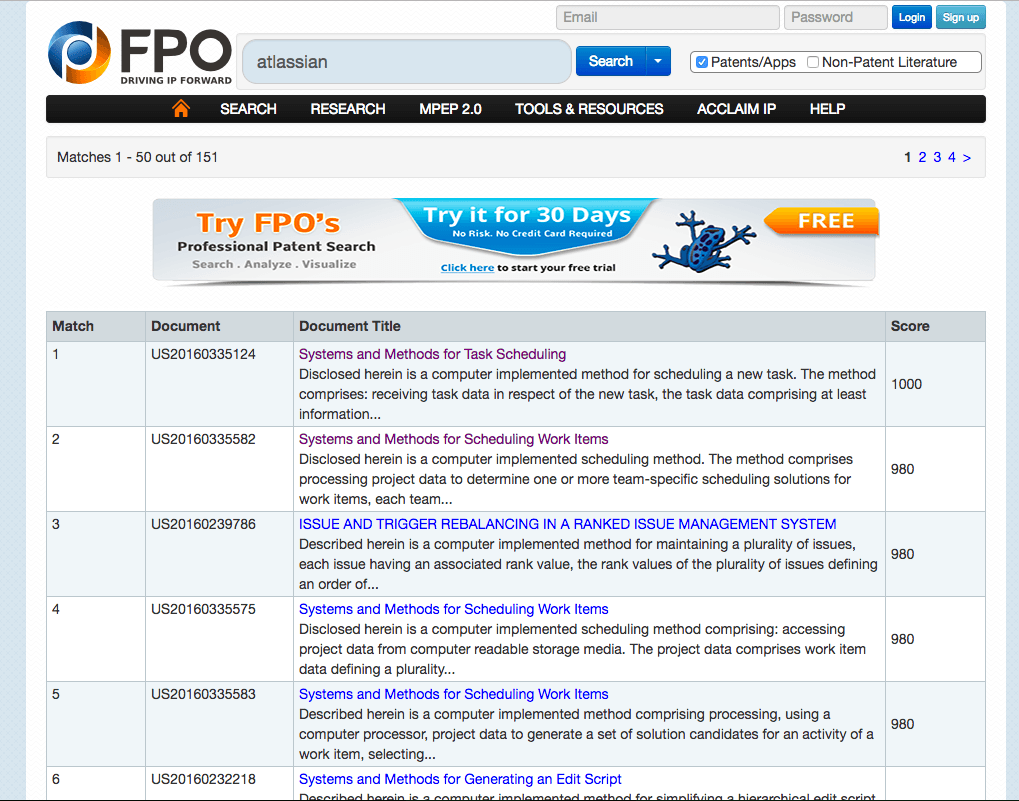 Google Patents also allows us to search by Inventor or Assignees (the company who's submitting), as well as Keywords. Here's what shows up when you search for Jira and Atlassian.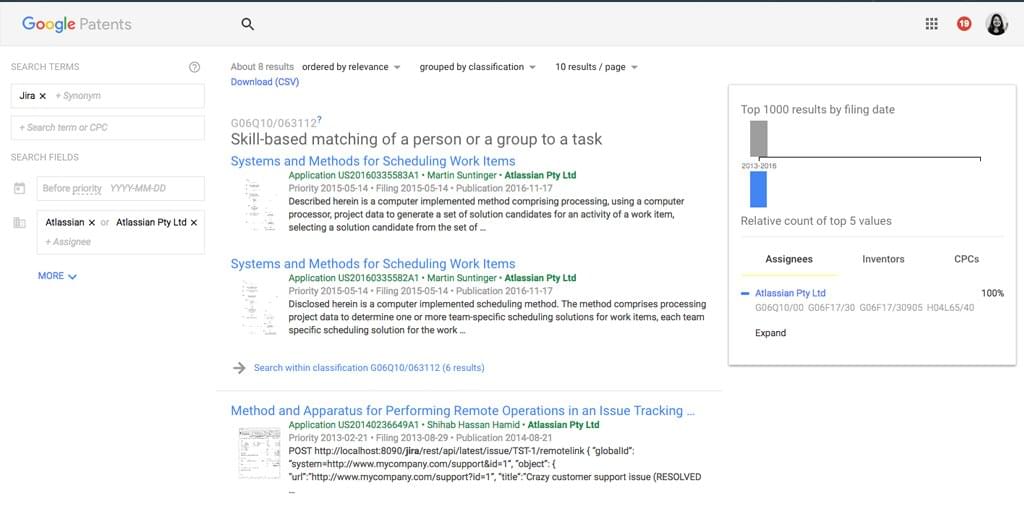 Question 9:
Here is the Bio for Daniela Hallvar, a Senior Associate working in Mergers & Acquisitions in their Finnish office:
https://www.dlapiper.com/en/europe/people/h/hallvar-daniela/
Based on the URL pattern for DLA Piper, reverse-engineer it to find the URL for the bio for Salla Turkkinen, pasting it below in full.
Just 20% of people got this answer correct. It's a tricky one!
Many who did actually try to do the reverse-engineering of the URL looked at the lastname-firstname pattern and thought that was it.
However, there was one more: there's an H before that (indicating the alphabetical order of search results). Daniela's last name begins with H, and Salla's with a T, just a few of you picked this up!
The correct answer: https://www.dlapiper.com/en/europe/people/t/turkkinen-salla/
Question 10:
On Kaggle, the USA-based insurance company State Farm held a competition for data scientists to identify ways in which to use computer vision to detect if a driver is distracted.
What is the URL of the Kaggle profile for the winner of this particular competition?
So just 37.5% of you got this right, and it is tough. Not *quite* as tough as the Patent office it seems, but still! Kaggle may be yet another new site for you: it is a competition site for hosting Data Science contests. An absolute goldmine if you're on the lookout for Data Scientists, Business Analysts and the like. Entries to corporate-hosted competitions (who put it up on Kaggle in order to get insight into solving a real problem for them) can win serious money.
So, how to find: trusty Google! A site: search brings us some good answers.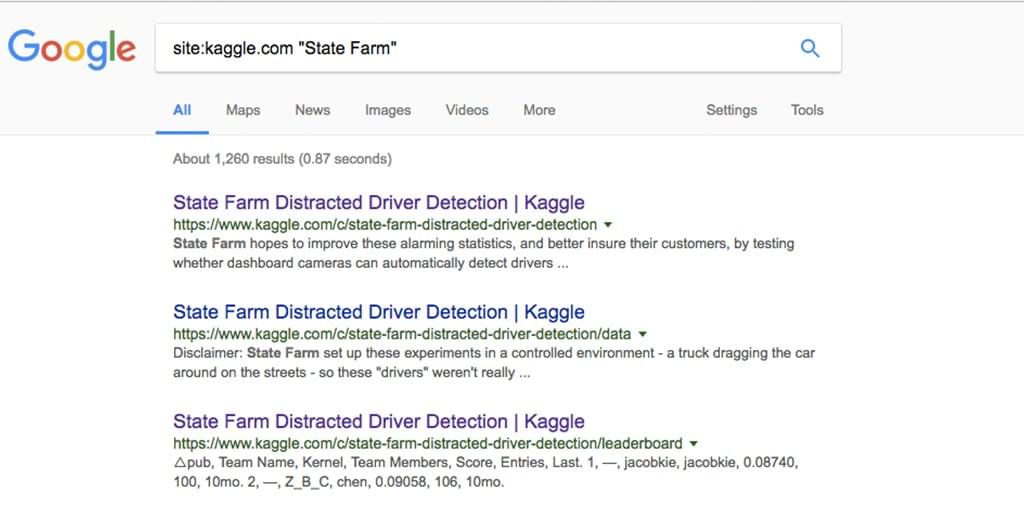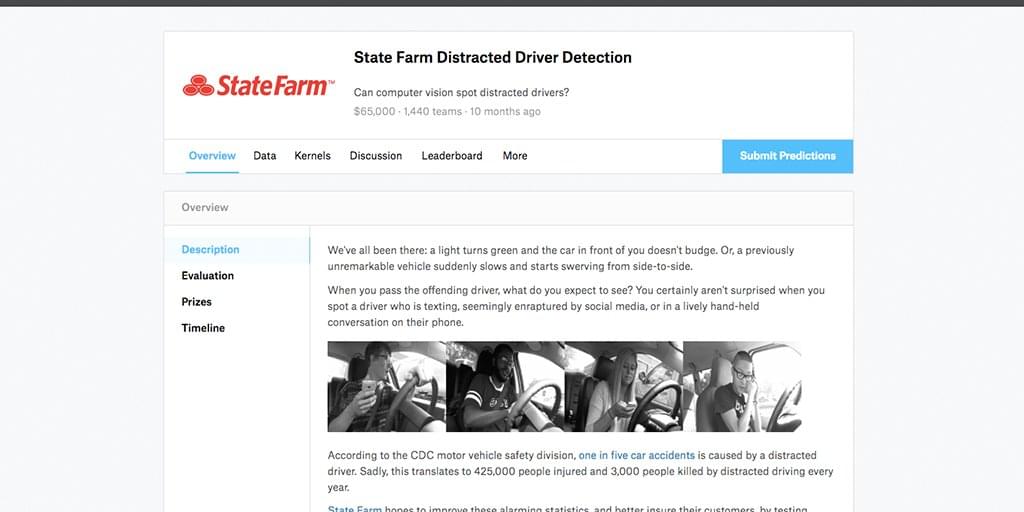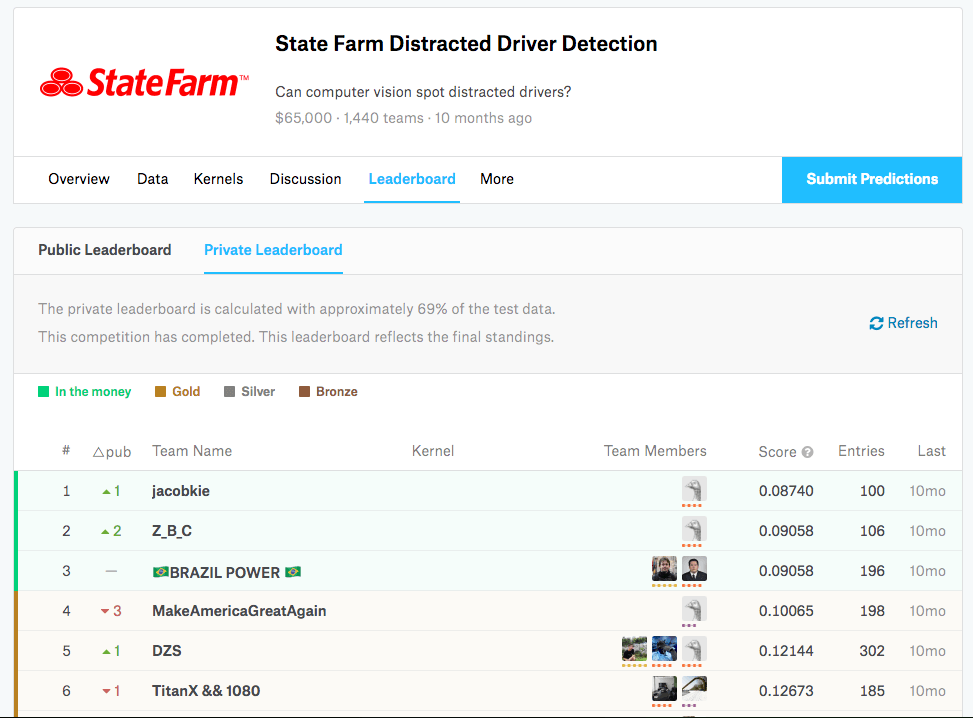 The competition page also lists the Leaderboard, clicking into this brings you to all of those who submitted predictions, and at the top is jacobkie – clicking his name brings you nothing though. That's not a Hyperlink. However, his little avatar is (sneaky) which brings you to his profile. Alternatively, if I just go to the top search bar in Kaggle and search for jacobkie, I get his profile that way too. His URL? https://www.kaggle.com/jacobkie
And that's it folks! Which ones did you get stuck on? Want to challenge me if you think there's some alternative methods or answers here? I'm all ears: join our Social Talent Community and let us know, and congratulations once again to our single winner Rebecca Scuderi, the proud owner of the trophy and title as 2017's Social Talent Sourcing Challenge Champion!
Find out how the likes of IBM, IKEA and Siemens
drive hiring excellence with SocialTalent
---