Keep up with the latest hiring trends!
/
/

5 Twitter Sins Recruiters Need to STOP Committing
5 Twitter Sins Recruiters Need to STOP Committing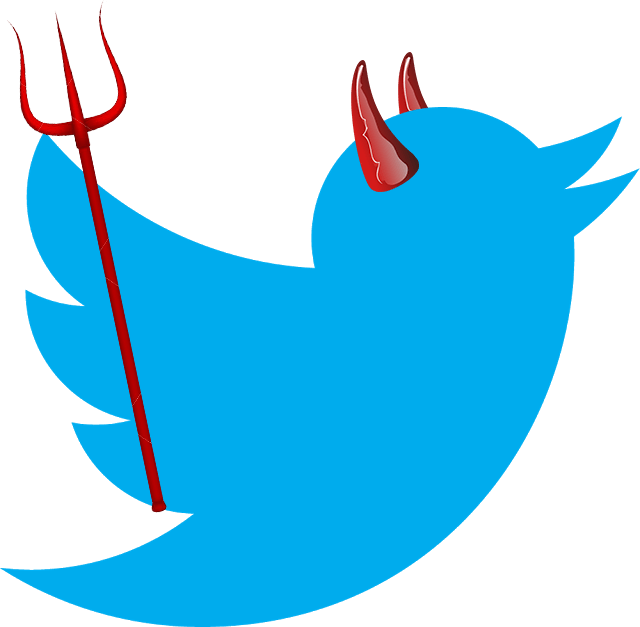 Twitter is an incredible resource when it comes to attracting potential candidates and a fantastic tool for engaging with them. In the 9 years since the site began, Twitter has become the world's second most popular sourcing tool behind LinkedIn (55% of recruiters are now using it) and a healthy 35% of recruiters are now using it to post their jobs and message candidates respectively.
But while Twitter has helped to improve our candidate pools and our engagement rates, it has also given rise to many bad habits – or Twitter sins as we like to call them. Yes, while attracting and engaging candidates has never been easier, there are a number of recruiters who insist on abusing the system. These are the 5 biggest Twitter sins every recruiter would do well to avoid like the plague.
Posting Too Many Jobs!
Are you a job pimping robot? No, I didn't think so. You're a human being with thoughts, interests and opinions that other human beings would like to hear about. So stop purely posting job after job on Twitter. Yes, we want to use Twitter to spread the word that we have jobs on offer, but what you should be doing alongside your job advertising efforts, is trying to gain the trust of potential candidates – not bombarding them with sales message after sales message.
As a recruiter in whichever field you specialise in, you have insight and knowledge that job seekers in the same industry want to hear about. You may not consider it unique, but the insights you can provide on salaries, who's expanding, who's laying off staff, what hiring managers are looking for, and what skills are hot, are the types of information they will lean on you for. For example, if you work in-house or on-site, share insights and photos about the firm you're working for (making sure not to violate any digital communication or privacy policies while you're at it!). A potential candidate will care more about what the break room looked like when you had lunch today, than carefully photoshopped corporate branding posters shared on LinkedIn.
Does your cafeteria serve grilled salmon, al dente carrots and quinoa for under $10? Love #nprlife pic.twitter.com/fKReO4tbqe

'¬€ April Fulton (@fultonhere) April 24, 2014
It's important to note however, that not everything you post has to be useful industry information. This is Twitter – spread some humour and show your personality by posting funny memes, links to blog articles you found interesting or entertaining, your thoughts on the latest football match. Bottom line: give people a reason to want to follow you and a reason to engage with your tweets – that's how you'll build followers and a candidate pool along with it.
Using Far Too Many #Hashtags!
2 or 3 is okay, but any more and you're just going to look like a Jimmy Fallon sketch! You only have 140 characters to play with. Don't waste them. Use them effectively to create truly engaging messages.
The best way to do that is to pick the most relevant tags for the job you're posting and work them into your message, rather than just piling them all on at the end. Check out our tweet advertising our latest open role for a Customer Service Executive, for example:
We're looking for a #CustomerService LEGEND! Do you have what it takes? http://t.co/TNhdXNraUSpic.twitter.com/itGzxYM0iR '¬€ Johnny Campbell (@socialtalent) April 7, 2015
If you're advertising a Sales job try using #Sales, #SalesJobs and add #LondonJobs if the job is based in London. That way, when a job seeker looking for a job in Sales, searches the hashtag #Sales or #SalesJobs, they find your job. The likes of #jobs and #graduatejobs are all commonly used, but if you're unsure of which hashtags to use, type jobs' into the search box in Twitter and see the hashtags other recruiters have used.
Using Canned Direct Messages
You're not fooling anyone with a canned message. Believe me, candidates can smell a generic DM from a mile away!
It doesn't take much effort to find out who a person is and what they like from their Twitter account. So there really are no excuses for sending a candidate a standard one-size-fits-all message. Within minutes you'll be able to see they're a Manchester United fan, obsessed with their dog and they have a passion for antiques. And you can use this information to personalise an approach. If you see them commenting on the latest episode of Game Of Thrones or The Walking Dead, reference it in your tweet. Better still, try and find what we like to refer to as uncommon commonalities or things that you both have in common to talk about. People will always respond more favourably to someone who appears to share a similar interest or hobby with them and, if nothing else, it's a great ice breaker. For example, my colleague George was tweeting about his excitement for the Game of Thrones Season 5 premiere next week, so if I was a recruiter wanting to hire him, I may send him something like this:
@TheGTea Hi George (or shld I call u Tyrion?) Seriously tho, luv ur style, watched ur vids & want to talk 2u about a video prod. job. Intd?

'¬€ Síofra Pratt (@sioffy) April 8, 2015
The same can be said for the style of tweet you choose to send the candidate. If it's obvious that the candidate prefers to speak in text language e.g. ur gonna luv dis, be sure to tweet or direct message them using similar text language. If they type out every tweet in a grammatically correct manner, tweet them in a grammatically correct manner. As with talking about shared interests, candidates will be more comfortable responding to someone who speaks the same language' as they do.
Bottom line: if you didn't make the effort to personalise a message to a candidate, why should they make the effort to reply to you?
Using Ugly Links
I will NEVER understand people who use long trailing URLs in their tweets, when sites like bit.ly exist! It's ugly and it's a waste of precious characters!
Not only is bit.ly free to use (WIN!) and allows you to produce customised links, but it also allows you to track the links used in your tweets by keeping an eye on the number of people who have clicked on them, when they clicked on them,  and which social networks each bitlink has been shared to. I use it on a daily basis across a variety of platforms. For example, I created the customised bit.ly/company_page link to promote our 'How to: Get the Most Out of Your LinkedIn Company Page' blog:
Could your @LinkedIn Company Page be doing more for your recruiting efforts? – http://t.co/wFnNUmht70pic.twitter.com/4u0luSvFbx '¬€ Johnny Campbell (@socialtalent) April 2, 2015
It's short, it's sweet, it's tracked and above all else, it looks way better than your million-character link. Oh, and check out all the stats I got with it: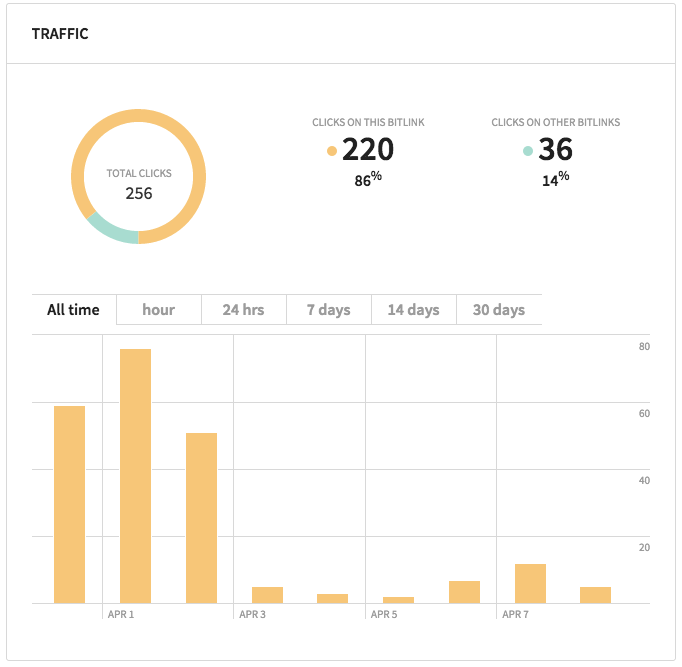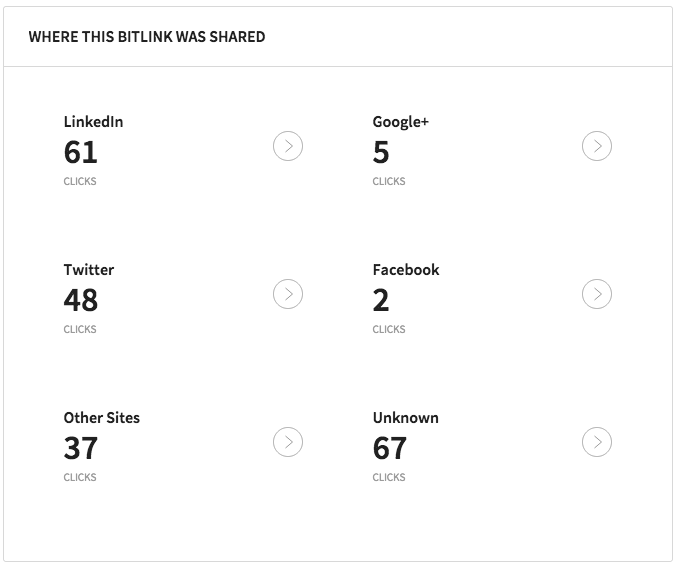 Posting Continuation Tweets
Unless you are live tweeting from an event or a webinar, adding the 'ugh'-inducing (1/2) or (2/2) to your tweets is uncalled for – especially if it's a job tweet! If you can't say what you need to say in 140 characters or less, don't share it on Twitter. It may sound harsh but it's true.
Twitter is about micro-communication – the art of getting your point across in the simplest, shortest way possible. It's not cool to abuse that fact. And if you think about it logically, continuation tweets make things like retweets more difficult for candidates who will then be less likely to share your jobs with their followers.
So, now you're down with the 411 as regards correct recruiter Twitter etiquette, go forth and tweet my friends. It really is one of the best ways to engage with a potential candidates and a fantastic way to build your network, as long as you use it correctly and adhere to a number of simple, yet vitally important guidelines.
Oh, and if you're recruiting tech professionals, don't forget to download a FREE copy of our comprehensive guide to recruiting tech pros on Twitter. If it's Technical Specialists, Designers, Developers, Engineers you're after, this guide is completely invaluable. It has EVERYTHING and we mean EVERYTHING you need to know about finding, contacting and engaging with tech professional on Twitter. Download it here now.
Find out how the likes of IBM, IKEA and Siemens
drive hiring excellence with SocialTalent
---