Keep up with the latest hiring trends!
/
/

5 Ways to Engage Talent on Twitter
5 Ways to Engage Talent on Twitter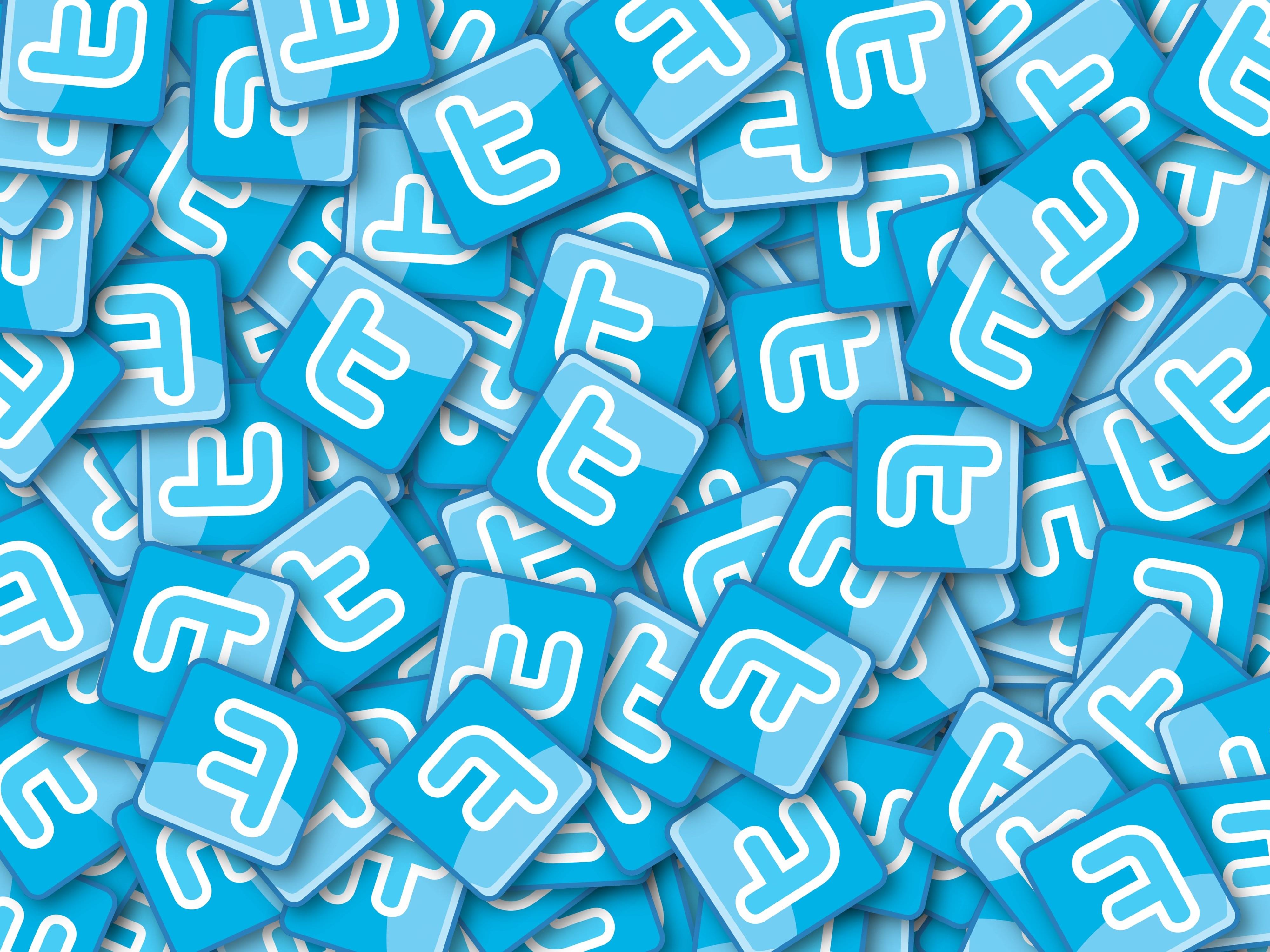 The second and final part of our Social Recruiting series is on Twitter recruitment. Twitter has recently just celebrated its 10th anniversary and to say it has evolved in that time would be an understatement! Because of its massive professional audience, it has always been a powerful tool that employers can use to network very easily and connect qualified candidates with open positions without breaking the bank.  In fact, this may surprise you but 51% of all jobs posted on social media are posted on Twitter – more than any other network, even the most professional network LinkedIn. As Laurence Hebberd, Senior Account Manager at Link Humans, says:
"Twitter is more of a soft point of contact than LinkedIn as it is an open forum, and you can contact anyone at any point in any way. You can Tweet them directly, you can follow them, add them to a list – all of these get you noticed by the prospective candidate. You can also use Twitter to engage with candidates on a more personal basis."
It probably helps that most of the Twitter recruiting tactics you can use are totally free, whereas with LinkedIn, you are encouraged to use their Recruiter Lite platform in order to be a 'serious' recruiter. So what are these tactics you can use on Twitter? How can they help you fill open positions? Well, let's look at the 5 ways you can engage talent on Twitter:
1. Optimise your Profile
It is important to first optimise your profile before you even think about searching and reaching out to potential candidates on Twitter. Below are a couple of different methods you can select when it comes to posting job openings.
(i) Creating a dedicated company careers account
If you're working for a company that advertises a multitude of different jobs quite frequently, you many find yourself posting nothing but job ads on the company Twitter account. It would be worthwhile therefore, to create another Twitter handle dedicated to recruiting that is separate from the company account. This enables recruiters to post content around job openings, highlighting specific employees and promoting company events. In fact, 174 of the 500 Fortune companies have a Twitter account dedicated to recruiting and over 60% of these companies tweet 1-3 times a day.
Top companies like Ernst & Young, Disney and Hootsuite all have specific Twitter accounts for not only posting jobs but also to amplify the employer brand.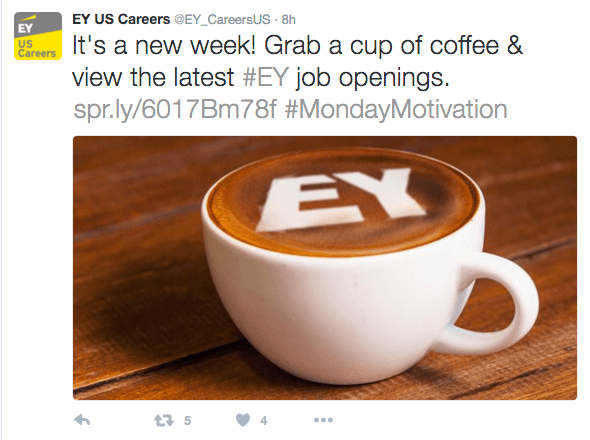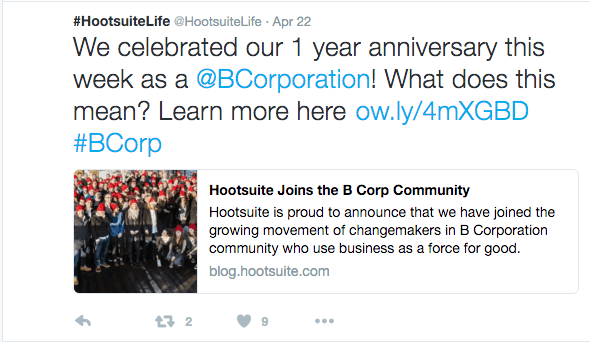 (ii) Personal account
Because there is such a vast pool of professionals on Twitter, many recruiters tend to create personal profiles on Twitter to add that human connection. So how can you establish that human connection with a potential candidate? Well there's a couple of things you can do. First, you need to upload your profile picture. If you do not do this, your profile picture becomes an egg by default which is off-putting for candidates if they check out your profile. Candidates will feel more comfortable connecting to someone who comes across as 'real'. Twitter is not as formal as LinkedIn so you can upload a photo that strikes a healthy balance between personal and professional.
Once your profile picture has been uploaded, the next thing you need to do is create a bio. You are limited here as there is only 160 characters available to tell people what you do for a living. The first thing candidates do when they have engaged with you on Twitter is check out your profile so your description here is crucial. Best practice is to describe your job title and your employer as well as some personal tidbits e.g. are you a parent, what team do you sport, what movies you like etc. This really humanises your profile and allows candidates to get a sense of what you are like as a person instead of just another recruiter.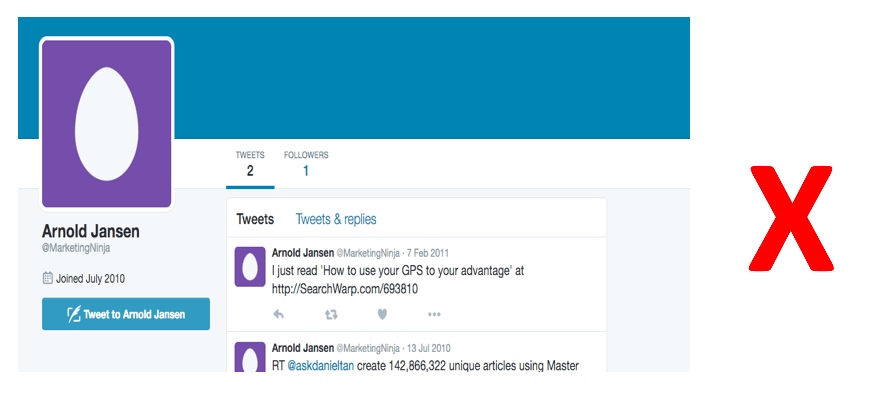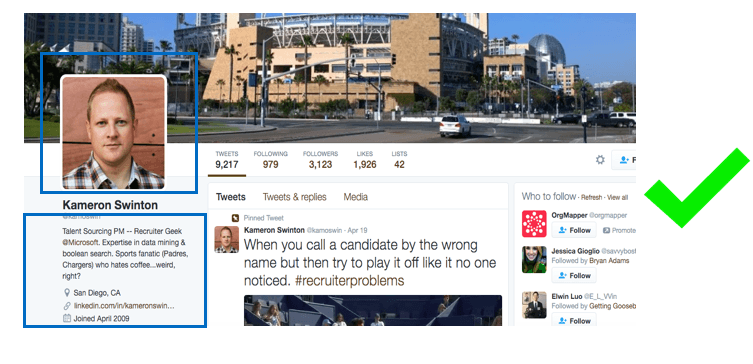 2. Build a Content Marketing Strategy
LinkedIn recently published a very valuable guide for recruiters detailing how they can engage and grow their follower base on LinkedIn. According to LinkedIn, 78% of users expect advice such as interview tips and 66% expect to hear company news and updates. Although LinkedIn is a completely different social network, the very same principles can be transferred to Twitter. As a recruiter, user needs should help guide you what you tweet about. This is where your content marketing strategy comes in.
The Content Marketing Institute define content marketing as "a strategic marketing approach focused on creating and distributing valuable, relevant, and consistent content to attract and retain a clearly-defined audience". Notice the emphasis in valuable and relevant. Recruiters should really hone in on this as the majority of candidates are passive. This means your content marketing strategy for Twitter shouldn't be to post job ads only as this takes the 'social' out of social recruiting. If you want build relationships and engage with your target talent pool, you should try and keep your content educational. The 80:20 rule is particularly useful here whereby 80% of your Tweets should help and educate your audience whereas 20% should be company-related e.g. job openings, employee spotlights, awards etc. Some great pieces of educational content you can tweet about include interview tips, effective job searching techniques and and essential items to include on your CV. Make sure to keep your tweets short and include visuals where possible. Consistent, compelling content will help you attract new and relevant followers and keep them engaged over time.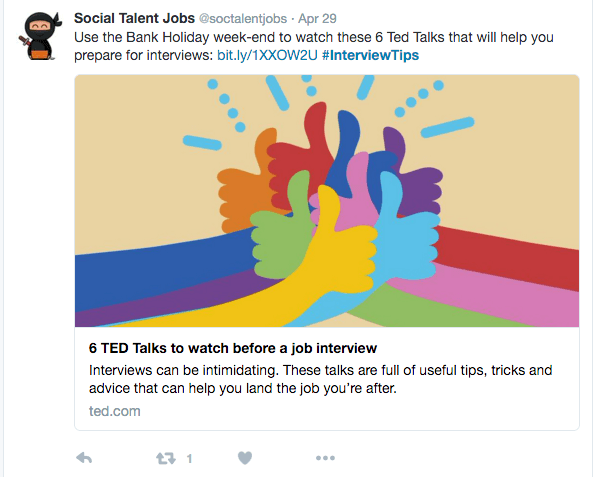 3. Leverage Video
We have discussed before how we now live in an attention economy and how the attention span of users is at an all-time low. Enter video. Twitter have recognised and responded to new user habits, acquiring short-form video sharing service Vine in 2012 for $30 million. This means potential candidates can watch clips on Twitter without having to click on a link to get to a website.
You will know as a user yourself that video content immediately stands out when your scrolling through your Twitter feed and employers looking to recruit are starting to allocate more resources for video. For example, in a short 30 second clip you can provide information for candidates about what working life is like in the organisation. Candidates much prefer to consume information in 30 seconds rather than taking 5 minutes to read through blocks of text in the careers part of a website. Below are a couple of examples of companies incorporating video marketing into their recruiting activities.
Looking for a PT job? Check out the openings at UPS, and see where your efforts take you. https://t.co/7Vb6R0ikyD pic.twitter.com/Q0QPSVEJlm

— UPS Jobs (@UPSjobs) April 19, 2016
Take your new degree to Barcelona. Accept #TheChallenge and apply: to PepsiCo's #IT Campus: https://t.co/9CzxUrjKqB. pic.twitter.com/4ySjCd0c5Q — PepsiCo Jobs (@PepsiCoJOBS) January 22, 2016
4. Discover and Engage with Potential Talent
While LinkedIn is a fantastic resource because of the wealth of information potential candidates can provide on their profiles, there are certain barriers you need to overcome in order to create a dialogue with them such as connection requests and inMail acceptance. These barriers are removed when it comes to Twitter as recruiters can reach out and speak with targeted talent. It also gives more of insight into who they really are as a person. Anitra Collins, Twitter's Recruiting Programs Officer, says:
"Many times, we look on Twitter to vet candidates for their style, their communicative prowess, their approach to the world. It gives a great lens into one's personality and interests, and adds a lot of texture and sensibility—things you can't see easily on a resume".
There are a few techniques you can use to source the relevant talent you are looking for:
(i) Events
In a recent blog post, we discussed how employers can use industry-specific event hashtags on Instagram. The same can be done on Twitter, after all it's where the hashtag was born! Today, people attending events are more likely to Tweet about the experience using the event hashtags so this is a really effective way to quickly identify a pool of potential candidates.
(ii) Influencers
If you have been working in an industry you are recruiting in for quite some time, chances are you will have a good idea who the industry experts are. Industry experts are respected thought leaders and are likely to have many followers on Twitter. It is also likely most of these followers comprise of users working in the same industry. This gives you another pool of potential candidates you can start analysing. All you have to do is identify an influencer in a particular industry, click on their follower list and start scrolling.
(iii) Followerwonk
Parts (i) and (ii) require quite a bit of manual work and can be tedious at the best of times. Followerwonk, acquired by Moz in 2012, is a massive time saver and a great tool for searching, filtering and managing Twitter bios. It gives us the advantage of searching specifically inside the Location fields and the Bio fields, using Boolean. If you are not familiar with Boolean Search, it is a way to organise your search using a combination of keywords and Boolean Operators (e.g. '-', '|', '()', 'space between words' etc.) and is really a fantastic way to produce more accurate and relevant results. In the example below, we enter keywords and Boolean Operators in the Location and Bio fields to find marketers or people associated with marketing in Dublin or Ireland.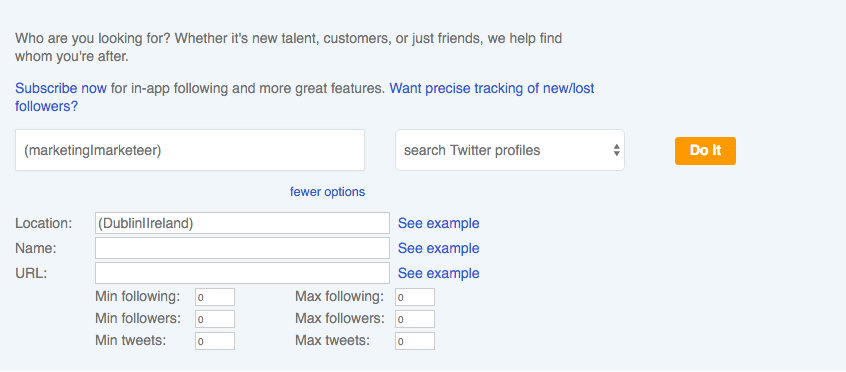 Once you have identified a good pool of candidates, it is time to start engaging with them. There a number of ways to do this such as Tweeting them, retweeting their Tweets, favouriting their Tweets and even sending them private messages to connect offline. The etiquette of Twitter is less professional than the likes of LinkedIn so find something in common with a potential candidate who's tweeting and break the ice – be authentic, and a general all-round nice person.
5. Manage your Time
We mentioned above how Followerwonk can be used to save you time from doing manual searching. Well there are other tools at your disposal. Social media management tools like Hootsuite and TweetDeck are particularly useful for recruiters. You can use either of these to add streams of keywords so you can quickly see new mentions on Twitter of that particular keyword – think of it as your personal recruiting dashboard. When you see a mention of a keyword, you can then engage with that user by retweeting them, replying to them etc. You can also schedule Tweets with these tools so you don't have to log in to Twitter every time you have content to push out. This helps you plan out your content marketing strategy.
This wraps up our mini series on social recruiting, specifically focused on Instagram and Twitter. If you have questions or comments, feel free to reach out to us LinkedIn, Twitter or Facebook. 
Find out how the likes of IBM, IKEA and Siemens
drive hiring excellence with SocialTalent
---