How to: Pimp your Twitter Profile in 5 Easy Steps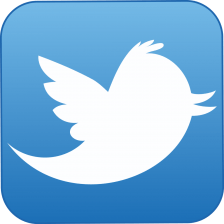 First we showed you how to pimp your LinkedIn page, and now we're bringing you our comprehensive guide to pimping your profile on everyone's favourite micro-blogging site; Twitter.
Twitter is the fastest growing social networking site. Since its launch in 2009, it has enjoyed an eye-watering growth rate of 714% and 21% of the entire worldwide internet population are now actively using Twitter on a monthly basis. In fact, Ireland is the 8th largest user of Twitter in the world. So the fact is that Twitter is the place to be and the people you should be hiring are using Twitter, so why not attract them with an engaging and visually pleasing Twitter profile?
We're going to go a bit Cher Lloyd on you for a second here and first explain the importance of "swag" when it comes to your Twitter profile. Let's face it, today's world is an image driven one and those who fail to recognise that, fail to pull in followers and attract business. Therefore, the most important thing to remember throughout the 5 following steps, is to be unique in your visual approach and don't, as Miss Lloyd would say, be a "swagger jagger" i.e. don't nick someone else's style!
5 Easy Steps to Pimping Your Twitter Profile:
1. Background
Choose or design an appropriate background image for your profile that reflects you and what you stand for. If you're using Twitter to recruit candidates or in a semi-professional capacity be sure to gauge what is important to your audience. What would they like/expect to see as your background image? As such, it's nice to create a custom background to differentiate yourself and prove to anyone who views your profile that you are serious about using Twitter and getting the best out of it.

Remember if making your own background in Photoshop etc., the standard width of each Twitter background is 2048 pixels, the height is 1900 pixels and the resolution is 72 pixels per inch (although you can increase this if desired). It's also important to note that your Twitter background will not scroll as users go down through your tweets, it is a static image. Also ensure to take into account the positioning of your Twitter feed when it comes to designing your background. Your feed always lays in the centre of your page, so when crafting a background with images, ensure those images are aligned either right or left in order from them to be visible.
To insert your custom background, simply click on the gear in the top right hand corner of your profile, click 'Settings', then choose 'Design' from the options on the left hand sidebar (as below).
When you've added your brand new background, make sure to choose a suitable background colour for your tweets that will compliment your background and cover photo. You have 2 choices: black or white. This can also be changed in the 'Design' tab, under the heading 'Overlay'.
2. Cover Photo
Your cover photo is the perfect opportunity to show some more personality. As with your background, gauge what is important to your audience with your cover photo but do try to reflect your own character in there too. If you are designing your own cover photo, keep in mind the dimensions; 520 pixels wide and 260 pixels high. However, Twitter will automatically convert any size image to the standard height and width. Don't be afraid to change up your cover photo every now and then to ensure your page stays fresh and be imaginative in it's use (especially if your a dab hand with a spot of photoshop). Take Johnny's photo for instance, he has used a specially designed picture of our Social Talent buttons as his cover.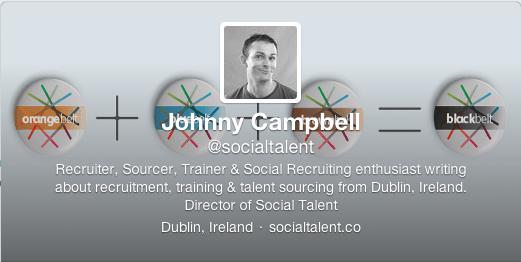 To insert your cover photo, click on the gear in the top right hand corner of your profile as before, click 'Settings', then choose 'Profile' from the options on the left hand sidebar.
3. Avatar
When it comes to communicating with people, being able to put a face to a name is important. Think of your avatar in the same way. Ensure it says something about you and is approachable. Unlike LinkedIn or your Gmail work account, your Twitter avatar can be a more laid back/casual.
4. Bio
It's not the most natural thing to write about yourself, but that is exactly the purpose of your Twitter bio; to talk about you! It's also the perfect opportunity to include some keywords to do with your industry. However, don't laden it with key and buzz words. A bio still needs to have a personality and an approachability to it. It may even act as a conversation starter with potential candidates. You have 160 characters so keep it relevant, to the point and attention grabbing! Need some inspiration? Look no further than this comprehensive list and the legend that is Tom Hanks!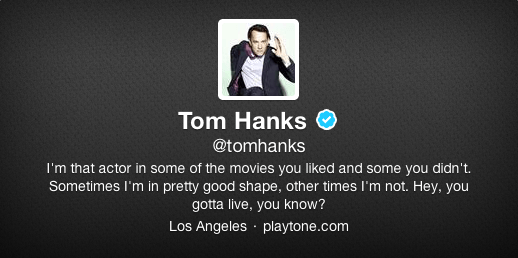 5. Tweets
It may seem obvious but, the content and quality of your tweets is one of the most essential elements of a great Twitter profile.  Tweets, by their nature, are supposed to be conversation starters and the inspiration dialogue between users. Conversation and dialogue build relationships and relationships lead to connections which makes sourcing the right candidates through referrals better and easier .
But what to tweet about? Well, that depends on what you want to say and who you want to say it to, but a good place to start is by looking at the kind of topics and issues industry leaders in your sector cover. If you favour one person in particular, try and develop a similar style. Include appropriate Twitpics/Instagram photos/Vines etc. Engage people and try to give them information they wouldn't have come across on their own. Always aim to encourage a retweet with your 140 characters.
Build up your Twitter presence by tweeting and mentioning other users. Follow industry leaders, follow those who follow you, link to others' blog posts in your tweets, respond to others' tweets and reply to people who answer your tweets. Just remember that Twitter will consider any tweet beginning with an @ Twitter handle as a reply and will therefore hide that tweet from your followers timeline. To avoid this happening if undesired, insert an full stop ahead of the handle.

It may also be prevalent to try and increase the number of times you tweet a day. We're not saying to sacrifice quality for quantity but a frequent Tweeter will gain more followers and will be seen as a trend leader. Aim for around 10 tweets a day. As such, an app like Buffer may be useful to help you schedule Tweets and ensure they are evenly distributed throughout the day.
Will you be using any of our tips to pimp your Twitter profile? Have you any tips to add to our list? Who, in your opinion, has the best Twitter profile out there? Let us know in the comments below.
Want to keep up to date?
Join our +75,000 subscribers who do!