What Happens to The Candidates That Get Bored of Your Application Process?

Welcome to SocialTalent's Live & Learn series!
Each week we gift you with a little bit of info that will help smoothen your recruitment process and expand your knowledge of your industry.
With this Live & Learn series we promise we kept it:
Short
Simple
Ready to use!
Sound good to you? Let's begin!
It's one job identifying the best candidates for a role. Crafting the perfect message and engaging with those ideal candidates is a whole other story. Holly Fawcett takes us through the key features that will increase our candidate response rates.
Key Takeaways
Start working with your marketing team to get the real data on where your candidates are abandoning your application process.
2. Analyse the URLs and track your conversion rate through each page in your application process
3. Start using the data to tweak your process and optimise your sourcing funnel
---
SocialTalent has created the best recruitment training for our Recruiter Academy. Packed with insights from Recruitment experts like Johnny Campbell, John Vlastelica and Stacy Donovan-Zapar to develop your skills as a recruiter, whether you work for an agency or have a role as an in-house recruiter as part of a team or flying solo- we have the training for you!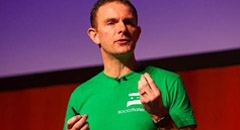 Create your own Recruiter Academy
Access our video library and learn your way to success!
Want to keep up to date?
Join our 75,000+ subscribers who do!