Keep up with the latest hiring trends!
5 Crazily Interesting Sourcing News Stories to Kick-Off 2015 - 5 January 2015
In the news this week:
Only 11% of Silicon Valley Executives are Female
It's no secret that Silicon Valley and the tech industry as a whole has a gender equality problem. In fact, in some cases, male workers can earn up to 73% more than their female counterparts if the same skills. But according to a recent survey published by law firm Fenwick & West, not only are women underpaid in the tech industry, but they are also drastically underrepresented.
According to the survey, women make up a measly 11% of executives within the Silicon Valley 150, the Bay Area's top tech companies. That's compared to 16% in the Standard & Poor's 100 – the leading U.S. companies across various industries.
In Silicon Valley, women also make up only 10% of directors, 10% of committee members and 8% of committee chairs '¬€ all less than half of what's seen in the S&P 100. A dismal 9% of women are named executive officers in both the Silicon Valley 150 and the S&P 100. The following image created by Mashable.com, illustrates just how much Silicon Valley lags behind in gender equality:
"We hope this survey of gender diversity in Silicon Valley will stimulate more discussion and serve as a resource for measuring how well women are faring at the senior levels of leadership in the Silicon Valley workplace," the report states. But how do you, the recruiters, feel this problem can be tackled in 2015? Let us know in the comments below.
Could a Hackathon be the Perfect Way to Kick-Off 2015?
Looking to improve your talent acquisition processes, create lasting talent pipelining strategies and successfully source for open positions in 2015? Then how about organising your very own recruiting hackathon?
That's what the folks over at Flipkart, India's biggest e-commerce company, did two weeks ago in order to solve some of their outstanding issues and get their team working together – two things that typically don't get looked at during the daily rush.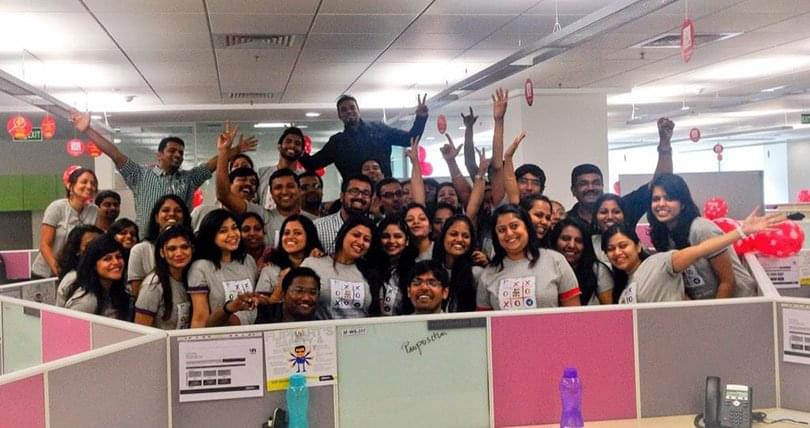 The hackathon was part of Flipkart's effort to look for innovative ways to make recruiting more scalable, effective and fun. And to make the event truly successful, Flipkart put together a crossfunctional team for the hackathon '¬€ 25 recruiters, 4 senior leaders from HR, IT managers, hiring managers, as well as a team of 6 from LinkedIn (who Filpkart partnered with for the event).
The 3 steps of the recruiting hackathon went like this:
1. Process and System Improvement (2.5 hours)
The team identified problem areas for recruiters and hiring managers and created a plan to overcome those. A few recommendations focused on the short term e.g. ensuring faster responses when it comes to interview scheduling. Others dealt with long-term projects like running unified talent search across multiple platforms such as job boards, social recruiting and ATS. Overall, the team here came up with seven improvements and three of them were moved into incubation for the next quarter.
2. Formulating Talent Pipelining Strategies (2 hours)
In these couple of hours, recruiters conceptualised and built hiring strategies to engage top technology talent in India. They discussed how to identify talent pools, how to engage candidates though frequent online conversations, and develop a strong talent brand. And the presence of business leaders from various functions led to holistic discussions and identification of ideas where IT can quickly help. This tweet by Mekin Maheshwari, Flipkart's Chief People Officer, captures the spirit of this section: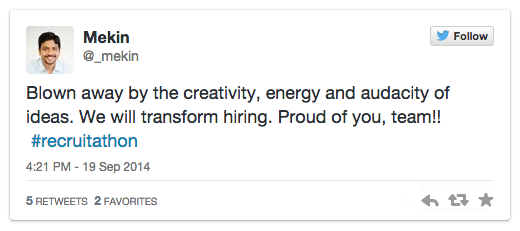 3. Sourcing and Interacting with Potential Candidates (5 hours)
LinkedIn described this section of the hackathon as the most "action-packed". The objective was to create a talent pipeline and gauge candidate interest levels for various open roles including: Architects, UI managers, Engineering Managers, Data Scientists, Product Managers, Directors, SDETs and Test managers. Later in the day the Hiring Managers were brought in and they shortlisted candidates after scanning resumes and viewing profiles on LinkedIn. All in all, 224 candidates were sourced and validated across different roles at Flipkart, the Hiring Managers reviewed 76 candidates and moved 69 to the first round of interviews, and all in a day's work! The remaining candidates were to be reviewed later.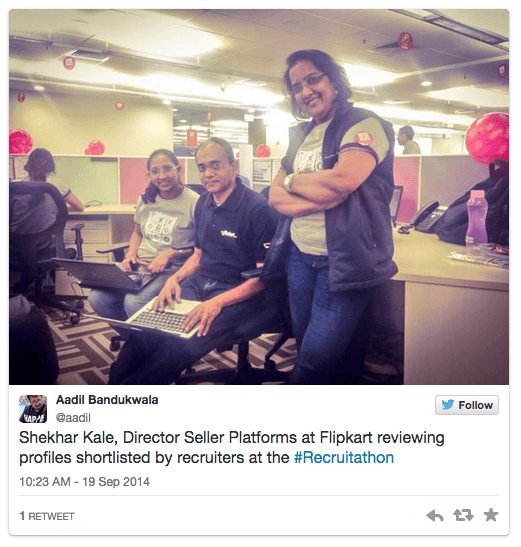 And as you can see, they tweeted about the whole thing too, which counted towards bolstering their employer brand – win-win!
Flipkart's hackathon touched upon both strategic and transactional areas of recruiting. It allowed cross-functional teams to come together to solve process problems and also for recruiters to pick the minds of key stakeholders like Hiring Managers and HR leaders. The business results (no. of sourced candidates and issues fixed) speak for themselves as to how effective this day was. So the only question left to ask is: When are you organising your recruiting hackathon?
Twitter Analytics Now Available on iPhone App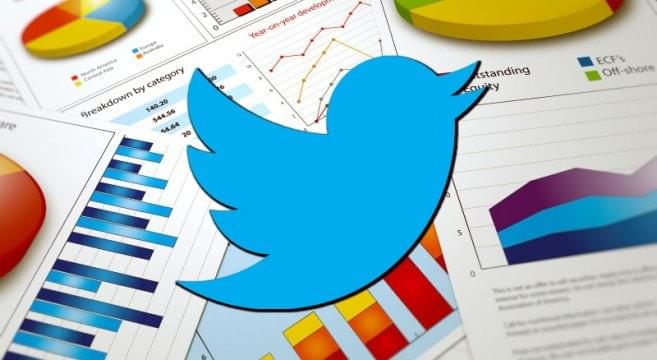 By now every recruiter should realise just how important analytics are to their sourcing efforts. Analytics, regardless of what they relate to, show you how affective your efforts have been within a chosen program or app. And one of the most useful analytics products for the last year has been Twitter analytics.
Originally designed for advertisers, Twitter rolled out its analytics interface to marketers, verified users and Twitter Card publishers earlier in the summer and finally made analytics available for all users in August. Twitter Analytics show users how many impressions their tweets get and charts other engagement metrics, as well as retweets and favourites. So even if a tweet isn't getting retweeted 1,000 times, users can see if people are still interacting with the post. So users will be delighted to hear that Twitter analytics are now available on the iPhone app!!!
The new feature launched the day before Christmas Eve for iPhone and to access mobile tweet analytics all you need to do is click on one of their tweets, then tap the "View Tweet activity" beneath the post. After that, the analytics page appears to offer everything that's available on the desktop version. Here's how it looks on the iPhone:
Analytics are only available if you have the most recent version of the Twitter app (so be sure top update your app), and they're only on iPhone (for now, anyway). It's unclear if Twitter is planning to expand the feature to its iPad, Android or Windows apps. So let's watch this space.
New Twitter Account Shames Brands for Acting like Teens… Could You be Next?
If you think that the answer to attracting Millennials to come and work for your company lies in speaking their language, we have proof that it isn't at least not on Twitter anyway!
Yes, a brand new Twitter account entitled @BrandsSayingBae sprang up last Monday with the sole intention of calling out brands that drop popular Millennial terms like "Bae", "Bruh" and "Basic" when dealing with other users on the social network. The sarcastic bio for the @BrandsSayingBae Twitter account simply reads "It's cool when a corporation tweets like a teenager. It makes me want to buy the corporation's products" and the account has already gained over 7,500 followers. Below is just a small example of their work!: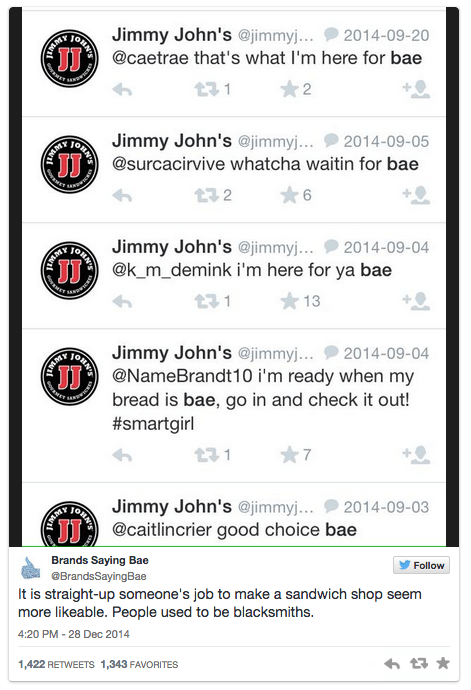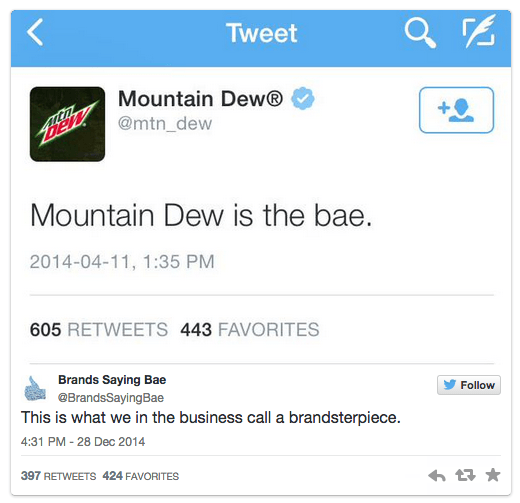 So next time you're writing a tweet and you think it's clever to get down with the kids in the ridiculous way possible, think again! Millennials are people too ;P
And in Sporting News
If you thought LinkedIn was only good for finding the likes of Sales and marketing professionals, think again. It just so happens that a former Dutch international footballer, Demy de Zeeuw, is now using LinkedIn to search for a new team after finding himself clubless.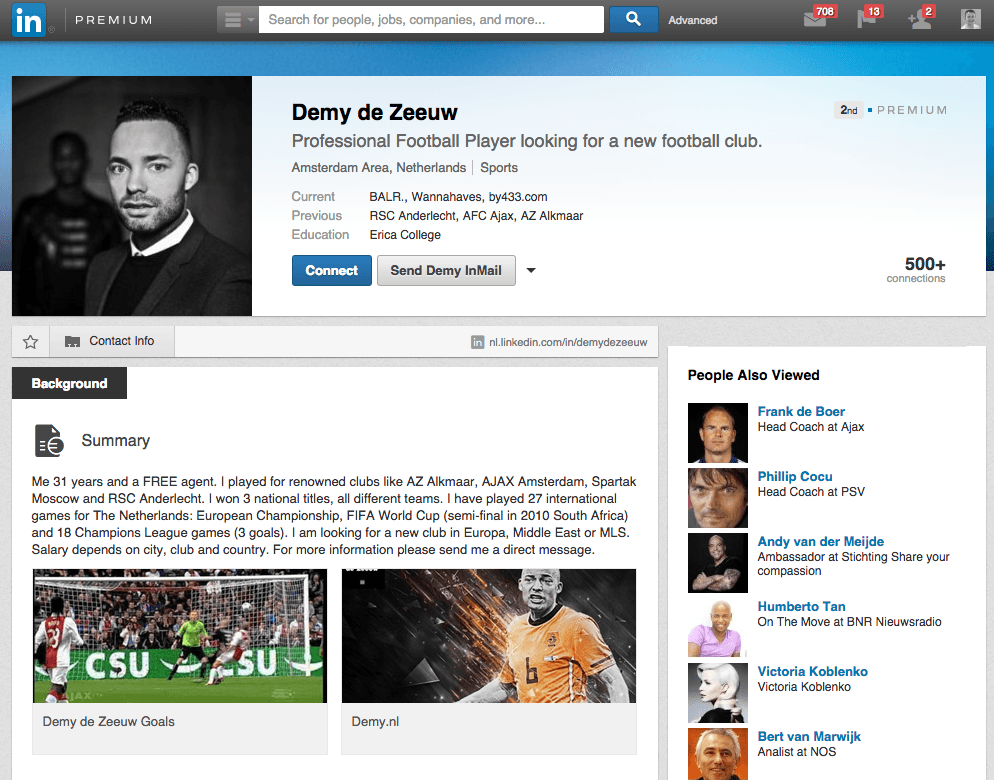 Indeed, according to HR Grapevine, De Zeeuw has been without a club since 30 November 2013, after completing a loan spell with Anderlecht from Spartak Moscow. The 31-year-old midfielder has made 27 appearances for his nation between 2007 and 2010, including a start in the 2010 World Cup semi-final against Uruguay.
On his profile summary De Zeeuw says: I played for renowned clubs like AZ Alkmaar, AJAX Amsterdam, Spartak Moscow and RSC Anderlecht. I won three national titles, all different teams."
I have played 27 international games for The Netherlands: European Championship, FIFA World Cup (semi-final in 2010 South Africa) and 18 Champions League games (three goals).
I am looking for a new club in Europa, Middle East or MLS. Salary depends on city, club and country. For more information please send me a direct message.
So… is anyone looking to recruit a footballer?
Find out how the likes of IBM, IKEA and Siemens
drive hiring excellence with SocialTalent
---