Keep up with the latest hiring trends!
5 Incredible Recruiting Hacks to Boost Your Productivity STAT!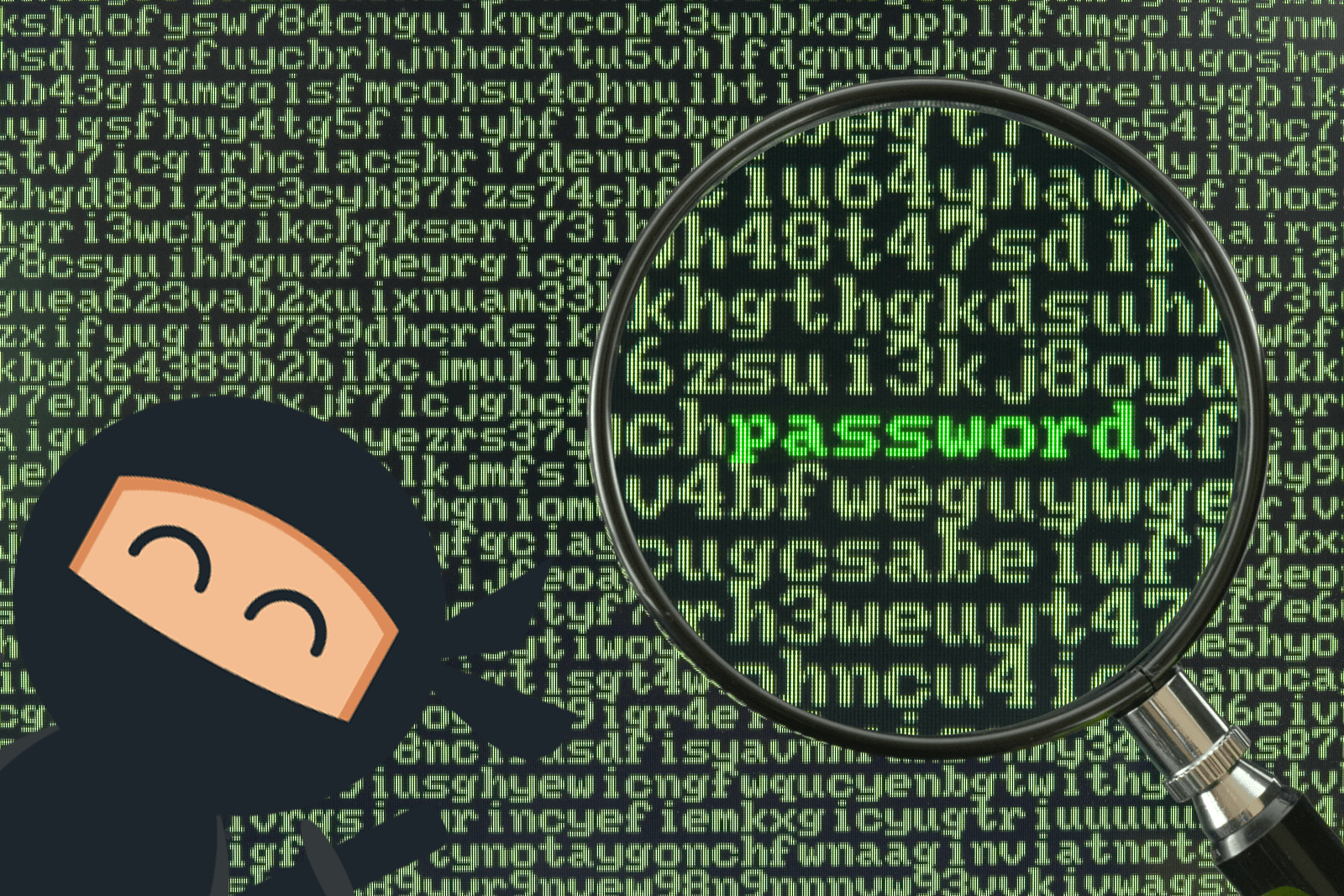 We LOVE a good hack here at Social Talent. They're what we specialise in. But for those of you who are a little unsure exactly what a hack is, we'll start by answering the obvious question first.
What is a hack?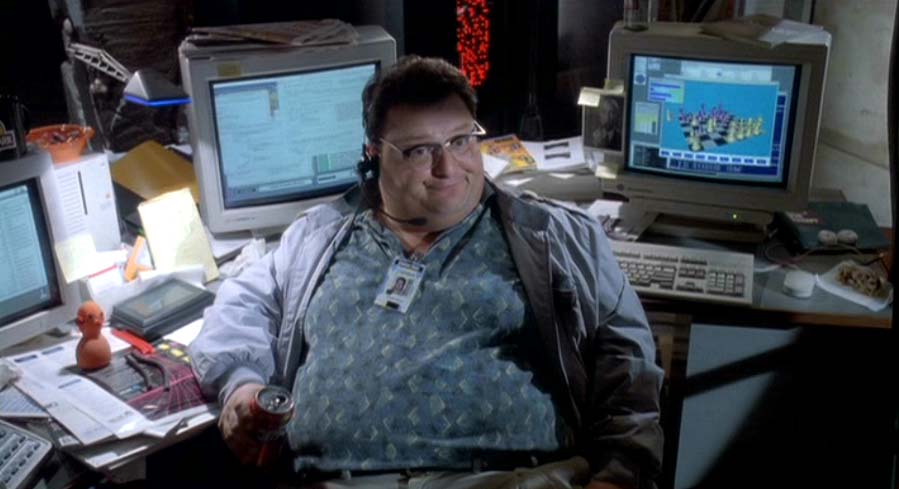 It's probably better if I actually start with what a hack is not, in this case! A hack is NOT about breaking into an internet system and stealing credit card information and passwords, or locking down an island full of dinosaurs ala Dennis Nedry in Jurassic Park. Nope, none of that! Sorry Dennis…
A hack is another term for an easier way of completing a task. It's a method/shortcut that will help you do something better and in a shorter timeframe. In other words, hacks are awesome and you can find loads of time all over the internet from DIY hacks to office hacks and life hacks to pet hacks.
But today we're focusing on the Holy Grail of recruiting hacks – simple methods/shortcuts that will help you become a more productive, and a more efficient recruiter in a shorter timeframe i.e. the recruiters dream! So what are we hanging around for? Let's dive in with our first recruiting hack:
Hack No. 1:
Looking to find Engineers with patent experience?
Then let me introduce you to a little website called FreePatentsOnline.com. And yes, as you may have guessed that is a website containing a tonne of free patents! But, as our friend Steve Levy pointed out to us, the site is particularly useful to recruiters trying to find talented engineers with patent writing experience. Why? Because you can search the site for keywords on patents to find candidates and we can pretty much guarantee that other recruiters aren't using it!
Here's how it works:
The search interface on the site supports full Boolean, which you can use to search for keywords on patents and patent applications, but the site also provides a list of special filters with which to hone your search. A list of them can be found on the lower half of the site's homepage: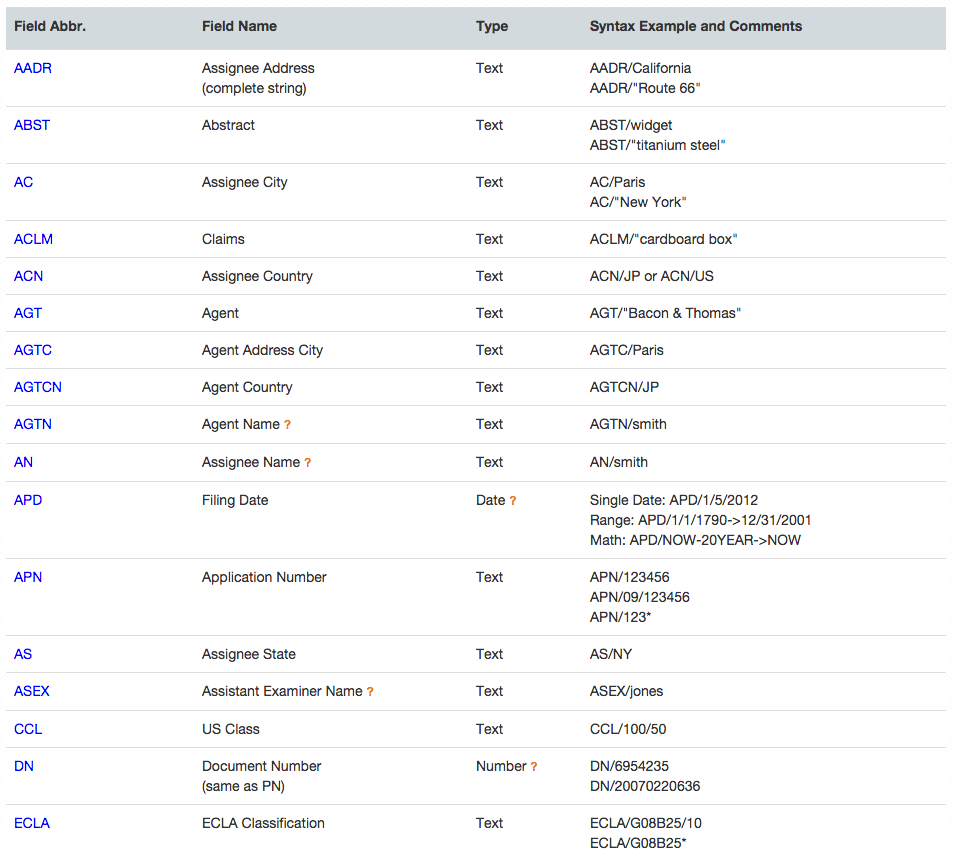 For example, if you wanted to see only patent applications submitted by an assignee in Ireland, you'd use the filter ACN/IE as part of your Boolean search. 'ACN' stand for "assignee country". Or take this other example search we ran looking for a patent concerning the oil and gas industry, written by someone in the UK: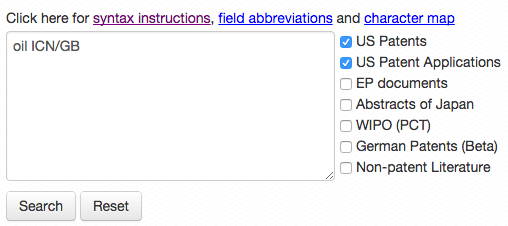 We typed in oil ICN/GB,  (ICN stands for "inventor country Great Britain") into the search box . This search will only show me patents that contain the word 'oil' and and have an inventor that is from the Great Britain. It's a really simple way to search.
Once you've selected and opened up a patent from the search results, scroll down to the end to see who wrote it under the Inventor(s) section. In this example, I can see that a Nicholas Clague from Bracknell in the UK wrote this patent. If I was interested in finding out more about Nicholas, all I need to do, is Google his name or search for him on LinkedIn. As I have done below: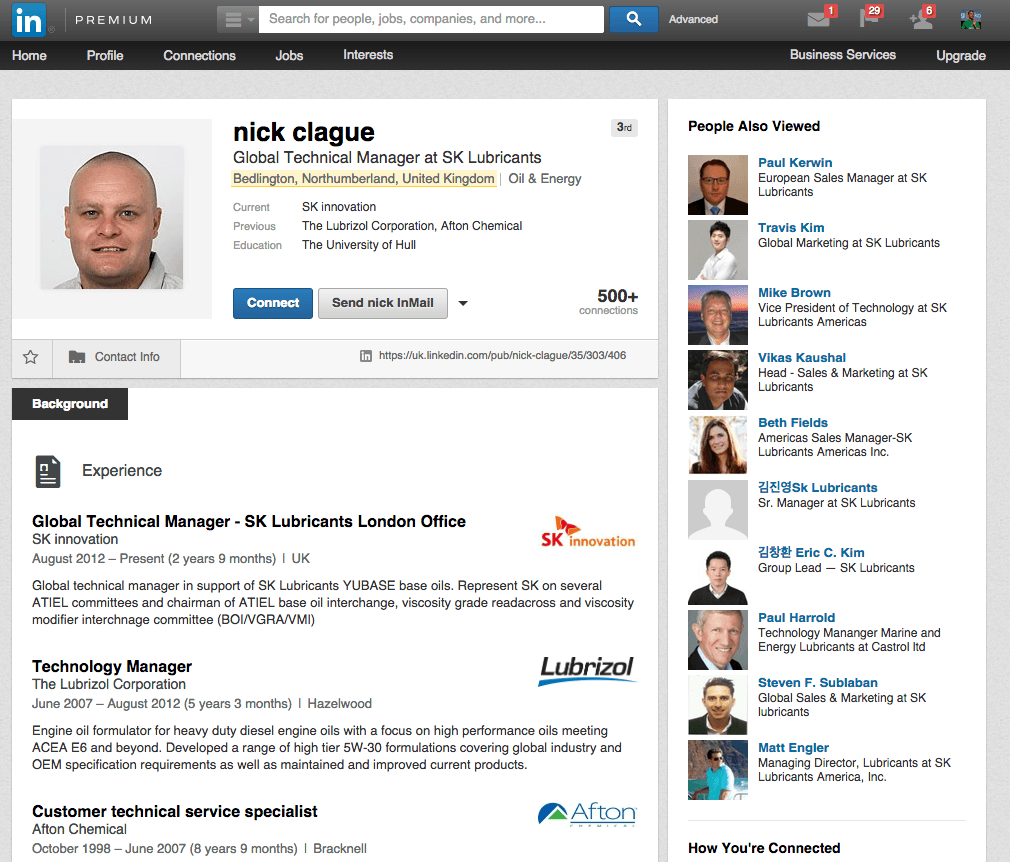 Interestingly, after scrolling through his profile, I can find nothing that makes any reference to the fact that he's written a patent. I even searched his profile for the word 'patent' by using CMD F on my Mac (or CTRL F). Proof in point that people don't always put all the relevant information that you would want them to have about their skills, abilities and achievements on their LinkedIn profile, and why sites like FreePatentsOnline.com can be invaluable for finding great people you may not have found just by searching on LinkedIn.
It's also a really handy one for using in conjunction with your Hiring Manager, who will have a better understanding of the type of patent experience a candidate will need to have in order to be considered for a role.
Oh and we almost guarantee that if you mention the fact that you found a person via their patent application when you reach out to them, you will really engage them!
Hack No. 2:
Need to find someone's email address?
This is one of our absolute favourite hacks from the latter part of 2014! It's a product made by the inventors of the HiringSolved talent aggregator and it's called Prophet.
We love Prophet because it does all of the things 360Social does, but it does one more amazing thing – it helps you find and (crucially) verify the email addresses of anyone you care to know the email address for.
Here's how it works: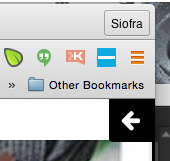 After you've download the Prophet Chrome extension here, each and every time you view a person's profile on LinkedIn, Twitter, Facebook etc., a little white arrow in a black box will appear in the top right hand corner of your screen (as illustrated on your right). Click it and Prophet will pop out a neat sidebar to display a comprehensive list of all the social profiles and websites associated with that person: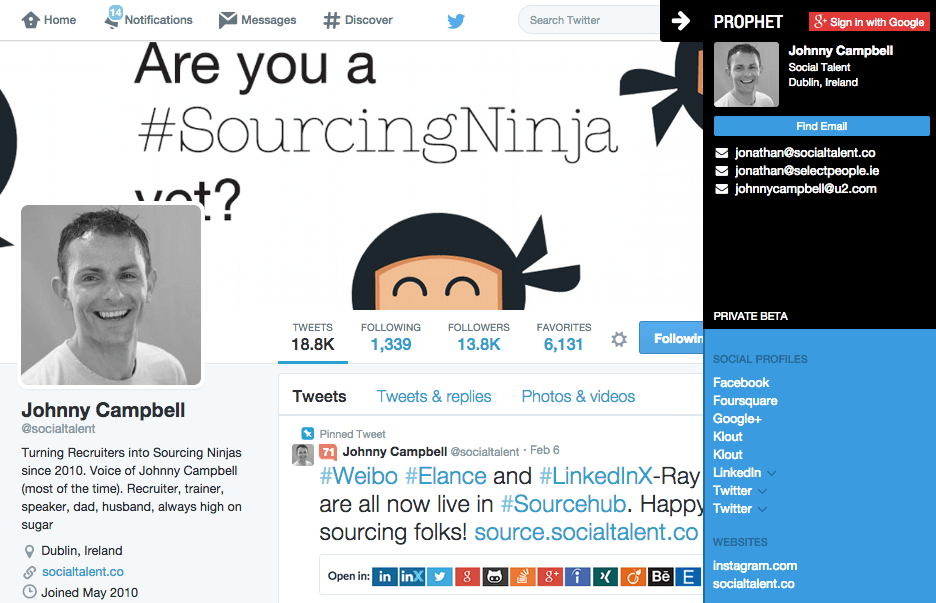 But Prophet will display a list of possible email addresses for this person, based on the information contained within their social media accounts. Then all you need to do is click the "Find Email" button(as illustrated above) and Prophet will try and verify those email addresses. It won't be able to verify every email address, but it does a damn good job of predicting what a user's email address is likely to be – it got two of Johnny's correct!
Hack No. 3:
How to contact email-less GitHub users.
Speaking of email addresses, for those of you searching for Developers and Programmers, this is a little hack (first shared on SourceCon.com late last year) for finding the email addresses of Github users who haven't published their contact details on the site (a very frustrating issue for recruiters using GitHub to source top talent).
Now typically, a good 60-70% of GitHub users DO publish their contact details, but if you are especially keen to speak to someone who hasn't, follow this hack for finding that crucial contact detail. We also pretty much guarantee that, being Developers, they'll be impressed that this is how you went about finding how to contact them! Developers love a good hack themselves!
For those of you unfamiliar with GitHub (if you're a tech recruiter you REALLY need to get acquainted with it), click here for our step-by-step guide on why and how to find super-talented Developers on GitHub.
Here's how to works:
Load up the following shortcut – bit.ly/gitemail. When loaded up, it'll produce a longer URL in your browser that contain's Johnny Campbell's name. The webpage that displays will be full of mad looking code. Ignore this for the time being: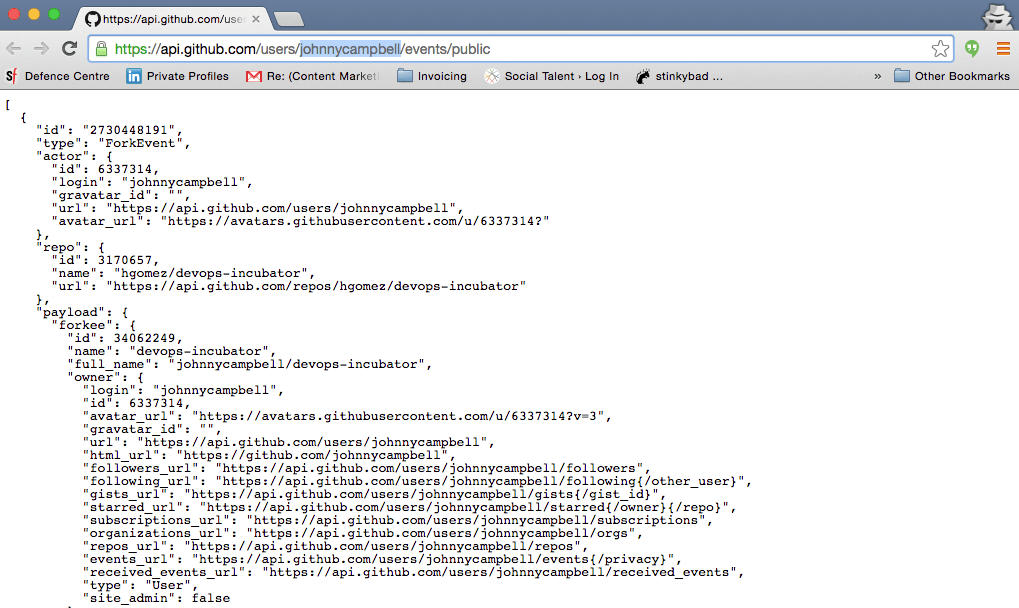 All you need to do now is copy and paste the email-less user's username where Johnny Campbell's name appears in the long URL and click return. Take the DarkEngineer for example: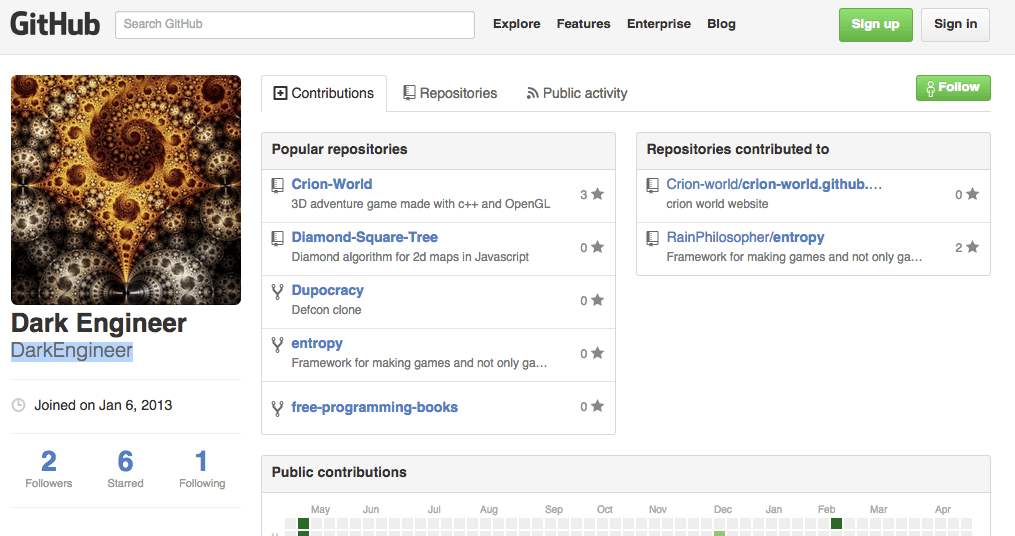 They have decided not to publish their email address, so if we want to find it we have to copy their username and paste it into the long URL the previous link gave us:

Once you've done this, you'll see lots of the same mad looking code stuff you saw when Johnny's name was in the URL, except this time all the mad looking code stuff is related to the use we're interested in – the DarkEngineer. Search the page (CTRL F or CMD F) for the @ symbol and you'll be able to pick out the email addresses of the people who have forked' the Dark Engineers code and the email address for the Dark Engineer herself (as illustrated below). Now all you need to do is contact her. Simples!

Hack No. 4
Get vital industry insights using LinkedIn Skills mapping.
We really like this one! It's a way of duplicating a brand new LinkedIn function currently only available to LinkedIn Recruiter users, so that you can get the benefit of it WITHOUT having to pay for LinkedIn Recruiter. We have to give special thanks to Irina Shamaeva for pointing this one out, and for helping to make it better over the last number of months.
Here's how it works:
Load up the following shortcut – bit.ly/alumniskills2. Once you do, you'll be brought to a section of LinkedIn's website that looks like this: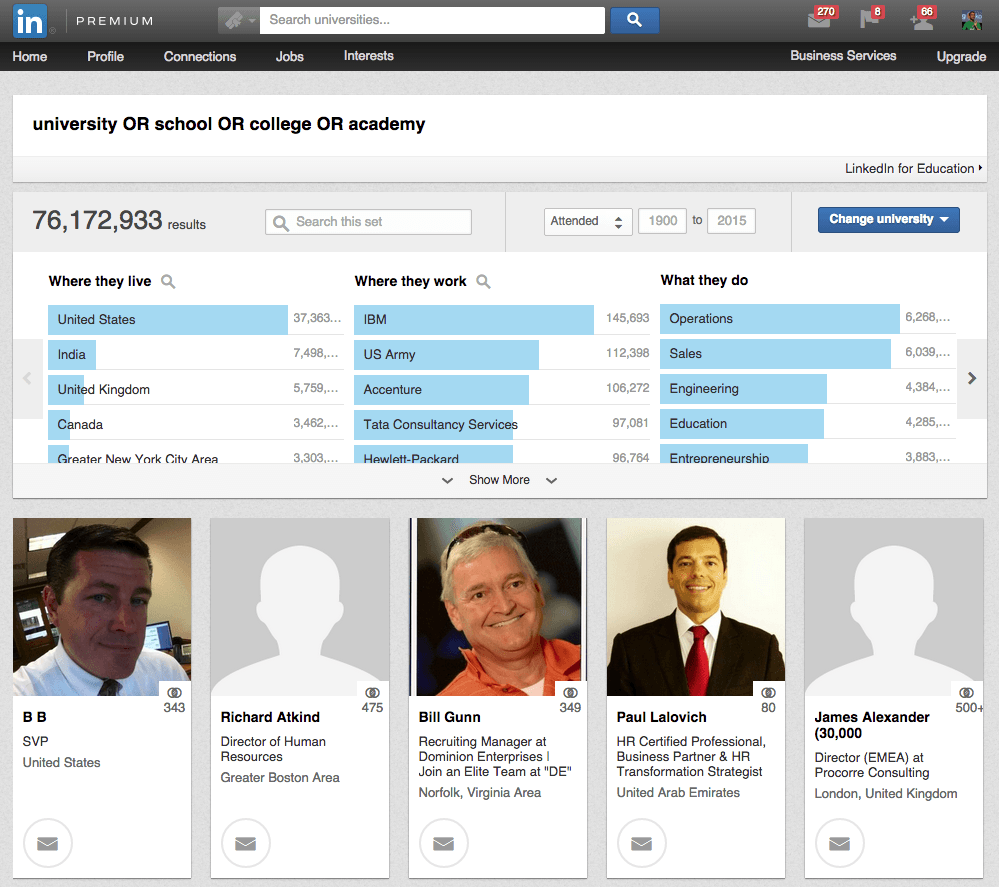 Basically, what you're looking at is a large data set, full of industry information you can interrogate to look for useful patterns. For example, if you use the search box to search for a phrase, keyword, skill or industry like "Big Data", it'll then show you aggregated data on all of the people on LinkedIn who have included the phrase Big Data on their profile and will tell you information like where they live, where they work, and the roles the work in (click the arrows left and right for more information):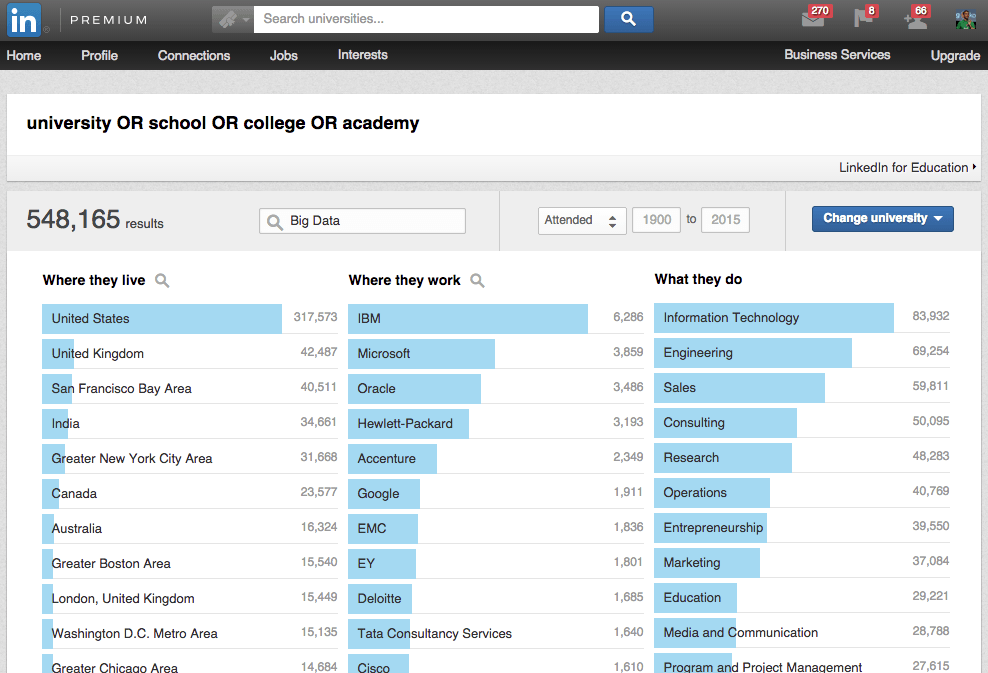 Narrow down your search by clicking each of the industries, job titles, skills etc. you're interested in finding out more information on, to see what they studied, what they're skilled at etc. Take this search for example. In this search, I have used the filters to search for data on people who have studied Computer and Information Sciences, IT and Management Information Studies, who live in the United States and currently work in IT. By using these filters I can see that people who have studied those subjects and work in IT are primarily skilled at SQL, Databases and Business Intelligence, and are primarily employed by IBM, Oracle and Hewlett-Packard: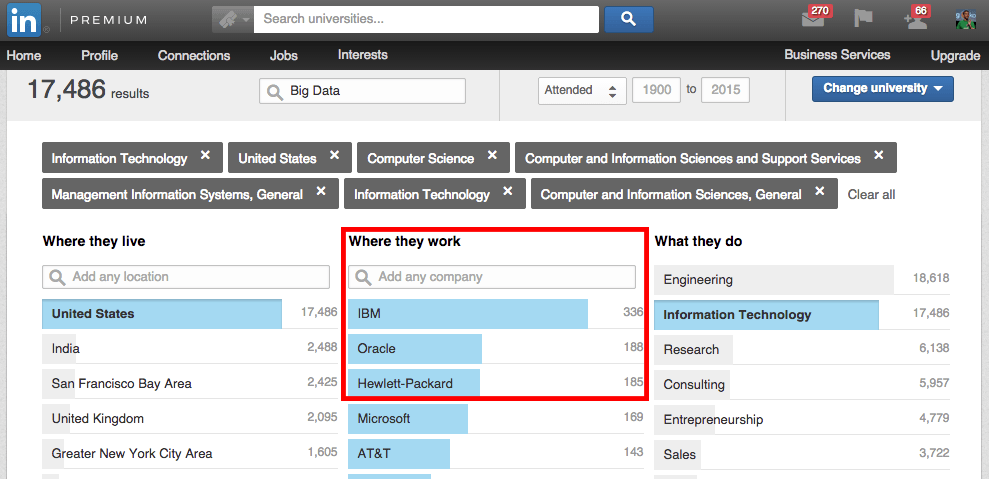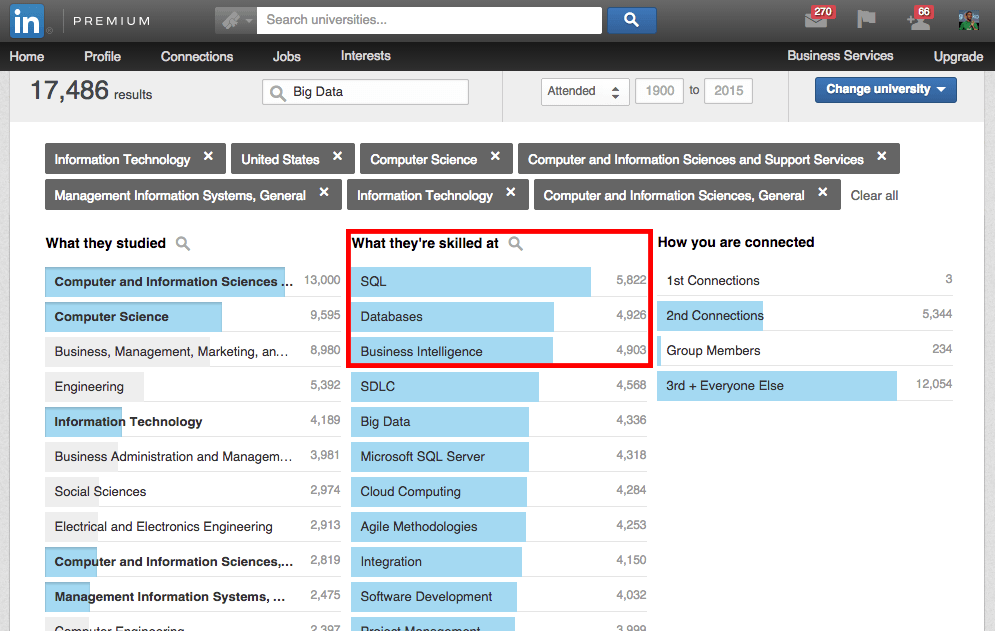 You can also set an education date range if you are searching for candidates who graduated within a certain timeframe: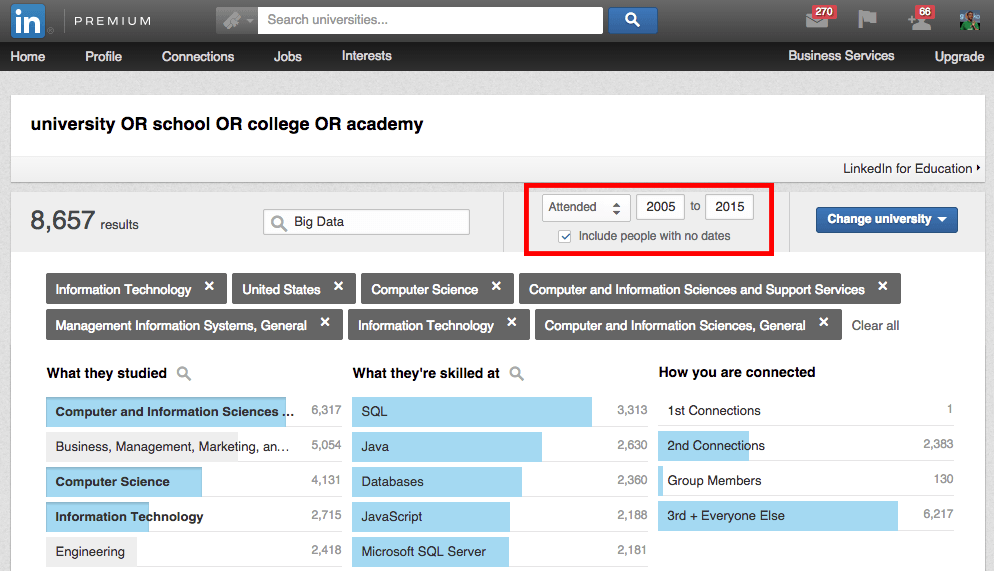 Oh, and everyone who appears below that data set you can instantly connect with, which gives you a really good network to build from: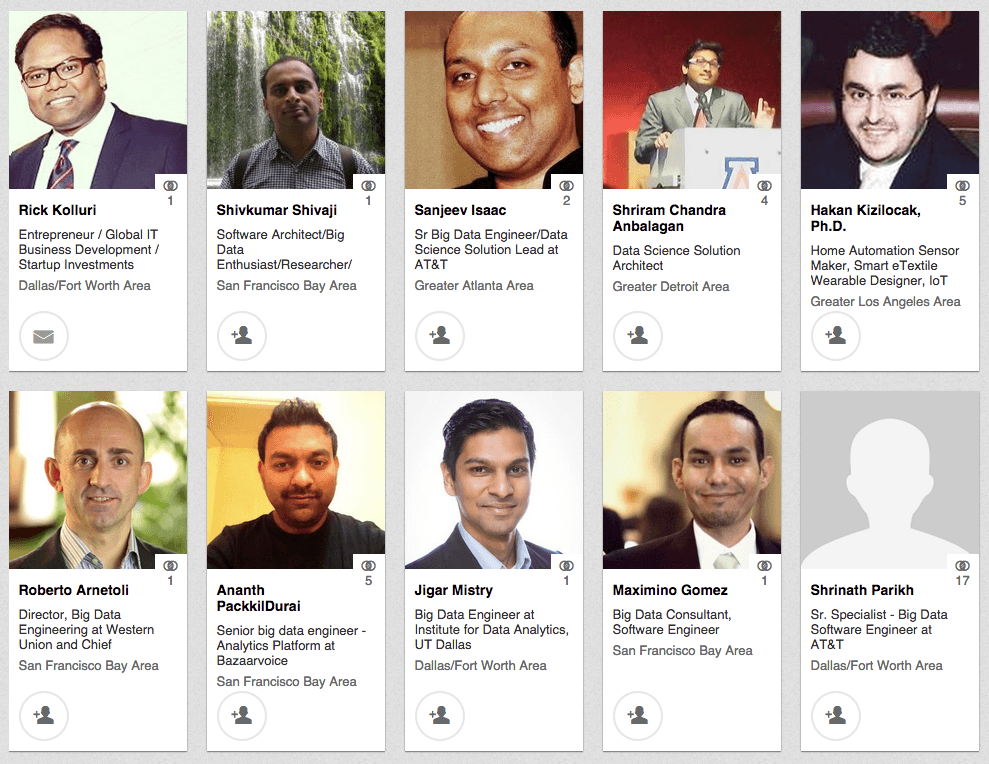 There's loads of stuff to be done on there so go explore it, use it and be sure to tell us what uses you find for it in the comments below.
Hack No.5:
How to find verified email patterns without pinging their server.
This little beauty of a double-whammy hack was given to us by Glen Cathey , SVP Talent Strategy and Innovation at Kforce, at SourceCon a few weeks ago. It's a double-whammy because this hack combines a custom made spreadsheet and a great little product called VibeApp.co.
Here's how it works:
So the first thing you need to do is download our custom spreadsheet by going to – socialtalent.co/emailpattern. When you copy and paste that link into your browser, an Excel Spreadsheet entitles "Email-Permutator.xlsx" will download automatically. When you open the spreadsheet using Microsoft Excel you'll see a number of columns and rows, all containing different information: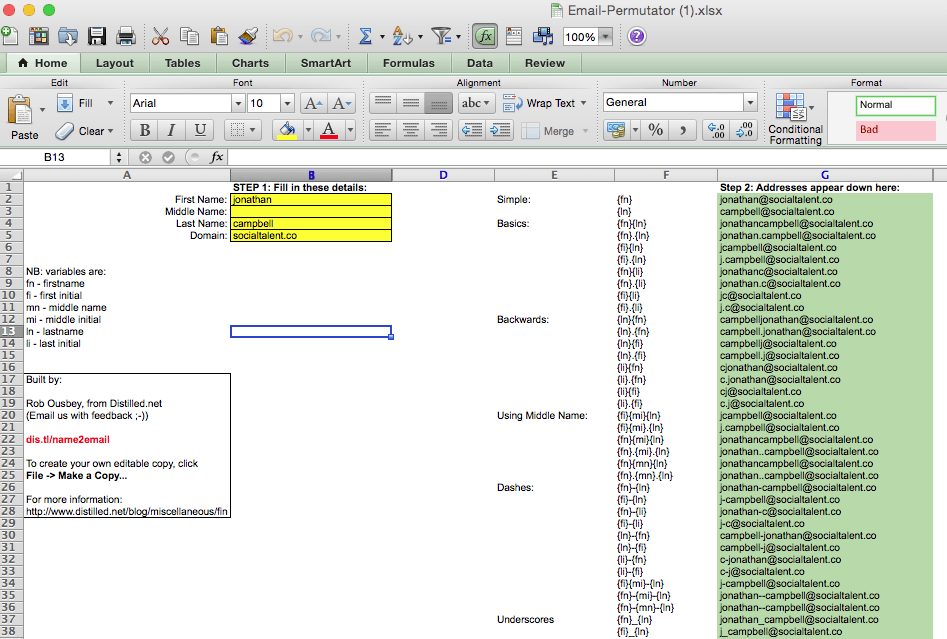 In Column B see a section highlighted in yellow, asking you to "Fill in these details". Remove Johnny Campbell's name and enter as many of the candidate's details as you can. When you do this, in Column G, all of the possible email addresses that person may have will list.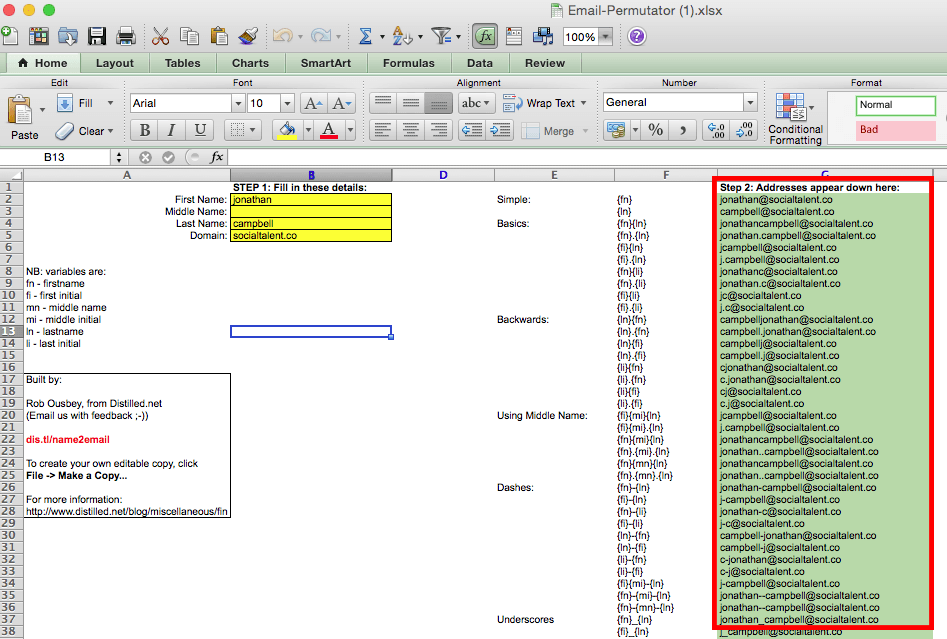 Copy all of them and paste them into a new draft email in Gmail. Now download VibeApp. Once it's installed all you need to do is hover your mouse over each email address to the "To" section. As you hover your mouse over each name, VibeApp will prompt you to lookup the email address. Vibe verifies email addresses by showing you all of the social profiles associated with that email address. Email addresses with no profiles attached will not be real email addresses. The correct email, and the one you should use to contact the candidate, will have social profiles attached. Just hover over each one until you get a match.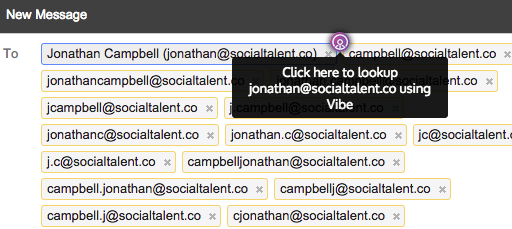 This is really excellent for hard to find candidates, whose contact details seem particularly illusive!
Just whatever you do, don't BCC every email address, that'll only result in Google blacklisting your email address as a spammer. Use Vibe to select the correct email address and delete all the others.
So there you have it folks, five amazing hacks and five great ways to increase your productivity and be a better more resourceful recruiter. Your welcome 🙂
Watch the video:
Find out how the likes of IBM, IKEA and Siemens
drive hiring excellence with SocialTalent
---