Keep up with the latest hiring trends!
5 Ways to Improve Your Google Plus Page for Recruiting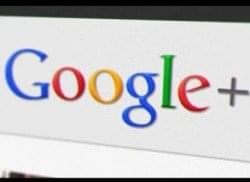 Google Plus has been going through a period of constant change and improvement in the last few months, making itself much more like a hybrid of Twitter and Facebook, taking the best bits of both and adding some other Google magic to the potion. What's resulted is a social network with over 170 million profiles (according to the Google blog last week), and a slowly but surely more active community. Where once this platform was a bit of a ghost town, it's showing its worth. So what can Google Plus bring for Recruiters?
1. Make an impact with your Header Images
Firstly, the Brand Pages have taken the lead from Facebook and have changed the headline part of a business page profile to give you a choice between 5 static images beside your main profile picture, or one large long image (like the new Timeline cover). We've chosen to change ours to one long image (see below), and the dimensions you need to work with are 940px wide by 180px high. Your chosen profile picture will overlap with this long image (dimensions are 180px square), but we've chosen to drop the same background used in our Header image with our Profile picture to make the header really stand out.

It's a great branding opportunity for you as a company to put your best foot forward, and this time you're not restricted with what you put in your image. You can put in web addresses, calls to action, contact details – anything really! Just make sure it makes an impact, and tells your company's story.
2. Segment your followers and candidates in to separate circles
The main differentiating factor between Google Plus and all other social networks is the ability to put people in to circles, controlling who you communicate with. If you're using Google Plus as a person, promoting yourself as an individual recruiter, you can add people to your circles and push out your posts to them without the people in your circles having to add you back.
You can import your contacts to add them to your particular circles (segmented say in to junior candidates, X skilled candidates, current applicants, past employees, current employees etc – the names of your circles are private to you, but the people in those circles are public). Simply import your email contacts and then drag and drop specific people in to your desired circles.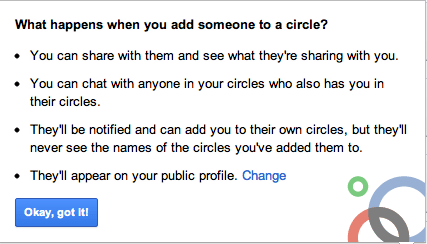 However, as a Business Page, you can only add individuals to specific circles if they've followed you in the first place. You can add other businesses who are using Google Plus as a Brand Page, brilliant for B2B activities and business development.
3. Publish links to your blogs on Google Plus
While there is no Social Media dashboard that will publish to Google Plus (except for Hootsuite's Enterprise customers), posting to your Google Plus business Page is a great way to boost both your readership and the SEO of your blog and website. Google created Plus so that it could further improve their most core product: Google Search. By collating your personal habits, connections and internet history in to one place, it can tailor your search results to a more personalised version, showing you websites and web pages that are personally relevant because one of your friends liked that website or article. Social Search is becoming the default way that Google will display search results, so publishing to Google Plus will help you with your social SEO.
So, as a recruiter or a business trying to publicise job opportunities, posting your blog about your latest job opportunities in Google Plus will help your website gain more SEO traction when jobseekers search Google for their next job.
However, if you're an agency recruiter working a highly competitive role, you're fighting for search result priority amongst all of your competitors and the client themselves. Write a unique job description as part of a blog (like a top jobs of the week piece). Copying and pasting job specs, like so many recruiters do, is highly punished by Google's search algorithm. It likes original content, and rewards it appropriately.
4. Add your Websites and Links to your Jobs in your "Recommended Links" section
Google Plus allows for you to add links with a customised label to your About section. Simply go to "Edit Page" and then in your About page, scroll towards the bottom of the page and click on "Recommended Links". Add a URL (like a direct URL to your jobs or careers section of your website) and customise the label, like "Click here for our latest Career Opportunities".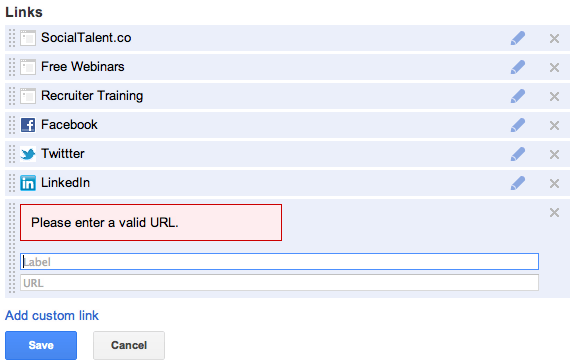 5. Host regular hangouts (live chats) to discuss jobs!
Google Hangouts are another unique feature of this burgeoning social network. These are live webcam (or screen-share) chats that you can host to the public about any topic you choose. You can have up to 10 people live chatting to each other, or you can do a "Hangout On Air", which is effectively a panel of presenters broadcasting out to the general public.
If you're looking to further your employer brand, hosting a hangout to your target market is an ideal way to publicise what you're all about, answer questions from potential applicants about the recruiting process or the work environment, job role details and more. It allows you as the recruiter to get your face out there, hit many birds with one stone and broadcast your jobs.
Google themselves host a Google On Air hangout to publicise their jobs and work environment inside Google's offices (do they really live up to the hype?) on their Life at Google page. This is a great example of employer branding, putting up pictures of their offices, videos of what they actually do there, and links to their career page on their site.
Have you started your business page on Google Plus yet? Make sure to add us to your circles!
Find out how the likes of IBM, IKEA and Siemens
drive hiring excellence with SocialTalent
---