Keep up with the latest hiring trends!
Facebook Timeline is coming - How are you going to adapt your Business Page?

At last! After announcing Timeline at their F8 conference last September, Facebook have finally begun to roll out Facebook Timeline to standard user accounts, starting with New Zealand members, and then flowing through the rest of the world "in the near future". Hopefully by Christmas, we should all have Timeline enabled and start playing with it!
While Timeline is a lovely feature for standard users, where it will be truly beneficial is with Business Pages.
Not only can you tell your Business history and retrospectively add events posts/photos/videos, but your fans will be able to see a much broader history of your Facebook page and view your posts in a neater format.
So what should Business Pages prepare for?
Start planning what events you're going to add – try to include not just a statement of the event itself (like for instance, our business celebrated our first birthday today, 1st of September 2000) but add photos, a video even. The more in-depth the media, the better. Your fans love to view photos and videos, so give them stuff they want to see.
Your tabs will remain the same, but ensure they're fully converted over to secure hosting, as Facebook will no longer support http:// domains (they must be https://)
Redesign your header. This is probably the most exciting bit really! Instead of getting a bar of 5 randomly generated photos at the top of your page, you will now get one large image and that lie underneath your profile photo (which will be subsequently returned to a simple square image, not the long rectangle we're so used to now. This is a fantastic opportunity for imagery and experiential branding, and show what your business page is really about.
This is what your header will look like (taken from my personal Facebook Timeline, which I've enabled since last September):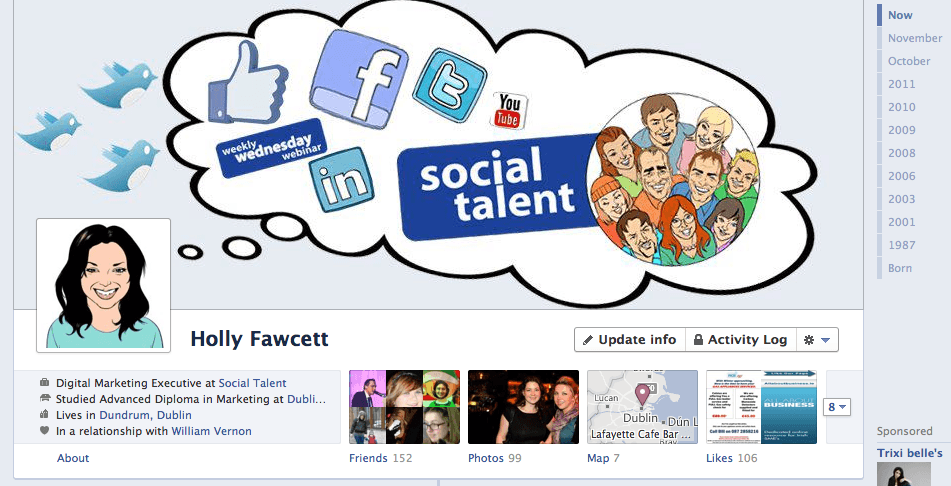 So as you can see, your profile photo intersects the header image, so from a design point of view you may want to think about integrating the two images and maybe interacting with each other. See these designs for inspiration.
Dimensions to send to your Graphic Designer:
Header image size: 851 width x 315 height pixels, and your profile photo will intersect the main header at (across) 0.9cm from the left until 5.5cm, and 8cm down until the end of the image.

Have you had Timeline enabled in your profile during the Beta period? What do you think of it? Do you think it'll be good for Business pages?
Find out how the likes of IBM, IKEA and Siemens
drive hiring excellence with SocialTalent
---