Keep up with the latest hiring trends!
How to: Quadruple your placements as an Agency Recruiter using the Smart Agency Recruitment Loop
Taken from yesterday's webinar, The Agency Recruitment Loop – Using Social to Develop New Business, which you can watch below:
As an agency recruiter, it's likely you'll follow a step-by-step process to pull together a shortlist of candidates that includes advertising your vacancy, convincing passive candidates to draw up a CV for you and put themselves forward for your role, meet with and assess numerous potential candidates, and by the time you get to your perfect shortlist to present to your client, you've got a list of 4 or 5 "perfect fits". These are your MPC's – your most placeable candidates. And yet, you can only place 1 of them for this role, and chances that you'll succeed in placing that one candidate is at best 50/50. Something will come up that you can't control. The vacancy will be placed on hold, or the client will change the job spec, or someone internal will be awarded the role.
So, what do you do with your shortlist of candidates you fought damn hard to get in the first place? We propose you set up an Agency Recruitment Loop system, so that you're servicing your candidates to the best of your ability, not just your clients. After all, these are candidates at the top of their game, they've started a relationship with you and your agency, and deserve a customer experience that's nothing short of excellent.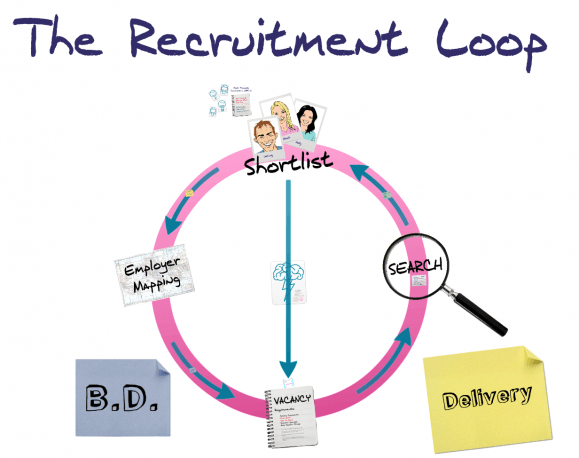 In the Agency Recruitment Loop, you incorporate candidate search as well as role search for the candidate, and present your shortlist of 4 candidates to companies that aren't just your client – you spec your shortlist of candidates to companies that are always hiring for your type of candidates, and effectively quadruple your placement opportunities.
Here's how to enact this Recruitment Loop:
Starting with your search
Many agencies would have their service split in two – recruiters who deliver the candidates, and business development or account managers who are responsible for brining business in to the organization. However, by joining these two segments, there lies a greater opportunity to place more of your candidates.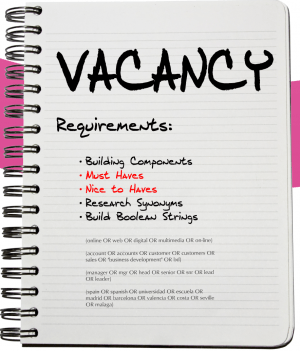 When starting your search, ensure that you take an accurate and thorough job specification from the client. Separate your Must-haves from your Would-like-to-haves, and build a search of your database or online database, like LinkedIn. Look for synonyms of each word and skill, thinking outside the box in terms of what people may have in their profile.
Search your database or ATS, perhaps utilize a paid CV database that you subscribe to, like Monster, search LinkedIn and other social networks. Finding the perfect shortlist of candidates requires reaching out to many people through phone calls, emails, InMails, Tweets, interviews and assessments – it's a high-volume process really. You follow up on each of those approaches to gauge interest in your vacancy, and ask for referrals. So far, fairly traditional recruitment.
Your Perfect Shortlist
For this vacancy that you've been working on, and spent a long time searching for, you've finally built a shortlist and you're going to send it on now to the client. Let's say that you've found 5 candidates – there's one vacancy, with a 50% chance of placing, and once that's done you're just going to scrap all that hard work and begin your search again for the next job on the books? What a waste of effort! You've motivated and hand-held 5 people through a process only to disappoint four of them, even though they're all ideal! These are your MPC's, they're candidates that are in high demand, they're hard to find, and you'll get your full fee for these candidates.
Now, what if you were to conduct some business-development, and promote your shortlist to others who are looking for similar people?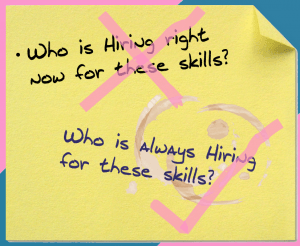 Who is ALWAYS hiring for these skills?
Stop looking for companies that are advertising right now for these types of people, these clients have already engaged recruitment agencies for these vacancies and are calling for people with these skills. Instead, companies that are always hiring for these skills would be in pre-advertising mode, discussing amongst themselves about where to find these people and seeking referrals. Mapping the employers of who'd most likely be hiring your kind of candidates is key to fully utilizing your shortlist, and further building new client relationships and winning business.
Using the same social tools to find candidates, find the employers. Search LinkedIn by skill, filter by location, and view the top 10 employers of people with these skills. Search for line managers, rather than HR managers (the line managers will be best placed for understanding the urgency of need to find more people for their team, and can be a great introduction to the HR department). Pick up the phone, and introduce yourself to that line manager, and have a conversation informally to gauge if there is a need for your candidates in their organization.
Explain, informally, that you've got 4 candidates with the skills required by their firm, that you've assessed them and they're motivated and highly interested in speaking with the firm about a job, and would they be interested in seeing a CV? Anonymously profile your candidates to the potential client, confirm the candidate's interest in speaking with them, and send off your shortlist.
What about PSL's?
It's hard to get on the preferred supplier list of a large company, but many companies will make an exception to the PSL if you've presented them with the right candidates. It's how you get on their list in the first place! Profile your shortlist to 10 companies, around half of them will be interested if you present them with relevant people. That means that you've got as many roles as you have candidates, which means that the likelihood of ALL of those candidates you've found will be placed in a role you've found for them.
Think about it – you've made four times more in fees for just a little more work, your clients are happy because you've found them the right person without much delay, and your candidates are delighted because their experience with you has resulted in a new job!
Other uses for the Recruitment Loop
You can jump in to any part of the Loop and follow it all the way around. In developing new business from scratch, build a shortlist of highly in-demand candidates and follow the loop around to source employers of those people. Find interest in your shortlist and deliver the candidates to your new clients.
Similarly, when a great candidate comes to you looking for a new role, work on their behalf and drum up business for them. Don't be unproductive and ignore the candidate – they're just as important for your business as a client company would be. Find a company who's just had someone with your candidates' skill leave the company, where they've yet to fill the void. Present that company with your candidate – you may just be their lifeline, and they'll jump all over your offer!
Have you utilized the Recruitment Loop, or elements of it, in your Agency Recruiting process? What has been your experience? Let us know your thoughts in the comments.
Find out how the likes of IBM, IKEA and Siemens
drive hiring excellence with SocialTalent
---