Keep up with the latest hiring trends!
Local Marketing: Why Google+ Just Became Way More Important for Recruiters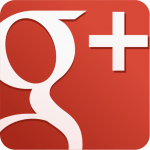 Last week, Google announced that it was replacing Google Places with a more integrated version of both Maps, Google Places and reviews site Zagat (acquired by Google last year) with a service called Google+ Local. What does this mean for your recruitment business? Well, basically – Google Plus has now just become your online Yellow Pages, and it's now even more necessary to get yourself on the platform. If you run local offices (or simply want to highlight where you're actually located), this integration is ideal for your business.
We've written numerous blogs about Google Plus about how to set up your Google Plus page for Business (like here and here), so if you've not got a Google+ Business page, set one up as soon as you can. It's really simple and similar in how Facebook Pages operate. However, where it's more useful is that Google search results listings are being influenced by your Google+ presence and the searcher's social graph (highlighting websites who've had a +1 – or a vote of confidence essentially – from a friend of theirs). Also, with over 160 million members, it's bigger than LinkedIn and one of the fastest-growing social networks in history.
The biggest trend for 2012 has been the growth in mobile searching, and where appropriate Google will prioritise local (often City) listings of businesses if one searches for businesses with those keywords using their current location. Local listings, complete with the company's address, phone number and their Google+ page, are found at the top of the results (see the screenshot below of the word "Recruitment" typed into Google – local listings with their Google+ pages and reviews).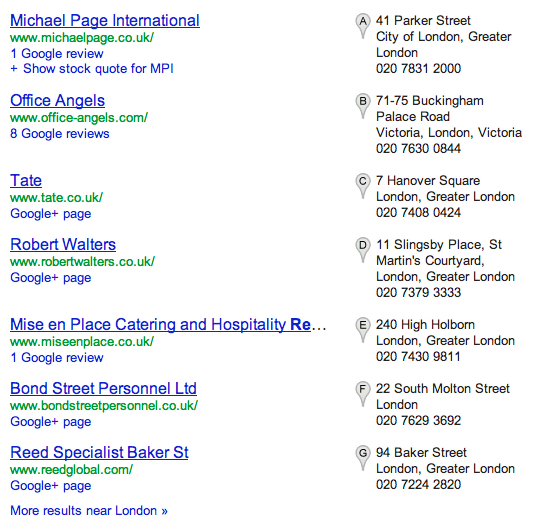 These results are based upon the registration of a business on Google Places for Business, where you can list your business for free on Google, as well as respond to reviews, connect your analytics (ie, see how many people saw your Google listing) and direct people to your place of business. Pretty soon this will be completely managed from a Google+ Local page.
All of this has a great enhancement for your SEO, helping to get your vacancies pushed up the rankings of Google and attracting more visitors to your site. Google+ Local has the potential for delivering more engaged site visitors to your business, converse about your business and rate it too. And besides, with Google+ you can host virtual careers fairs and open days with Hangouts On Air, where anyone can watch your live broadcast about jobs at your company or with your clients. We do love Google Plus, and it's gradually becoming a busier place as Google integrate more and more features into it.
Have you set up a Google+ for Business page for your company yet? What have you done with it so far? Leave your thoughts in the comments, it'd be great to get some feedback on recruiter's stories about Google Plus and how it's been useful (or maybe not!) for their business.
Find out how the likes of IBM, IKEA and Siemens
drive hiring excellence with SocialTalent
---