Keep up with the latest hiring trends!
Top 7 FREE Online Recruitment Tools
Looking to improve your efficiency and your productivity when sourcing candidates online? Of course you do! Here's our Top 7 list of free tried and tested online recruitment tools that'll help you write error free Boolean strings, find the contact details of candidates more easily, search Twitter bios more effectively, automate your job ad and content posting, and search for candidates on LinkedIn, Xing and Viadeo. Enjoy!
We don't often do this, but today we're going to start by blowing our own trumpet (just a little bit :P) As a recruiter, a knowledge of and practical experience with Boolean search strings is an invaluable asset. Not only do Boolean strings help you find exactly the type of candidate you are looking for and more quickly, but Boolean strings can be implemented across a wide variety of job boards, databases and of course LinkedIn, making the time you spend sourcing more effective and far more efficient.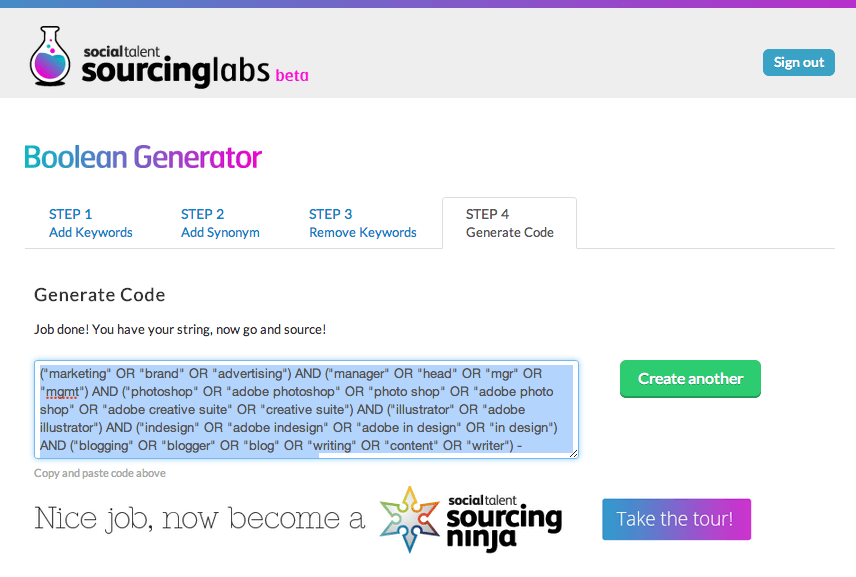 But we understand that for some, Boolean language is an abstract concept that is often hard to understand and difficult to get right. Even if you are good at forming strings, inevitably you will make mistakes; a forgotten double quotation here or a lowercase OR there! So we decided to make a tool that would help everyone, from the Boolean Beginner to the String Slayer. We created the first ever easy-to-use, error-free, Boolean String Builder and we made it for you! The incredibly useful tool takes the guess-work and the hardship out of creating Boolean strings, and will help you create complex strings in just 4 easy steps. Click here to sign-up for FREE and start using the Boolean Generator immediately.
Watch the video for more information on how the tool works:

2. Rapportive
Rapportive, an exclusively Gmail (and Google Apps for Business) product, is our absolute favourite free email tool for recruiters, and has been for two years now. If you use Gmail for your work email, we absolutely recommend that you use Rapportive in your day-to-day work. As soon as you receive an email from someone, or write in an email address to someone, their social profiles connected to that email address will instantly come up in the Rapportive screen. We're talking their LinkedIn (where you can instantly invite them to connect or see that you're already connected), their Twitter (where you can get a sense of the candidate and how to communicate with them), their Facebook, their Google+, their blog and any private notes that you've inserted about this contact appear on your screen instantly. If you've seen our webinar about how to find anyone's email address and you're using Rapportive, you're sussed!
If your using Internet Explorer as your everyday email (God help you if you are!), then I'm afraid Rapportive won't work for you. We recommend switching if at all possible. Your life will be 100% better if you do!
3. Followerwonk
Followerwonk.com is a free to use website that allows you to effectively search the Twitter bios of every single one of the 241 million active users on Twitter. Looking for a fashion buyer, living in London and working for ASOS.com, for instance? Carry out a quick bio search using Followerwonk. Find the right candidate, see what they're tweeting about and engage with them accordingly. Job done. Twitter is a brilliant place to search for candidates. It's fast, you don't need to work out a candidate's email address, you have the ability to converse with them instantly, and the simple method of retweeting can send your job spec out to hundreds of thousands of people within a matter of minutes, should your candidate unfortunately reject your fabulous job offer!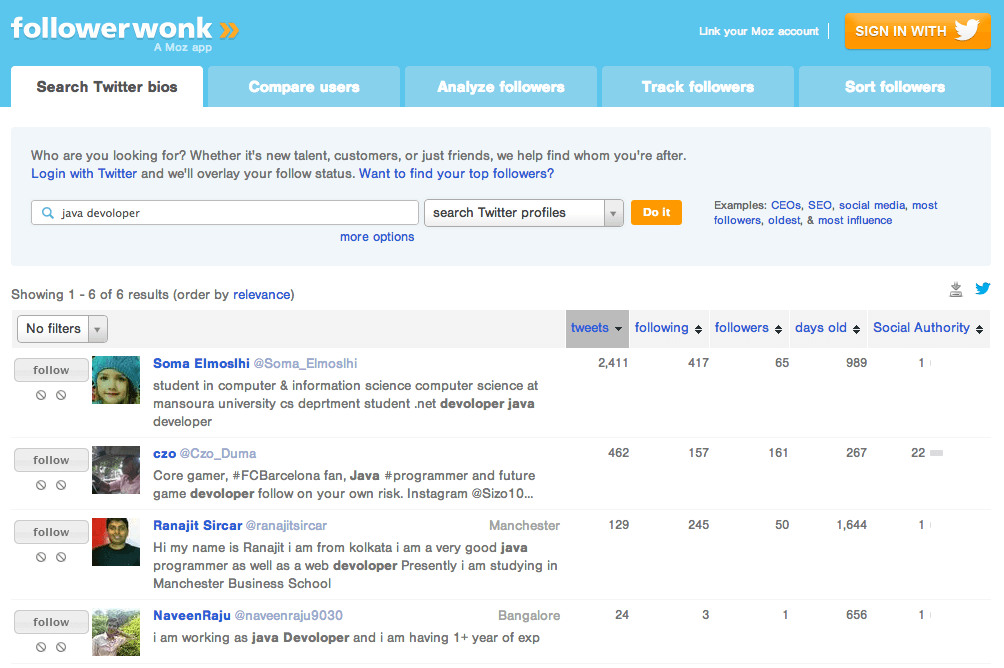 For more on how to recruit candidates on Twitter using Followerwonk see Part Two of our 'How to: Recruit on Twitter' blog series here.
4. Buffer
Buffer is an automated social posting application that lets you schedule your tweets (and other social media posts) so that they publish at predetermined times (these predetermined times are based on an analysis of your social activity and the success rates of your past Tweets, suggesting that you schedule posts for times that have been most successful for you so far).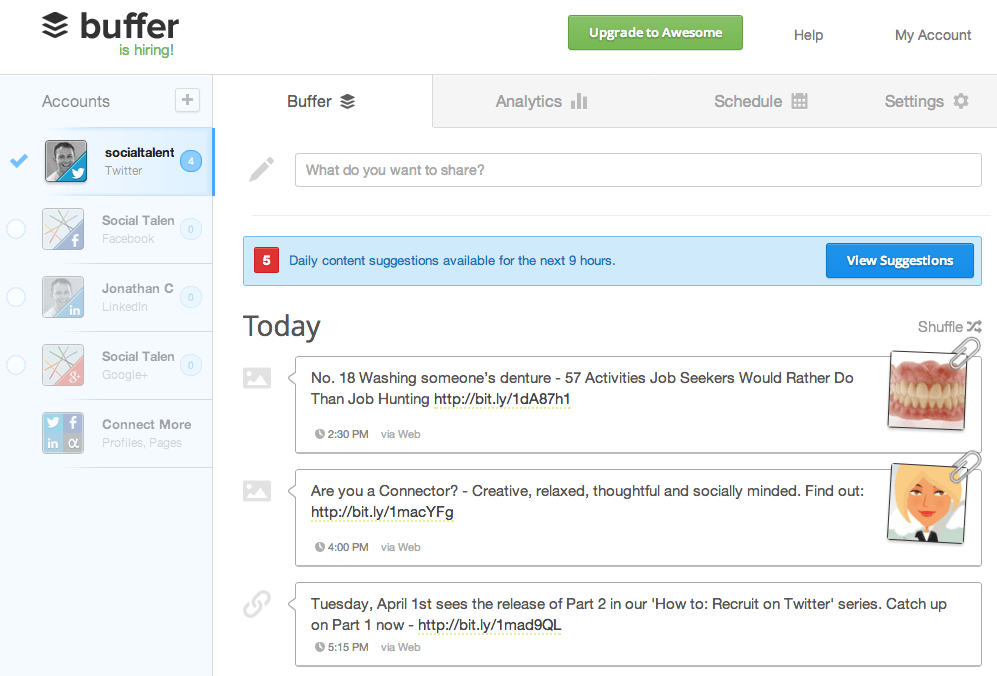 We've been using Buffer for 2 years now and in that time it has given us a 65.22% increase in our Twitter traffic to our website. It's super easy to keep fresh content alive on your Twitter account using Buffer. The tool enables you to quickly post any webpage of content (like your job spec or blog) out in to your chosen social network with one click. So how does it work? Let's say you're on LinkedIn and you see a recommended post, you read it and decide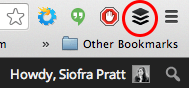 you'd like to share it, you can do so using the Buffer extension which is located in the top-right hand corner of your screen. Click the button, your Buffer account opens up and it gives you a suggested tweet that you can use or alternatively you can edit it yourself. Simples.
5. TweetDeck
TweetDeck is a free social media dashboard application that allows you to easily manage a number of Twitter accounts, topics and hashtags on one screen. It's the most popular Twitter application on the market and has been since 2009. TweetDeck is the first application I open after my emails every single morning as, on one screen, I can instantly see a real time feed of who's been interacting with me and Social Talent, my up to the minute timeline, who's been using my hashtags and who's been tweeting my chosen @ connections. TweetDeck allows you to follow trends more easily, monitor any retweets your job specs may be receiving, and respond to mentions and followers faster.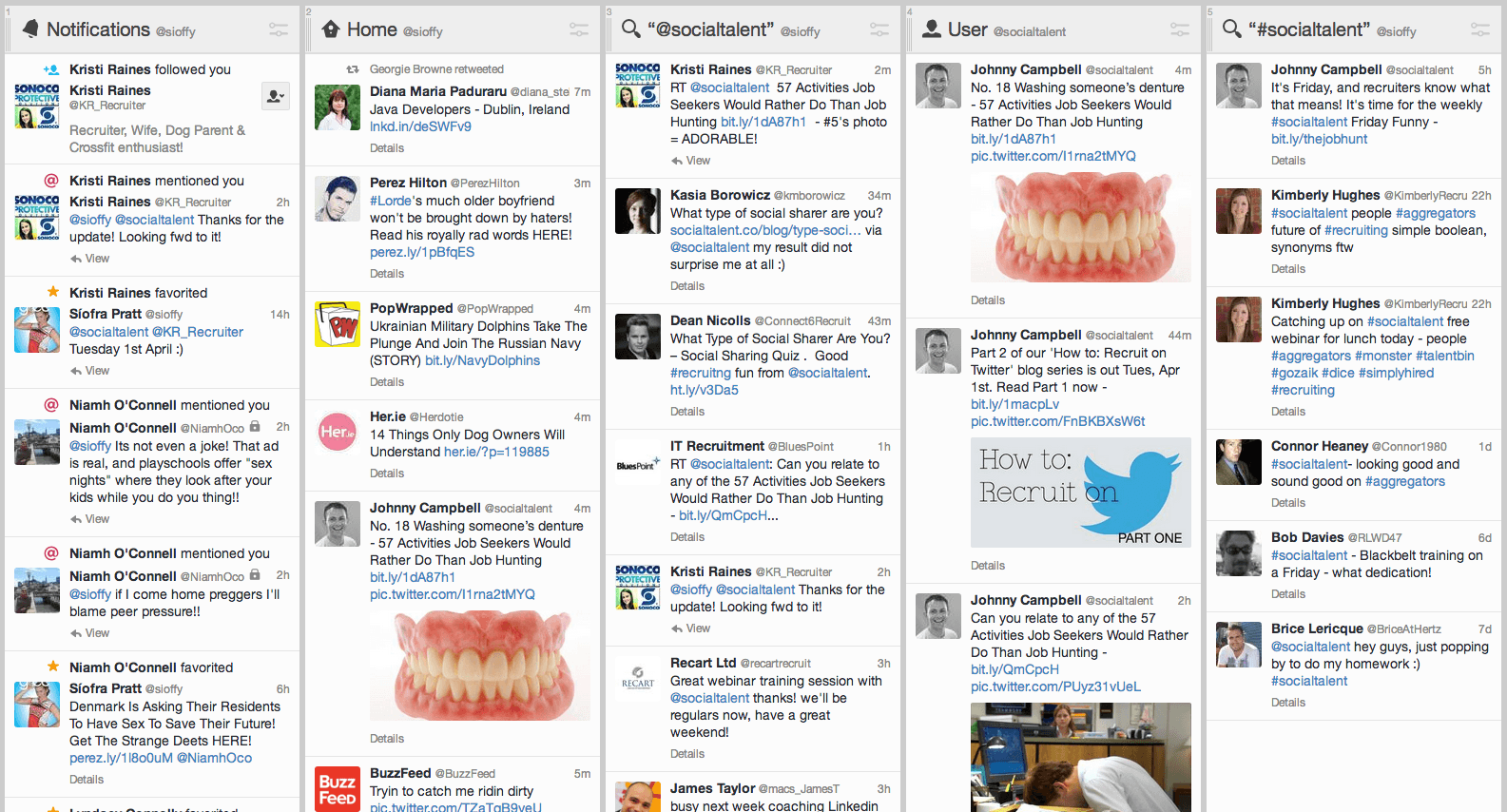 Essentially, TweetDeck is a social listening tool. Use it not only to monitor the conversation being had about the company you recruit for, but use it to follow hashtags you use in your job tweets to see how other recruiters and job seekers are using it, and use it to get involved in the conversations of the industry you recruit for. This tool will completely enhance your Tweeting experience.
6. Outlook Social Connector
Another email tool for you, but this time for the Outlook users amongst you. The Outlook 'socialising' tool was released in August of 2012 and has been showing recruiters LinkedIn, Facebook, Xing and Viadeo information all about the candidates they're reaching out to and communicating with ever since. As an alternative to Rapportive if you use Outlook, it's ideal. Obviously, you don't get the other social profiles like Twitter, blogs, Google+ etc. but it's much better than nothing!
Download the Outlook Social Connector here.
7. Custom Search Engines (CSEs)
Custom Search Engines are a "platform provided by Google that allows users to feature specialised information in web searches, refine and categorise queries and create customised search engines, based on Google search". In other words, you have the ability to create and put a Google search box on your webpage to make searching for your website's content easier for visitors. But it's not just your website you can create a CSE for! You can create a CSE for any website that is publicly available on Google and that means the likes of all your recruiting favourites like LinkedIn, Xing, and Viadeo. In fact, we've created our own LinkedIn, Xing, and Viadeo CSEs, so why not give them a go now? The links are below.
LinkedIn Search
Xing Search
Viadeo Search
Search made easy peasy lemon squeezy.
Do you know of any other free recruitment tools? What are your favourite online tools? Let us know in the comments below, and if you start using any of the above, please tell us how you get on.
Find out how the likes of IBM, IKEA and Siemens
drive hiring excellence with SocialTalent
---