Keep up with the latest hiring trends!
Top 7 FREE Online Recruitment Tools
Looking to improve your efficiency and your productivity when sourcing candidates online? Of course you do! Here's our Top 7 list of free tried and tested online recruitment tools that'll help you write better job ads, find the contact details of candidates more easily, search Twitter bios more effectively, automate your content posting, and help search for candidates. Enjoy!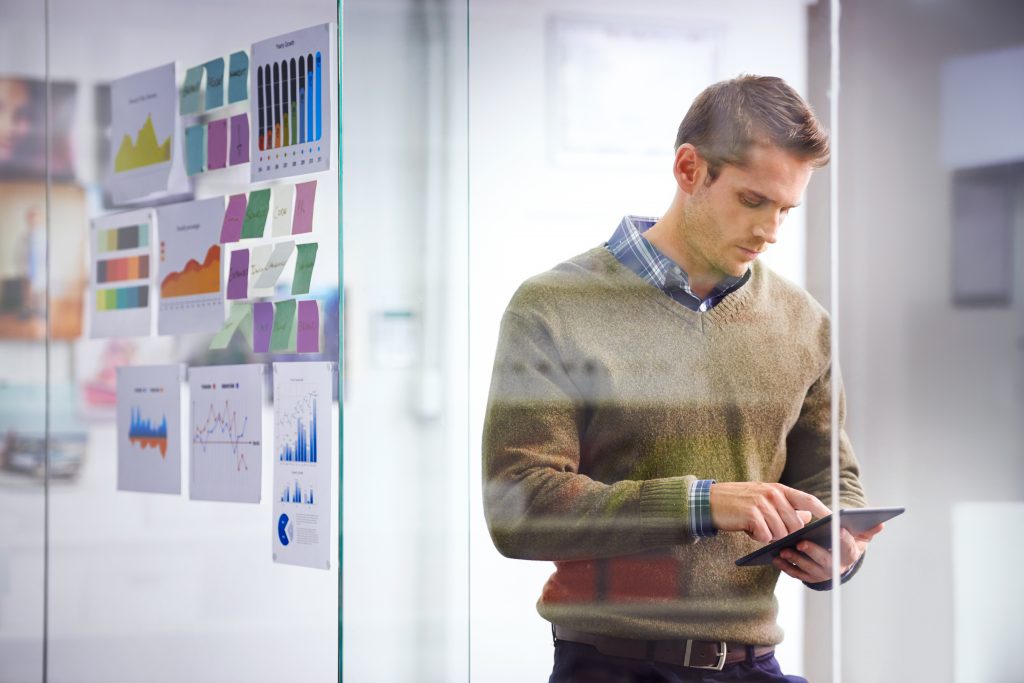 1. Rapportive
Rapportive, an exclusively Gmail (and Google Apps for Business) product, is our absolute favourite free email tool for recruiters, and has been for two years now. If you use Gmail for your work email, we absolutely recommend that you use Rapportive in your day-to-day work. As soon as you receive an email from someone, or write in an email address to someone, their social profiles connected to that email address will instantly come up in the Rapportive screen. We're talking their LinkedIn (where you can instantly invite them to connect or see that you're already connected), their Twitter (where you can get a sense of the candidate and how to communicate with them), their Facebook, their blog, and any private notes that you've inserted about this contact appear on your screen instantly. If you've seen our webinar about how to find anyone's email address and you're using Rapportive, you're ahead of the game!
2. Followerwonk
Followerwonk.com is a free to use website that allows you to effectively search the Twitter bios of every single active user on Twitter. Looking for a fashion buyer, living in London, and working for ASOS.com, for instance? Carry out a quick bio search using Followerwonk. Find the right candidate, see what they're tweeting about, and engage with them accordingly. Job done. Twitter is a brilliant place to search for candidates. It's fast, you don't need to work out a candidate's email address, you have the ability to converse with them instantly, and the simple method of retweeting can send your job spec out to hundreds of thousands of people within a matter of minutes, should your preferred candidate unfortunately reject your fabulous job offer!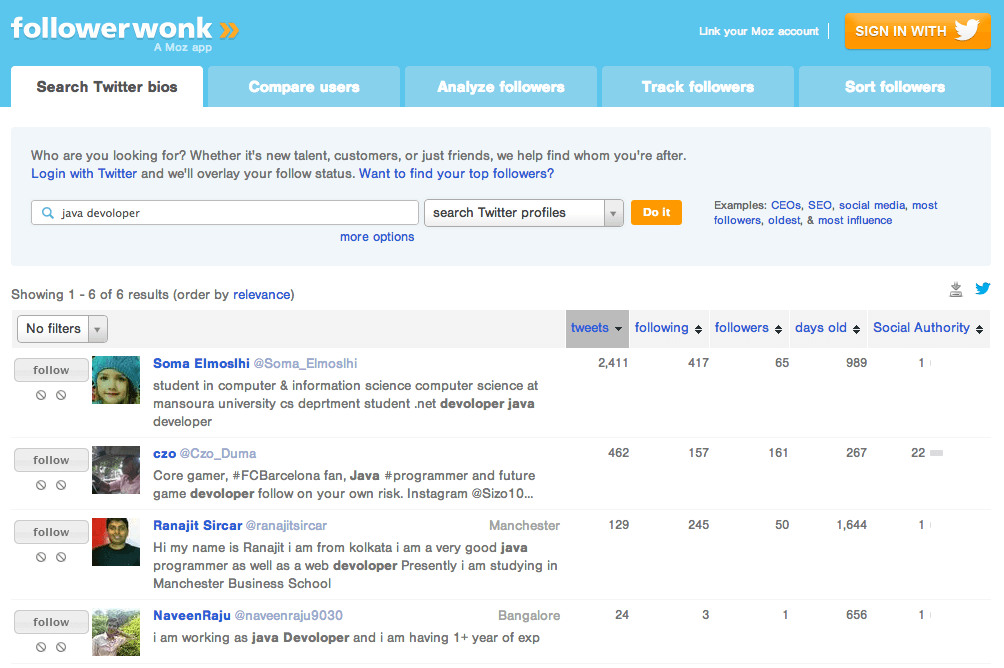 For more on how to recruit candidates on Twitter using Followerwonk see Part Two of our 'How to: Recruit on Twitter' blog series here.
3. Buffer
Buffer is an automated social posting application that lets you schedule your tweets (and other social media posts) so that they publish at predetermined times (these predetermined times are based on an analysis of your social activity and the success rates of your past Tweets, suggesting that you schedule posts for times that have been most successful for you so far).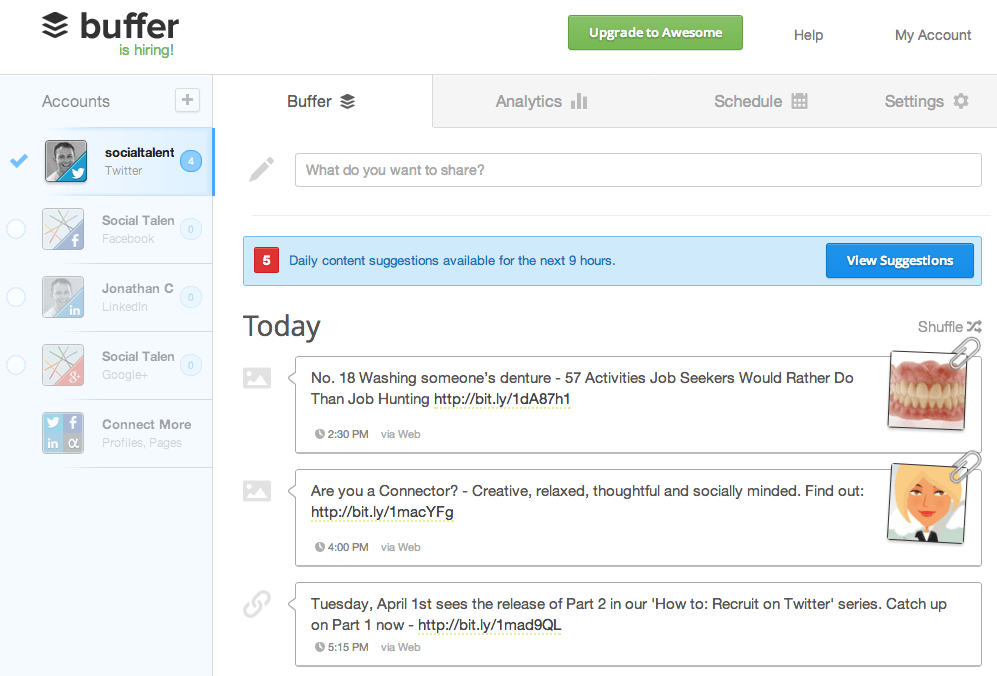 We've been using Buffer for years now and in that time it has given us a big increase in our Twitter traffic to our website. It's super easy to keep fresh content alive on your Twitter account using Buffer. The tool enables you to quickly post any webpage of content (like your job spec or blog) out in to your chosen social network with one click. So how does it work? Let's say you're on LinkedIn and you see a recommended post, you read it and decide you'd like to share it, you can do so using the Buffer extension which is located in the top-right hand corner of your screen. Click the button, your Buffer account opens up and it gives you a suggested tweet that you can use or alternatively you can edit it yourself. Simple.
4. TweetDeck
TweetDeck is a free social media dashboard application that allows you to easily manage a number of Twitter accounts, topics and hashtags on one screen. It's the most popular Twitter application on the market and has been since 2009. TweetDeck is the first application I open after my emails every single morning as, on one screen, I can instantly see a real time feed of who's been interacting with me and SocialTalent, my up to the minute timeline, who's been using my hashtags and who's been tweeting my chosen @ connections. TweetDeck allows you to follow trends more easily, monitor any retweets your job specs may be receiving, and respond to mentions and followers faster.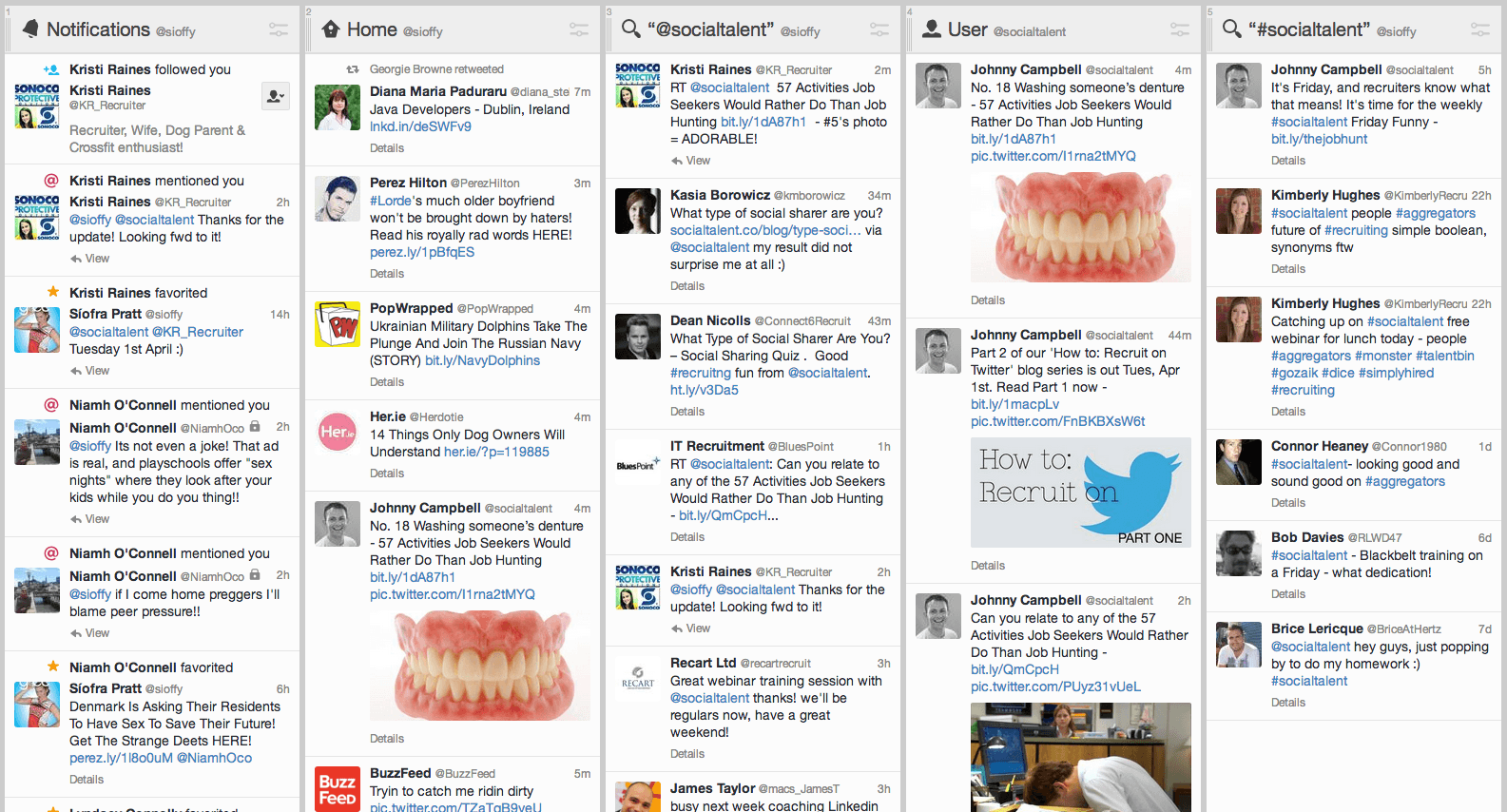 Essentially, TweetDeck is a social listening tool. Use it not only to monitor the conversation being had about the company you recruit for, but use it to follow hashtags you use in your job tweets to see how other recruiters and job seekers are using it, and use it to get involved in the conversations of the industry you recruit for. This tool will completely enhance your Tweeting experience.
5. Briskine
Recruiters are always looking for ways to win back time, but often the desire to do tasks quickly can lead to errors or poor quality. Briskine is a tool that helps with both of these challenges. A free browser extension that allows you to create templates and keyboard shortcuts for writing emails, Briskine can take a lot of manual labor out of the outreach process for recruiters. With a few simple types of the keyboard, this software can create fully formed emails. And because it's customizable, you can ensure that the copy is high quality and error-free.
6. Programmable Search Engines
Programmable Search Engines (or custom search engines) are a "platform provided by Google that allows users to feature specialized information in web searches, refine and categorize queries and create customized search engines, based on Google search". In other words, you have the ability to create and put a Google search box on your webpage to make searching for your website's content easier for visitors. But it's not just your website you can create a these for! You can create a CSE for any website that is publicly available on Google and that means the likes of all your recruiting favourites like LinkedIn. Search made easy peasy lemon squeezy.
7. The Gender Decoder
Used to find subtle bias in job ads, The Gender Decoder is a free online tool that help you avoid using gendered language that could discriminate against potential candidates. As we try to build more inclusive workplaces, it's important to understand how powerful language is, especially in the hiring process. Society has certain expectations of what men and women are like, and how they differ, and this seeps into the language we use. Think about "bossy" and "feisty": we almost never use these words to describe men. This simple tool allows you to paste the text of your job advert into a table and it will flag any inappropriate words that you can eliminate. Research has shown that women in particular are put off from applying for jobs that are advertised with overly masculine-coded wording – don't reduce your talent pool before on step one!
Looking to level-up your approach to recruiting? SocialTalent's Recruiting Training solution will give your organization access to a library of content that will help your TA teams find, hire, and engage the best talent.
Find out how the likes of IBM, IKEA and Siemens
drive hiring excellence with SocialTalent
---