This is What Happens When Your Office Has a "Bad Language" Problem!
If we've said it once, we've said it a thousand times: Don't mess with HR! Those guys will always be ten steps ahead of you (and their use of passive aggressive notes is second to none!)
Happy Friday Recruiters!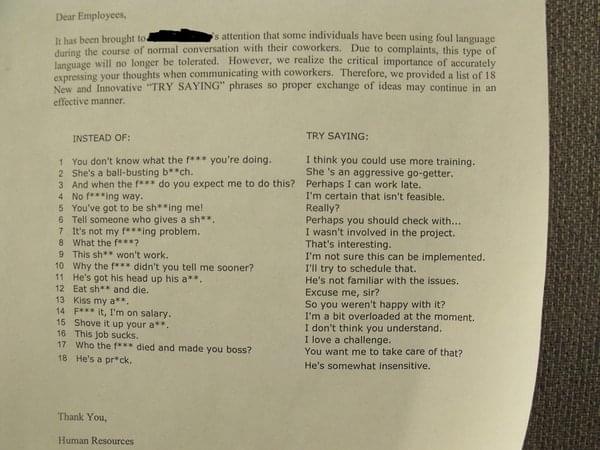 P.S. Next week we're bringing you A Recruiter's Guide to Snapchat so you can get an insight into what we believe will be one of the most influential social recruiting tools of 2015. We're sharing one of the most comprehensive lists of 2014 – The 100 Most In-Demand Employers Worldwide of 2014 . We'll have Part 3 of our In-Demand Jobs series '¬€œ Top 10 In-Demand Jobs in Healthcare '¬€œ in which we'll be listing the top 10 job titles in the healthcare industry, the top 5 employers of each of those titles in the UK, US and Ireland, and a comprehensive, ready-to-run Boolean search string for each title. And, we'll be compiling all of the best bits of November into one post for our monthly Social Recruiting Round-Up.
See you next week!
Want to keep up to date?
Join our 75,000+ subscribers who do!