Roundup: 4 News-bites That Will Make You The Brainiest Recruiter in Town
Another week that brings us closer to the end of the looooongest month in the history of the world. We're not quite there but we're close. Whatever recruiting resolutions you may have for the new year it's always important for a recruiter to have the inside edge on the recruitment industry. Demonstrate your skills and knowledge to hiring managers and expand learn new things to help you hone your recruiting techniques with these four bite-sized news stories of the week.
As leader of the Human Workplace movement, Liz Ryan knows a thing or two about stellar recruitment. Her years of experience as Fortune 500 HR SVP qualifies her to answer all your recruitment questions. In this article for Forbes, she outlines the important questions that all great interviewers must be able to answer. We spend so much time preparing interviewers for asking great questions and now it's time to flip it around!
We're big fans of Indeed- their job board is second to none and is a gift to recruiters. Another reason to love Indeed? All of that lovely, rich data. The company have released their trends report on hiring in the tech capital of the world for 2018.
Find out:
Why job growth is slowing down
Who is hiring the most
Which role is in the most demand
Average salaries
Let's face it, in recruitment you deal with people… A LOT. All types of people. You meet all sorts, in fact between other recruiters and candidates you've probably met at least one of every type of person in the world.
But at the same time, we can lose track of the human element of recruitment. Putting someone on track to their future and helping people build a team fos success. Well, Luke O'Mahoney helps us put people at the centre again. His first #AskLuke post of the year is back and as usual, he provides some great insights on the people that make the recruitment industry hum.
Check out his post on LinkedIn
4. Recruitment Real Talk for 2018
SocialTalent Meetup: What does 2018 looks like for recruiters from agencies, corporate businesses and the guys who run one of the world's biggest job boards? Well, we got them all in a room and asked them!
Check out the video from our first meetup of the year in Dublin as we invite the people will the best view of the recruitment industry and put them all on the same panel!
Holly Fawcett– Head of Curriculum Development, SocialTalent
James Mailley– Sales Director, Monster Jobs Board
Caroline McAniff– Head of Recruitment & Employer Branding, EY
Robert Mac Giolla Phadraig– Founder/CCO, Sigmar Recruitment
If you're interested in coming to our next meetup then join our SocialTalent Meetup Group and get the low down on our monthly events in Dublin and London!
As an extra bonus download our Jumbo Guide to LinkedIn so we can help you craft the perfect LinkedIn profile for the year ahead!
FREE EBOOK
The Ninja's JUMBO Guide to LinkedIn (Part Two)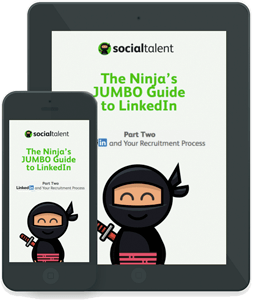 Want to keep up to date?
Join our 75,000+ subscribers who do!