Keep up with the latest hiring trends!
/
/

8 Spectacular Ways That People Have Quit Their Jobs
8 Spectacular Ways That People Have Quit Their Jobs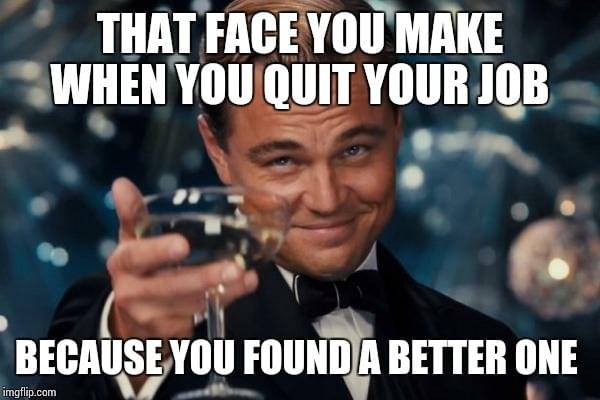 Have you ever worked in a job that you absolutely despised? One where you fantasised about the day that you could finally waltz up to your manager's desk with your letter of resignation? Chances are, we've all been there at some point. Well, these 8 people also had that dream of finally being able to quit their jobs. The difference between us and them, however, is that they actually went and acted on it!
Today, we're listing 8 spectacular ways that people have quit their jobs (not that we condone this kind of behaviour, obvi…)
#1: The zero f***s flight attendant
You may think that flight attendants have the best job in the world – getting to travel the world, stopping off in endless exotic locations…oh, the glamour. But for JetBlue flight attendant, Steven Slater, he'd simply had enough of the globetrotting lifestyle. So, naturally he did what anyone in that situation would do. Grabbed a beer, cursed passengers over the intercom, deployed the emergency exit slide and hit the road. Only problem was that the police were hot on his tail, chasing him home where they swiftly slapped handcuffs on him. Bet he wasn't in any rush to get back on an airplane after that!
#2: The barbershop quartet
It's clear that a career as a barista probably wasn't Phil Sipka's life calling! A born performer, he called in some help in the form of a barbershop trope to resign from his job, courtesy of 'The Steve Harvey' show. Performing in front of a café full of amused (and slightly shocked) diners, Sipka belted out his original composition 'I am Quitting This Job Today'. Get ready for it to be stuck in your head for the rest of the day…
#3: The interpretive dance
Marina Shifrin put in long, hard hours at the animation company she worked at in Taiwan. No lunch breaks, constantly changing schedules, often working until 4:30 in the morning; eventually enough was just enough. So she set up cameras around the office and in true Kanye West spirit, performed an interpretive dance to 'Gone', explaining exactly why she could no longer work for the company. The video clocked up 250,000 YouTube views in the space of a weekend, and Marina didn't fare too bad either – she was offered a job as a digital content producer with 'The Queen Latifah' talk show back in New York. Something tells us that Kanye would be proud…
#4: Smell ya later!
Tom Armellino aka 'T Bone' decided to hand in his notice in the form of a framed 'Smell Ya Later' poster, which shows him riding through space on a vacuum-cleaner, leaving a rainbow in his path. Hopefully his former boss understand what it actually meant!
#5: A banana, a mariachi band and an office full of workers
Quite the strange one, this! Whatever possessed this guy to get dressed up in a banana costume and walk through his office with a full mariachi band is beyond us. Maybe the idea was just too ap-peel-ing (we're sorry, we couldn't help ourselves…)
#6: The Taco Bell sign
And the Taco Bell offer of the day is…whoops!
#7: The Superbowl commercial
Unless you've been living under a rock, you'll be well aware that the ads that play during the Superbowl are the mac daddy of all mac daddies when it comes to TV advertising. Now imagine spotting one of your employees declaring that they quit to you and 100 million other people! Well, that's exactly what happened when Gwen Dean left behind her job as a machine engineer to pursue her dream to start her very own puppet business. We'd say her boss, Ted nearly choked on his chips and dip when he saw this one!
#8: Don't ask, don't tell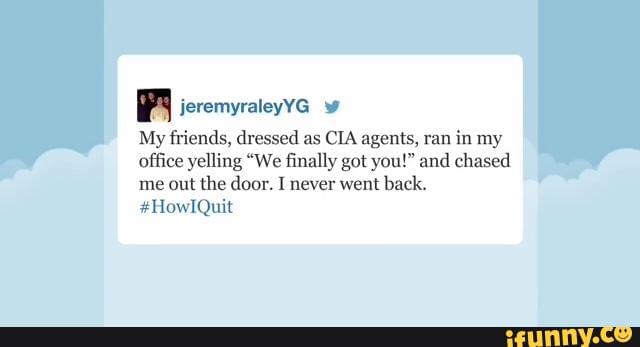 Well, that's one way to get out of a job without too many questions being asked! Bravo Jeremy, bravo…
Find out how the likes of IBM, IKEA and Siemens
drive hiring excellence with SocialTalent
---