Sigmar's CCO Talks National Employment Week & The Talent Summit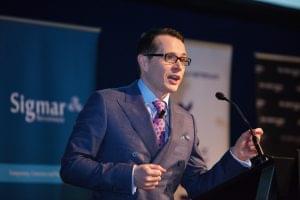 This week I had the pleasure of catching up with Sigmar's CCO, Robert MacGiolla Phadraig, where he explained to me the process behind The National Employment Week as well as who'll be speaking at the upcoming Talent Summit on Wednesday, 1st March. Here's what he had to say.
Q: Sigmar launched The National Employment Week back in 2011. Can you tell me a bit about the background behind the week and how it got started?
During the time of the financial crash, where the economy was on the ground, we decided we wanted to do more to improve developments surrounding employment. Unemployment was a major issue in the Irish society at the time and we felt that we could use our knowledge, networks and expertise to do more to support job activation and driving the employment agenda. To achieve that, we kicked off a job creation initiative which included 100 HR directors at the time. We then constructed a ten point plan regarding job activation policies that would work for employers. After finalising our ten point plan, we presented the plan to the government, which has now resulted in thousands of jobs.
Q: What was the initial concept behind National Employment Week and what were you looking to achieve?
We took the concept of pharmaceutical companies effectively supporting the awareness around the ailment they cure, and we set up National Employment Week as a vehicle to do that. It was also established to share best practice and thought leadership on talent related themes, to assist in building more capacity amongst employers to help them employ more people. We began by organising a series of events in Dublin, Cork and Galway. Since we've established National Employment Week, It's gone from strength to strength. It's a for purpose non profit initiative that stands very much for job activation and employment.
Q: When did The Talent Summit first come to fruition?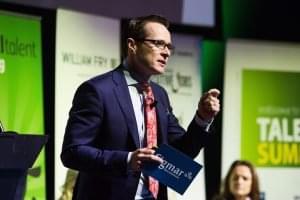 We decided to shift gears two years ago, renaming the main conference 'The Talent Summit'. The decision behind this was mainly to keep the event fresh and relevant, whilst also moving it to the next level. As employment rates fell from 15% to nearly as low as 7%, we decided to come together and structure this event to showcase talent. We looked at sharing international thought leadership with regards to talent, accompanied by the vision of creating better working environments and better working lives in an increasingly complex working world.
That's what we set out to do and that's exactly what we achieved. We have now become the largest HR leadership conference in Ireland, and one of the largest HR employment conferences in Europe.
Q: Can you explain what theme's and topics will be discussed at this year's Talent Summit?
This year's theme is "Driving Competitive Advantage Through People". We will be looking at unlocking five key sub-themes over the course of three summits in Dublin, Cork and Galway which include:
#1 Cultivating The Leaders of Tomorrow
This is where we shift away from control and command, especially within the rise of millennial leaders. We want to look at how HR drives a culture of leadership in our ever changing world of work. We have an incredibly interesting view from a military standpoint, with Lieutenant of the LÉ  Samuel Beckett, Darragh Kirwan, exploring leadership lessons. He will be reverting back to the humanitarian mission he conducted in the Mediterranean, where they saved hundreds of migrant lives within the course of a couple of weeks.
 #2 Total Talent Acquisition
Here, we look at how we're going to recruit for the new world of work. That means there'll be an increase in the different way's of working, different generations at work and artificial intelligence. We want to be able to pin-point the people that are doing exciting and innovative things so that we can attract the best talent. We'll have Social Talent's Johnny Campbell, as well as a host of exciting companies who will be directing their focus on recruitment strategies.
#3 Inclusive Talent Management
There's undisputed evidence that diverse companies consistently outperform the rest, and we want to see what HR can do to accelerate that shift so that companies can become more competitive through diversity. We'll have some really interesting views from consultancy firms, with focus on growth through diversity as well as those who are less well represented.
#4 Optimising Performance Through People
The hierarchical model has been turned upside down with the emergence of themes and networks. We want to see what HR can do to reinvent this organisational structure in line with motivational performance reward.  Twitter's Shane McCauley, Director, of People Systems and Analytics,will be giving an in-depth analysis on Twitter's background outlining their story to date.
#5 Crafting Culture
We'll be looking at the impact of HR's impact and influence on crafting culture. We've got  interesting and big named companies speaking which include Facebook, Fitbit, and Ryanair.
Q:What was the thought process behind getting Daniel Pink as a Keynote speaker?
The choice in getting Daniel Pink was a simple one. There hasn't been a Talent Summit where Daniel Pink wasn't referenced, spoken about or plagiarised. He has become one of the reoccurring sub-themes within the Talent Summit over the last seven years. Daniel has never spoken in Ireland, so we were extremely excited to secure him as a keynote speaker. He'll be talking about his motivational trifecta as well a lot of what he's wrote in his new book 'Drive'. We're looking to unlock how his motivational theory has influenced organisational culture and performance behaviour within companies since he's published his book.

Join Robert along with a host of HR and Recruitment professionals at The Talent Summit, Wednesday March 1st in The Convention Centre, Dublin. Tickets are selling fast so be sure to secure yours now by purchasing tickets here.
Want to keep up to date?
Join our 75,000+ subscribers who do!