Keep up with the latest hiring trends!
/
/

A Recruiter's Handbook Guide to Snapchat
A Recruiter's Handbook Guide to Snapchat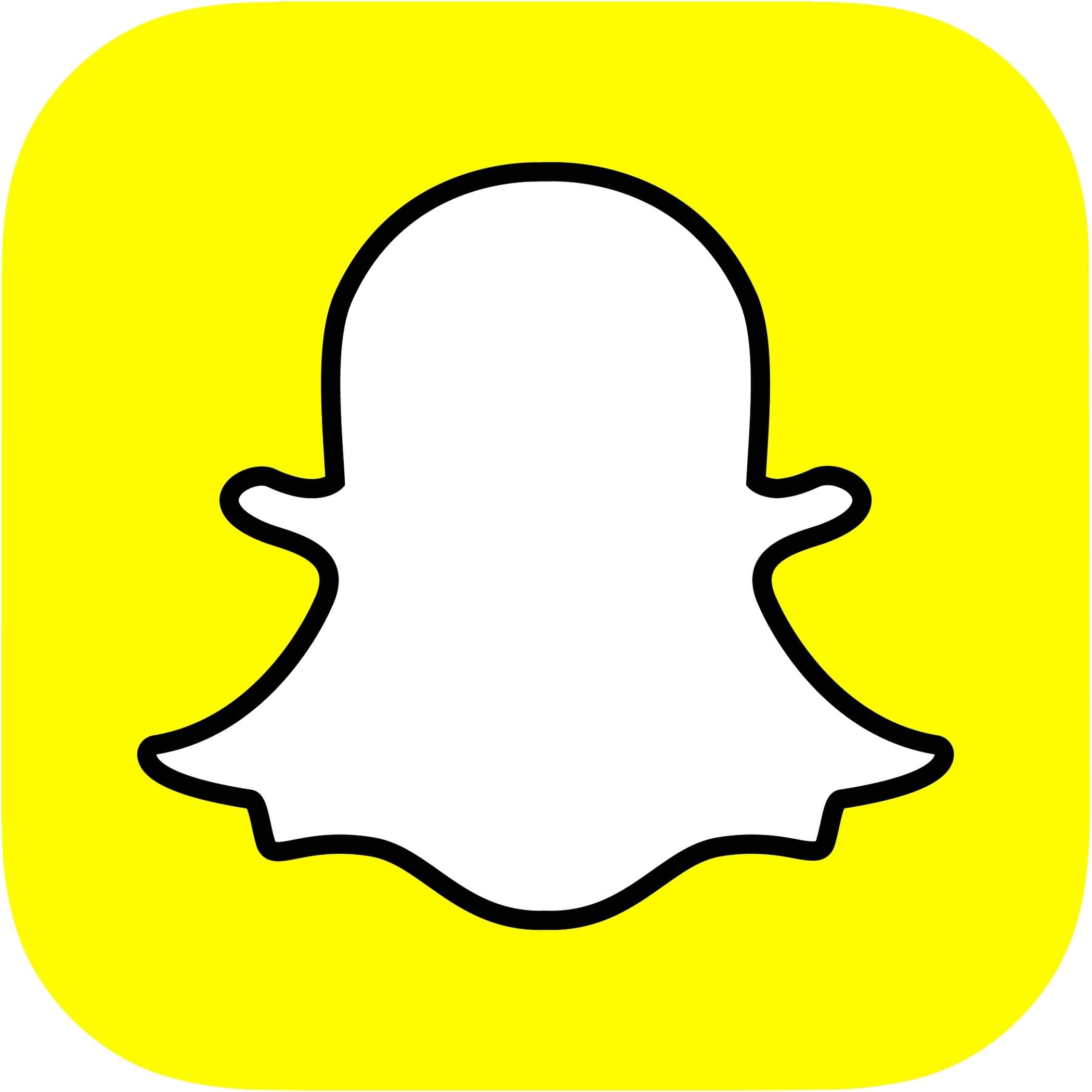 As we've all seen over the last 2 years, the onslaught of mobile technology has dramatically changed how people interact, how they communicate, how they consume information, and (most notably for recruiters) how they search and apply for jobs. As a result, recruiters have had to adapt and work even harder to capture the ever-decreasing attention spans of today's job seekers.
Visual media has turned out to be one of the most popular ways of doing so, especially when it comes to job advertising and employer branding. Images and video are attracting more applicants to job postings than ever before, and those figures show no sign of slowing down.
So what's the common denominator? Snapchat of course! So today, we're going to explore the merits of an up and coming social app that combines both mobile technology and visual images and discuss why we believe it will be one of the best social recruiting tools of 2015.
What is Snapchat?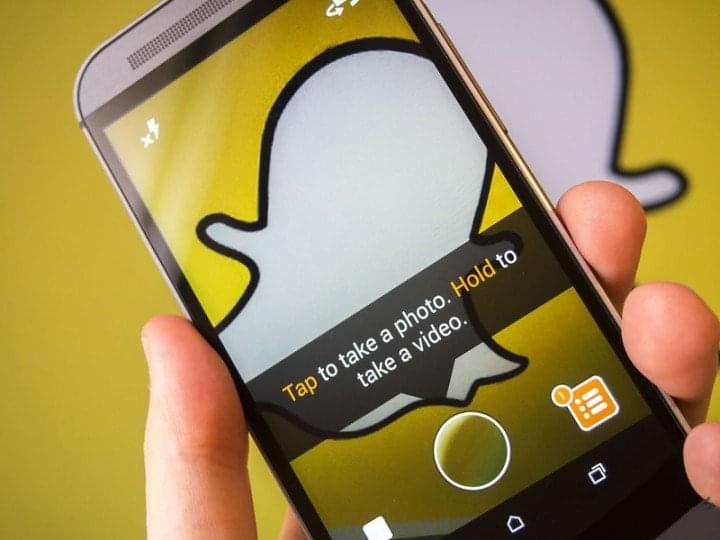 Snapchat is a photo messaging app, used by over 100 million people on a monthly basis that allows it's users to take photos, record videos, add text and drawings and then send them to a controlled list of recipients.
That all sounds pretty normal right? Well, the difference with Snapchat is, that each of those images or videos (known as "Snaps") have a set time limit placed on them for how long the recipient can view that Snap. As of April 2014, that range is from 1 to 10 seconds, after which they will be hidden from the recipient's device and deleted from Snapchat's servers.
700 million images and videos are sent via SnapChat every day (that's 67% more images than Facebook) and Snapchat Stories content is being viewed 500 million times per day!
How can Snapchat be used for recruiting?
Snapchat is a great example of a non-traditional platform that is not only fun and easy for candidates to use, but is also a great method of assessing a  candidate's communication skills in a way that a résumé alone is unable to do. As Likeable Media's Director of Talent & Culture, Brian Murray, said in his article on the topic, "great communicators are innately able to use any channel to get their message across. They understand the audience and are able to tailor the message to them. In the case of successful candidates using Snapchat to communicate with me, the best ones understood it as an opportunity to show off, grab attention and speak directly to me. They understood the application was as much about appealing to a person at Likeable as them getting a job." And that's just it. Snapchat is a great tool for calling on candidates to put their thinking caps on and their creative skills to work, by encouraging them to pitch for the job via the platform.
This technique has worked exceedingly well for three businesses in particular and I'm delighted to say that one of them is Irish ;P
Back in April of 2014, ad agency DDB Oslo, created "The Snapchat Pitch", a student contest where candidates where asked to pitch their idea in less than 10 seconds on Snapchat. Contestants were encouraged to do whatever they wanted in those 10 seconds ("talk, draw, scream [or] sing") and promised that in return, DDB Oslo's creative department would watch every single pitch and fly the winner to Oslo for an interview. The challenge created huge buzz around the position in Oslo and the company found their perfect candidate as a result.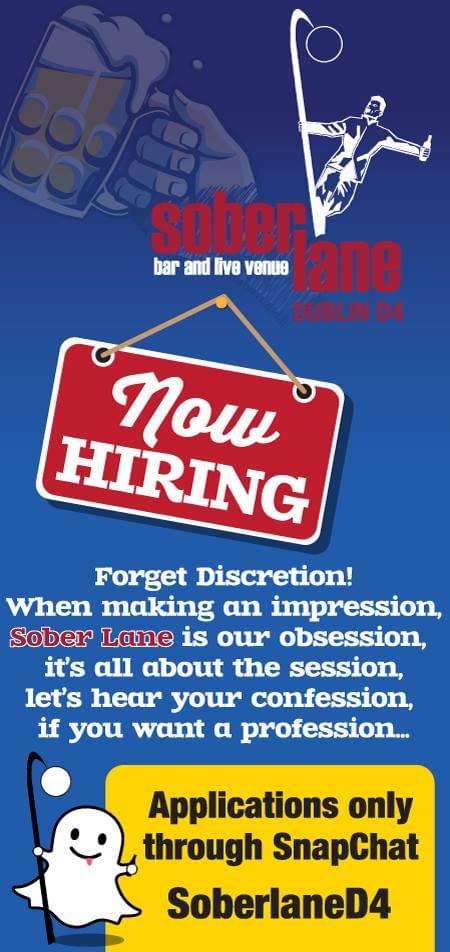 When Sober Lane Bar and Grill were expanding their gastronomic efforts into Dublin earlier this year, they decided to make an extra special effort to attract and hire new staff with the right personality and mentality for the job. And they believed the best way to do that was to permit job applications only through SnapChat. So, using the call to action "Forget discretion! When making an impression, Sober Lane is our obsession, it's all about the session, let's hear your confession, if you want a profession" – Sober Lane asked any potential candidates to get throughly creative with their applications.
The message was short, clear, snappy, fun, clever and targeted perfectly at the type of employee they were looking to hire.
Just over a year ago, as part of the standard application process at Likeable Media, all potential candidates received an email with the following message – "Thank you for your interest in Likeable. We will check out your information and be in touch with any questions! You can always tweet me: @BTMurr. Even better… SNAPCHAT me why you belong here (I MAY screenshot): BTMurr"
Brian Murray, the company's  Talent & Culture Director, says he originally included Snapchat in the process because he "figured it could be an entertaining way to engage with some of the brightest and most creative candidates". He certainly didn't bargain on it finding him some "amazing" artists and a videographer, or that Snapchat would become the part of application process his candidates referred to as Fun, Creative, Refreshing, and My favourite application, I've ever completed.
But Snapchat isn't just for your candidates. Oh no! It's also a great medium with which to flex your own creative muscle. The following are just some of the best ways, we believe you can use Snapchat to attract the right candidates:
Offer vouchers for referrals
In the past, Snapchat has proved to be a great tool for dishing out vouchers in return for customer loyalty. The likes of 16Handles have used this successfully, and the same idea can be applied to recruitment. Brands can entice users/current employees to refer friends for vacancies by offering a Snapchat voucher to be spent on that brand's products in return. The approach is win-win in that you will not only get a potentially great candidate (88% of employers say employee referrals are the no. 1 source of above average candidates), you'll also be more likely to get some brand loyalty from the friend who referred them.
Get truly creative with your job ads
We've already spoken about the power of images and video when it comes to job advertising, but Snapchat can be used to make creative job advert pictures or videos and send them to an audience who might not normally check your careers page or your other social media accounts. Creativity will always give you an edge on the competition, whether it be with your job advertising or your employer branding and it also gives you and your team a chance to flex your creative muscles and illustrate just how fun and open to new technology your company is.
Post exclusive clips/pics of life inside your office
I've lost count of the amount of times we've said "do not underestimate the power of employer branding", but I'm about to drive that point home once again! Snapchat is also a fantastic medium for making your company appear like a desirable place to work (something which will hopefully attract passive candidates). Why not use it to create exclusive behind-the-scenes snaps of the office and its environment, as well as insights into the day-to-day work of existing employees? It speaks to peoples' need to know who you are, what you do and what it's like to work for you and it creates a hipe around your company. Try posting one picture/video a day at a certain time. This will make users expect a daily snap, and will hopefully increase their interaction with the brand.
But is SnapChat recruiting for you?
The answer to that question depends on your audience. Knowing your candidate audience is important in any recruitment effort, after all how can you attract the right types of people if you don't know who they are? But when it comes to using Snapchat for recruitment purposes, you need to know that your ideal candidate will actually be using Snapchat.
71% of Snapchat users are under 25 years old. So the majority of Snapchat users will be entry-level graduates. So, if your recruitment needs are for senior-level healthcare providers, Snapchat as a recruitment platform probably isn't right for you! Ultimately, the recruitment platform must align with the position, so if you're trying to attract younger employees, creative types, marketing professionals, social media executives etc., Snapchat will be perfect.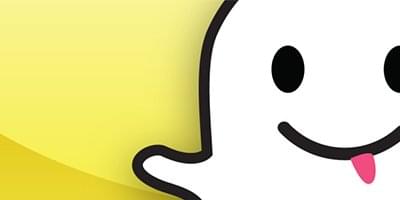 But ultimately, as Brian Murray also wrote, "candidates LIKE different". Applying with Snapchat is quirkier, more creative and more engaging than most application methods, and while it has certainly "driven candidates away" from Likeable Media, as Brian put it "they probably wouldn't be a culture fit anyway". Snapchat is new and it's different, but it could just be exactly what your application process needs to attract the perfect candidate.
Find out how the likes of IBM, IKEA and Siemens
drive hiring excellence with SocialTalent
---