Keep up with the latest hiring trends!
/
/

This Trick Will Guarantee Hiring Managers LOVE Your Candidates
This Trick Will Guarantee Hiring Managers LOVE Your Candidates

Welcome to SocialTalent's Live & Learn Series!
Each week we gift you with a little bit of info that will help smoothen your recruitment process and expand your knowledge of your industry.
With this Live & Learn series we promise to keep it:
Short
Simple
Ready to use!
Sound good to you? Let's begin!
How To Create The Perfect Candidate For Hiring Managers
Learn how to frame your shortlisted candidates in the best way possible. Will Ryan is a pro at delivering awesome presentations that get the whole room nodding. Follow his guidelines and watch as hiring managers fall in love with any candidate you present.
Key Takeaways
Now you're ready to show off the incredible candidates you've qualified. It's clear your an expert in your field and now you can prove to any hiring manager why the candidates you found are a great fit for the role.
Link candidates back to the job description to show how they meet and exceed expectations
Get creative with your language, be inventive when you highlight experience and skills in relation to the job spec
Don't oversell. Not everyone is a superstar. You need to be seen as a credible source and keep the trust of hiring managers.
---
SocialTalent we have created the best recruitment training for our Recruiter Academy. Packed with insights from Recruitment experts to develop your skills as a recruiter, whether you work for an agency or have a role as a corporate recruiter as part of a team of flying solo- we have the training for you!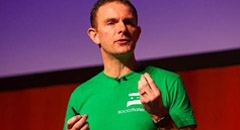 SocialTalent Recruiter Academy
A full library of videos that can help your team transform their hiring process
Find out how the likes of IBM, IKEA and Siemens
drive hiring excellence with SocialTalent
---