Top 10 Recruitment Agencies in the UK registered on LinkedIn
The top 10 recruitment agencies in the UK represented on LinkedIn are as follows…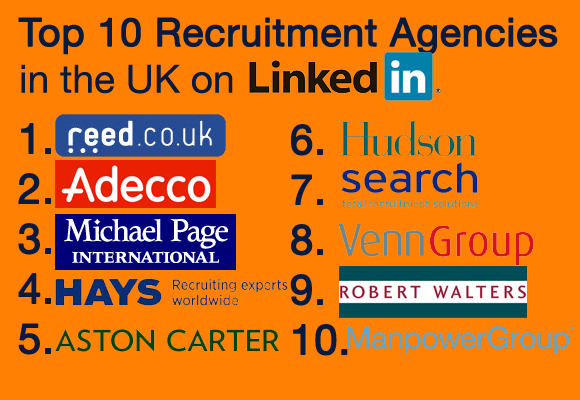 In our list below, all figures in blue are the number of employees who have connected their employer's Company page to their profile. All figures in red is the official ranking on Alexa for website traffic, as of today November 22nd.
Reed (890) (151) – Launched in 1960 by Sir Alec Reed CBE, Reed are now the UK's #1 Job site, offering "more jobs, more choice", with more than 3 million job seekers using the site in their search for work each month.
Adecco Group (855) (NA) – This is an amalgamate figure of several Adecco Group brands, including Badenoch & Clark (274) (30,826), Computer People (221) (39,788), Office Angels (196) (12,954), Adecco UK (164) (9697).
Michael Page International (597) (2,886) – Michael Page International has grown over 35 years to be one of the best-known and most respected recruitment consultancy companies, employing more than 5,350 people in over 156 offices and 32 countries worldwide.
Hays (551) (3,691) – Over 6,000 people make up Hays' worldwide team, working out of over 345 offices in 28 countries, placing professional candidates into permanent, temporary and interim jobs.
Aston Carter (443) (42,972) – Servicing 16 countries worldwide, Aston Carter is a global recruitment business specialising in consultancy, finance and IT.
Hudson (284) (72,957) – Hudson's 2,000 employees are dedicated to providing unparalleled service and value to their clients through specialised professional staffing and outsourcing, and talent management consulting.
Search Consultancy (276) (39,537) – With 13 sites based throughout the UK, Search Consultancy have been delivering recruitment solutions since 1987, offering candidates and clients the full range of specialist recruitment services across 19 commercial and industry sectors.
Venn Group (270) (62,438) – Venn Group is in existence 10 years and is "the only agency dedicated to temporary and interim recruitment" in the UK, specialising in financial services, commerce and industry, and the public sector.
Robert Walters (214) (58,602) – Robert Walters place candidates on a permanent, contract and interim basis in financial, legal, IT, sales and marketing, HR and administration.
Manpower Group (205) (NA) – Manpower group encompass their four recruiting brands across the UK – Manpower, Right Management, Experis and Manpower Group Solutions.
Is your agency on the list? If not, why? Are your staff not optimising their potential and using this business-oriented social networking site effectively? Here are some tips that allow your company to get the most out its presence of LinkedIn –
Ensure each member of staff has selected your company profile as their employer
Optimise your company profile on LinkedIn – click here for how to do it effectively
Encourage all your team(s), regardless of field, to have a LinkedIn profile, as even your receptionist is selling professional services
However, perhaps suggest that your employees change their contact settings to exclude open to job offers
Enact a social media policy that allows your team(s) to get involved in all that LinkedIn has to offer but ensure they are mindful of their status as a representative of your company
Want to keep up to date?
Join our 75,000+ subscribers who do!